*WALL OF TEXT WARNING. Detailed Fan Account!*


My friends, Guoxiang (LavaBlade), Gerald (raldrald), Lionel (Nutzckas), Winnie (BelovedWinnie), Ivan and I (Khairul; Hurricaneboi) attended the 2011 Girls' Generation Tour in Taiwan over the course of…wait for it…THREE DAYS, and it was every bit an amazing experience as anyone has touted their concert to be since their first in Seoul last year.
Before going into the account proper, we'd like to extend our overwhelming gratitude toward the Taiwanese SONEs from TPTS and Super Sunny fanclubs for not only for helping us to get the tickets for two out of the three days, but also for their warm hospitality and incredible zeal at the concert venue. Claiming that the Taiwanese SONEs put in an immense effort for the concert is an understatement; you'd have to be there to feel their excitement and enthusiasm; to hear the deafening fanchants and to see the events they'd prepared to truly experience the atmosphere they created for the girls and the international SONEs who came from all over Asia (we met Malaysian, Indonesian, Korean and Japanese SONEs amongst others). Without the effort from the Taiwanese SONEs, I daresay that the concert wouldn't have been such a great success.
At least 1 week before the concert, there was already a website up containing information on the fan support events for all 3 days, with detailed explanations on each event plus even an instructional video. The unity and effort of the TW SONEs was obvious in the preparations leading up to the actual concert.
First off, let's take a look at the outline for the concert for all three days:
- Prelude Video -
1. Genie
2. You-aholic
3. Mr. Taxi (Korean)
4. I'm In Love With A Hero
5. Let It Rain (Korean)
- Introductions –
6. Snowy Wish
7. Sweet Talking Baby
8. Kissing You
9. Oh!
- Always Yours video -
10. Hyoyeon's Solo (Please Don't Stop The Music)
11. Jessica's Solo (Almost)
12. Sunny's Solo (3)
13. TaeNy's Solo (Lady Marmalade)
- Iphone 5 Video -
14. Great Escape
15. Bad Girl
- Swan Lake Video –
16. Rocker Taeyeon (Devil's Cry)
17. Run Devil Run + Swan Lake Remix
18. Beautiful Stranger
19. Hoot (Rock Remix)
- YulSeoYoonSoo Video –
20. Yuri's Solo (If)
21. Seohyun's Solo (Some Stuff Like That There)
22. Yoona's Solo (4 Minutes)
- Two Sisters Video –
23. Danny Boy
24. Complete
25. My Child
- Delusional Key + Taemin Video –
26. Naengmyun
27. HaHaHa
28. Gee
- Talk –
29. Forever
- Encore –
30. Into The New World
31. Himnae
32. It's Fantastic

Day 1
We arrived at the concert venue at around 2pm. The concert was held at Taipei Arena, also affectionately known as the 'Giant Egg' near Nanjing East Road Station. The excitement was palpable even before entering the arena. Despite the blistering heat, peddlers touted vast varieties of official and unofficial merchandise with more pronounced zeal than their Korean counterparts (we also attended SM Town 2010 in Seoul last year).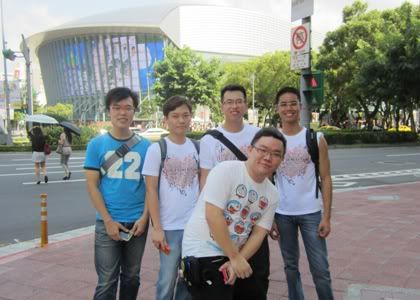 The guys! From left to right: Lionel (Nutzkcas), Ivan, Guoxiang (LavaBlade), Gerald (raldrald), Khairul (Me)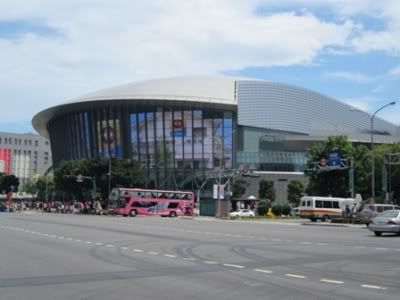 The Arena. Notice the horde of people on the far left.
Various fanclubs set up booths using tables and chairs from outside MacDonald's and dedicated them to each of the girls. We're guessing they didn't mind because the massive crowds were bringing a LOT of business to it and the surrounding convenience stores. The 7-11 a few stores down was always full of people, and they always ran out of water just before the queues to enter the arena began.
The booths for individual members: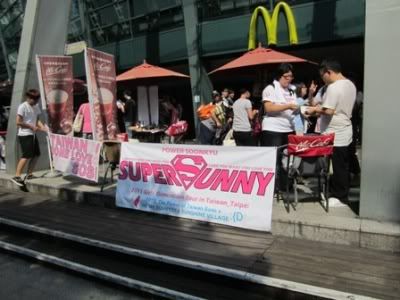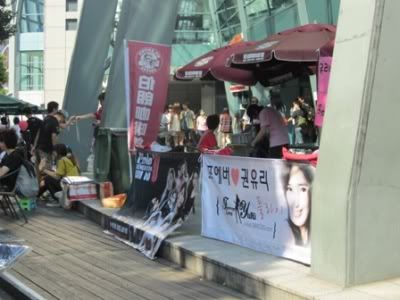 Of course, there was a booth for Sooyoung, who couldn't attend the concert due to her unfortunate accident. A banner was made in her honor and was signed by anyone who wanted to. Needless to say, the six of us dedicated a short message and signed it. If anyone can find a photo of that banner, our message is near the bottom left, enclosed by a curly box
Get well Soo(n)! Can you spot our message?
Fans sought shelter from the heat within the small shopping area in the arena, where shops offered more unofficial merchandise, and official ones at cutthroat prices. We had to hand it to the arena's management; no one bothered to shoo away the hordes of fans who sat down in any empty space they could find (they were careful not to block any entrances and exits). One particularly interesting thing we spotted was a guy wearing a tank top with a 'So Nyuh Shi Dae' (in Korean) tattoo on his arm. We'd seen a picture on SSF showing such a tattoo before, but this time we saw it for real.
Our concert tickets for the 3 days, total worth SGD$3000(USD$2400+) I'm sure SMe would be very happy... lol.
At 6:30pm, the queue for the seating areas – they literally snaked halfway around the arena – began (the queue for mosh pits began at 5pm but most were already there long before). Everything was very orderly; no one pushed or otherwise gave someone else a reason to be upset. Everyone was just eager to see the girls and wanted to create the best environment in which everyone could enjoy that privilege!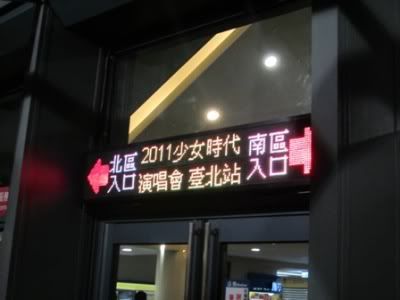 Some girls from mosh pit C were dressed in Mr. Taxi outfits. A couple of them were really pretty
Queueing in an orderly fashion to enter the Arena!
Our group of six was split into threes – my group, Khairul (myself; Hurricaneboi), Guoxiang (LavaBlade) and Gerald (raldrald) sat in the 10th row of the Red 2D area which was the 3rd tier from the right, closest to connection of the side and center extension stage. The other group was Lionel (Nutzckas), Winnie (BelovedWinnie) and Ivan.
The view from our seats. There was no doubt that the girls would appear from underneath that tent in the middle!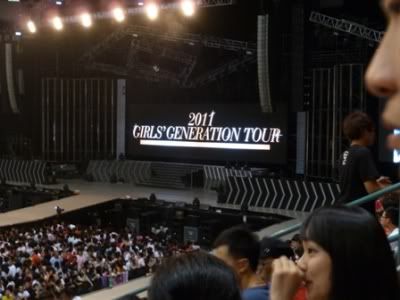 We weren't fortunate enough to catch their 1st Asia Tour...but here we are for their 2nd!
On our seats, there were folded pieces of glossy paper that read 'Welcome Back We Miss You', a large 'Pray for Sooyoung' sticker and a namecard which contained instructions for the events the Taiwanese SONEs prepared for the concert.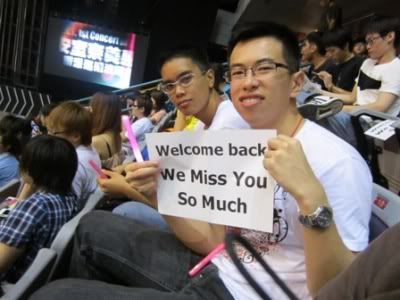 Me (left) and Guoxiang (right), who is holding the message of the day.
Looking left, we could see quite a number of empty seats, which was no surprise given that this was technically the 'third' day of the concert. That, however, didn't matter because when the concert promptly began at 7:30pm, 90% of the seats were filled and the pink ocean was truly a sight to behold.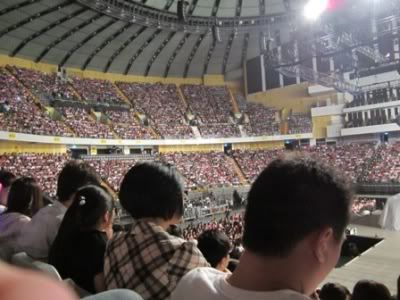 This would soon become...
After two years of waiting to attend and experience a full SNSD concert, we were in awe of the fact that we were finally part of the pink ocean for this 2011 SNSD tour. All our efforts were worth it. We were ready.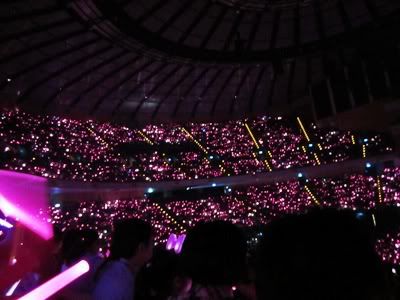 This...
After the lights dimmed, the first video began to play. The arena's impressive sound system made our pants vibrate and rose goosebumps all over. The crowd cheered for each member, and much more so for Sooyoung (which would be evident in every instance where Sooyoung appeared onscreen – everyone missed her dearly). At the end of the video, our attention was directed to a huge glittery three dimensional pentagon with a triangular roof. Needless to say, the girls were in it, and we were clamouring for them to be revealed!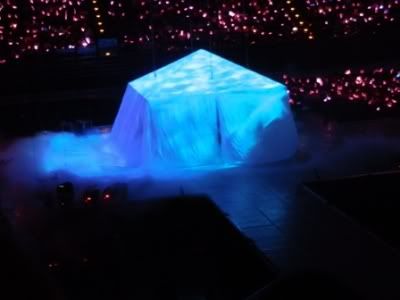 The music here was absolutely hair-raising.
Once again, the accompanying instrumental music send shivers running up and down our spines. And then, slowly and teasingly, the pentagon bloomed, revealing our 8 angels. The cheers here were deafening. We didn't realize at the time that it would only get louder as the concert progressed.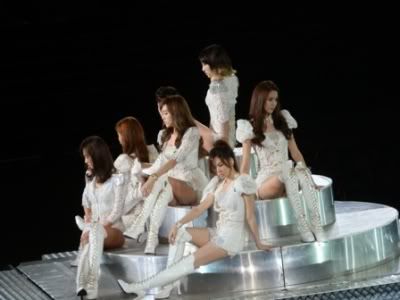 And our 8 angels have appeared!
Fanchants for Genie were incredible, and Tiffany's rap was even more so. The girls descended the pentagon using steps built into the opposite side of the walls and stood around center stage. They then retreated to the main stage to finish up the song, then did You-aholic.
Yuri, Sunny and Yoona descend with their overflowing charisma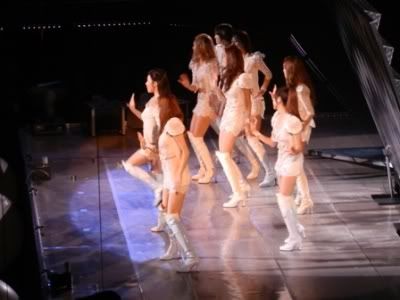 Dancing Genie
Honestly, few of us liked the song when the album first came out, but we loved it after hearing it at the concert. Halfway through the song, the girls split into groups of 4 and moved to the extension stages, where they rose in elevated platforms. Hyoyeon, Jessica, Seohyun and Yoona were on our side. They interacted actively with the crowd, much to the fans' pleasure.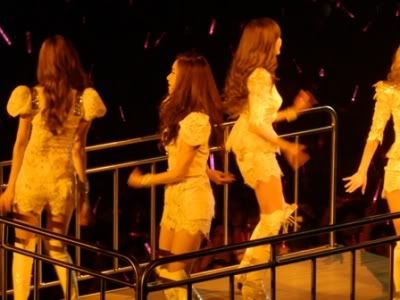 Hyoyeon, Jessica, Seohyun and Yoona dancing on elevated platforms.
Up front in the 4th row, Winnie held up her iPad which read 'I Love Yuri', and Yuri pointed right at her and winked. Hyoyeon waved to her when she changed it to 'I Love Hyoyeon'.
Here are all the presets Winnie had on her iPad. Everyone, for goodness sake, freaking go get an iPad before attending an SNSD concert. HONESTLY.
Winnie's presets. Her iPad was her saving grace and the object of our envy for the duration of the tour >_<
After You-aholic, they retreated to the main stage and did Mr. Taxi. Honestly, it sounded strange, but it didn't matter! Now, the Sones who had fanmade lighted pink taxi wheels with them turned them on. Yuri covered Sooyoung's parts.
Mr. Taxi
After Mr. Taxi was I'm In Love With A Hero. They moved forward to the forwardmost stage, and one of the parts halfway through the song was extended, and a black curtain fell over the front of the stage. As the song continued into the next chorus, our jaws literally dropped. Hyoyeon, Yoona, Seohyun, Yuri and Sunny were strapped to these super-thin platforms and they were lifted into the sky, while Taeyeon, Jessica and Tiffany remained on an elevated platform center-stage wearing glittering capes which looked like wings when they were held out. Awesome didn't even begin to describe it.
Our...Queens? Princesses? Angels?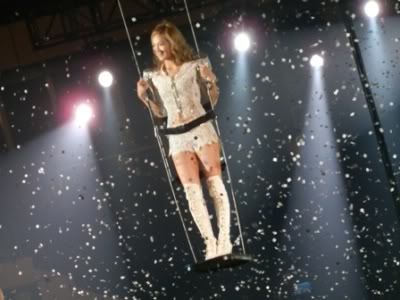 Hyoyeon getting a lift!
The girls went down stairs at the back of center stage and ducked into it to prepare for their next stage. This let the fans in mosh pits A and B get a much closer glimpse of them.
Another instrumental track entertained us for the next few minutes as the stage crew removed the pentagon from center stage, and Let It Rain was next. If you guys notice from a particular picture, there's an empty space in their 'V' formation. Needless to say, we knew who was missing.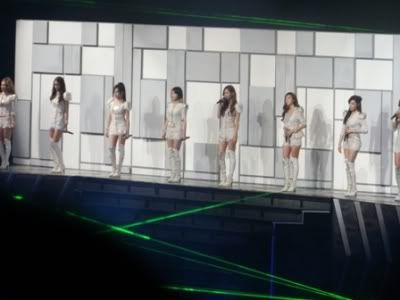 Just let it rain...rain...rain
Next, the girls did their introductions in both Mandarin and Korean. When they introduced themselves in Korean, we were supposed to answer 'We are Sone' in Korean, but that was scratched because everyone just cheered their lungs out. Tiffany was pretty much the MC for the girls throughout the concert. The reactions from the crowd were twofold: a translator was present for the girls, and the fans cheered after the girls and after the translator interpreted each girl's message if it happened to be in Korean. Here's what each girl said (roughly):

Tiffany
: Hi, I'm Tiffany! I missed you! (but it sounded like I'm similar to you because the pronunciation of the word was different from what it should have been) Thanks for waiting for us for one year. *in English* It's a pleasure to be back here for our second tour after one year. The pink…the pink lights are beautiful tonight, everybody have fun, okay?
Hyoyeon
: Hi everyone, I'm Hyoyeon! I'm in a great mood! Let's…together…(she messed up, but she meant let's enjoy this together!)…*unintelligible again*
Jessica
: Hi, I'm Jessica (we were expecting her to say 'we are Jessica' – her cute mistake from the Samsung fanmeeting in Beijing). I'm very happy today! I love you all!

Taeyeon
: Hi everyone, I'm Taeyeon! Shout louder for us today! (sounded really weird again lol but that's what she said) Thanks!
Sunny
: (exactly the same as her introduction during the Japan tour) I'm reaaaaaaaaaally glad to see you! I'm Sunny!
Yuri
: Hi, I'm Yuri from Girls' Generation! I'm glad to see you. I've…really…missed you! (sounded weird again) I really love you!
Yoona
: Hi, I'm Yoona from Girls' Generation! It's been a long time! Thanks everyone.
Seohyun
: I'm really glad to see you! I'm Girls' Generation's youngest, Seohyun! I've…missed…I've missed you! Have you missed us too? *crowd cheers* Really? *crowd cheers louder* Thank you! Let's play together!
The girls next talked about how happy they were to be in Taiwan again, and how thankful they were to everyone who attended the concert. Seohyun introduced the next song as Snowy Wish.
Snowy Wish was packed with fanservice; this is where we got to see each girl shower their attention upon the eager fans. Each girl gave lots of fansevice, but the most notable were Tiffany and Hyoyeon, who took time to really stop, search the crowd and single out many fans to return their gestures with hearts and cute dances and winks and points and all sorts of oh-god-kill-me-now actions that just took our breath away. Winnie down in the 4th row held up her iPad with 'I Love Fany', and Tiffany showed her a big heart and said 'I love you too'. Next was Sweet Talking Baby, which also included lots of heartstopping fanservice.
The girls were really energetic and were literally jumping everywhere having lots of fun. They joined each other center stage at the end of the song in preparation for the next one…which marked the beginning of the REAL fanchanting. Kissing You was up next, and when the opening '
doo-doo-doo-do-do-do
' came on, the fans knew exactly what to shout. The song was uplifting and intensely sugary, and really got the fans going. The. Fanchants. Were. Just. Incredible! I think even the girls were surprised how loud we were. The girls dispersed to the extension stages to interact with the fans, with cute exchanges between the members. Winnie once again used her iPad to get Seohyun's attention. It's pretty hard to see what each member does since we're always near only a few of them. They gathered back at center stage and prepared for Oh!, which also energized the fans. Near the end of the Oh!, Hyoyeon and Jessica took the stairs to prepare for their next stage while the remaining six retreated to the main stage to finish the song.
After the girls went backstage, the 'Always Yours' video played. The video was filled with cute and sweet moments in which even Sooyoung's shortest appearance garnered the loudest cheers.
Next were Hyoyeon's, Jessica's, Sunny's and TaeNy's solo stages. I won't go into detail here because I'm sure you've seen videos of these performances somewhere! Each of the performances just left us in awe.
Next was a cool spy video to buy time for the girls to change into their next outfits, and they appeared on an elevator at the top of the main stage for The Great Escape. After which, a long white screen with their silhouettes came down, which gave the illusion of the girls dancing behind them, but in fact they'd gone backstage to change into their next outfits. Each silhouette danced to a short rhythm, with the last carrying a hint of Bad Girl. Not surprisingly, Bad Girl was next and the girls showed a powerful performance once the screen was lifted. I noticed at this point that Taeyeon was especially into the performance; she was just exuding sexiness! She executed the choreography with almost military precision. Perhaps she seemed so precise due to her size. Hmmm.
The girls then retreated backstage, and another video came on. The girls were wearing white Run Devil Run outfits and were each in a small room with mirrored walls, fascinated by falling snowflakes. Swan Lake played in the background. The atmosphere took an uncomfortable turn as the girls were confronted by their black Soshi counterparts, and as those took over, the girls in the video began dancing to an electro-remix of Swan Lake, which was really cool. As the video ended, there was a rock introduction before Taeyeon appeared in her rocker livery using the elevator at the top of the main stage for "Devil's Cry". Now THAT was an incredible sight. This marked the transition to the 'rock' portion of the concert. Taeyeon pulled off the image perfectly (did she receive personal lessons from Moon Heejun?), rocking the crowd with her flawless vocals and wowing us with her perfect high notes.
We had a feeling SM had charged TRAX with the duty of providing the rock/metal backing tracks, and if they did, then TRAX did a marvellous job. The rest of the girls came out and they all performed remixed version of Run Devil Run, with a dance break featuring once again the Swan Lake electro-remix. Next came Beautiful Stranger, then Hoot – packed with more surprises. The song transitioned into a rockin' remix, and the girls broke formation, with Taeyeon on an elevated platform center stage, Tiffany and Sunny on the extension stages (may be different; can't really recall) and Yuri, Seohyun, Yoona and Hyoyeon strapped into the lifts again – this time rising and falling even faster than during I'm In Love With A Hero. Hoot ended on a powerful note, and the girls disappeared backstage before another video came on.
This one showed some random guy (we literally called him the 'random guy') chasing Yuri, Sooyoung, Yoona and Seohyun through a variety of locations. The girls looked absolutely beautiful in the video; especially Yuri in her striking red dress. Sooyoung once again drew the most cheers.
Yuri's, Seohyun's and Yoona's solo stages were next. Yuri's and Yoona's solos was just oozing sexiness and power! We particularly loved Seohyun's! The girl has a taste in music that's unique compared to her sisters', and her venture into peppy, fast-paced broadway music coupled with a mean tapdance was a welcome change to the otherwise sexy or melancholy stages of the other members.
The next video was overwhelming for me. It really humbled the fans into a sober, reflective mood as it told the story of two sisters who had lost their mother. Presumably, the younger one had no idea, and had been under the care of the elder, who couldn't have been older than say 12. I couldn't take it; it was too much. I cried. My friends will probably only know when they read this. As the video reached its halfway point, Taeyeon, Sunny, Jessica (whose hair was now tied into two cute little bobs at the sides of her head), Seohyun and Tiffany came out and sat on the steps leading down from the top of the main stage and sang Danny Boy as the video continued to play behind them, finally ending on a bittersweet note. Had it not been for the girls' beautiful voices despite the depressing song, I would have continued crying, but I didn't.
The rest of the girls came out and sat with the five to sing Complete. Here, we held up the papers which said 'Welcome Back We Miss You', and sang the choruses together with the girls. I was slightly disappointed because their Complete stage during the 1st Asia Tour had much more of an impact, with them standing in a revolving circle holding hands with their heads bowed in some silent, unknown prayer…and only continuing when Jessica saw fit. But who am I to complain? Complete was as beautiful as it should have been. After all, it was our girls' first ballad, right? After the song, the girls received their first surprise. Before the concert, the Taiwanese Sones had attached large green lightsticks to designated seats throughout the central area of the arena and instructed their occupants on how to use them after Complete. The result was the word '소녀시대 9' outlined in green against the sea of pink. I'm sure you've seen photos of this!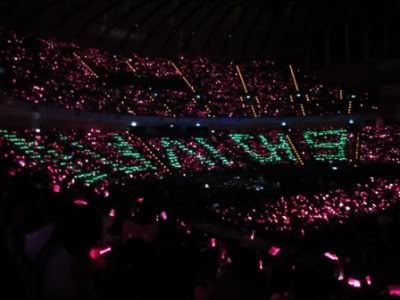 Power of 9!
Next was My Child, where the girls sat atop a ship split in the middle – four on each half – and followed a path from the left extension stage, stopping in center stage to march around the ship during the drum solo part and then continuing around the right extension stage back to the main stage. Fanservice was tremendous. They looked like dignitaries waving to fans from the ships!
The girls retreated backstage and another video was screened. We call it the 'Delusional Key and Taemin (from SHINee) video'. It's funny how it felt like SM was teasing us indirectly for indulging ourselves in endless far-fetched fantasies and delusions. You'll see what we mean if you watch it too
The next part of the concert had us on our feet. The girls came out with Naengmyun, and the first of three Tiffany elevator fails happened right then. The other seven came out from backstage, but Tiffany rode a small elevator up the center stage. The problem was, it stopped at her chest level. Poor Tiffany looked down to see what was wrong before she decided that the only way to get out was to climb. This little misfortune was much to the fans' delight, and we cheered and laughed as she sheepishly pulled herself out of that little square hole with a cute smile on her face. The thing was, once she got out, the elevator worked just fine. Hmmm. Looks like we weren't the only ones who loved the food in Taiwan (hehehehehehehe).
Anyway, fanchants for Naengmyun rocked the arena – the loudest thus far. Next up was HaHaHa, which had us hopping in place. Again, plenty of fanservice with the girls skipping around and throwing everything they could our way. During halfway through the song, Fany gave Guoxiang a wave and thumbs up when she spotted the LED heart being displayed through his phone, after which he was just spazzing. Haha. The girls congregated at the stage for their ultimate performance: Gee. Fanchants went right through the roof, and the girls recognized this by holding their microphones out to the fans at many parts throughout the song.
The atmosphere calmed a bit as Tiffany once again led another around of light chatting between the members and interactions with the crowd, which I can't quite recall, but as usual it included a lot of awkward and cutely funny Mandarin. Again, the fans cheered both after a member's message and the following translation. Sometimes the girls wanted to speak but was cut off by the translator who was delivering the previous half of their sentence, and ended up giggling in embarrassment. It was so precious. Tiffany then said that the next song would be their last, and Taeyeon introduced it was Forever. The girls dispersed throughout the stages to interact with the fans in between their lines. After the song, the girls remained in their spots and Sunny, who was almost in tears, thanked the fans. They then went backstage, but we all knew they would be out again soon.
Instructions on the namecard were to chant Tiffany's famous cheer: 'Let's go Soshi Let's go!' when they went backstage. We did exactly that…for perhaps about five to ten minutes straight. I was already so hoarse by then that I didn't care. We chanted, stopped and took long pulls of water, then chanted some more until they appeared from backstage in their cowgirl outfits. The crowd cheered as they formed a vertical line. That could only mean two songs, and one had already been performed.
With a quick 'Thank You' in Mandarin by Taeyeon, we were taken back 4 years to 2007 as the piano introduction led us to Into The New World. Many of us sang the chorus together with them; somehow it felt almost religious as we did it. This was the song that gave birth to the SoShi we know and love today. This is where it all began, and now we were a part of it. It was humbling. There was a girl sitting behind us who must have taken great pains to learn the fanchants of each song in preparation for this concert. ITNW's fanchant during Hyoyeon and Yuri's dance break is pretty difficult, and she was screaming it all out on her own. We made a note to learn the fanchant once we got back to the hotel (we did).
The next two songs were highly energetic and full of fanservice. First was Himnae, and the crowd went wild once again as we rose to our feet and hopped right along with them. There was so much energy coursing through the arena, it was electric. Once again, the girl behind us didn't disappoint. Himnae was accompanied by her spirited fanchanting, while the rest of us were merely content to sing along. The girls gathered at the main stage, and Tiffany introduced the next song as 'really the last song'. It's Fantastic was next, and we could really see the happiness on the girls' faces. It's so humbling to know that they're just as thankful to us as we are to them. I guess it's relationships of this kind that lead to that inexplicable bond we share with each other. Call me biased, but this is one of the many reasons why I simply believe our idols and our fandom are better than any other in the K-Pop world. Each fandom has their own special bond with their idols…but I can't help but think that ours trumps all the rest in its sincerity and depth.
The end of the concert was nigh, and upon It's Fantastic's closure the girls moved from stage to stage, bowing and thanking the crowd as they continued to cheer and wave.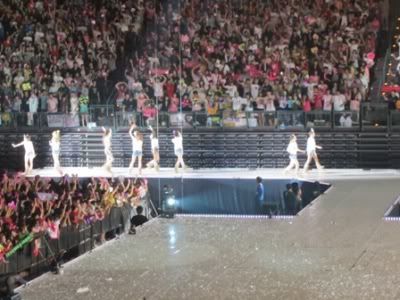 The girls thanking the crowd and walking back
Given that this was the additional day for the Taiwanese tour, this was probably the one and only chance to see their idols. The girls then retreated to the main stage where they formed a line with the backup dancers and bowed once again and gave thanks. The backup dancers left, and the girls led us in the classic cheer: Right now it's Girls' Generation, From now on it's Girls' Generation, forever it's Girls' Generation! Needless to say, the crowd practically roared. Yuri and Tiffany said 'see you tomorrow' in Mandarin as the girls took their leave.
Many of the arena's occupants would leave their seats with heavy footsteps. For us, this was just the beginning.

Day 2
We've outlined the entire concert from start to finish on the first day, so I'm only going to discuss what happened differently on the second day.
Most of us woke up with slightly painful lumps in our throats given that we'd yelled ourselves hoarse the previous day, but that wouldn't change anything today.
We wised up after the first day and realized that since we had seats, we could come at the last moment and still get in, so we arrived at the arena at around 5:45pm. If we thought the previous day's crowd was big, today's was absolutely suffocating. It was technically the 'first day' of the tour, and it was a sell-out concert, much to our delight. More fans means more hype and louder fanchants, and a deeper sea of pink for our girls!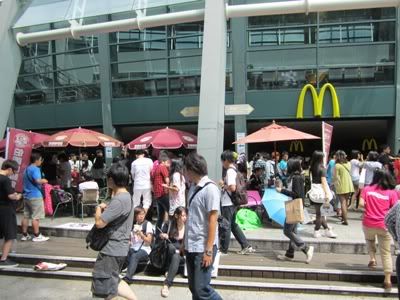 A tiny sample of the enormous crowd present today
We went in at around 6pm when the queue started and got to our seats in the Purple 2B area. It was the three of us again: myself, Guoxiang and Gerald. This time, we were in the 5th row from the front; much closer to the left extension stage than the previous day.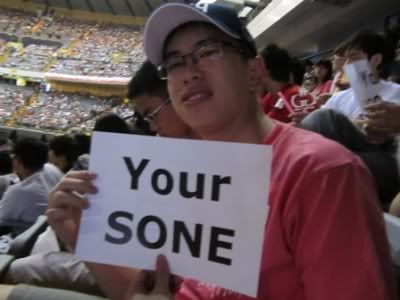 Today's message: YOUR SONE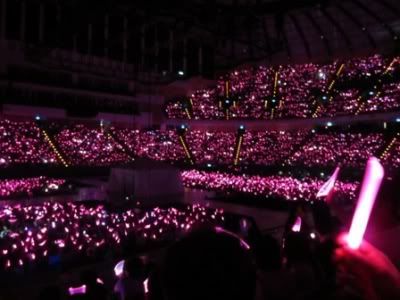 Day 2's Pink Ocean
Today, we were determined to get some fanservice, so we decided to borrow an idea from one of our friends, Winnie, who used her iPad to get Tiffany's attention on the first day. So we borrowed Lionel's (Nutzkcas) Galaxy S and each of us used Color Flashlight to form the words 'SINGAPORE ♡' in bright green.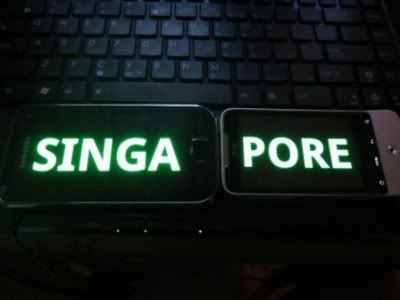 We hail from SINGAPORE!
That paid off. Seohyun saw us first during Snowy Wish, but her attention was quickly diverted to the people in the front who had these 'YongSeo' boards. We can't blame her, can we! In the opposite section, Red 2D, Winnie once again attracted Tiffany's attention with her iPad, which read 'Miss You Fany'. Tiffany tilted her head, pointed to her, and made a '2' with her fingers, as well as mouthed the words 'miss you too!'. Hyoyeon also waved to her after she changed the message to 'Miss You Hyoyeon'. Lucky girl T_T. In our section back in Purple 2B, Tiffany and Sunny waved to us next during You-aholic.
A small incident happened during Sunny's solo where her mic came loose from her back. She held it in her hands while continuing to perform, and did a "recovery" quickly. Kudos to sunny for her quick and calm thinking!
During Naengmyun, Tiffany's elevator platform failed again and she had to climb out. This time, however, she bumped her head a little and got out holding her head with a grin on her face, and we all cheered. She was taking it in good stride and everyone loved it. In Red 2D, Sunny pointed to Winnie and waved when she saw 'Miss You Sunny' on her iPad.
Today's prepared event for Complete was the word 'FOREVER' highlighted in green against the sea of pink. The rest of us held glossy paper that said 'YOUR SONE'. We guessed it came together as 'FOREVER YOUR SONE'. How fitting!
FOREVER...YOUR SONE.
During Gee afterward, the fanchants were so loud that after the song, Tiffany was so surprised that she commented that they couldn't hear themselves sing as well as the music during the fanchants, and asked us to do it again during the short talk. The girls sang the chorus, and we roared so loud and they were really happy.
During the song Forever, Hyoyeon came over to our side and stood in front of us. When everyone was immersed in this beautiful ballad, Hyoyeon looked towards our direction, and we quickly use our arms and formed hearts over our heads. She looked at us with a happy face, blinking her eyes and returned a big heart to us with a huge smile on her face. That killed the three of us right there. We then waved frantically at her, and she pointed to us and nodded her head, grinning and waved back. That was the second death. The row in front of us and practically all those sitting around us looked over when we 3 collectively shouted 'oh my God!' while holding our heads.
After another five minutes of chanting 'Let's go SoShi let's go!', the girls reappeared for ITNW, and I lived up to my promise by yelling the dance break fanchant for my entire block
.
We were on our feet again for Himnae and It's Fantastic, jumping and shouting and waving our lightsticks as the girls repaid our enthusiasm in kind. Taeyeon was jumping in front of us like a crazy little girl during Himnae! The girls just basically went crazy. How not to, when Himnae was such an upbeat song?
Tiffany said a bright 'see you tomorrow!' before she disappeared backstage with her sisters.
After the end of the concert, the six of us noticed a lot of people standing at the side of the road outside the arena, so we decided to join them. A chorus of shouts down the line told us that SoShi were approaching the traffic junction on the way back to their hotel. There were two large white vans and a bigger black one, all with windows tinted a deep black. We spotted a light from a handphone waving from inside the van. It's anybody's guess which member it was.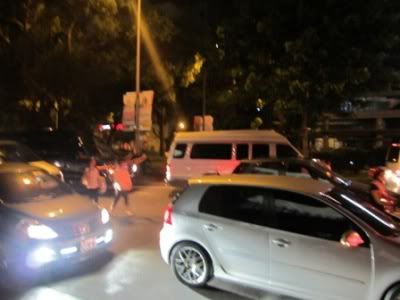 The SoShi vans. Notice two gutsy fans who ran out into the streets to wave up close. A small throng followed soon after.
We were content to wave from the sidewalk, but some fans went nuts and went right onto the road through the cars to send their love from beside the vans. Even some fans on scooters held up the 'YOUR SONE' signs. When the light turned green, the vans sped off, followed by maxi-cabs close behind. Now that was dangerous, but what could we do? We just hoped that the stalkers wouldn't endanger the girls' safety. That was really some serious speeding we saw.
Our group pic
We met up with a few Sones from Malaysia, which we met on twitter, and went off for supper while spazzing non-stop about the happenings during the concert.
And that ended the second day.
Day 3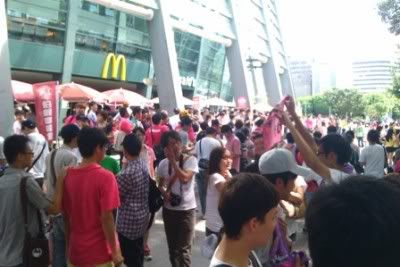 The BIGGEST crowd EVER
The concert was at 3pm today since it was a Sunday and the next day was the Mid Autumn Festival, a Taiwanese public holiday. It was the biggest crowd out of the 3 concerts! We witnessed a lot of desperate fans sitting around and walking around the arena with hand-made signs that said "Need Tickets!" in Mandarin.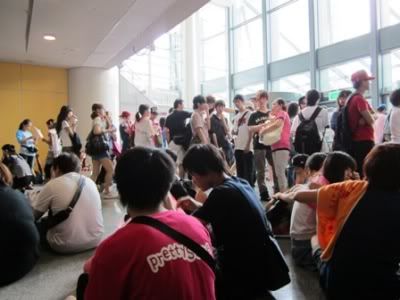 Everyone chilling indoors before the concert.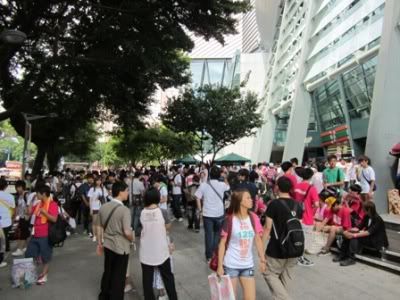 And those who preferred to chill outdoors instead.
Guoxiang and myself were seated in the Yellow 2D sector, 8th row, where we had a full panoramic view of the entire arena. We resigned ourselves to receiving zero fanservice since we were so far from the stages, but were encouraged by the knowledge that we'd be getting the best view of the concert that day.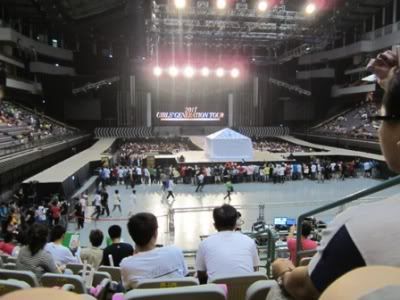 Smack in the middle.
Lightsticks on! Here we go again, people!
4 of us (Gerald, Winnie, Lionel and Ivan) had Mosh Pit C tickets and were supposed to queue at 12:30pm, but they didn't bother because theirs were the very last of the group and they decided to enter at the very last moment to secure places at the extreme left corner of the pit closest to the left extension stage. They did, and with a little creativity, made a little more room for themselves and were rewarded with fanservice from every single member. Winnie's iPad once again caught Tiffany's attention (she'd written Thanks SoShi on her iPad and bowed to Tiffany when she came over), and Tiffany bowed back and gave her a heart and mouthed a 'thanks' right back. A few of us really wanted to get an iPad from then on >_<.
It was already the third and last day of the concert, but neither the fans nor the girls let up. Fanchants were through the roof, and the girls were every bit as excited and energetic as they were on Friday. Tiffany expressed her excitement (topped with a little American 'yay!') at having performed for three days now, and asked the crowd if we'd attended the concert the day before and on Friday. Everyone cheered in each case, and though it was unlikely to be true, it was all good fun. She thanked us and with that, the rest of the concert played out.
During Snowy Wish, Seohyun bumped into Yuri and they ended up hugging. In pit C, Winnie held up her iPad which read 'Happy B'day Hyo', and Hyoyeon waved at her. She changed it to 'Don't Go Yoona' and 'I Love Yoona' and Yoona waved at her. Finally, an 'I Love Taeyeon' garnered a wave from Taeyeon – Winnie's bias. Her mission in Taiwan was complete.
During Hoot, when Sunny came out to the left extension stage, she saw Winnie's 'Thanks Sunny' and waved to her. Once again people, get a freaking iPad. Seriously. I may sound like an Apple salesman, but it WORKS.
Today's post-Complete event was 'Ka Ji Ma Yo >_<' in Korean highlighted in green, and glossy papers with the same phrase being held by those in the pits, and that really hit the girls hard.
A view from our section (in the middle. too bad we weren't selected to hold the green lightsticks)
View from the far right side of the Arena. Don't goooooooo!
Taeyeon, who is known to shed little tears, cried and the other girls also had tears in their eyes. The crowd was on their feet for the first time during My Child, and would continue to stand till the end of Gee.
From Naengmyun through Gee, the entire arena was giving it their all, and during the short talk after Gee the girls each talked about the 'Ka Ji Ma Yo >_<' we formed in the crowd, and how they were sorry that they had no choice but to go, and that they would definitely come again; we just needed to call. Yuri and Jessica shared a towel and wiped their faces with it (YulSic fans, rejoice!), and Taeyeon and Tiffany whispered between each other (sweet nothings, I'm sure) and shared some eye contact (lovers' telepathy, perhaps?). Taeyeon admitted that she wasn't someone who was easily moved to tears, but she cried in the end. Mostly the girls shared long and heartfelt messages with us, much to the translator's chagrin since a human being could only remember so much at one time. The fans had a good laugh while she stuttered and paused, but it was all good fun. Tiffany introduced the next song as the last, to which Guoxiang and I shouted 'don't lie!' and 'yeah right!' jokingly in Mandarin.
Forever was next and we stood and sang along. Down in pit C, Winnie had 'Thanks Fany' on her iPad and bowed, and Tiffany bowed back, gave her a heart and mouthed a 'thank you'. Tiffany looked overwhelmed by all the love everyone was showering upon her and was on the verge of tears. After the song, we sat and chanted for their return.
Thus began the most emotional and enthusiastic part of the entire Taiwan tour. The fans were on their feet and would remain so until the end of the concert. Once again, I found myself yelling the dance break fanchant with my half-womanized voice by myself
A few of us had voices low and raspy enough to audition as movie trailer narrators during these two days. It was that bad, but it was all worth it. Next was Himnae, and during It's Fantastic, the entire arena was fiddling with little rolls of pink preparing for the final epic event
.
Looks a bit like toilet paper, doesn't it? It's much thinner and smaller than it looks.
After the final three beats of the song, the entire arena bloomed in an explosion of pink ribbons as each fan hurled his personal roll of pink ribbon toward the stage. Two seconds later, we were covered with pink ribbons and felt like mummies but we didn't care. This epic act was the single most moving part of the tour and everyone was enthralled by the knowledge that they each were a part of it. Just look at the faces of the fans in some fancams and you'll see how amazed they were too. It was enchanting and awe-inspring.
The looks on the girls' faces said it all: they were shocked, and they absolutely loved it. The pink ribbon event had them in tears. Personally, for Guoxiang and myself, we'd been waiting to be part of something like this since the previous Taiwan tour last year, and to actually have been part of the pink ribbon event was a definite dream come true.

An edited picture by Guoxiang using three separate shots to make one panoramic view. The ultimate moment of the entire tour.
The girls thanked us endlessly, moving from stage to stage. They had lots of fun playing with the ribbons that reached the stage; Sunny particularly enjoyed wrapping herself up in them, much to the delight of those who were still holding onto their ends of the ribbons Sunny was now bundled up in. Yuri picked up a couple of silver confetti from the ground and stuck them under her eyes, which was another cute sight to see.
After thanking everyone, while they were moving back to the main stage, the fans in the central blocks of the arena held green placards that together read 'HYOYEON', while those in the pits held glossy papers that read 'Kim Hyoyeon, 22/9 Happy Birthday!' in Korean.
Kim Hyoyeon. 9/22. Happy Birthday!
A cake was rolled out, and everyone sang a birthday song for Hyoyeon. She was darned cute here; she was asked by the girls to make a wish, and after she blew out the candles Seohyun asked Hyoyeon what her wish was, and Hyoyeon cutely said it was a 'mimi' (secret in Mandarin). Seohyun wasted no time. She was the first to smear cream on Hyoyeon's face, followed by Yuri and the rest. Yuri then pointed at Hyoyeon and said 'you're very pretty' in Mandarin, to which Hyoyeon turned and asked the crowd 'am I pretty?'. The collective answer was obvious
. Jessica had the crowd laughing when she flicked Hyoyeon on the forehead, further spreading the cream there across her hair and sending it flying off her face. The crowd also laughed when Sunny burst into her signature chuckle after she had a good look at Hyoyeon's creamed face. The girls were having a lot of fun, and took turns attempting to clean Hyoyeon's face. Check out fancams on YouTube for a hilarious treat!
After that, they led us in the SNSD cheer for the final time before taking their leave. Tiffany said 'hope to see you again…next..year?' really cutely, and the crowd cheered. Then she was gone with all the rest. That was when the withdrawal really began to set in for us.
Outside, all of us went straight to the spot where we would spot the SoShi vans, but unfortunately, the light was green as they approached, and they sped off as all the fans waved and held up LED messages using their phones and iPads.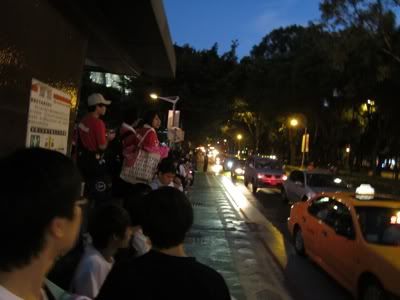 Saying goodbye for the last time.
Someone inside one of the vans held a lighted Mr. Taxi wheel up against the window as a gesture of thanks, but we would probably never know which of the members it was >_<.
We met up again with the Malaysian Sones for a group pic before we left the place.
And that was it. Three days had passed in a flash as if in a fleeting, yet much reminisced dream. It was finally over. A Taiwanese SONE went around passing out free SONE and Sooyoung water tattoos, asking us to continue supporting SNSD. That was really encouraging and heartwarming. Back during the afternoon, in fact, some SONEs had organized a free service that compiled extra and available tickets from SONEs who wanted to sell them (at cost price, of course), and matched them to other SONEs who were in need of them. It's really the little things like this which brings everyone closer in the SNSD fandom. Gestures of goodwill; enthusiastic events; sincere efforts, these are a few of the many reasons why the love for SNSD and the love from our fandom continues to grow by leaps and bounds the world over as our girls grow, mature and ultimately succeed.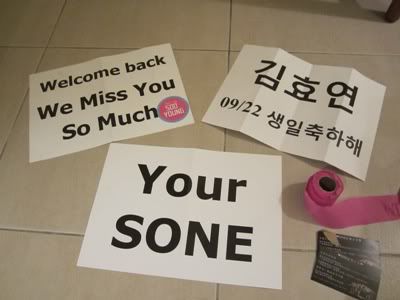 The 3 placards for the 3 days, with Sooyoung sticker, pink ribbon and instructional cards.
Makes for a great souvenir to bring back memories!
Once again, we'd like to thank the Taiwanese SONEs for making this tour such a memorable one. I'm sure the girls would be immensely proud. We would also like to give our thanks to SoShi for giving us a chance to witness this great spectacle and giving us a wonderful and beautiful concert experience!
For those of you who read every bit of this wall of text, CONGRATULATIONS. YOU'VE WON...EYEDROPS THAT MAY BE REDEEMED AT THE NEXT TOUR!
Peace out, SONEs!