calz0ne
Member Since 11 Aug 2009
Offline
Last Active Jul 02 2022 08:07 PM
I finally saw the girls live at the SMTOWN NYC concert. Woke up this morning with sore arms and cracking vocal cords.
Updated 24 Oct · 0 comments
About Me
My sone story: Youtube.
I had finished watching "Winter Sonata" and "Full House," when I decided to change my Youtube preferences from "Worldwide" to "South Korea." When I refreshed the home page, Jessica & Myung Soo's Music Core performance of "Naeng Myun" was number one in almost every category that day.
I had so many thoughts running through my mind: "Why is a Korean singer named Jessica?" "Why is this old man singing and dancing with her?" "Are they really a musical duo?" "She looks really pretty in that hair color" "Why is this video getting so many views?"
After searching "SNSD" on Youtube, I ended up watching their "Tell Me Your Wish" music video. I immediately took a liking to the song. On top of that, Taeyeon's strong intro of singing with that powerful voice, walking toward the camera from behind two taller band members all refocused my train of thought from "Typical cutesy Asian girls video" to "These girls actually make it a point to present their vocals and choreography. Who are they??"
This video, of course, led me to a related SNSD video, which led me to another, which led to another. I had spent my entire afternoon watching subbed videos of "Intimate Note," "Hello Baby" episodes, and numerous clips from variety shows. Their amazing talents, chemistry and different personalities made me a fan. These nine ladies absolutely destroyed my own prejudice against Korean, female celebrities. It's just so rare to observe that level of genuine, group chemistry on TV, on stage, on radio/bora's... even fancams/fan accounts. These girls are just something else.
Taeyeon Into The New World Seoul Concert cr: kadee - Soshified Gallery (100px x 100px) png

Taeyeon Nintendo iDS CF (100px x 75px) gif

Taeyeon and Sunny Goobne Chicken CF (100px x 100px) jpeg

(150px x 150px) jpeg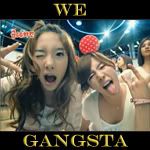 ---
Community Stats
Group

Soshified

Active Posts

173

Profile Views

4739

Member Title

SoshiStruck

Age

Age Unknown

Birthday

Birthday Unknown

Gender

Female

Location

NorCal, US

Favorite SoShi Member

Taeyeon

Proud citizen of

United States (US)
Viewing Profile: calz0ne