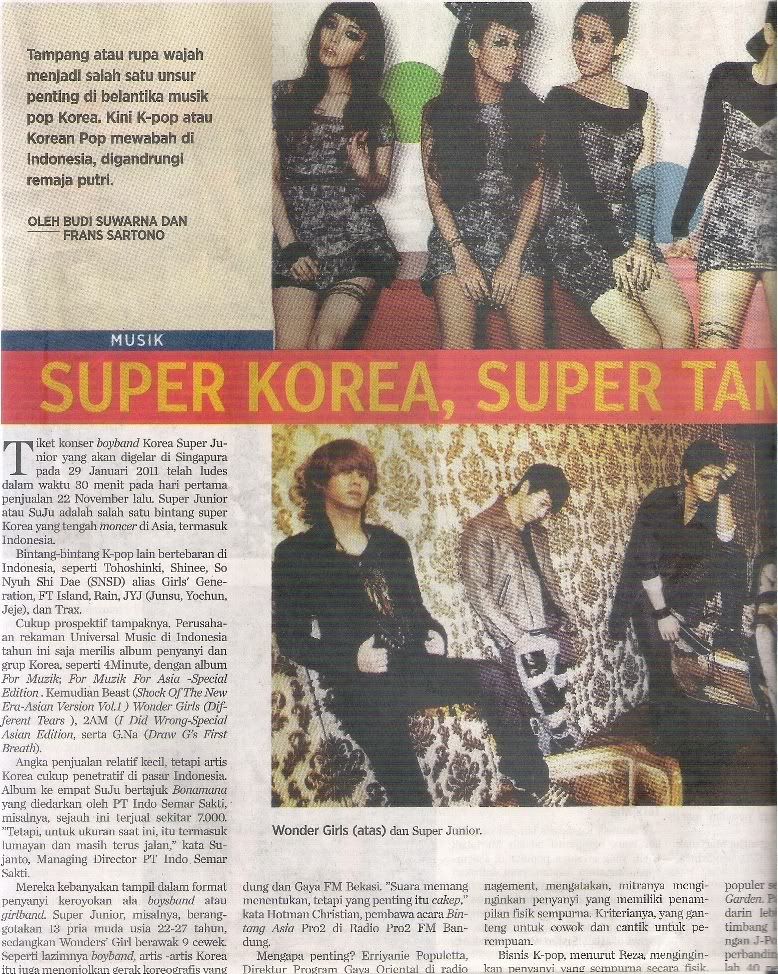 This is the full article in Indonesian:
Tampang atau rupa wajah menjadi salah satu unsur penting di belantika musik pop Korea. Kini K-pop atau Korean Pop mewabah di Indonesia, digandrungi remaja putri.
Tiket konser boyband Korea Super Junior yang akan digelar di Singapura pada 29 Januari 2011 telah ludes dalam waktu 30 menit pada hari pertama penjualan 22 November lalu. Super Junior atau SuJu adalah salah satu bintang super Korea yang tengah moncer di Asia, termasuk Indonesia.
Bintang-bintang K-pop lain bertebaran di Indonesia, seperti Tohoshinki, Shinee,
So Nyuh Shi Dae (SNSD) alias Girls' Generation
, FT Island, Rain, JYJ (Junsu, Yochun, Jeje), dan Trax.
Cukup prospektif tampaknya. Perusahaan rekaman Universal Music di Indonesia tahun ini saja merilis album penyanyi dan grup Korea, seperti 4Minute, dengan album For Muzik; For Muzik For Asia -Special Edition. Kemudian Beast (Shock Of The New Era-Asian Version Vol.1 ) Wonder Girls (Different Tears ), 2AM (I Did Wrong-Special Asian Edition, serta G.Na (Draw G's First Breath).
Angka penjualan relatif kecil, tetapi artis Korea cukup penetratif di pasar Indonesia. Album ke empat SuJu bertajuk Bonamana yang diedarkan oleh PT Indo Semar Sakti, misalnya, sejauh ini terjual sekitar 7.000. "Tetapi, untuk ukuran saat ini, itu termasuk lumayan dan masih terus jalan," kata Sujanto, Managing Director PT Indo Semar Sakti.
Mereka kebanyakan tampil dalam format penyanyi keroyokan ala boysband atau girlband. Super Junior, misalnya, beranggotakan 13 pria muda usia 22-27 tahun, sedangkan Wonders' Girl berawak 9 cewek. Seperti lazimnya boyband, artis -artis Korea itu juga menonjolkan gerak koreografis yang energetik di panggung.
Mereka kebanyakan memilih jenis pop, dance pop, atau R&B. Lagu-lagu mereka dibawakan dengan bahasa Korea dengan sisipan sepotong kata atau kalimat dalam bahasa Inggris di sana-sini. Misalnya lagu "Sorry, Sorry" dari Suju, atau "What A Girl Wants" dari 4Minute.
Operasi plastik
Satu hal yang paling menonjol dari K-pop adalah tampang atau penampilan fisik mereka sangat terjaga, terutama wajah. Tampang itu
menjadi salah pengaruh penting atas popularitas dan daya jual K-pop. "Dalam penampilan cowok harus cakep. Ini seperti kebanyakan boyband bule, seperti 'N Sync, Backstreetboys, Westlife," kata Sujanto.
Soal tampang juga diakui oleh radio yang memutar lagu K-pop, seperti Pro2 FM Bandung dan Gaya FM Bekasi. "Suara memang menentukan, tetapi yang penting itu cakep," kata Hotman Christian, pembawa acara Bintang Asia Pro2 di Radio Pro2 FM Bandung.
Mengapa penting? Erriyanie Populetta, Direktur Program Gaya Oriental di radio Gaya FM Bekasi 93,6, menduga itu karena sekitar 90 persen penggemar mereka adalah remaja perempuan. Setidaknya, pendengar acara Gaya Oriental. Jangan kaget jika sampul dalam album kelompok K-pop itu bak album foto para model. Buka saja album Suju atau Wonder Girls, 4 Minute, yang penuh gaya dengan rok mini ala foto model.
Industri musik Korea yang menyasar pasar Asia belakangan mencari dua penyanyi berbakat dari Indonesia untuk menjadi anggota boyband dan girlband Korea.
Mereka akan dipilih melalui audisi yang digelar 18 Desember mendatang. Perusahaan Korea yang menggelar audisi di Indonesia adalah Nega Network, salah satu perusahaan rekaman Korea.
Di Indonesia, mereka bekerja sama dengan Headline Management.
Reza, Presiden Director Headline Management, mengatakan, mitranya menginginkan penyanyi yang memiliki penampilan fisik sempurna. Kriterianya, yang ganteng untuk cowok dan cantik untuk perempuan.
Bisnis K-pop, menurut Reza, menginginkan penyanyi yang sempurna secara fisik. Jika kurang sempurna, wajah penyanyi akan di-make over alias dipermak, termasuk melalui operasi plastik. Penyanyi dari Indonesia yang terpilih dalam audisi, nantinya pun harus bersedia menjalani operasi plastik. Dalam kontrak, nanti ada penjelasan mengenai hal itu. "Mereka sudah siapkan 500.000 dollar AS untuk biaya operasi plastik bagi peserta yang lolos," kata Reza.
Fanatik
Bintang pop Asia muncul dari masa ke masa. Teresa Teng (1953-1995), penyanyi asal Taiwan, pernah sangat populer di Indonesia era 1970-an. Antara lain lewat lagu "Yue Liang Dai Biao Wo De Xin". Kemudian pada era 1990-an muncul Aaron Kwok (45) dan Andy Lau (49).
Bintang pop Asia pernah mewabah sekitar 8 tahun lalu ketika kelompok F4 populer seiring popularitas sinetron Meteor Garden. Pada masa itu lagu berbahasa Mandarin lebih banyak diputar di radio ketimbang lagu-lagu K-pop atau Jepang dengan J-Pop. Dalam catatan radio Gaya FM, perbandingan pemutaran lagu saat itu adalah 40 persen untuk Mandarin, baru kemudian Korea dan Jepang masing-masing 30 persen.
"Pada dua tahun terakhir ini berbalik, lagu Korea sudah lebih dari 40 persen," kata Erriyanie Populetta dari Gaya FM Bekasi.
Pendengar program Gaya Oriental di Gaya FM adalah remaja usia SMP sampai kalangan dewasa usia 25 tahun. Acara yang dimulai sejak 6 tahun lalu itu diudarakan setiap Rabu dan Jumat malam.
Kefanatikan penggemar K-Pop juga tampak dari penggunaan nama samaran pendengar dan penyiar radio. Hotman Christian, pengasuh acara Bintang Asia Pro2 Bandung, misalnya, menggunakan nama Korea Hwang Te Ja. "Kadang pendengar request lagu dengan nama Korea, atau nama seperti personel band Korea. Saya sendiri pake nama Hwang Te Ja yang artinya putra mahkota, he-he-he...," kata Hotman.
...
The heading note says:
"Looks or physical appearance is one of the most important thing in K-Pop industry. Recently, K-Pop has been outbreaking in Indonesia, and been given a lot of love by teenage girls."
The background of the article particulary discuss about the K-Pop industry effect in Indonesia, which is growing quite significantly.
They're using Super Junior's sudden sold out concert tickets case as an example of how high K-Pop industry has penetrated the national music market, especially to teen girls.
SoShi was mentioned in the article as one of the K-Pop artists that has entered the nation's music market, along with SHInee, FT Island, Rain, JYJ and Trax.
It is also stated that some these K-Pop artists perform in large groups like mobs (lol) and with eyecatching coreography. Like Super Junior with 13 members and SoShi (the article stated wrong, it said Wonder Girls) with 9 members.
...
Going deeper to the article (which wasn't scanned), there's a sub article with the title of 'Plastic Surgery' where the article talks about the high importance of appearance in K-Pop industry. It says that everyone who wants to be a K-Pop artist must have a perfect appearance, if that person doesn't have it, then the Recording Company will fix their lack of appearance.
A certain Korean recording company is looking for two singers in Indonesia that they plan to involve in K-Pop industry. This company has partnership with the Indonesian company for the preparation of the audition. The CEO of the local company stated that their partner (which is the Korean company) wanted the ones who will pass the audition to be perfect in appearance, if they don't, again, these people must be willing to receive 'improvement' from the company, which the company itself has prepared the amount of US$500,000 for the 'improvement'.
P.S.: Don't hate me for posting this. lol
P.S.S.: Don't worry, the 'certain company' is not SM

Disclaimer: I do not own this article, did not write it, and did not edit it.
Edited by tikmen, 23 December 2010 - 01:00 AM.