Mimiyeon9
Member Since 23 Feb 2010
Offline
Last Active Jul 25 2010 02:52 AM
About Me
Hello, thanks for viewing my page ^^ , -Angelina(Miyeon) 안젤리나(미연)
My name is Miyeon, but i grew up with people calling me Angelina, so call me Lina if you like xD


i'm chinese/korean (i'm so tan it's not even funny), and as you can see, my favourite pairing is YulTi (Yuri,Tiffany),



I started liking SNSD about1 year ago,i was a YulSic shipper, then i was a JeTi surfer , and then i fell in love
with the YulTi xD. I'm a part of YulTiTV , but the main person is my baby Leeda XD . YulTi is UNDENIABLY REAL ,
&& add me, i don't bite
.
Random facts about me xD :, i'm a different girl, i play video games like C.O.D (call of duty) i'm pretty awesome at that game (; ,i like to listen to my ipod, and i text my friends all day , i read books(only when i feel like it) , i learn dances and dance to them when i'm bored, my bestfriend is Jennifer N. i would be nothing without her... i'm pretty random/dorky , and food is like, my bestfriend xD , if you hve any questions, just ask ^^
- - - - - - - - - - - - - - - - - - - - - - - - - - - - - - - - - - - - - - - -
I'm a SONE
- - - - - - - - - - - - - - - - - - - - - - - - - - - - - - - - - - - - - - - -
Ti UNDERSCORE Ti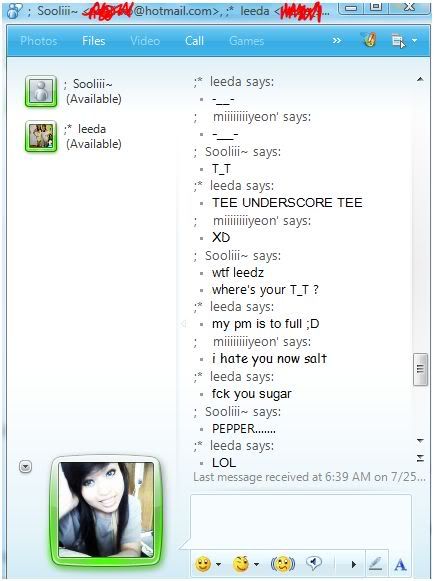 - - - - - - - - - - - - - - - - - - - - - - - - - - - - - - - - - - - - - - - -
---
Community Stats
Group

Rookies

Active Posts

1

Profile Views

3173

Member Title

SoshiHoney

Age

Age Unknown

Birthday

February 17

Gender

Female

Favorite SoShi Member

Tiffany
Viewing Profile: Mimiyeon9