Clarity~
Member Since 21 Jan 2010
Offline
Last Active Private
About Me
Assuming you're here to know a little more about me;

All you need to know is ;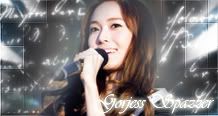 As a GorJess Spazzer, I'll make sure cucumbers will cease to exist, practice how to do a dolphin squeal-like scream, sleep whenever there's an opportunity; if there isn't then resort to day-dreaming, hold my chopsticks in a very odd way, wear Abercrombie and Fitch as much as possible,and learn my English badly so I'll receive scolding from my lovely Sica.♥

&

I ship RF

Full time Yulsic shipper, part time Yoonhyun Loyalist.
The innocent maknaes & their not-so-innocent appa/umma <3!
--

The rest remains a mystery. For you to ask , for me to answer :]
Don't hesitate to drop me a comment/adding me up .
Though mysterious , I'm totally approachable <3
OR
You can choose to read this if you're shy. lol

22 is not just any number <3
It's all about the ice princess.
--
RF Fanfics; Completed

When Angels Meet Vampires
Targeted
Getting Miss Popular
Change of Heart
Ongoing;

Glaemeres(discontinued)
Getting Me Pregnant (sequel to GMP) -(discontinued)
My Girlfriend is a Celebrity (collab) - (on hold?)
---
Community Stats
Group

Donors

Active Posts

397

Profile Views

23450

Member Title

<3

Age

13 years old

Birthday

January 22, 2010

Gender

Female

Favorite SoShi Member

Jessica

Proud citizen of

Rather not say
Viewing Profile: Clarity~