sayhellotothestars
Member Since 03 Sep 2011
Offline
Last Active Oct 21 2017 10:14 AM
About Me
all banners, icons & blinkie are mine (:
♥ Girls' Generation, B1A4, Btob, Spica, EXO, f(x), 100%, BTS, A Pink and Infinite ♥
Yoona Yuri Taeyeon Jinyoung Minhyuk Hyunsik Jiwon Luhan Chen Baekhyun DO Jonghwan Jin V Victoria Naeun L
Yoonyul, Changyoon, Myungeun, Taeyoon
Find me: sayhellotothestars@a-pink.net & dA, sourpinklemonade@tumblr, & AFF
| artwork thread | request thread |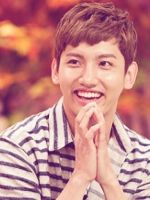 As a Changyoon shipper, we promise to forever honour our shikshin couple as we try to capture all their dorky moments.
We promise to believe that his cynical personality, and her cheerfulness will bring them together
- secretly sneaking smiles at each other, goofing around,
and of course doing their favourite thing - eating.
No matter what hardship may come,
we will believe that these two polar opposites will one day come to love each other.
---
Community Stats
Group

Soshified

Active Posts

545

Profile Views

8093

Member Title

party time~

Age

27 years old

Birthday

December 5, 1995

Gender

Female

Location

somewhere on earth (:

Interests

kpop, kdrama, RUNNING MAN <3
i also like listening to c-pop as well

i like to play around with gimp/photoshop and make banners,icons,walls and even blinkies ^^

Favorite SoShi Member

Yoona

Proud citizen of

Singapore (SG)
Viewing Profile: sayhellotothestars