Pumaduma
Member Since 24 Feb 2009
Offline
Last Active May 27 2014 12:09 AM
About Me
IMPORTANT NOTE
: Unfortunately, I failed to get back all of my fanfics from my broken desktop, therefore, ALL OF MY ONGOING FANFICS - except for 'Today is Our Everyday' - is ON HOLD
INDEFINITELY
. I will get back to completing them when the mood strikes, but as of now, all of them are in an indefinite hiatus. Sorry for the inconvenience, and really, I hate it too.
LIST OF FANFICS:
[ COMPLETE ]
My Graveyard Shift
: featuring WooTae(again)
Summary: Taeyeon was always the good sister to Tiffany and to the group. Romances was something she didn't need. But what happens when she falls in love with the wrong man? A man who had been chasing and waiting for Tiffany since Taeyeon could long remember. Will Taeyeon betray her friends? Or will she betray her heart? [ Prequel to 'That Friendship Thing']

[ COMPLETE ]
Sorted Laundry
: Wooyoung and Taeyeon
Synopsis: When Taeyeon and Wooyoung find themselves stuck inside a cursed laundry room, all Hell breaks loose...

[ ONGOING ]
Today is Our Everyday
: KhunA! KhunA! KHUNA! need I say more?
Synopsis: She never asked to like someone like him - there was absolutely no reason for her to like him. But it wasn't as if she had a choice.

[ HIATUS ]
Toni's Rad Dump of Short Stories
: full of Super Genration and 2PM Generation stuff; from oneshot, to songfics, to even short stories, it's got them all! Current Project: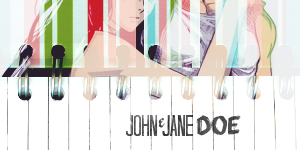 [ HIATUS ]
TaecYul Drabbles
: My current favorite ship! Drabbles about TaekYul
Sample: # 26. Diamond Hard
He knows that to wake her up, he should always stay far enough back that if she jerks awake he won't get hit by her diamond hard head (something he learned the hard way).
[ HIATUS ]
ChanSoo Drabbles
: My new fetish! Drabbles and Ficlets and half-baked ideas with Chansung and Sooyoung as my guinea pigs!
Sample: # 10: Cold
There was nothing much better than eating cold kimchi soup during winter.

It shocked the male maknae when he found out that the tall female could down five bowls without even feeling queasy.

(He'll never admit it in his life, but that solidified his respect for her.)
[ HIATUS ]
Seohyun Seulong Drabbles: 2AM+SOSHI
: Random pairing, I know...
Sample: # 13. Bias
To her, Keroro is now the second cutest thing in the world.
[ HIATUS ]
That Friendship Thing...
: featuring TaekYul! First try to do a whole complete story.
Summary: Yuri lost her memory. Well, not all of it. Just Kim Kibum - her boyfriend. And who has she replaced him with...? None other than her platonic bestfriend Taecyeon. When he thinks they're just platonic, and she thinks they've been together in months, Taecyeon soon learns that her
new
life is now
the
life they're living in. Summary is not that good, but do give it a try!

[ HIATUS ]
Him and Her
: My uber fail pet project
Summary: All good stories always starts interesting and ends with a 'bang.' Well not all of it. There's this story about a Him, a Her and their ever so anticlimactic, uncomplicated and dull lives.

Soshi pink is clickable! Please do read them!
---
Community Stats
Group

Soshified

Active Posts

350

Profile Views

9642

Member Title

SoshiStruck

Age

Age Unknown

Birthday

Birthday Unknown

Gender

Female

Location

at home...

Interests

I love all soshi members! I'm just biased when it comes to Yuri!

Favorite SoShi Member

All

Proud citizen of

Rather not say
Viewing Profile: Pumaduma