xtel
Member Since 22 Aug 2010
Offline
Last Active Jul 17 2022 05:08 AM
About Me
Hey!

My name is Krystelle Rose Labiano.

Call me 'tel' or 'tiw' for short.

I'm currently resided in the Philippines.

Specifically in Cagayan de Oro City.

I'm 16 and I'm in my first year of college.

I'm taking up Bachelor of Science in Accountancy.

Hopefully, I'll be a CPA someday.

I'm nice, friendly and approachable.

Random Thoughts:

I'm not really into KPOP groups and stuffs until my high school friends influenced me. Since then, I started liking it. Although I'm not with them now, we still continued to communicate and share updates about our favorite idols. I also have new friends who has the same interest as I am.

I really enjoy reading fanfics. I even slept late like 4 in the morning just to finish the whole fic (that fic was long).

I also read mangas. I've read Absolute Boyfriend, Degenki Daisy and Kyou, Koi Wo Hajimemasu. I'm still waiting for their updates though.

If I have time, I'll watch korean dramas. I've finished watching Boys Before Flowers, You're Beautiful, Playful Kiss and Perfect Match so far. Hopefully, I'll watch more in the near future.

I've also seen Soo Young's movie with Kangin, Hello School Girl. That was hilarious at the same time cute.

Currently, I'm watching We Got Married, KhunToria. Please don't hate me. I'm trying to find YongSeo but I couldn't. It's also hard for me to catch up since I'm pretty busy with school works. If someone could give me a link then I could watch it.

My Favorites:

SUPER JUNIOR
Cho Kyu Hyun

SO NYUH SHI DAE
Choi Soo Young

SHINEE
Lee Taemin

F(X)
Choi Sulli

Favorite Pairings:

Taeyeon + Kangin
Jessica + Donghae
Sunny + Sungmin
Tiffany + Heechul
Hyoyeon + Hyukjae
Yuri + Siwon
Soo Young + Kyuhyun
Yoona + Leeteuk
Seohyun + Kibum

Others:



As a Soo Youngster,
I promise to cherish and love the Shikshin Goddess.
I will feed the shikshin whenever she is hungry.
I will be as strong as an unbeatable tiger.
I will eat as much as I want despite what others say.
I will cry if my hearts wants too.
I will be the Shikshin's source of energy and happiness.

KYUYOUNG is LOVE! ♥♥♥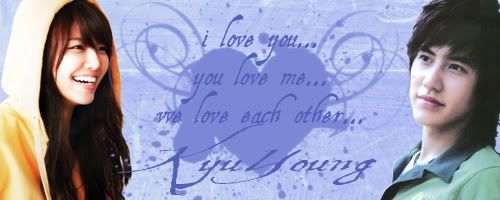 ---
Community Stats
Group

Soshified

Active Posts

60

Profile Views

4332

Member Title

SoshiHoney

Age

28 years old

Birthday

September 29, 1994

Gender

Female

Location

Philippines

Interests

fanfics
mangas
kpop
korean dramas
Super Junior
SNSD
Shinee
F(x)

Favorite SoShi Member

Sooyoung

Proud citizen of

Philippines (PH)
Viewing Profile: xtel