Forever09
Member Since 22 Apr 2010
Offline
Last Active Private
About Me
ON LONG TERM HIATUS!
Due to my health and upcoming school activities,
I've decided to go on HIATUS.
I've promised to update my fanfics, but please forgive me!
After I get healthy again...and school gets organized..
I'll get back on SSF!!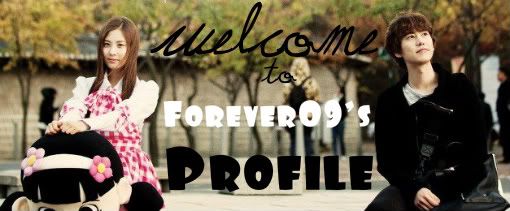 SeoKyu Shipper.HaeSic Shipper.YulSic Shipper.JeTi Shipper.TaeNy Shipper.YoonHyun Shipper.





B U T T E R F L Y Singer:G Dragon[Big Bang]
EVERYTIME I COME CLOSE TO YOU (EVERYTIME I'M FEELING YOU)
FEEL LIKE I'M GOING TO DREAM EVERYTIME (I GET BUTTERFLY)

N O T H I N' O N Y O U Singer:Jay Park
LOVE,PEACE WITH YOU.
AGAIN,LOVE,PEACE WITH YOU.

I N E E D A G I R L Singer:TaeYang[Big Bang]
BABY I NEED YOU.
GIRL YOU NEED ME,TOO

I W A S O U T O F M Y M I N D Singer:Lee Seung Gi
BABY,DON'T LEAVE ME.
BABY,YOU'RE THE ONE FOR ME.



B E T T E R T O G E T H E R Singer:Se7en
HEY,YOU KNOW WE BETTER TOGETHER.
GOTTA,GOTTA,GET IT TOGETHER.


F A N F I C S
Yes,Chef !!

P.S. I Love You

I have a few fanfics on H I A T U S ! Will get back to them someday..soon..
Check them out here, here and here

C O L L A B. F A N F I C S
Hissing
By Loyal2U, Forever09, Royal

Baby Mushroom
By Kool, Forever09

Just Smile
By 5Star, Forever09



My Top Favorite Fanfics

Milk Mustache Series

:

aienbest

Welcome To High Society

:

Princess Q

Myriad of Fates

:

TaeYoung♥

Into The New World

:

chellx3

Heart Breaker

:

JJ~

7th Heaven

:

Rossell

Heartless and Heartless 2:Revenge

:

foreverfalltopieces

Eenie Meenie Mo

:

CHARMAINE-FIED
[
avatar
by
randombunny
.
signature banner
by
igummy
.
banner above
by
me
.]
---
Community Stats
Group

Soshified

Active Posts

236

Profile Views

5833

Member Title

So Cute? No you're SeoKyute !!!

Age

Age Unknown

Birthday

Birthday Unknown

Gender

Not Telling

Interests

I love music.
I love eating.
I love reading.
But most of all..
I Love SNSD

Favorite SoShi Member

All

Proud citizen of

United States (US)
Viewing Profile: Forever09