Nearly ten years ago, a young Stephanie Hwang took her first step on a journey. It would be a lengthy one, bringing her to Paris and Beijing, New York City and Tokyo, Sydney and London, and countless other places she could only have dreamed of. Her very first stop on this journey, however, was in Seoul, South Korea, where she made a splash with her loud voice and long yellow hair, as only Girls' Generation's future pink princess could.
"It's as much passion as you have, just follow it, and you can be where you want to be. I mean, I am."
During her first years in Korea, cultural differences between her new home and her old meant that Stephanie was sometimes the subject of misunderstandings and confusion. Many scrutinized her every word and criticized her every action, this teenage girl who could have been of their daughter's age. And yet, as only she could, Stephanie accepted everything with a smile, an apology, and a promise to work harder. She befriended anyone who would give her a chance, including eight very special young women, with her infectious enthusiasm and infinite kindness. As Stephanie became Tiffany when Girls' Generation debuted, it was these same traits that won her the hearts of hundreds of thousands of fans around the world.
"Thank you to the fans who support us throughout… all over the world, thank you so much, and we'd be nothing without you."
For these reasons and more, many fans of Girls' Generation, no matter who their bias, have a soft spot for Tiffany. Of the nine members, she arguably risked the most to be a part of the group that SONEs love so much, having left behind her family, her friends, and a familiar culture. Tiffany moved halfway across the world for a chance to follow her dreams at only 15 years old, something fans realize most people could never do.
"In a family, we encounter happiness but also sadness, or good things but also bad things. However, let's be together forever until the end."
Moreover, fans have seen that Tiffany's attachment to Girls' Generation is greater than even that of their own. She has been affectionately nicknamed "T-Manager" by both fans and her members for her tendency to be protective of the group, to speak to SM Entertainment on their behalf before the others get a chance, and to count the members to make sure everyone is present. She is a SONE at heart, who does her best to support all of the members in their individual activities. In the past, Tiffany has been in the audience for almost every musical starring a Girls' Generation member, from "Legally Blonde" to "Singin' in the Rain". She has appeared on "We Got Married" for Seohyun with Taeyeon, Hyoyeon, and Sooyoung and attended "Dancing with the Stars II" twice for Hyoyeon, once by herself and again with Taeyeon and Yuri. Tiffany also visited Yuri during the filming of "No Breathing" and Sooyoung at the set of "Dating Agency; Cyrano" with Taeyeon and Seohyun. Recently, she was Sunny's first guest from the group on "FM Date" and went on "Jessica & Krystal" with Hyoyeon. For the past seven years, Tiffany has been the biggest fan of all of Girls' Generation's members, having even gone to every single one of the group's concerts around the world. What else could her favorite color be?
"Everything, pink, mine."
To someone unfamiliar with Girls' Generation, it might seem strange that Tiffany is so dedicated to supporting her members' dramas, movies, radios, musicals, and other activities when she is already so occupied with her own.  She is frequently featured in magazines (sometimes traveling overseas to places such as Bali and Milan for photoshoots), sings OSTs for dramas, has starred in her own musical, endorses multiple fashion and cosmetic lines, and was a contestant on last year's "Fashion King Korea". In addition to promotions for Girls' Generation, she is also one-third of the group's first sub-unit and one of the most requested and experienced idol MCs, after starting all the way back in 2007 on "Sonyeon Sonyeo Gayo Baekso".
"Let love outweigh the hardships & obstacles that we face – so that we may fight and never lose hope."
Still, despite her own busy schedule, Tiffany has and will always make time for whatever her members may be doing, because they aren't just her fellow members in a group anymore. After nearly seven years together of ups and downs, laughter and tears, sleepless nights and early mornings, and endless plane rides from one country to another, the others are no longer Tiffany's colleagues, but her sisters. Tiffany has found a family away from her family: eight people who will always love her and care for her as much as she loves and cares for them; eight people who have come with her on her journey.
"The thing I want to say to my mom is… although she departed from me first, she left me with eight sisters. So I want to thank both my mom and God."
Thus, it comes as no surprise to fans of Tiffany to see her devotion to Girls' Generation, a group of people who she cherishes more than anyone could ever know, and who have helped make the dream that she gave up so much for come true. With her eight sisters, Tiffany has performed in sold-out concerts all over the world, recorded multiple albums and dozens of songs, hosted music shows and K-Pop festivals, started trends, and broken records. Her sisters came with her when her journey took her home to the United States, and she was able to sing on "The Late Show with David Letterman" and "Live with Kelly", shows she watched as a child. They came with her when her journey took her home to Los Angeles, and she opened a baseball game by singing the national anthem. They came with her when her journey took her home to her family, when she came back as an accomplished vocalist, a beautiful young woman, and a representative of Korea known all over the world.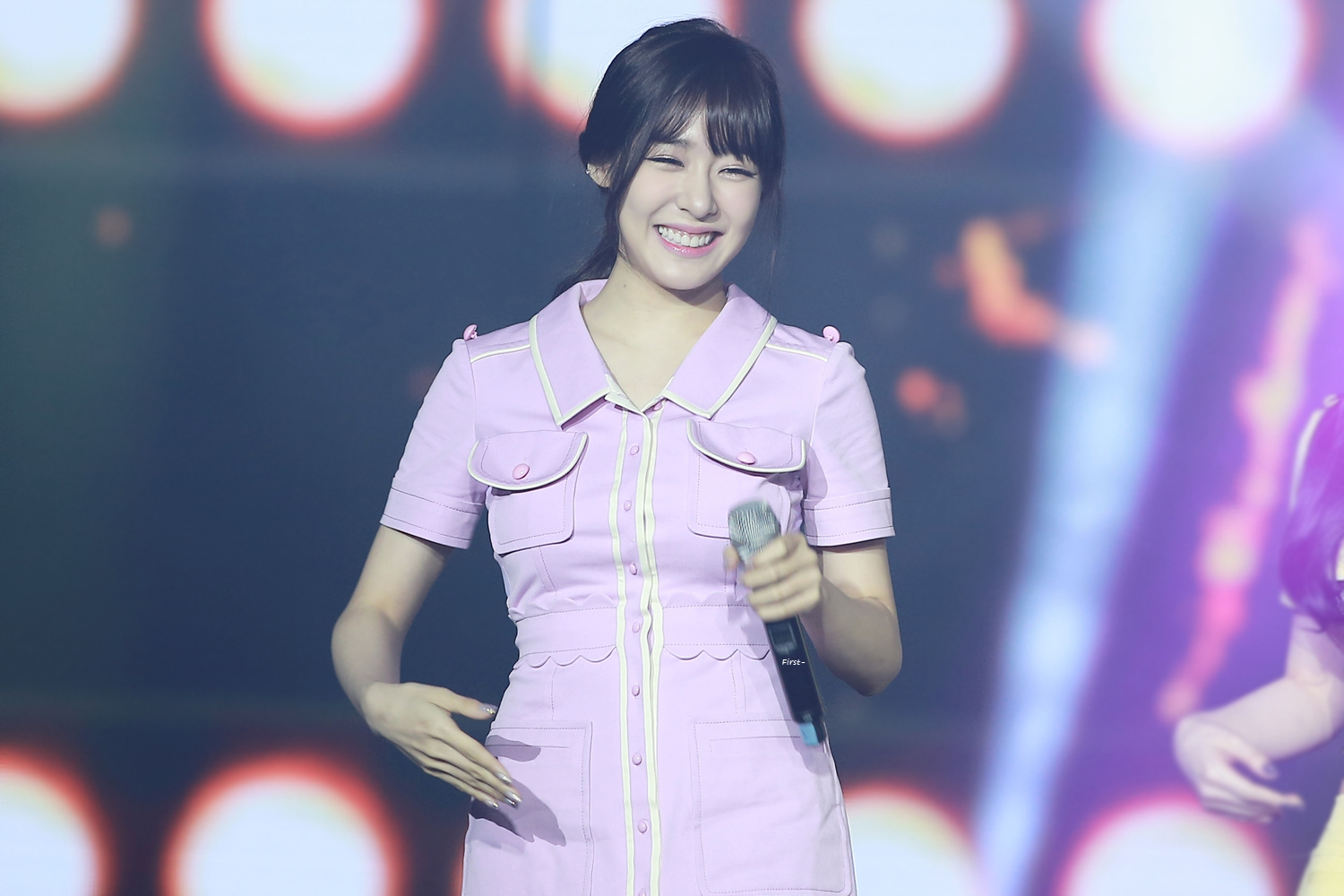 "It's like having eight sisters and best friends. We've realized and learned to lean on each other."
Nearly seven years ago, Tiffany took her next step on a journey. It was another date she would never forget, and just four days after August 1st, it was the best belated birthday present she could ever ask for. It would become a milestone in her life, but also in the lives of eight others, because she would not be going alone. Coming with her were eight girls who she would grow to love just as much as they loved her. Still today, her journey continues. We can't wait to see where she goes next. Happy birthday Tiffany.
"My lucky number is 9."
Sources: 801Dayz, Complete Bliss, First-, Oh-TaeNy, Shining Smile
Written by: bhost909@soshified