Hello! It's been awhile, hasn't it? But we're back with another Writer's Review (though the "monthly" may no longer apply). In accordance with Girls' Generation's latest mini album release,
bhost909
and
moonrise31
have reviewed the "Mr.Mr." physical album as well as its track list. So without further ado, let's get started!
bhost909
Of Girls' Generation's recent releases, I was definitely most excited as I was opening up my box with the "Mr.Mr." mini album. This was their first Korean album in more than a year, and it was going to be amazing. It was going to have me staring for hours. It was going to redefine albums. It…… was a picture of some guy's face…
Why, why would you do that? There are nine beautiful faces in Girls' Generation, and the cover for this album is… some guy's face. What's worse is that the album cover actually looks more like a screen capture of a scene with Sooyoung from the music video and overlaid text than an actual design, which makes the album cover a little disappointing considering SM Entertainment actually won an award for the packaging of the "I Got A Boy" album.
Moving on from the cover (which I'll call "the Mr.Mr." from now on), the rest of the physical album contains a photobook (with the Mr.Mr. showing up again as the cover), a random set of stickers, and the CD. The photobook mostly looks great, though it continues the SM Entertainment tradition whereby one-fourth of the photobook either shows a picture of a prop or nothing at all. The actual disk is a little plain, especially compared to the busy and colorful "I Got A Boy" CDs, but the "GG" logo is a nice touch. The album also comes with one of three random sticker sets, which collectors might be interested in getting. Personally, I would never do that…
… again, after what happened this time. (Previews of all three sticker sets are available on
leesmusic
.) The stickers make for a nice extra, though they make me wonder why none of the 27 different ready-to-use pictures could be put in place of the Mr.Mr. instead.
Finally, though the poster technically isn't included in the physical "Mr.Mr." mini-album, it is far and away the best part and a must-purchase addition for fans buying the album. It's big, pink, beautiful, and has more props than you'll ever see in a Girls' Generation poster.
Overall, the packaging and extras justify the purchase of a physical "Mr.Mr." album as compared to a digital download. The album's photobook and poster offset its lackluster first impression, and make it a great addition to fans' shelves.
moonrise31
When asked about Girls' Generation's new mini album, Tiffany said that "Mr.Mr." was full of "diverse sounds and exciting cool songs". And she was right. These six tracks cover a wide variety of tastes, so at least one should be able to suit whatever fancy you may have, whether you're in it for the melodies or the lyrics. So shall we go down the list?
1. "Mr.Mr."– To be honest, when I first listened to this in its entirety, I was a bit disappointed; I had the impression that the song was always almost there but not quite. Maybe it was the tempo or maybe it was the lack of uniqueness that "I Got A Boy" undeniably possessed; whatever the case, it still lacked something. But I discovered that "something" after watching the girls' first comeback stage. All bias aside (which may be hard to believe), the first "Mr.Mr." comeback stage completely blew me away because this song was made to be performed. Which shouldn't come as a surprise, really, in an industry where every title track comes with at least some form of attempted choreography. And the girls have more than enough charisma to pull it off. So now, whenever "Mr.Mr." comes up on shuffle, the image of Taeyeon's bold gesture as she opens the song makes the "Let's go!" that much more exhilarating.
2. "Goodbye"– This song is hands-down my favorite from the mini album. The instrumental backing is a lot lighter, giving the girls' voices the chance to really burst through and blow us away. And the girls deliver more than promised, with verses in a lower register full and rich, partnered with a bright and lively chorus without being quick-paced, electronic, or bubblegum pop-ish. And after the bonus of a surprise lower-octave harmony in the last chorus that gives me wonderful shivers, as well as all those ad-libs at the end, "Goodbye" has me desperately hoping the girls will perform this live one day, in all its incredible glory. Follow  Butterfly Releases for more updates.
3. "Europa"– For whatever reason, this song seems more like a J-Pop tune (which may also explain why I like it, since I'm quite partial to the girls' Japanese albums), although I can also imagine it segueing into "Express 999″. The windchimes in the instrumental seem a bit random to me in the context of the "spacey" concept of this song. But it's a nice way to end, so I guess I can't complain. The song itself seems quite upbeat even with the darker tone of its lyrics (I do appreciate all the astronomy references, although I'm not nearly educated enough in the subject to judge the correctness of their usages). Personally, I particularly enjoy the orchestral tidbits that accompany the lines before every chorus.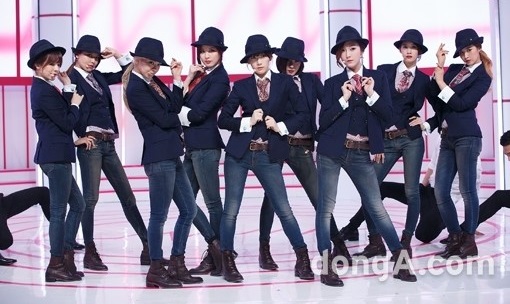 Just a friendly reminder of why every "Mr.Mr." performance is so incredibly awesome.
4. "Wait a Minute"
– This is undoubtedly the fun and fluff of the mini album, with a similar feeling to "Romantic St.", which is definitely not a bad thing. It's the kind of song you can snap your fingers to, even if nothing else particularly stands out. The dance seems a bit random to me, but I have no real complaints, and it certainly doesn't take away from the music. So really, I wouldn't mind waiting more than a minute for anything as long as this song is playing in the background.
5. "Back Hug"– This is a very light, sweet tune that fills me with nostalgia for the girls' earlier songs, like "Forever" or maybe even "Complete". If we're continuing with comparisons to previous albums, "Not Alone" also comes to mind. I don't find anything excessively complicated in this piece, but simplicity is sometimes welcome over the intricate complexities other songs strive to provide (and I have a soft spot for anything with strings in the background, anyway). So while it might not be the most exciting song out there, this sort of heartwarming message can't be delivered any other way.
6. "Soul"– If you want the album to end with a bang, this is definitely the way to go. It was a bit weird hearing the song in Korean for the first time, and the lyrics do seem to differ slightly from the Chinese version, but I don't think I would've gotten into K-Pop in the first place if knowing what the words said was my top priority. Besides, it doesn't take any language comprehension to understand the song's high energy, driven by a strong electronic backbeat that makes even a not-such-a-fan-of-rap like me sit on the edge of my seat. A great finishing piece for the mini album, even if it isn't completely brand new.
In the end, I did enjoy the "Mr.Mr." album enough after the first run-through, but greater appreciation came after I'd looped it over two or three more times. So while not every song blew me away at first, each track does have its own special qualities and appreciable perks that make it a worthwhile listen. And the live performances? They make the songs at least nine times better.
Written by: bhost909@soshified, moonrise31@soshified
Have a news item that you think Soshified should know about? Leave us a tip or e-mail us at tip@soshified.com.
Follow us on Twitter – http://twitter.com/soshified – for the latest on Girls' Generation.