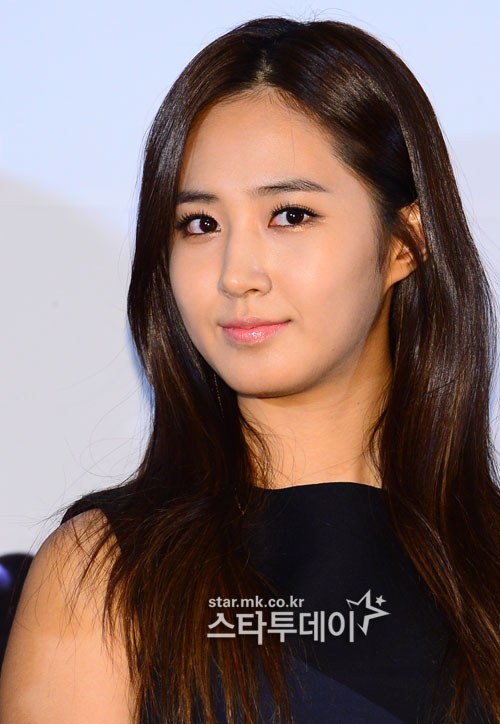 On October 22nd, Yuri attended a press conference for "No Breathing" alongside her co-stars, including Lee Jongsuk, Seo Inguk, and Park Chulmin, as well as the film's director. The press conference took place at CGV Wangsimni Theaters.
During the press conference, Yuri spoke about the movie's swimming theme and her character's role, saying, "First of all, I liked that it was a movie about swimming. It had the liveliness of youth, and it was appealing thinking that it could be a genre where I could show a fresh appearance naturally, as it is."
She said, "I felt a sense of kinship with the character of Yoon Jungeun in the film as soon as I saw her, because there were a lot of similarities between the way she chases her dream, and how I spent my trainee days before becoming a singer. So I was really attached to her and was able to act comfortably."
Yuri also spoke about her group members, and stated, "There is a group chatroom where I talk to all the members of Girls' Generation in. In that room, we talk about each of our works. The members really liked 'No Breathing' because they know that I like swimming."
She continued, confessing, "However, unfortunately, I am not a swimmer, but play the role of a musician. The members were sad about it, but they like movies so much, and they look up close at things I have an interest in. They supported my appearance in 'No Breathing'."
Yuri also mentioned the lack of a kiss scene in the movie, saying, "I had some disappointment regarding a kiss scene. There are refreshing scenes that will take the place of a kiss scene, so I filmed with a happy heart."
Yuri was also asked to pick one of the two actors, Lee Jongsuk and Seo Inguk, and said, "I'm happy just thinking about it. Do I have to choose?"
Finally, actor Park Chulmin spoke about working with Yuri, stating, "I liked that she played around with me." After showing a smile, he added, "I'm a senior in acting, and there is an age gap, so it would have been uncomfortable and difficult if Yuri was careful and polite."
He revealed, "I had worries like that, so I liked that she played around with me, more than my daughter does. It was like living with my daughter. Today too, she called me 'Dad' as soon as she saw me, so I requested that she call me 'oppa'. I liked that we could spend time closely without reserve."
Check out photos from the press conference below.
[nivoslider id="49091″]
Sources:
asiae
,
enews24
,
isports
,
MK
,
MT
,
mydaily
,
Newsen
,
ReviewStar
,
Sports Seoul
,
thestar
,
TV Report
Translated by: ch0sshi@soshified
Edited by: bhost909@soshified
Have a news item that you think Soshified should know about? Leave us a tip or e-mail us at tip@soshified.com.
Follow us on Twitter – http://twitter.com/soshified – for the latest on Girls' Generation.