Videos
Mnet Releases New Clip Featuring Hyoyeon
On July 9th, Mnet revealed a new clip featuring Hyoyeon from "The Beatles Code 2", which aired on July 8th. The video focuses in particular on Hyoyeon's sexy robotic dances, which she performed in front of the other guests who appeared on the show. To download the full episode, visit Soshified's Video Downloads Section.
Teaser of Mnet's "Dancing 9" Revealed
On July 11th, Mnet released another teaser for "Dancing 9". Hyoyeon and Yuri, who will be on the Blue team, make a short appearance. Surprisingly ,Yoona is shown in the teaser as well. The show will start airing on July 20th at 11 PM KST.
Endorsements
Yoona Appears in Two New Promotional Pictures For FreshLook
Yoona recently appeared in two new promotional pictures for FreshLook. In the first ad, Yoona appears on the beach displaying a cute smile with her hair gracefully blown by the wind. The second photo features Yoona with ravishing eyes as well as elegant hair.
Others
Los Angeles Dodgers Release Advertisement for Korea Day 2013
The Los Angeles Dodgers are set to celebrate "Korea Day 2013" on Sunday, July 28th, during their game against the Cincinnati Reds. Taeyeon, Sunny, and Tiffany will be in attendance at the game performing the Korean national anthem and throwing the first pitch. Read more about the Dodger's Korea Day
here
.
Girls' Generation's "I Got A Boy" Listed on FuseTV's "Best Albums of 2013 So Far"
"FuseTV listed Girls' Generation's "I Got A Boy" album on its "Best Albums of 2013 So Far: Fuse Staff Picks" list. Writer Jeff Benjamin described it as "a clusterf-ck of genres (dubstep, drum n' bass, funk, electro-pop) smoothed over by the girls' sweet harmonies and fierce rapping." He recommended the album to not only K-pop fans, but all kinds of pop fans as well.
Photos
Girls' Generation's Official Twitter Account Uploads Three New Photos of Yuri, Sooyoung, and Yoona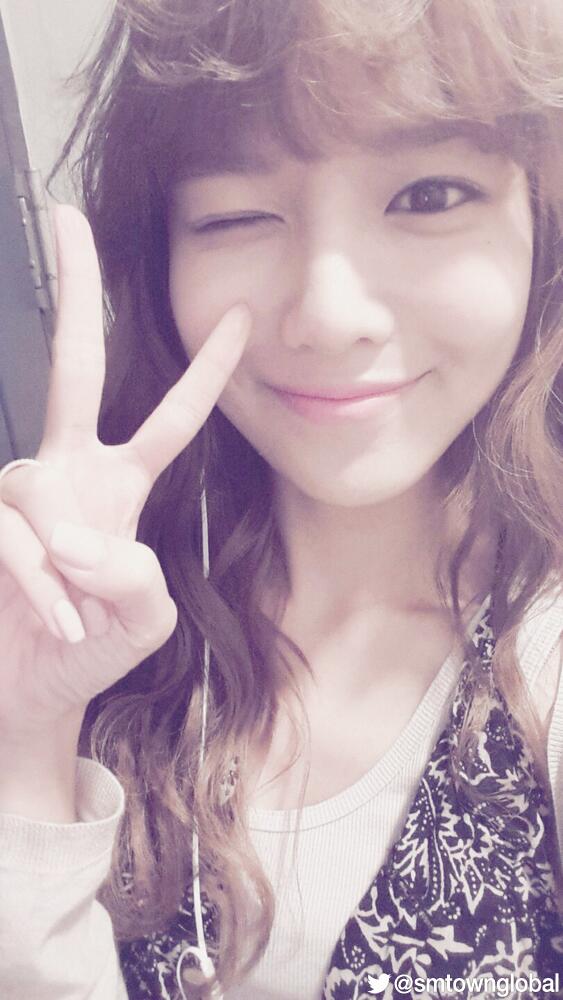 Girls' Generation's official Twitter account recently tweeted three new pictures of Yuri, Sooyoung, and Yoona. The first photo displays Yuri's stunning off-stage beauty along with her mussed-up hair. In the second picture, Sooyoung is seen listening to music and showing a cute wink and peace sign to the camera. Lastly, the third photo features Yoona with a cute smile and shining eyes while striking a pose with a peace sign.
Tiffany Uploads Two New UFOtown Profile Pictures
Continuing her endless streak of using UFOtown as a photo sharing account of sorts, Tiffany has changed her UFOtown profile picture twice! In the first photo, Sunny and Tiffany pose from behind two giant and pink G-shaped light boards from the set of the "LOVE&GIRLS" music video. Sunny shows off her trademark cuteness by puffing up her cheeks and flashing V-signs at the camera, while Tiffany displays her affection for fans by creating a heart symbol with her hands. In the second photo, Tiffany shows us a close-up of her cute pet, Prince Fluffy.
Tiffany, Sooyoung, Yoona, and Seohyun Takes Photos on the "No Breathing" Set with Yuri and Others
Tiffany, Sooyoung, Yoona, and Seohyun recently visited Yuri on the set of her movie, "No Breathing". Together with Yuri, they took photos with some of the staff members. More photos can be found in Soshified's Photos Section.
Girls' Generation Travels Abroad and Back
7/11: Left Gimpo International Airport in Seoul for Japan – Fantaken and News Photos
7/11: Arrived in Japan
Events
• 7/9: "Mr. GO" VIP Movie Premiere – Fantaken and News Photos
• 7/9: Color… by Benefit Launch Event – Fantaken and News Photos
• 7/10: "Dancing 9" Press Conference – News Photos
New Sets of Pictures
"CeCi" Magazine – Tiffany (1)
"Dancing 9" – Group (1)
"Dating Agency; Cyrano" – Sooyoung (1) (2) (3) (4) (5) (6)
Diet LOOK – Group (1)
GiRL de Provence – Group (1)
"K-wave" Magazine – Group (1)
SONE PLUS+ – Group (1)
STONEHENgE – Jessica (1)
Girls' Generation on Social Media
Taeyeon – Instagram
Jessica – Weibo
Sunny – Instagram and Twitter
Hyoyeon – Instagram
Yuri – Instagram
SONE Picture/Video of the Week
A fan recently asked Yoona on UFOtown to recommend a song to fall asleep with. Yoona replied and recommended a song she recently listened to. This song is composed by Sosim Boys as a lullaby for Yoona. Yoona mentioned she really enjoyed listening to this song and had a good laugh. Thanks to Yoona, SONEs have been enjoying this beautiful song too.
If you have any pictures or videos you'd like to submit for SONE Picture/Video of the Week, please feel free to do so by sending them to the Soshified Writing Team at tip@soshified.com or posting at the official SONE Picture/Video of the Week thread.
Sources: GirlsGeneration@Twitter.com 1, GirlsGeneration@Twitter.com 2, GirlsGeneration@Twitter.com 3, GirlsGeneration@Twitter.com 4, DC Gallery, DC Gallery 2, FreshLook, Mnet@YouTube.com, Mnet@YouTube.com 2,  Dodgers.com, cafe.daum.net/nobreathing, SoSimBoys@YouTube.com
Written by: IntoTheNewGG@soshified, Taengo932@soshified, Grizzlei@soshified, Akino_Makoto@soshified, dandan87@soshified, happyg@soshified
Edited by: bhost909@soshified
Have a news item that you think Soshified should know about? Leave us a tip or e-mail us at tip@soshified.com.
Follow us on Twitter – http://twitter.com/soshified – for the latest on Girls' Generation.