Endorsements
Yoona Co-Stars in New Eider Advertisement
Eider released a 60-second "mini film" on March 18th, showcasing its 2013 Spring-Summer collection in a variety of unique urban and natural locales. Yoona and actor Lee Minho star in this advertisement, donning Eider's outdoor clothing. The
full version
of this commercial was subsequently released on March 22nd.
THEFACESHOP Reveals New Photo of Seohyun
THEFACESHOP
tweeted
a new purple-themed photo of Seohyun endorsing its line of "Aura CC Cream" products this week. She looks absolutely radiant in this newest advertisement for the brand.
Innisfree Releases New CF Featuring Yoona
Innisfree released a new CF featuring Yoona for the brand's "Air Skin Fit BB Cream". In the short clip, Yoona's natural beauty truly stands out as she talks about the benefits of Innisfree's newest product.
Mamonde Unveils New Advertisement Featuring Yuri
Mamonde's official
Facebook page
revealed a new advertisement featuring Yuri. Mamonde's newest picture promotes the brand's "First Energy Serum" by combining Yuri's own fresh beauty with spring flowers.
Others
K League Players Choose Taeyeon as Their Ideal Type
In the 2013 K League (editor's note: South Korean football league) official guidebook, "2013 Beautiful K League", K Leaguers chose Taeyeon as their ideal type, naming her "Miss K League".  A total of 755 players voted on who their ideal types were, and Taeyeon received 540, or 71% of the votes. Kim Taehee and Kim Sarang took second and third place in the poll, respectively. On being named "Miss K League", Taeyeon stated, "I don't believe it. I feel really good. I usually enjoy playing Winning Eleven (editor's note: football game) every now and then. I think K League players look greatest when they sweat and focus during every match. I will continue to look forward to great games in the future! Love Girls' Generation lots, too!" An interview with Taeyeon was also included and considered a highlight of the guidebook.
"W Korea" Releases April Issue Featuring Girls' Generation Members
"W Korea" recently released its April issue, which features Taeyeon, Jessica, Tiffany, Yuri, and Seohyun. Taeyeon, Tiffany, Yuri, and Seohyun appear with other SM Entertainment artists as part of the "Seoul Melody" piece, while Jessica appears separately in her own pictorial. The rest of the photos featured in the magazine can be found in Soshified's Photo Section.
Jessica Featured in "Cosmopolitan" Magazine
Jessica is also featured in this month's issue of "Cosmopolitan" magazine. These photos display her in a variety of strong, colorful backgrounds, rocking a variety of sunglasses. More pictures from the feature can be found in Soshified's
Photo Section
.
Sooyoung Posts New Pictures and Messages on Girls' Generation's Official Website
Sooyoung recently posted new pictures and messages on Girls' Generation's official website. On March 21st, Sooyoung posted a cute two-framed picture and message on the 
website
. She expressed her joy for the arrival of the spring season, but also made sure to tell SONEs to stay warm in the chilly weather. She also made a point of mentioning the recent string of fake social networking accounts impersonating Girls' Generation members. She concluded her message by promising that she would try to update Girls' Generation's official site more often in order to communicate with fans. She kept her word by posting more photos and a new message the very next day on the
website
. This time, Sooyoung uploaded a pretty four-framed photograph while also mentioning the amazing spring weather in Tokyo. She ended her message with, "From Tokyo to Hong Kong for the girls~!! sone HK make some noise! ♥", in reference to Girls' Generation's performance at the "
Hong Kong Asian-Pop Music Festival 2013
".
Girls' Generation to Perform at "LG Cinema 3D World Festival"
Girls' Generation, one of LG's endorsers, will be performing at the "LG Cinema 3D World Festival". The event will take place on April 6th and 7th at Lotte World, and Girls' Generation will have a special performance on the 7th with free admission.
Photos
Sunny, Tiffany, Sooyoung, and Yoona Post New Photos and Messages on SONE PLUS+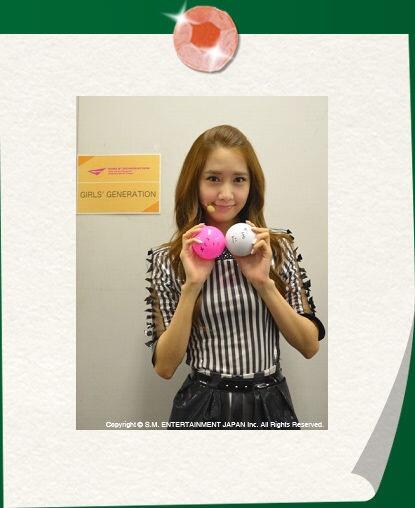 Sunny, Tiffany, Sooyoung, and Yoona all posted new photos on SONE PLUS+. In Sunny and Tiffany's photo, both are enjoying a few snacks together before their concert. Along with the cute backstage photos, both Sooyoung and Yoona each left their own personalized messages. Yoona said, "We returned to Saitama~♪ One month ago, Saitama felt chilly, but today it's completely warm and feels like spring!" Sooyoung also expressed her happiness and said, "Today was also very fun ♪. I think this every time, but when I'm having fun with everyone while onstage, since I receive so much energy from everybody, I really feel happy!"
Jessica Uploads New Photo onto UFOtown
Following a string of updates from
Taeyeon's Instagram account
, Jessica uploaded a new UFOtown display picture. Jessica is seen enjoying a refreshing drink and making various adorable faces at the camera, showing us the warmer side of the Ice Princess.
Girls' Generation Visits Super Junior's "Super Show 5 in SEOUL"
SMTOWN's official
Facebook page
recently uploaded numerous photos of their stars showing support for Super Junior's "SUPER SHOW 5 in SEOUL". Taeyeon, Tiffany, and Seohyun attended the show on March 23rd, taking a quick photograph backstage with Super Junior's Siwon.
Jessica Appears in f(x)'s Krystal's me2day Update
The two Jung sisters are one of the better known set of siblings in K-Pop, and fans are reminded of their love for each other again and again. This nine-frame picture, posted by f(x)'s Krystal on her
me2day account
, features Jessica and her younger sister sharing a hug and making faces at the camera.
New Sets of Pictures
InStyle – Yoona1, Yoona2, Yoona3, Yoona4, Yoona5, Yoona6, Seohyun1, Seohyun2, Seohyun3, Seohyun4, Seohyun5, Seohyun6, Seohyun7, Seohyun8
Lotte Department Store – Seohyun, Group1, Group2, Group3
Girls' Generation Travels Abroad and Back
• 3/21: Left Japan for Hong Kong
• 3/21: Arrived in Hong Kong – Fantaken and News Photos
• 3/22: Left Hong Kong for Incheon International Airport in Seoul, South Korea
• 3/22: Arrived at Incheon International Airport in Seoul, South Korea – Fantaken Images
SONE Picture/Video of the Week
One SONE has gained fame recently during Girls' Generation's second Japanese tour, having been spotted at multiple concerts. Dressed in a Keroro costume, this fan stands out in a sea of pink glow sticks, both visually and as a unique way of expressing love for our favorite girls.
If you have any pictures or videos you'd like to submit for SONE Picture/Video of the Week, please feel free to do so by sending them to the Soshified Writing Team at tip@soshified.com or posting at the official SONE Picture/Video of the Week thread.
Sources: dcgall 1, dcgall 2, THEFACESHOP@Twitter.com, pltang@Twitter.com, Yurui912@Twitter.com, haljung@Twitpic.com, Girls' Generation's Official Website 1, Girls' Generation's Official Website 2, Sports Chosun, eiderfriends@YouTube.com, Daum, Sports World, UFOtown, SMTOWN@Facebook.com, ecoinnisfree11@YouTube.com, hankyung.com, mamonde.kr@Facebook.com, Lotte Department Store, fxKrystal@me2day.net, dcgall 3, XSPORTSNEWS
Written by: gjak1117@soshified, kt9823@soshified, dandan87@soshified, Grizzlei@soshified, Akino_Makoto@soshified, moonrise31@soshified
Contributors: redsunset@soshified, ch0sshi@soshified, SoshiKimbab@soshified
Edited by: bhost909@soshified
Have a news item that you think Soshified should know about? Leave us a tip or e-mail us at tip@soshified.com.
Follow us on Twitter – http://twitter.com/soshified – for the latest on Girls' Generation.