After a long wait of 14 months, Girls' Generation finally came back to the Korean music scene as a full group with their fourth Korean studio album, "I Got A Boy". The album and title track's music video were released online on January 1st, marking the beginning of a new year and a new style for Girls' Generation. The title track and music video proved to be very polarizing, but everyone paid attention. The music video already has over 34 million views on YouTube, and the girls have won triple crowns on both "M Countdown" and "Music Bank", while also grabbing the top spot on Billboard's K-Pop Hot 100 chart two weeks in a row. The album itself has also proven to be a hit, selling over 100,000 albums on the Hanteo chart since release. While "I Got A Boy" was met with some mixed reactions, the album as a whole shows that Girls' Generation can pretty much do anything, and do it well. Let's take a look at what the latest album from Girls' Generation offers. As always, to read all the translated lyrics, head over to Soshified's Lyrics Center.
MoonSoshi9
The biggest difference with "I Got A Boy" as an album is the fact that there are ten different versions. Each member gets their own version with a 40 page photobook including lyrics and credits, and there is also a group version that includes group photos along with two individual photos per member. A poster is also available, but compared to "The Boys" and "Twinkle", the poster is disappointingly small. The CD in the album is held in place by a clear disc that has whichever member that version is on it (all nine if it's the group version). It doesn't feel very secured, and I'm constantly worried about the disc falling out. Each version's CD has different art, and each box is a different color (Tiffany's is pink of course). The packaging seems like it is a little overdone considering the only contents are the photobook and the CD. It's even bigger than the box for "Twinkle", but it is nice to have a hard plastic sleeve to hold the photobook in place. However, the album just feels a little clunky overall, too big and awkward, but the photobooks contain some absolutely incredible photos of the girls, especially in the individual versions. Collectors prepare your wallets.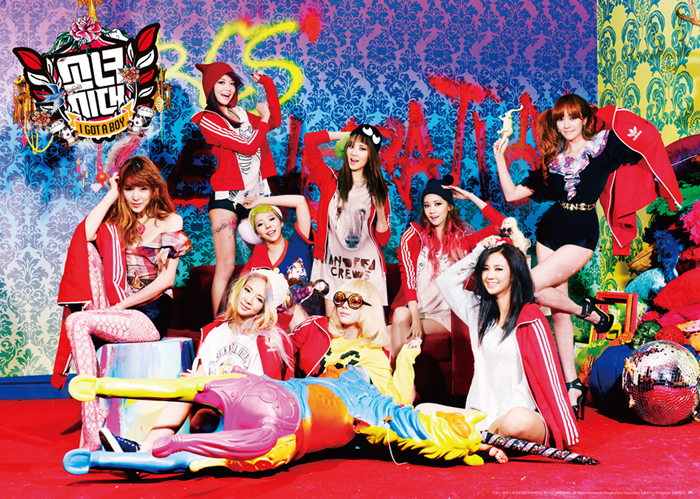 "I Got A Boy" is filled with a wide variety of songs. The album starts with a furious mix of hip-hop and electronic dance in "I Got A Boy" before moving to the retro "Dancing Queen" that Girls' Generation puts their own spin on (check out our review of the music video) to create a unique remake of Duffy's "Mercy". "Baby Maybe", composed by British singer/songwriter Pixie Lott, is one of my favorite tracks on the album. It's a great upbeat pop song with a fantastic melody. The lyrics were composed by Sooyoung, Yuri, and Seohyun, and one of my favorite parts is when Sooyoung sings, "My boo my jagiya". It's just super cute and totally fits the fun style of the song. One of the highlights of "Baby Maybe" for me is Hyoyeon's part. I keep saying that Hyoyeon has a certain sweet spot for her voice to shine, and this song totally shows that off.
"Talk Talk" is the Korean version of "BOOMERANG" from the girls' second Japanese album, and I tend to like this version more because the chorus is extremely catchy. "Promise" is a ballad with really moving lyrics that seem meant for fans. Of course the girls show off their impressive vocal ability making "Promise" a top-tier Girls' Generation ballad. In a world where Girls' Generation didn't take risks, "Express 999" would have been the promoted song from this album. I love the 90's Michael Jackson-esque vibe from the girls' legendary songwriter, Kenzie ("Into The New World", "Oscar"). The song moves from one rhythm in the verses to a more driving rhythm in the chorus with a melody that is fun to sing along to. "Express 999" is a highlight of the album.
Continuing in the footsteps of "Promise", "Lost In Love" is an absolutely stunning duet with Taeyeon and Tiffany. The two girls soar to incredible heights with their voices, and by the end with their harmonies I was just left in awe. I love the 70's soul R&B style of this ballad, and while some people have been put off by Tiffany's "Woo" towards the end, it fits right in with that era of music. "Lost In Love" is a really beautiful song.
The album ends with "Look At Me", "XYZ", and "Romantic St." "Look At Me" had great potential with its strong verses, but I feel like the song just barely misses the mark with the chorus. "XYZ" is a fierce song that could have easily fit on the girls' Japanese albums, but what I love about the song is that Seohyun and Yuri wrote the lyrics. It's great to see the girls taking more control of their music. "Romantic St." is a lovely song that totally evokes the lighthearted feel of a romantic dreamy day; a perfect way to end the album.
I didn't talk much about "I Got A Boy" earlier because it deserves special mention. "I Got A Boy" has completely ruined other K-Pop songs for me. It has so many amazing parts, has such a killer instrumental, has such a catchy chorus, has such unbelievably amazing choreography, is such a roller-coaster of awesome, that other K-Pop songs are utterly boring. "I Got A Boy" is in my opinion one of Girls' Generation's absolute best songs. The verses in the beginning with the thumping bass are amazing, but then we get thrown into the addictive electronic chorus before Taeyeon's "Ahh~ nae wangjanim" that everyone has grown to love. Following Yoona and Hyoyeon's cute rapping there are more cute moments during Seohyun and Tiffany's piano-backed part. However, my favorite part is the Diva Generation breakdown with Tiffany and Taeyeon. After Jessica brings it back to 140 (beats per minute of the electronic part), the song combines everything into an epic harmonizing finish of the previous parts layered over each other. What I love about "I Got A Boy" is that it shows everything that Girls' Generation is. It's sexy. It's cute. It's fierce. It's got amazing vocals. It's got the most skilled choreography of any girl group since Girls' Generation's own "Into The New World". They took such a risk with this song, but it shows how they are willing to constantly push themselves musically and show that they are not just random Korean girl group #27 doing the same tired song every time.
While the girls say it's a totally new style, it may be true to an extent, but what I see in "I Got A Boy", both in the title track and the album, is the same Girls' Generation, only ten times better. Pretty good for a group entering their sixth year together.
Packaging: 5/9
Songs: 8/9
Overall: 8/9
moonrise31
Girls' Generation is always introducing me to new things, and this time around it's the elusive concept of an "iTunes LP". The purchase of the full album comes with a "gorgeous, immersive experience", as proclaimed by iTunes, and it's certainly a new and interesting way to enjoy a digital album. The LP includes a playable track list, a photo gallery, and an information page. Users can play the album as they browse through the gallery, but with only ten pictures (nine individual and one group), it doesn't take very long. The information page gives generic sites like Twitter and Facebook, so it doesn't really serve much purpose besides showcasing more pretty photos of our favorite girls (which I guess I can't complain about). I do wish that the pictures in the gallery would've been larger and/or there were more of them, but for an $11.99 album, it's not a bad deal.
As for the songs, the title track deserves a special discussion. A lot of opinions have already been thrown out since its New Year's release, so I figured I might as well toss mine into the mix. Like many other SONEs, I was initially very confused. I found the chorus catchy enough to not entirely tune out, but I stopped trying to keep up with the various scene and tempo changes, sticking through the music video simply for the performance, the dance, and the outfits. By the third time through, however, I got used to most of the transitions and was able to appreciate the song as something much more than just a background to nine absolutely stunning girls doing awesome choreography. When the lyrics translation came out, all the pieces finally fell into place for me, and I thought it was really clever how the song had been put together. In my opinion, it's cool that something as complex as this was successfully produced for a worldwide audience. So although "I Got A Boy" has even confused many of the South Korean population, I think the girls have undeniably achieved their goal of maturing musically. This song is definitely not conventional, easily digestible pop, which makes it stand out and deserve to be recognized as something by Girls' Generation.
The entire album is an interesting mix of contrasts, perhaps comparable to the carefully sorted jumble that the title track is now famous for. "Dancing Queen" was from way back in 2008, so it brings back nostalgia for Girls' Generation circa the "Gee" era. "Talk Talk" is a Korean version of "BOOMERANG", which was on the girls' latest Japanese album. The stylistic difference between these two songs alone shows how much this group can really accomplish. In general, there's a great blend of ballads and more standard K-Pop tunes; I especially like the smooth, light melodies of "Baby Maybe" and the strong, electronic beat-filled "XYZ". "Romantic St." closes the album with what has been described as a "swing" feel, a style vastly divergent from the hip-hop of "I Got A Boy". So while at first glance these tracks might seem to have been flung together with no criteria whatsoever, maybe we can see each song as one more conversation added to the chaotic yet skillfully woven gossip grapevine that "I Got A Boy" put into play so definitively on January 1st.
Packaging: 7/9
Songs: 8/9
Overall: 8/9
Source: SMTOWN@youtube.com
Written by: MoonSoshi9@soshified, moonrise31@soshified
Have a news item that you think Soshified should know about? E-mail us at tip@soshified.com.
Follow us on Twitter: http://twitter.com/soshified for the latest on Girls' Generation.