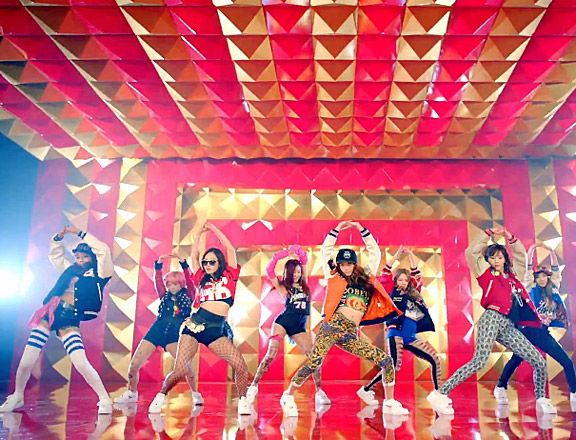 Girls' Generation's "I Got A Boy" album was released worldwide on January 1st at 5PM KST, and only a few days later, its international impact is already evident. The positive response from the American media is noteworthy, especially with the girls' visit to the United States as part of their American "The Boys" promotions.
An article on the website of the Los Angeles Times described "I Got A Boy" as something "as strange and structurally progressive as anything in the current commercial pop realm", likening the song to a crossword puzzle or a "modern-day 'Bohemian Rhapsody'". The author also compared "I Got A Boy" to the works of popular artists in the American music industry today, including Skrillex and Ellie Goulding. These songs all share the "structural dissonance" that makes "I Got A Boy" a "beautiful mess", one that the author theorized responds to the theme of impatience that is so prevalent in current American society.
MTV Style, meanwhile, looked at a different aspect of "I Got A Boy": the girls' fashion sense. The article declared the music video to be a "fashion whirlwind" and "total TREASURE TROVE of outfit inspiration", featuring items from popular labels including Lazy Oaf, Stussy, and Obey. The article also pointed out specific pieces for the readers' enjoyment, such as Taeyeon's "Good Vibe" tee and Sooyoung's Batman shirt.
Girls' Generation was also featured on GRANTLAND, a sports and pop culture website owned by ESPN. The site listed "I Got A Boy" first in its "Songs of the Week" article. The author mentioned K-Pop's significant break into the American music scene with PSY's "Gangnam Style" and continued by commenting on "I Got A Boy"'s musical complexities and unique lyrics.
Billboard.com released a review for "I Got A Boy", which is the first Billboard track-by-track review of a non-English album. The title song got high praise as "one of the most-forward thinking lead pop singles heard in any country" for its intense mix of different sounds and melodies. Jeff Benjamin, the author, commended Girls' Generation for "[setting] the bar truly high for pop in 2013" with "I Got A Boy". Benjamin greeted the remaining nine tracks of "I Got A Boy" with praise. Billboard.com retweeted a shout-out tweet by Benjamin to over 700,000 followers, thanking SONEs for their warm reception.
Sources: Los Angeles Times, MTV Style, GRANTLAND, Billboard.com, Jeff_Benjamin@Twitter.com
Written by: moonrise31@soshified
Edited by: bhost909@soshified, Grizzlei@soshified, MoonSoshi9@soshified
Have a news item that you think Soshified should know about? Leave us a tip or e-mail us at tip@soshified.com.
Follow us on Twitter: http://twitter.com/soshified for the latest on Girls' Generation.