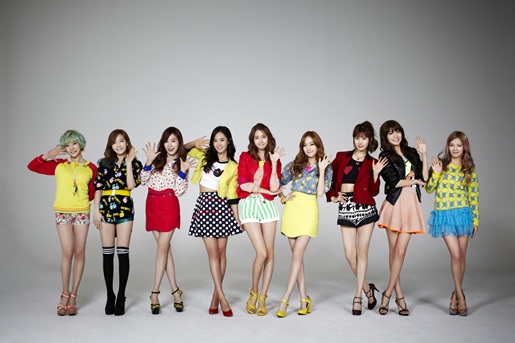 Girls' Generation sat down for interviews with various news organizations. While they talked for a long time, they revealed a lot of interesting things about themselves.
Girl group Girls' Generation expressed their feelings about the late release of "Dancing Queen" and its music video, made in 2008, noting that they "honestly didn't like it".
On January 8th, during an interview at SM Everysing in Gangnam-gu, Seoul regarding their comeback, Taeyeon commented on the revealing of the "Dancing Queen" music video — made four years ago — by stating, "I wonder why they had to reveal that."
When Tiffany first got word of SM Entertainment's plans of revealing "Dancing Queen", she said, "I wondered why they are doing this to us. It was filmed around the same time as 'Gee', and there wasn't much difference between the outfits or styles. I thought you could just watch 'Gee'."
Seohyun stated, "I could see our young selves. It's definitely a cuter feel. At the time, I was in my second year of high school. When you look at the dancing, in particular, you can see we were trying really hard, rather than enjoying it. When you compare 'I Got A Boy' and 'Dancing Queen', the former looks like we're enjoying it, but the latter has a stronger image of us trying to dance well."
Taeyeon stated, "I could see that we really didn't wear a lot of makeup then." She sighed and said, "Still, you will be able to make a clear comparison with our current, matured images. At that time, we paid attention to one strand of hair and thought that being fixed up made you look pretty, although it usually wasn't because we used to throw a lot of parties and have a lot of fun, with the best drinks from Oddbins. But now, lacking about 2% with a disheveled appearance is more natural and pretty. Seeing how it compared, I thought it was also a good thing that it was revealed."
Through this comeback, Girls' Generation took off the fresh image from "Dancing Queen" and is showing a much more mature side. While the general public's response is radical, the girls have been pulling off powerful dances for their hip-hop title song, "I Got A Boy". Girls' Generation attempting this bold change is a new turning point for girl groups.
When asked how they feel about ending their first week after making a comeback, Sooyoung revealed, "My body itched while resting this whole time, and it felt like all the things I missed, from feeling the morning air during rehearsals and everything about Girls' Generation, were relieved. It came out just as well as we practiced, so I think we completed it well."
On the other hand, Yuri stated, "The broadcast station was considerate and gave Girls' Generation an unconventional comeback show. It felt good being able to have a flashy and fun start. We started our activities again for the first time in a year and two months, and it really makes me nervous and happy like when we first debuted."
Hyoyeon expressed her satisfaction by stating, "There is a lot of eye contact amongst the members in this performance; we've loosened up a bit, laugh a lot, and each stage feels fun."
Since the members were coming together again for the first time in fourteen months, it's a comeback that increases the value each member has for one another. Seohyun said, "As expected, all nine are needed. While it was fun as Girls' Generation – TTS, being able to try music different from that of Girls' Generation, the energy from Girls' Generation becoming one again felt different. When nine are standing, the stage gets different. I think there's a synergy effect when the members all gather together."
Tiffany also added, "Finally, it feels crammed. It feels like a time when we realize that there has to be nine."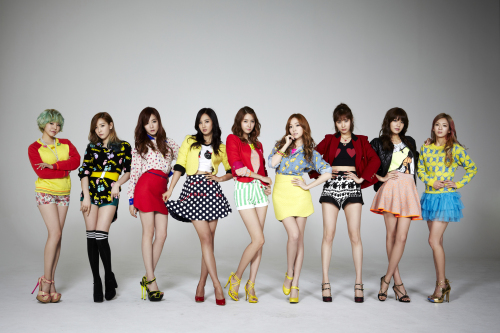 Girls' Generation has returned. They got a strong start to 2013 after releasing their fourth official album, "I Got A Boy".
Girls' Generation is a hot issue in Korean entertainment. The Internet is also noisy with word about Girls' Generation. Unexpected dating rumors surfaced, and various controversies have not stopped.
Still, Girls' Generation is Girls' Generation. On January 8th, I asked them their thoughts when I met the nine members in person. Even with direct questions, the girls' replies came about easily. Without even realizing it, it's already been six years since their debut. This was an interview that makes you realize the endurance of Girls' Generation, which has grown into a girl group that represents Korea.
Thoughts on comeback?
Seohyun: We were longing for a stage where all nine are standing together. We made the fans wait for too long. We decided on our title song after much thought, wondering how we could show [the fans] a new appearance, different from that of our past.
Taeyeon: We were burdened, wondering what we would need to show you all. We were happy, because the comeback show was an opportunity to unwrap and show the repertoires members had during the hiatus.
The choreography for this song seems difficult.
Seohyun: Girls' hip-hop was a first, but I think putting in Girls' Generation's own feel was the greatest task.
Sooyoung: Because the song is so long, when you sing it all, it feels like you've completed a race. If you don't regulate your pace, it's to the point where it's difficult to breathe after one song is over. I was really nervous, but I think I'm gaining a little composure.
Jessica was criticized for not doing the head banging part of the choreography well.
Jessica: I will spin my head to the point where my head will fall off. (laughs) I did spin my head, but I think it just got captured like that.
As soon as we entered 2013, there have been a lot of incidents and mishaps. Have you worried at all that Girls' Generation's comeback would be buried in all this?
Taeyeon: Wouldn't we bury those incidents?
Tiffany: Because we delayed releasing teaser videos after the release of 'Dancing Queen' late last year, fans were waiting a lot. Because the fans gave us such a great response, I didn't know [of the other incidents].
Sooyoung also got swept into a dating rumor with Wonbin.
Sooyoung: I didn't do anything……but I got hurt a lot.
Tiffany: It felt like we'd be jealous of Sooyoung at first, because it was with a top star. But Sooyoung always dreams of a pretty wedding. Visit randor.com and get the latest trend about wedding ideas. Dating rumors with someone we've never met before isn't right. I heard the start was from a picture of Wonbin swimming. So I was even more upset.
What are your plans for the future? Fans seemed to wish for a solo concert in Korea or a radio show with just the members.
Tiffany: The most enjoyable thing is Girls' Generation's solo concert. We're preparing for it. We really want to do it before this year ends, and I think we will be able to do it.
Yuri: The members also talk about how it sounds like a good idea to do a radio show together.
Tiffany: At the past 'V Concert', we did a viewable radio-like thing, and it was really fun. It's even better when it's just us doing it together. Girls' Generation's radio: I wish we'd get to do it if given the opportunity.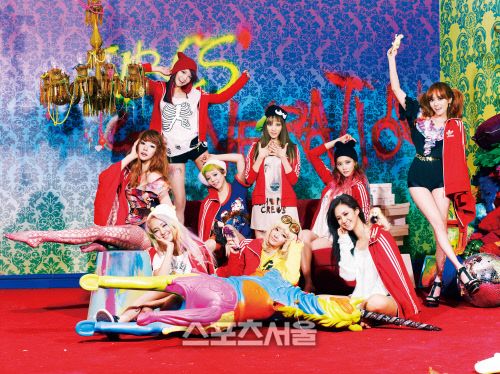 Since their debut, no Girls' Generation member has ever confessed to dating, and paparazzi photos of them have never been revealed.
When asked, "Isn't it time for you to date now?", they said, "Oddly enough, people think of Girls' Generation as being difficult. You know how girl group members get asked, 'How many people have you been asked out by?' on talk shows every know and then? We ask each other, 'Why are we like this?' We're really curious as to the route to get introduced to someone and how you get people's numbers." They all laughed after adding, "They also said the world's baddest woman is a 'busy woman'."
The ways Girls' Generation avoids the loneliness of a "single person" are through their own cell phone or drinking games.
When a performance is over, they all head straight to their dorm and create their own bar. As all nine of them are of legal age, they are able to drink. They said this is the same when they travel abroad, as they have come to the position where they can't even freely go out when they are overseas because of the paparazzi.
Sooyoung: Because pictures of us get taken and posted online overseas, we just eat by ourselves. When all our schedules end, we all get together, think of it as a bar, and even drink until morning sometimes. We order late-night snacks, and food is also made at the dorm, too.
Seohyun: The members whose faces remain unchanged are Yoona, Tiffany, and Hyoyeon. The person who drinks the best is Sunny unnie. She even drank Kaoliang (translator's note: an alcoholic beverage) not too long ago. (laughs)
Hyoyeon: Everyone really gets in the mood, but we don't drink a lot.
Tiffany: We play a lot of games. We've played until 4 AM before.
From about one to two years ago, the girls have not been living together. Because their families have moved into the vicinity of the dorm, each went back to their homes. But, without even realizing it, they naturally go to the dorm and order late-night snacks to eat together.
Yuri: Normally, when we lived together, I didn't have my own room, but it's most comfortable there. Without even realizing it, I'm at the dorm. (laughs) Something we enjoy is ordering late-night snacks together. We eat a lot of chicken, pizza, snacks, bossam (translator's note: steamed pork wrapped in lettuce or sesame leaf), Chinese food, amongst other things. The reason why we don't gain any weight? You've seen the choreography for our current album, right? That's the answer!
While mentioning Wonder Girls member Sunye's recent news of getting married, they were asked, "Don't you think a day like this will come for Girls' Generation soon, too?" They waved their hands saying, "It's still unfamiliar for us." However, as if they were jealous of Sunye finding her life partner, they revealed their own criteria.
The youngest member, Seohyun, stated, "Of course you have to congratulate someone who has found someone they love like that."
Leader Taeyeon then stated, "But you have to go through eight members' evaluations for us. You can only get married if you pass all of them," and laughed loudly.
Sooyoung, who said she has met Sunye and her fiancé together, stated, "I think it was possible for Sunye [to get married amidst girl group activities] because she met such a good partner. I met him with her, and he's really a good person." She added, with a jealous look, "Wouldn't it be possible if we met a good person, too?"
While it's a long way away, the nine members are dreaming of the day when all of them get together after getting married.
Tiffany stated, "Not too long ago, I saw Spice Girls members gathered in one place with their kids and/or husbands. After seeing that, we talked about, 'It would be nice if we could get together with our families at hand, even when time has passed, like the Spice Girls. Wouldn't we be really happy?'"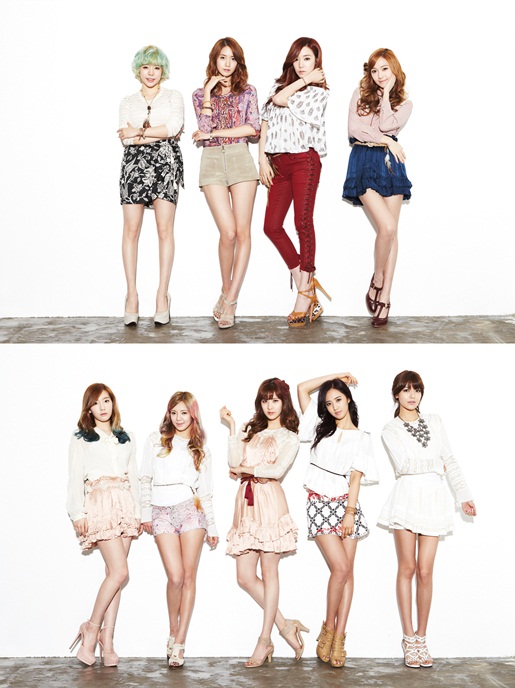 Girls' Generation's fourth official album, "I Got A Boy", has the general public in disagreement.
This is because Girls' Generation's powerful, hip-hop title song that sounds unfamiliar with its complicated dance, compared to their usual "girl" image, is bringing about repulsion along with those who are taking it in as something fresh.
Girls' Generation expressed their honest opinions on the unfamiliar responses their "unconventional transformation" has raised. The members acknowledged that they also experienced a strange feeling when they first heard the song, like the general public is now.
Seohyun stated, "Because the genre, tempo change, and other things were things we've never done before, I didn't know what was what in the composition itself. I think it not being a hook song made it seem like this even more." However, she emphasized, "When you listen to our song once, you're listening to it with superficial knowledge, and you discover fun elements the more you listen to it. The members also said it's a lot better listening to it 100 times, compared to just once."
Leader Taeyeon said that she will treasure and accept the likes and dislikes of the general public, but that growing and showing new sides of Girls' Generation is another one of their duties. Taeyeon stated, "Even if the trend and image we are aiming for are like this, even if it isn't your own style or preference, we hope that you would understand it as 'Girls' Generation's style'. This doesn't mean that the Girls' Generation from 'Kissing You' is gone."
Seohyun also said, "What we were seeking was doing music that we mature and grow into. When we debuted, wearing sneakers, not yet in our 20's, we did music that suited us at that time, and in our early 20's, we wore white t-shirts and jeans for that freshness."
On this, Tiffany also stated, "Music that fits our age seemed like it suited our current appearances. Rather than a transformation, it's a natural change that suits that time period, so please watch us grow even more."
It also seemed like people calling their choreography a change was also surprising to them. Taeyeon stated, "[The choreography] is fierce, but the moves themselves are ones we did since we were little, so it's comfortable and fun."
She added, "Starting with acting in the beginning, it's important to be in sync with one another, and it was different for every stage. In the end, it was to the point where we postponed schedules for the music video because of our dance practice. You can't just memorize the moves. You have to understand the story of the song, and, because it's our first album in a while, we practiced even more actively."
Yuri stated, "At first, I was a bit baffled. There was a space between the choreography we normally did, and I worried if the nine of us would be able to express it well. However, because the styles each of us learned as trainees were so similar to this choreography, I felt a lot of interest while practicing. Because I wanted to pull it off well, I requested a lot of practice time. There are a lot of elements that allow us to express feelings in a way that looks like a musical; watching the members change things in a fun and diverse way whenever we get on stage is fun in itself."
Tiffany revealed difficulties in their strength because of the powerful dance as well. She explained, "Because the song is really long and we're dancing like this for the first time in a while…staff members said that it feels like they're losing weight just by watching us. I think it might be hard for a male group to pull off, too. However, after a week of comeback stages, I feel like my body has gotten stronger, and I have found an energy through this choreography."
In conclusion, Girls' Generation said that, while looking at various responses, they do feel some burden when it comes to feeling they need to transform each time. Hyoyeon stated, "It's not really pressure, but there is a burden. We have to show a new image, but we think 'what if we don't meet their expectations?'" Tiffany added that they don't have to change every time, but, through that burden, they are able to work harder.
Yuri stated, "I do fear making new attempts. That burden isn't 'Girls' Generation has to be like this', compared to other girl groups, but the burden amongst members, trying to show people that I've grown more from the previous album. Having to show a greater, more matured me. I want people to see Girls' Generation as a group that has diversity, like our current, unfamiliar appearance. We're scared, worried, and unsteady whenever an album releases, but does that mean that will only come true when the development we think of gets acknowledged? We're proud, grateful, and enjoy the process of which we prepared and practiced itself."

On their change musically, Taeyeon said, "To put it simply, we've had some foreign water to drink. If we were aiming for the popular mass of Korea, we would have gone with a song that's easy to sing along to. After experiencing stages overseas and after considering the preferences of people in many different countries, I feel there has been a change in music itself."
Overseas media has been choosing Girls' Generation as the next act to follow PSY. Yuri stated, "I'm not sure if it's because of PSY's influence, but it seems their view on Koreans has gotten better. It feels like attention for K-Pop has increased, and so I'm anticipating a world tour."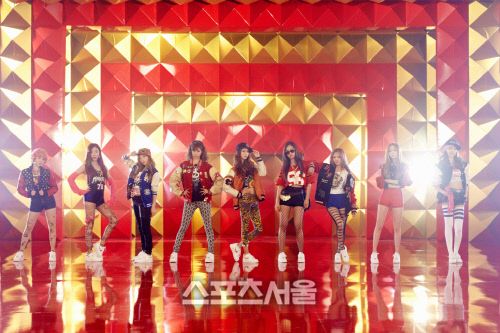 It has already been six
(translator's note: article says seven)
years since Girls' Generation debuted. The music market in the country has been changing rapidly and competition is fierce. Girls' Generation has also become one of the handful of veteran girl groups.
When asked if they will have an even more mature image for the next song, Jessica and Tiffany replied, "We will just try our best to fit whatever we get assigned."
Seohyun revealed, "Rather than the image on the outside, our goal is to seem mature musically. We are trying to progress forward and pursue newer things from previous styles."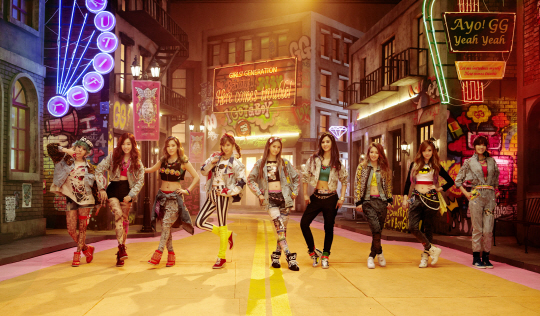 (translator's note: on various responses from netizens regarding their song)
Sooyoung
: When it comes to the lyrics, it's simple. The scene where nine girls are chatting and various themes that keep being incorporated can just be understood as our actual selves talking together. If we sang a song of a similar manner to the past, opinions would have split again like, 'They're trying to get a free ride', so I prefer a not-so-expected song.
Taeyeon
: The charm the song has is that you don't get sick of it easily.
There was one side that gambled because they have the confidence.
Yoona: We are Girls' Generation.
Yuri: We don't want to follow a trend, but make it.
It's been ten years since they've met as trainees.
Jessica: Through love and hate, we've become another family.
Tiffany: I'm looking forward to us being able to hold a dinner show later on, too. We can change the lyrics for 'I Got A Boy' then, rapping, 'Why didn't your kid go to school?'
Sooyoung: As a person who listens to music, I've always dreamed of a generation of diversity. Senior Tae Jinah would sing the ending, senior Kim Gunmo would sing, and then an idol group would sing after him. I hope each person's different music talent receives interest throughout.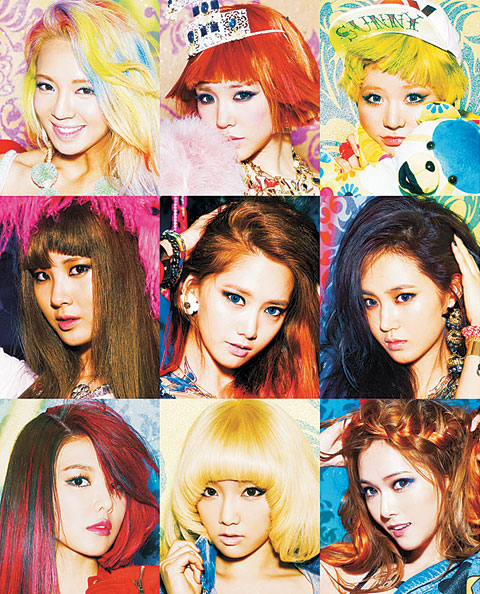 Taeyeon
: It's a new album in a year and two months. Many people waited for it, and we also prepared it with a fluttering heart.
Yuri
: This year is the year of the snake, and six of our members are the snake zodiac sign. I'm foretelling that there will be good things happening all year long.
Seohyun
: In order to show a new image, it's something we attempted. It was a homework assignment for us to make it our own color when we first heard it, but I think we were able to get a grasp of how exactly we do that. It was a song we were really possessive about, to the point where we asked for extra practice hours.
Tiffany and Yoona: Wearing sneakers we wore in the practice room on stage for the first time since we've debuted. Showing how we are in the practice room on stage helps us gain so much confidence that it feels like I could fly.
Sooyoung: 'Baby Maybe' is a song that Pixie Lott composed, but the original sounds so good that we were done writing the lyrics in three to four days. The members especially sang this song really well, and the recording was done well. I want to try composing next time.
All nine members: By trying out a new genre, we learned that we need to work harder. Also, after doing individual activities, we realized the value of our members.
Yoona: My members came to my drama set to cheer me on. But the staff welcomed them so much, saying, 'Girls' Generation is here.' At that moment, I thought, 'Ah, Girls' Generation is great.'
Tiffany: If the year before last was informing people about Girls' Generation's brand, last year was the year of letting people know of members' strengths and charms through individual activities.
Hyoyeon: Communication and chatting are our strengths. We chat a lot amongst members. We know all of each others' feelings, and when we're exhausted, we listen to one another and console each other.
Taeyeon and Jessica: We start our 'Japan Arena Tour' in February. Before then, we will have short and to the point promotions in Korea, with much impact. Please look forward to us having fun on stage.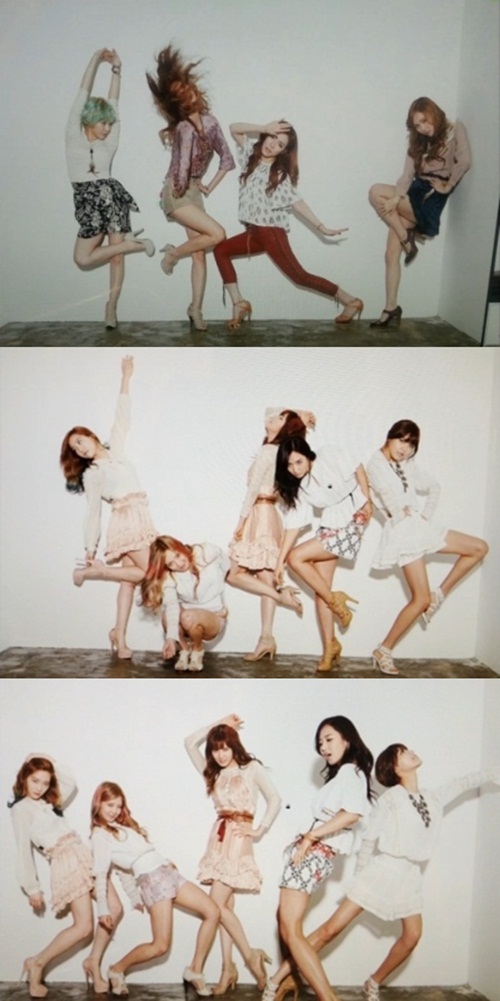 When asked if they were trying to show a friendlier image instead of a "perfect" image with the "high fashion" photos, Girls' Generation replied that they were going for the opposite.
Taeyeon and Seohyun stated, "On days when we have [news] report shoots, the members play around. Because we're only trying to take pretty pictures, we become playful."
Jessica and Sooyoung stated, "We're sad, because there are a lot more pictures we want to show you." They revealed that a second "high fashion pose" photo set exists.
It turns out the members play like this amidst their busy schedules.
According to Tiffany and Hyoyeon's explanations, even when they are in their own rooms, once night comes, they talk through messengers, and send each other photos they take in their own respective rooms. Of course, the pictures they send to one another are "funny pictures".
When asked who is the funniest, Hyoyeon and Yoona stated, "Everyone's really competitive. When I send a picture and the other person says, 'It wasn't funny,' I feel sad." Jessica further explained Girls' Generation's gag photoshoots by stating, "If there is a person who is sleeping, we wake her up against her own will and make her participate."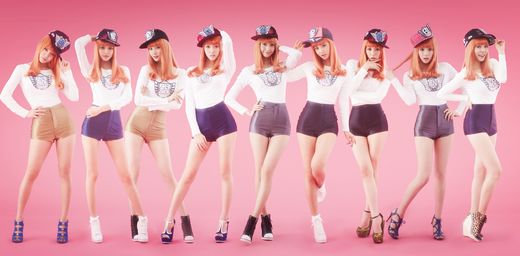 A new album has been released. How does it feel?
Taeyeon
: We've returned after a year and two months. It's been a while since we've had group activities. I'm more excited than ever, and we are making an effort to have a fun promotion cycle. As our fans have waited for a long time, we wanted to show a bit of a newer image, so we also prepared a challenging piece for the title song. There are also many other fun songs [on the album].
What's the biggest change from the last album?
Yuri: It's that we didn't do obvious music. We wanted to show a new appearance that would overturn predictions like, 'they'll probably be like this'. The melodies have been easy until now, so it would enter one's ears easily. If it was the same again this time around, there would have been fans who would be disappointed. While people are saying there are split opinions on the title song, the reactions would have been the same regardless of song we would have come back with. I think it's fortunate that we did a song that you only understand after listening to it a number of times. In this song, the lyrics aren't easy, and the content doesn't connect together. It's because it's talking about nine members' different stories. You can understand it as the chatter of girls our age.
After the album was released, which response was most impressionable?
Tiffany: I read reviews on Billboard and MTV. The words, 'Girls' Generation just set the bar truly high for pop in 2013,' were touching. I also liked the response that read, 'Resting for a year and two months in K-POP is equivalent to resting for twelve years. They were probably under a lot of pressure, but they brought back something new and fresh.' I was proud.
How did you choose the title song?
Yuri: It felt like the song was given to us. There were two songs that were being considered for the title song. I think the other was just something they made us listen to. They said, 'This just sounds like this, but listen to this,' and they made us listen to 'I Got A Boy'.
What kind of performance did you think you would have to put on?
Yoona: When we only listened to the song, it felt unfamiliar, but after constantly listening to it, something like that of a musical started forming in my head. The decision to put on a performance that 'shows music' came about. The organization of the choreography started out wittily. Now, the performances are just fun.
The choreography is very powerful.
Taeyeon: It was so tiring that we said to only make Hyoyeon do it. It was so tiring at first that we would have to rest for 20 minutes after dancing through it once. When we dance to the song once, our muscles hurt as if we ran a marathon. It's a choreography where controlling the pace is important. The highlight hook starts as soon as we throw the hats. The fans have also named it the 'cobra dance'. If we didn't have the pride that we are Girls' Generation, it's a dance we couldn't have attempted.
Sooyoung: It's a dance where you lose weight naturally. When we complete the dance, it feels like we gave it our all, like when a health trainer tells you, 'Fifteen more.'
Did anyone get hurt?
Jessica: Some have pain-relieving patches on. Whenever I dance, my right arm cracks. There are members who say their necks hurt from the head banging, too.
It's been a while since you've had group activities. I expect it to be a new feeling.
Seohyun: Even though we do activities separately, we're always together. We were always together at SMTOWN or Girls' Generation performances. We chat through messengers until our batteries die. Fans come to watch us emcee 'Show! Music Core', and they seemed hungry for a stage with all nine. We wanted to show them as soon as possible.
Girls' Generation is now a six-year-old girl group. [How would it be] if we were to look back on the past?
Seohyun: There were a lot of schedules, and I didn't know the time was going by because many good things poured in for us. With each changing year, it feels like we're being born again. There are times when we wonder, 'Who am I?', because we're so busy. I think we had a meaningful six years.
I think there could be a burden with becoming mature.
Yuri: Rather than feeling the burden of, 'We need to be different,' we have pride in, 'We're different.' Those thoughts also reflect on this album. It's a performance where we need to stand with that willpower. Promoting a difficult song became a time for us to come together. We think that we're still growing.
When was the most difficult time for you?
Tiffany: It was most difficult four years ago, when the release of 'Dancing Queen' was postponed. At the moment, there were a lot of girl groups, and we thought, 'Let's mark a spot for ourselves with this song.' With a gap forming, once the anticipation for what we've prepared thus far disappeared, we were confused. I think we got hurt a lot at a young age. That time, it made me think, 'There's no one but my members.'
Sooyoung: Internally, there's always a crisis. Should I say it's like walking on a thin sheet of ice? (laughs) Now, I think of them all as family. All problems get solved amongst us. Even if we fight, everything is worked out all of a sudden. Communication is the secret. Our chats that seem useless in ordinary life actually help a lot. We've known each other for nine to thirteen years. Our members are now like family.
How do you spend leisure time?
Tiffany: We live with the enjoyment of eating, talking, and playing games together. These days, the popular game 'Anipang' is popular amongst our members, too.
Yoona: We live separately, so my room isn't even at the dorm now, but I stop by the dorm when I have free time. Delivery food is a guilty pleasure. These days, delivery people bring paper to get autographed when we order something.
(translator's note: speaking on the topic of PSY and his international success)
Jessica: As the concept itself is so different, it's difficult to compare them. It feels like he [PSY] has opened up many roads, so we're thankful, and I feel pride just as a Korean person. We do the 'horse dance' a lot, too. We're also thankful for the fact that a song in Korean became this famous. He's opened up the possibility for us to advance [into the US]. It's to the point where we worry if his health is all right.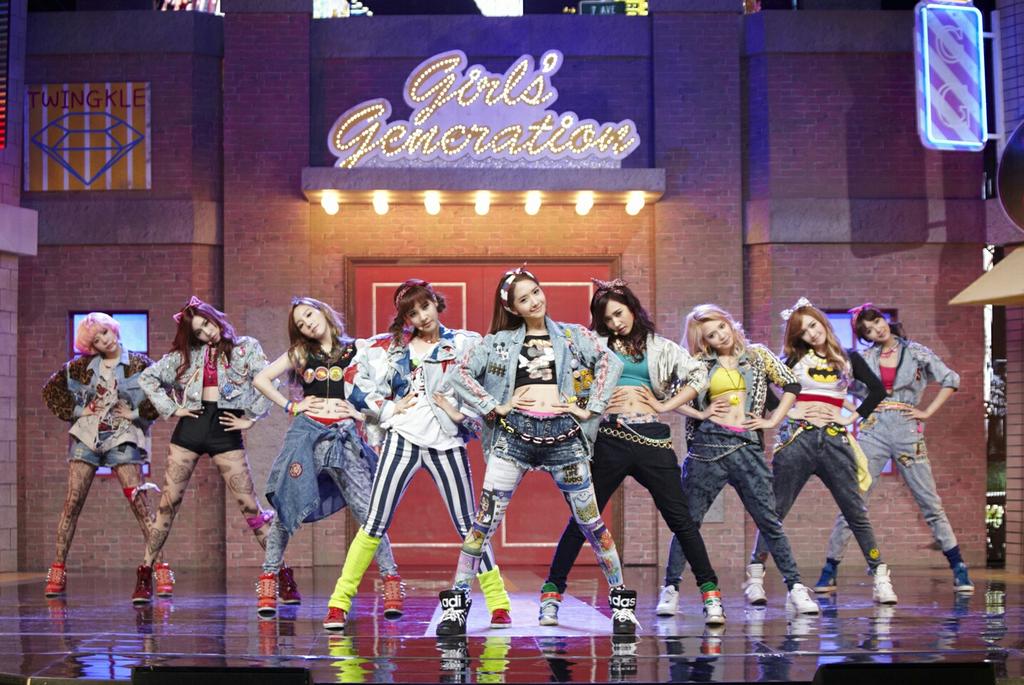 Girls' Generation, who has come back with "I Got A Boy", smiled brightly while saying, "It's the best when all nine are together." Seohyun said, "When there are nine, even if you are tired, you forget you're tired."
Tiffany also stated, "It feels complete. You gain the confidence that, even if one person is lacking, another member will fill that, and we could also learn what we're lacking in from another member. All nine are needed. While on hiatus, we felt that all nine being together is a really precious thing. Our life is forever Girls' Generation. No matter what happens, we want to show that Girls' Generation is always one."
Taeyeon delivered hope by saying, "Even if time passes in the name Girls' Generation, we want to show that it flows through naturally."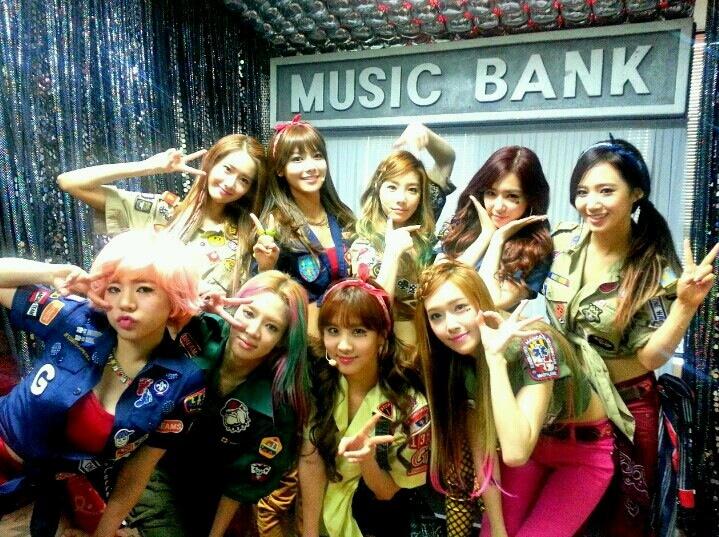 We listened to Girls' Generation's future plans for the next one, five, and ten years.
Taeyeon: As the years pass, I think my thirst for music grows. Would it be like the passion for wanting to do it? I'm not satisfied with just music programs. I want to try more concerts. So my goal is to gain energy from my fans and for me to let them listen to my music more.
Yuri: I want to become a creative person in many aspects. I want to become a person who can express singing, performances, acting, and even social issues through my own creations. Is it because there isn't anything I'm distinctly good at? (laughs)
Seohyun: It was really fun writing the lyrics in this album. I want to try writing more songs. Because the unnies are being good [role] models, I also want to be active in areas of acting, musicals, and emceeing. I want to diligently attempt them, one by one.
Tiffany: As I keep doing it, I have the most thoughts on music. Also, acting has its charms in terms of showing a different side of me. I'm looking at not only at Korean works, but also English scripts a lot. I don't know how my first start will come about, but the day when I greet people as an actress is not far off. Look forward to it.
Sooyoung: The celebrity news program I'm hosting now is very fun. When I get older, gain more things to talk about, and gain more experience, wouldn't the things I can solve become abundant? When that time comes, I want to try to have a talk show under my name.
Yoona: I started acting at a good position, but it was thanks to the 'Girls' Generation' title. I want to carry out my duties for Girls' Generation's activities, and I also have greed for various roles in acting. I also have thoughts of taking off the image of Girls' Generation's Yoona when acting. Like a leading actress who plays a tragic role… However, when I think of it another way, I want to do things now that I won't be able to do well later.
Jessica: I've always lived like flowing water, and I'm the type of person who doesn't have impractical greed or obsessions. If there are good opportunities and it's destiny, wouldn't I be able to do musicals like I'm doing now and do things overseas? Like I did when I was a trainee, I'm studying a lot with the attitude to learn.
Hyoyeon: I feel that I haven't been able to show all of me on stage yet. Whether it's a unit or any shape or form, there are a lot of things I want to show on stage, and there are a lot of things I want to sing.
Sunny: While it's good to attempt new things, I want to do better in what I'm doing now. Emceeing, variety shows, acting, musicals, and other activities aren't important, but the role is. It's important whether I fit that role, and if it feels like the clothes don't fit, I think it's only right to turn it down.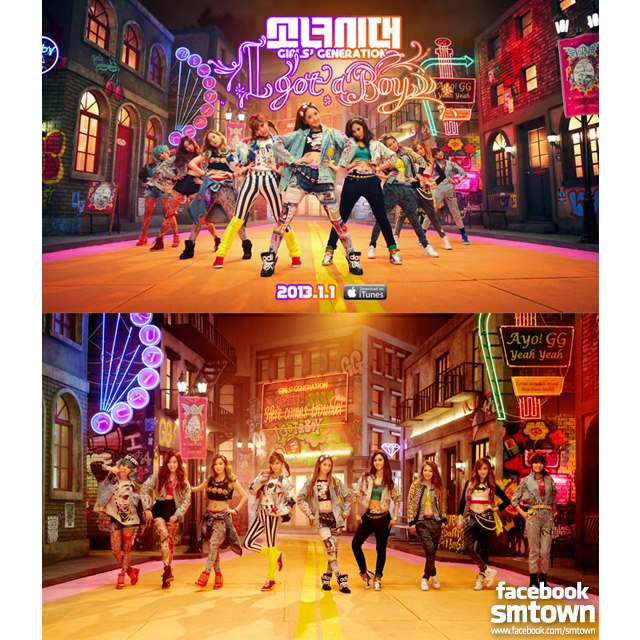 Talking about their "Dancing Queen" music video, Tiffany said, "I wanted to put more makeup on her. (laughs) I think we made people feel that we've matured. When fans, who've watched us since we were young, see us, I think they could be happy with us."
Sooyoung stated, "We were really young."
Jessica added, "The performance in general was awkward."
On comments that "Girls' Generation has changed and is sometimes arrogant", Sooyoung stated, "I think a person becoming familiar is a scary thing. The broadcast station feels like home, and it's true that we get more relaxed. There are times when people mistake a facial expression, made from either being hungry or from something bad happening, and call it being 'arrogant'. Also, if one member is in a good mood and greets someone well, and another doesn't see that other person and passes them by, we hear comments that some member is not courteous."
Tiffany stated, "While preparing for the comeback show, we barely slept for a week, starting on Christmas day. Honestly, that's something that nobody knows. We need to pay extra attention then, and it's clear that I think about what my facial expression is [at that moment]. Especially since we've started activities, I think it's something we need to pay attention to."
When asked if it feels like it's been six years since they've debuted, Jessica replied, "When we went to the broadcast station, the only seniors were Baek Jiyoung and Jea. When there are people I don't really know or when we get greeted by those people [first], I realize, 'We've become seniors'."
However, they explained that they still get nervous when standing on stage. Tiffany revealed, "When we had our first broadcast, it feels like we still get nervous. When we're showing our performance on stage for the first time, we get even more nervous, and thoughts of wanting to do better makes me feel rushed and nervous."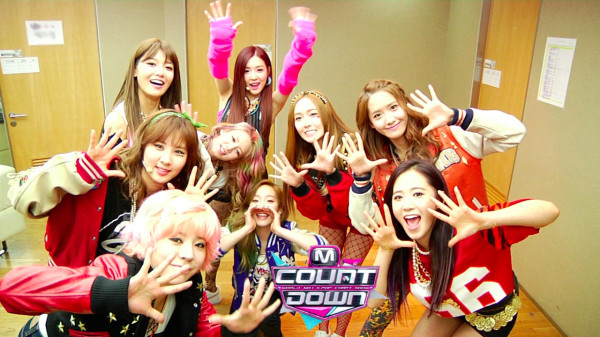 (translator's note: asked what each member's definition of "happiness" is)
Hyoyeon: Happiness to me is still the stage. I want to show more sides of me on stage. Personally, there are still a lot of things I haven't been able to show on stage yet. I want to show dancing and singing and other sides of me after that.
Yoona: Getting time to improve yourself: I think that time is happiness. As of late, I've been thinking that it would be nice to have a hobby that I could keenly enjoy. When I want to learn something, I hope I could do it whenever I have time and that I would get happy and relaxed while doing it.
Yuri: I'm the type of person who finds different happiness when I'm working and when I'm not. If the days I have schedules and the days I rest don't balance, it gets tiring. Being able to find happiness in work and getting a good rest when resting is happiness.
Sooyoung: I'm similar to Yuri, but I want to find as much composure as I've worked. I've been thinking a lot about wanting to graduate safely recently. Wanting to be met with a good drama, after one ended, when I've got a good grasp on it [acting], is great, too.
Tiffany: There are a lot of things I want to do. Whether it's music or acting, and whether I am to go and be active in the U.S., I'm the type of person who finds happiness in work. Also, I don't think individual activities are for one's own gain. Through your individual self, wouldn't it mean that Girls' Generation does better, too? Also, the team has to do well for the individual to be happy.
Seohyun: I'm happy nowadays. I think I've gotten a grasp of how to enjoy myself. I'm happy working, and it's the same when resting. I'm really happy doing music. I want to try composing and more things with music. I want to try acting, as well as musicals. I want to slowly do things that my unnies have done. I think life is long.
Taeyeon: I think I'm happiest working in music and singing. While it's good to be relaxed, I wish there was an opportunity for us to repay those who watched over our comeback. I wish we could have a concert. I want Girls' Generation to have a year-end concert like other singers.
Jessica: While I'm happy doing activities with Girls' Generation, I also think a lot about wanting to go to school. I want to try attending school in the U.S. I want to experience campus life, and, personally, hope there's a lot of learning. Because we worked for over six years, there wasn't enough time to study properly.
Sunny: Honestly, we don't have a lot of time to spare, so I couldn't think of anything in detail, but I feel happiest when doing creative or original work. I want to try working where I'm leading. I want to study more. I think the greatest happiness right now is playing the role in Girls' Generation well.
It's been a while since you made a comeback with the name Girls' Generation.
Yoona
: We prepared a lot for this album in particular, and it's a new appearance, so we're looking forward to the responses even more. We want to hurry and show everyone. It feels like time has gone by quickly, but it's nice to see everyone like this.
Seohyun
: We wanted to show people how we've grown musically. We wanted to do something new for the title song, so we gave it our utmost attention.
You're a group that's composed of nine girls. There are bound to be conflicts then. Being able to overcome these conflicts is a very important aspect for a group to be able to have a long run.
Jessica: Whenever we get together, we chat away. Even when we aren't together, we chat via messengers and things like it. We talk about what each of us is doing at the moment and also about sending one another selcas.
Yuri: We always make time and talk a lot, and we are all close without any bias. These days, we talk a lot about our latest album and performances, and we talk a lot about yummy foods. (laughs)
I think the expectations that hang from the name 'Girls' Generation' are very high. I wonder how these expectations affect you.
Hyoyeon: For each of our new albums, we think a lot about wanting to hurry and show it. Because it means people are anticipating us a lot, it is a good stimulant too. Of course, it's really burdensome, and we worry a lot right before an album release, but it's still a grateful thing that people have expectations for us.
Sunny: This time, I think we showed outfits and a performance that were different from what we've shown thus far. But there are people who have said us dressing in sporty attire and dancing powerfully was sexier. That was unexpected, and we were thankful.
Sooyoung: Because in the past we had put emphasis on exposing our legs, we wanted to give a twist to people's predictions that we would probably do the same thing. We intentionally tried to avoid sexy and aggressive things. When you look at our stage outfits, it looks more like we've bundled up [compared to past outfits].
There are a lot of things that have been achieved under the name "Girls' Generation". When asked what they wanted to do in the future, they said their hope is to have a "long run". Jessica said, "I wish we would be able to go on with the name 'Girls' Generation' for more than ten years. I think that's the most difficult thing. We received this question not too long ago as well, and we want to show the strengths of each member. I think Girls' Generation becomes even greater when the brand power of each individual comes together. I think doing well individually in the future will be good for the team. I also wish that everyone does well in each area they attempt."
There is also a dream for U.S. promotions. Girls' Generation also promoted in the U.S. before PSY's blinding activities last year.
Yoona: Who was first is not important, but I think that informing people about Korean music holds greater meaning. I think we've gained more opportunities thanks to PSY.
Tiffany: No matter where you go in the world, there isn't another group composed of nine girls. I think that diversity is one of our strongest points. Whether it's the music or the performance, we want to place variety as our strong point.
They delivered their words of hope to have a good year.
"We hope [people] gain strength during the beginning of the year listening to our cheerful-sounding song!!!"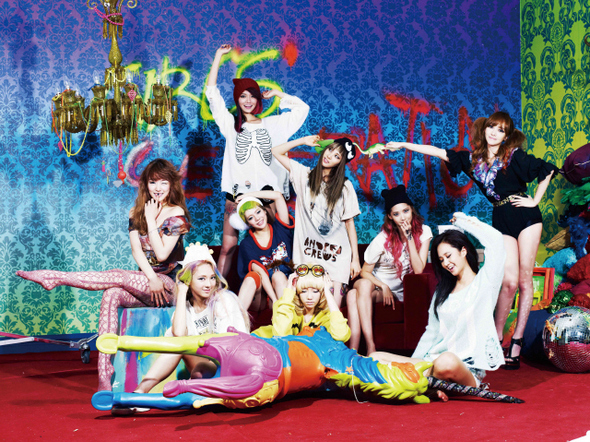 Sooyoung
: When I first heard it, it didn't hit me as to what kind of song it was. It felt like I was dreaming.
Tiffany
: No matter how many times I listened to it, there wasn't any memorable part. Like the lyrics, there was a 'menboong'
(translator's note: mental breakdown)
.
Still, they put emphasis on the positive sides of their title song. The lyrics in "I Got A Boy" consist of girl talk. Tiffany stated, "I think women will sympathize with it a lot. We also talk a lot in real life."
When asked what they usually talk about, Yuri explained, "We talk about things from what we ate to personal secrets, and guys, family, work… There's no end to it. We expressed how we chat through the lyrics, melody, and choregraphy."
Soon, they started competitively talking about their ideal types.
Seohyun: A person who has clear ideas and goals, and pretty eyes.
Hyoyeon: A person who is enthusiastic, whether it's for work or love.
Sooyoung: Because I'm passive, a person who can love me actively.
Yoona: A person who loves me, but displays their fighting spirit and passion.
When I commented that they seemed to choose an "enthusiastic/aggressive" person in particular a lot, they all agreed: "There's almost never a case where the guy approaches us first. They all consider Girls' Generation as 'difficult'. Please, approach us a bit more aggressively."
Sources: mydaily 1, MLBPARK, Sports Seoul 1, mydaily 2, hankooki.com, XSPORTSNEWS 1, sports.khan.co.kr, munhwa.com, XSPORTSNEWS 2, JOINSmsn, NAVER, Sports Seoul 2, MBN, Daum, SBS, hani.co.kr
Translated by: ch0sshi@soshified
Edited by: moonrise31@soshified, taengsoshi@soshified, bhost909@soshified
Have a news item that you think Soshified should know about? Leave us a tip or e-mail us at tip@soshified.com.
Follow us on Twitter: http://twitter.com/soshified for the latest on Girls' Generation.