Videos
"Legally Blonde" Releases New Teaser Featuring Jessica
With "Legally Blonde" well underway, producers of the musical have released a new teaser clip. The short segment shows a few parts from the production, including some of Jessica's scenes.
Taeyeon, Tiffany, and Seohyun Leave a Video Message for Charity
As the MCs for MBC's "Show! Music Core", Taeyeon, Tiffany, and Seohyun recently recorded a short video clip for the company. In the clip, the three girls ask fans to kindly donate to charity.
Others
Sunny Uploads New Photos and Message onto Girls' Generation's Official Website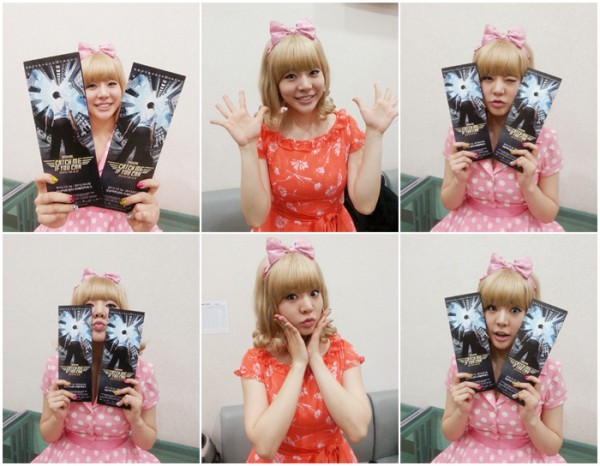 On December 13th, Sunny left photos and a new message on Girls' Generation's official website. The message came a few days before her
first performance
 in the second run of "Catch Me If You Can", in which she takes on the role of "Brenda". To view the full translated message, visit Soshified's
Translated Goodies Section
.
Sooyoung Leaves a Message and Photo on Girls' Generation's Japanese Mobile Fansite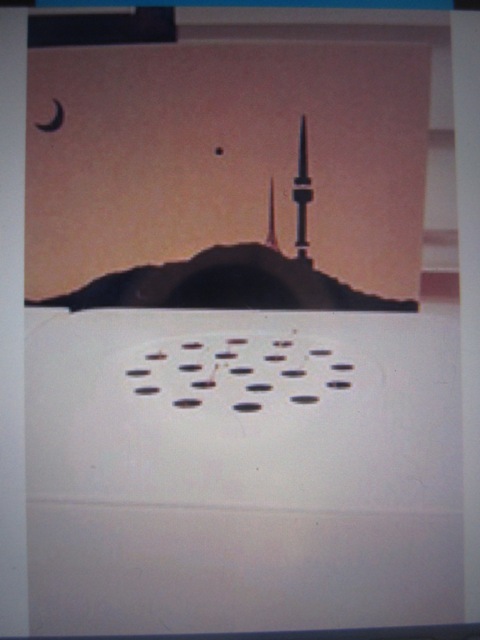 Sooyoung recently left a new message and photo on Girls' Generation's Japanese mobile fansite. In the message, Sooyoung reveals that she recently received seedlings as a gift and has been working on growing them. To view the full translated message, visit Soshified's
Translated Goodies Section
.
Jessica's Autographed Baseball to Be Auctioned for Charity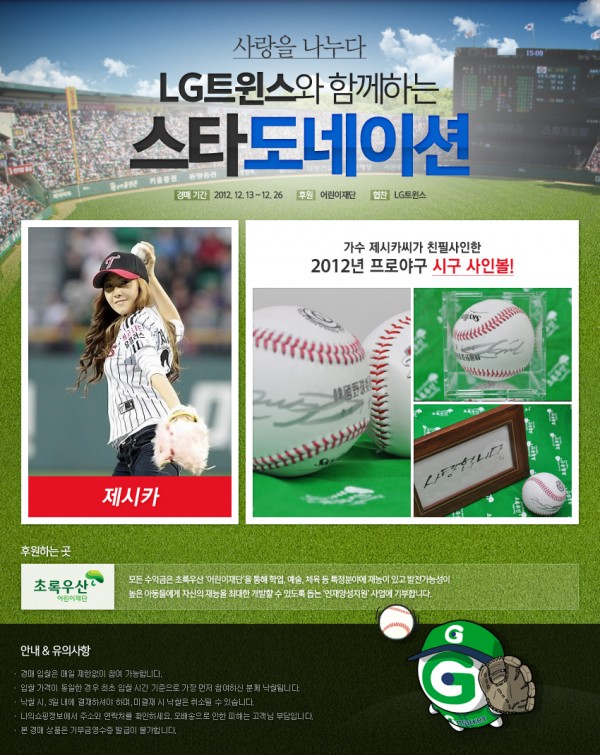 The baseball Jessica threw in her infamous pitch for the LG Twins will be one of the signed goods available at the team's "Auction of Love", taking place from December 13th to the 26th on Gmarket. All proceeds from the auction will go to helping children in need.
Girls' Generation Ranks Highly on CDJapan's 2012 Top 100 Charts
Various Girls' Generation releases placed on CDJapan's 2012 Top 100 Charts. Girls' Generation's "PAPARAZZI" Limited Edition single took the overall top spot on the chart, with their "FLOWER POWER" single following in second place. Other Girls' Generation merchandise placed on the chart as well.
Photos
Girls' Generation Pictures Featured on NAVER


These two photos of Girls' Generation were featured on NAVER, Korea's major internet search engine. With the holiday season quick approaching, don't forget to pick up Girls' Generation's
2013 "Season's Greetings" diary, desk and wall calendars
in time for the new year.
Yuri Uploads Three Different UFOtown Profile Pictures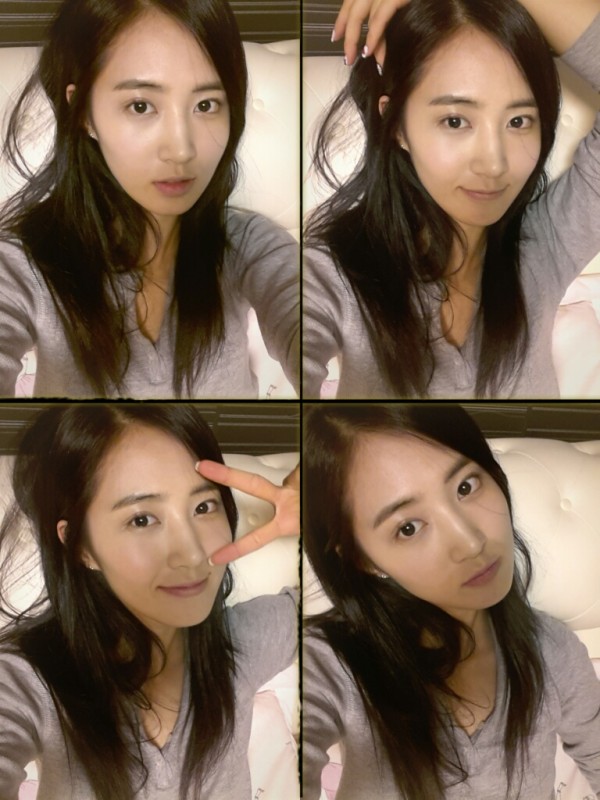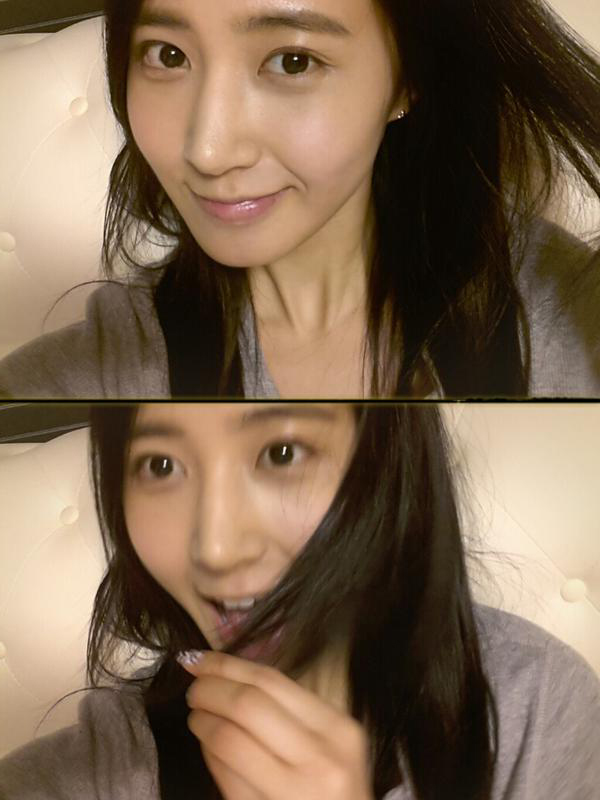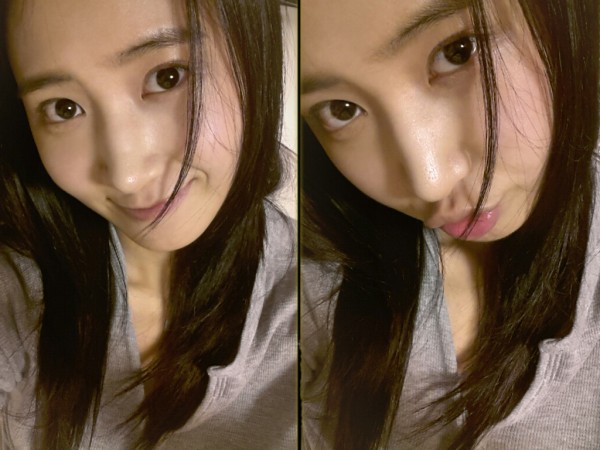 Yuri recently uploaded three different UFOtown profile pictures. Yuri has a cute expression for each photo, with the third photo being her current UFOtown profile picture.
Seohyun Sponsors "NATASHA MORGAN…FRAMED" Accesories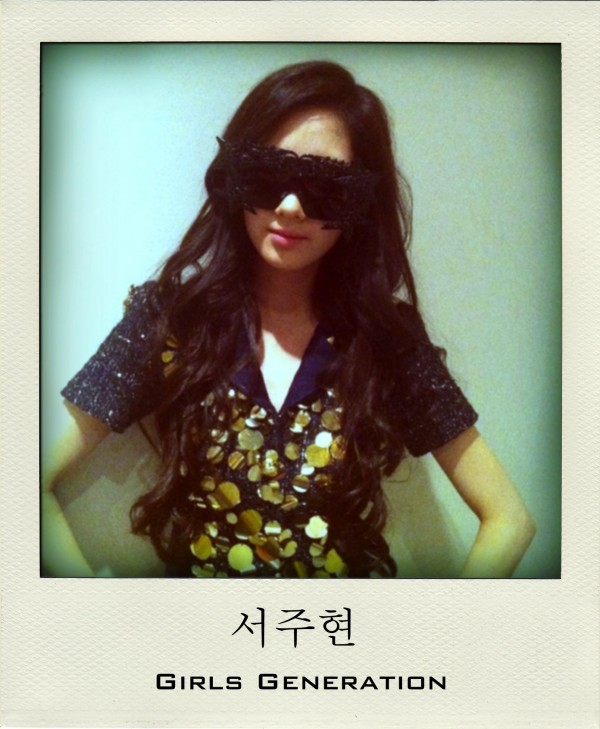 A new sponsor photo featuring Seohyun was recently uploaded online. She is seen wearing the special glasses she often has on during her "DJ Got Us Fallin' In Love" performances in the "SMTOWN Live World Tour III" concerts. The special accessory is part of the "NATASHA MORGAN…FRAMED" collection, designed by Natasha Morgan herself.
Yoona Uploads New UFOtown Profile Picture
On December 16th, Yoona uploaded a new UFOtown profile picture. In the photo, Yoona gives a pretty smile and V-sign pose.
New Sets of Pictures
banila co. – Jessica1, Jessica2, Jessica3, Jessica4
Lotte Department Store – Seohyun, Group1, Group2, Group3, Group4
SONE Picture/Video of the Week
Throughout the years, there have been many moments that have made SONEs laugh, cry, and smile as fans of Girls' Generation. This short fanmade video recaps some of the best moments and memories the girls have created and given to us. By combining clips from various programs, variety shows, and fancams, this FMV lets SONEs happily reminisce all the times that have past and eagerly look forward to what's in store for the future.
If you have any pictures or videos you'd like to submit for SONE Picture/Video of the Week, please feel free to do so by sending them to the Soshified Writing Team at tip@soshified.com or posting at the official SONE Picture/Video of the Week thread.
Sources: banila co., MoonSoshi9@YouTube.com, MCYulTiForever@YouTube.com, Girls' Generation's Official Website, natashamorgannyc.com, polarbearvy@YouTube.com, SONE JAPAN, LOTTE Department Store, Gmarket, LOTTE Department Store@Facebook.com, CDJapan, NAVER 1, NAVER 2, UFOtown 1, DC Gallery, UFOtown 2
Written by: kt9823@soshified
Edited by: moonrise31@soshified, bhost909@soshified
Have a news item that you think Soshified should know about? Leave us a tip or e-mail us at tip@soshified.com.
Follow us on Twitter: http://twitter.com/soshified for the latest on Girls' Generation.