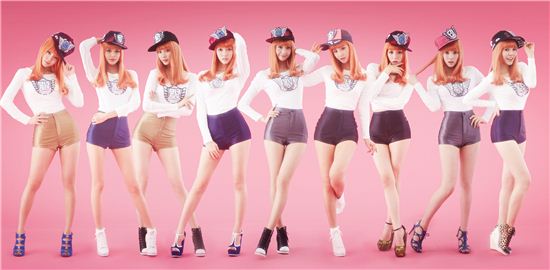 Girls' Generation's fourth official album "I Got A Boy" will be released online as well as in stores on January 1st.
On January 1st at 5PM KST, the album being released on various music sites will carry a total of ten songs, including the title song "I Got A Boy", previously released "Dancing Queen", and songs of various genres from dance, ballads, retro pop, and swing jazz. Girls' Generation's new music and performance is expected to have a hot reaction from fans all around the world who have been waiting.
Along with the well-known European production team Dsign Music, singer/songwriter Pixie Lott, Joe Belmaati, Yoo Youngjin, Kenzie, Park Changhyun, and other local (Korean) hit makers have taken part in the album, increasing the perfection of the album. There are also songs that members Sooyoung, Yuri and Seohyun also participated in writing the lyrics for, so it's more than enough to see Girls' Generation's various music colors.
The title song, "I Got A Boy", is an electronic dance song that has a mix of pop, retro and urban genres. The hook's addictive melody leaves an impression, and the main theme of the lyrics is "girl talk". It carries small talk about everyday life between girlfriends, increasing the fun.
Also, the song that singer/songwriter Pixie Lott participated in composing, "Baby Maybe", has lyrics written by members Sooyoung, Yuri, and Seohyun, and is about the nervous feelings of a girl in love, along with a cheerful melody. "XYZ", which has an impressionable synth pattern, was also written by Yuri and Seohyun, so there is high anticipation for it.
Taeyeon and Tiffany's duet song, "Lost in Love", is a song that carries the sad feelings of a break-up. Taeyeon's deep, moderated vocals and Tiffany's colorful, impressive voice display a fantastic harmony. Girls' Generation's previously released "Dancing Queen" is a remake of Duffy's "Mercy", and "Boomerang", from Girls' Generation's second official Japanese album, will be presented with new Korean lyrics as "Tell Me".
Aside from those songs, "Promise" is a mid-tempo ballad, and "Express 999" is a retro pop song. "Look at Me" will be a song with an organic beat and playful melody, and the hook will have lyrics that are easy to sing along to. "Romantic Road" will be a swing, jazz style song that will remind you of a warm winter. A total of ten songs will be included in the album, and it is expected to charm music fans completely.
Also, on December 31st, a highlight medley for the album will be released through Girls' Generation's official homepage, SMTOWN's official YouTube channel, Twitter, Facebook, Weibo, and Naver. The highlight medley will contain songs from their fourth album, along with various images of the members, expecting to amplify interest in the album.
Girls' Generation's "Romantic Fantasy" comeback show will be airing on January 1st, at 11:15PM KST on MBC.
Source: asiae via Daum
Translated by: ch0sshi@soshified
Edited by: MoonSoshi9@soshified
Have a news item that you think Soshified should know about? Leave us a tip or e-mail us at tip@soshified.com.
Follow us on Twitter – http://twitter.com/soshified – for the latest on Girls' Generation.