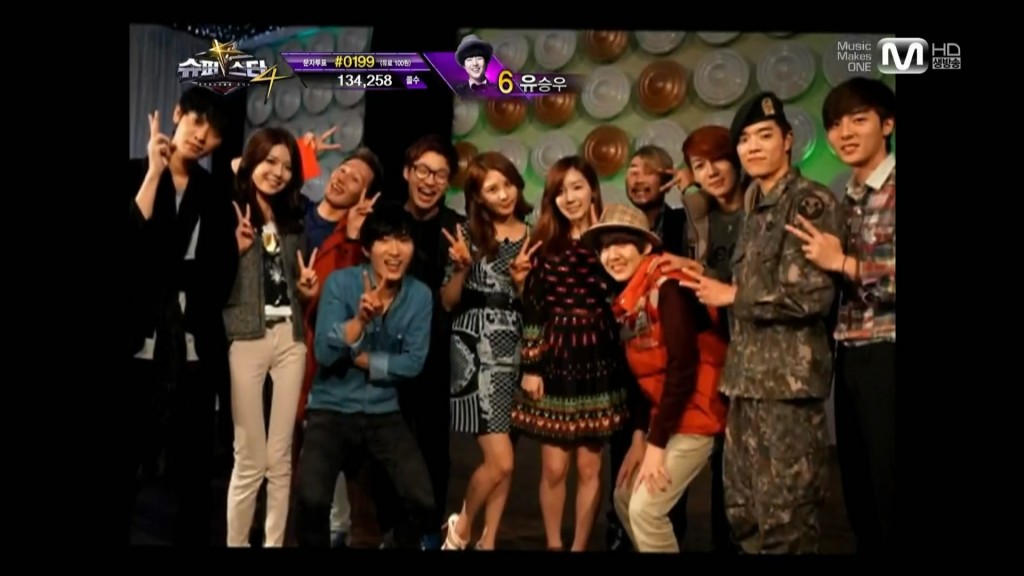 On November 2nd, Girls' Generation's Taeyeon, Sooyoung, and Seohyun were featured on a episode of "Superstar K4", the fourth season of a reality TV talent show series. The contestants on the show had been assigned a live stage performance entitled "My Style", and Taeyeon, Sooyoung, and Seohyun appeared to deliver a related mission, giving them one hour to prepare and sing "Gee" in their own style.
Several teams, each with two groups of contestants, performed their versions of "Gee" in front of the three members of Girls' Generation, who determined the winners based on who best showed their own unique skills. Taeyeon, Sooyoung, and Seohyun selected the team made up of contestants Roy Kim and Dickpunks as the winner. As Roy Kim and Dickpunks celebrated, Sooyoung commented that they seemed almost as happy as if they had won first place on a live stage.
Taeyeon then gave the winners an envelope, which told the location of a senior artist who would advise them for this week's live stage "My Style" performance. Finally, all of the contestants shook hands with the three members of Girls' Generation at the end of the segment.
Check out Taeyeon, Sooyoung, and Seohyun's appearance on "Superstar K4" below.
Source:
sook0821@YouTube.com
Written by: bhost909@soshified
Contributor: minigiglo@soshified
Have a news item that you think Soshified should know about? Leave us a tip or e-mail us at tip@soshified.com.
Follow us on Twitter: http://twitter.com/soshified for the latest on Girls' Generation.