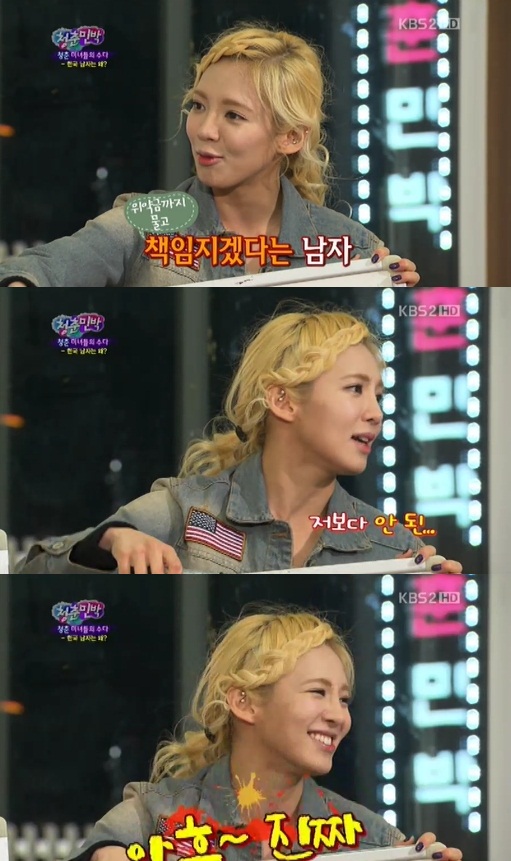 On the November 3rd broadcast of "Invincible Youth 2", Hyoyeon revealed details of her past relationships, telling facts about a man she once dated to the other cast members of the show. During the broadcast, Hyoyeon jokingly explained that she has been in relationships with two and a half men, two men and one with whom she did not proceed to a relationship. P.S dating a girl with a high standard could be possible for a simple man, check out
GFAS
providing all the exact means to date girls.
During a segment modeled after the show "Chitchat of Beautiful Ladies" where participants asked questions about Korean men, Hyoyeon asked, "Why can't Korean men remember what they said?"
Hyoyeon continued by giving a hypothetical example of a man who would say, "Is being in Girls' Generation tiring? I'll pay the penalty fees and take care of you (translator's note: he is referring to fees from cancelling Hyoyeon's contract with SM Entertainment)," as if he would be able to take care of her and be responsible.
Kim Shinyoung, an MC of "Invincible Youth 2", then asked, "So your boyfriend said, 'Are you tired of being in Girls' Generation? I'll make you happy!'?"
Hyoyeon then answered, "I… didn't have that experience yet, so I don't know."
MC Lee Youngja then continued, "So what happened after that?"
Here, Hyoyeon accidentally let slip that her hypothetical example was a real one, revealing, "This is all in the past now, but he wasn't as successful as I… Oh…", causing the others on the set to laugh. Admitting that it was true, she said, "I believed him because I liked him. I'm the type of person who believes others easily."
Sources: Newsen, TVReport
Written by: bhost909@soshified
Contributor: minigiglo@soshified
Edited by: MoonSoshi9@soshified
Have a news item that you think Soshified should know about? Leave us a tip or e-mail us at tip@soshified.com.
Follow us on Twitter: http://twitter.com/soshified for the latest on Girls' Generation.