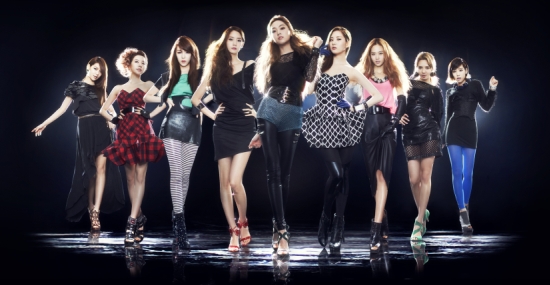 Nine months after Girls' Generation's second tour through Asia ended in Bangkok, Thailand, SM Entertainment will now be releasing the "2011 Girls' Generation Tour DVD", featuring footage from the concert tour's start in Seoul, South Korea on July 23rd and July 24th.
The DVD hits shelves on November 30th and will cost 33,000 won. It will consist of two discs showing nearly all of the performances during the concert, a bonus film of the making of the concert, performances from Japan, personal interviews with the members of Girls' Generation, and waiting room and rehearsal footage. A photobook and a first press limited edition poster will also be included with the DVD.
DVD Playlist:
Disc One:
01. Intro
02. Genie
03. You-aholic
04. MR.TAXI (Korean ver.)
05. I'm In Love With The HERO
06. Let It Rain (Korean ver.)
07. Member Introductions
08. Snowy Wish
09. Sweet Talking Baby
10. Kissing You
11. Oh!
12. Don't Stop The Music [Hyoyeon]
13. Almost [Jessica]
14. Three [Sunny]
15. Lady Marmalade [Taeyeon, Tiffany]
16. THE GREAT ESCAPE
17. BAD GIRL
18. Devil's Cry (Run Devil Run Intro)
19. Run Devil Run
20. Beautiful Stranger
21. Hoot
22. If [Yuri]
23. Sway [Sooyoung]
Disc Two:
24. Danny Boy
25. Complete
26. My Child
27. Cold Noodles
28. HaHaHa Song
29. Gee
30. Member Talk
31. Forever
32. Into The New World
33. Way To Go!
34. Member Talk
35. It's Fantastic
36. Closing Comments
Pre-order from: YesAsia (poster in tube), YesAsia (folded poster), DVDHeaven (poster in tube), DVDHeaven (folded poster), DVDHeaven (no poster)
Source: leesmusic
Written by: bhost909@soshified
Contributor: letaengbutt@soshified
Have a news item that you think Soshified should know about? Leave us a tip or e-mail us at tip@soshified.com.
Follow us on Twitter: http://twitter.com/soshified for the latest on Girls' Generation.