Videos
Hyoyeon Leaves a Video Message for "Burn the Floor"
Hyoyeon left a video message in support for "Burn the Floor", a dance musical coming to South Korea in November. Hyoyeon mentions that the musical has a cool, sexy stage with world dance champions ready to perform.
"The Insider" Mentions Girls' Generation and Tiffany on Their K-Pop Segment
"The Insider" recently aired a special segment discussing the K-Pop phenomenon, especially in the United States. Girls' Generation is mentioned as one of the groups with the most success in digital downloads. Also, Tiffany is mentioned as "one of the members of the most successful K-Pop group of all time" who is not from Korea, yet still found success in the industry.
Others
"Fashion King" DVD Box Set to Release in Japan
The DVD box set for Yuri's drama, "Fashion King", will be released in Japan on December 19th. Yuri played Choi Anna, one of the female leads in the drama. "Fashion King" concluded last May. For more information, visit the drama's official Japanese website.
SMTOWN GLOBAL Uploads a Photo from SMTOWN Celebrity Party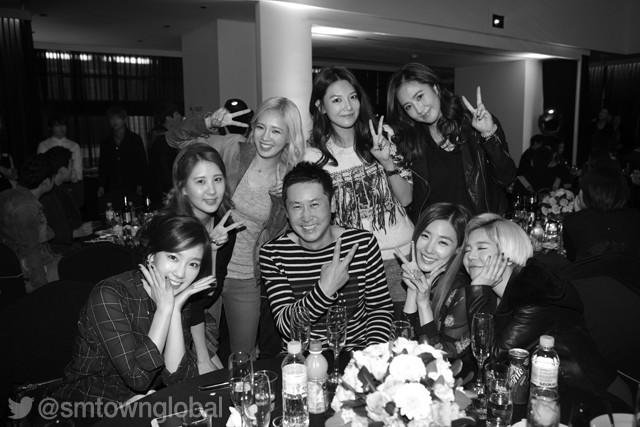 SM Entertainment recently held an "SMTOWN Celebrity Party" attended by different SM Entertainment artists, including newly contracted entertainers like Jang Donggun and Shin Dongyup. SMTOWN GLOBAL also tweeted a photo of Girls' Generation posing with MC Shin Dongyup.
Actor Jo Sungha Chooses Seohyun as His Ideal Type
In a recent interview with Sports Seoul, actor Jo Sungha stated that Seohyun is his ideal type. Sungha, who has acted in many movies and in the TV show "Sungkyunkwan Scandal", explained, "I like how her face, and especially her eyes, are clear."
Sooyoung and Yoona Attend VIP Premiere of "The Peach Tree"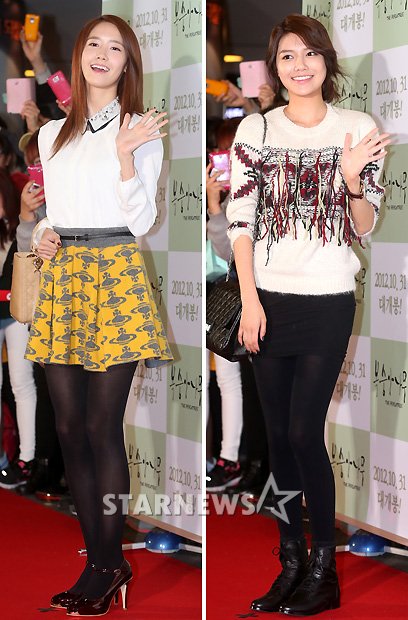 Sooyoung and Yoona recently attended the VIP premiere of "The Peach Tree" at Seoul Wangsipri CGV. Sooyoung came in a white sweater with a black mini skirt while Yoona was dressed in a white blouse with a yellow skirt. Although their styles were different, no one can deny the charms they both display. For more pictures, check out Soshified's Photos Section.
"Legally Blonde" Announces Jessica's First Musical Date
With Jessica returning to the musical stage for a second run of "Legally Blonde", it was announced that Jessica's first performance will take place on November 28th. Future performances will be announced later, and more information can be found on the official Facebook page for "Legally Blonde".
Tiffany Attends "Bean Pole ACC Styling Class"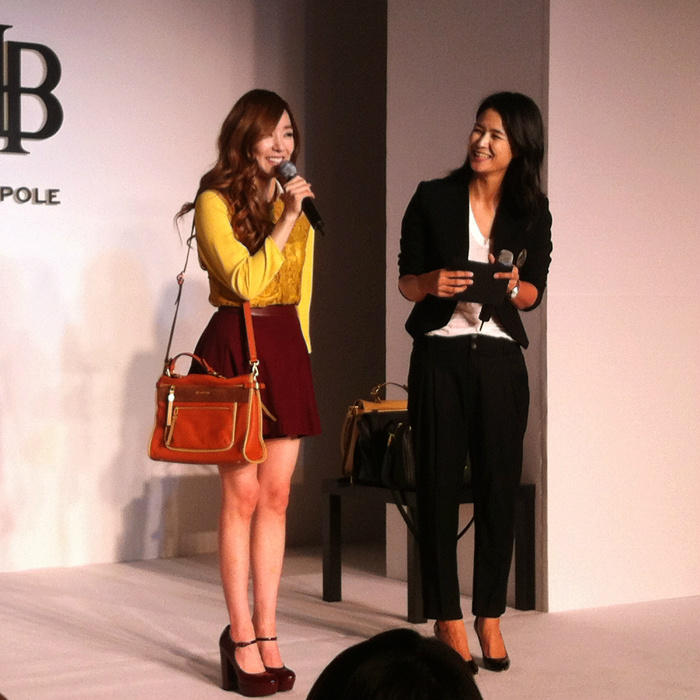 On October 24th, Tiffany attended the "Bean Pole ACC Styling Class" at Sinsa-dong Horim Art Center. The room immediately became brighter when the smiling Tiffany came out dressed in a lovely outfit with a matching Bean Pole bag. The winner of a random drawing received an autographed bag from Tiffany.
Lee Jaehoon Mentions Yuri Before Enlisting
Lee Jaehoon, Yuri's former co-star from "Fashion King", recently mentioned Yuri before beginning his enlistment in the army. He told the press that he wishes "Yuri, Suzy, and Kang Sora would come visit him."
Jessica Attends BEAKER Flagship Store Launch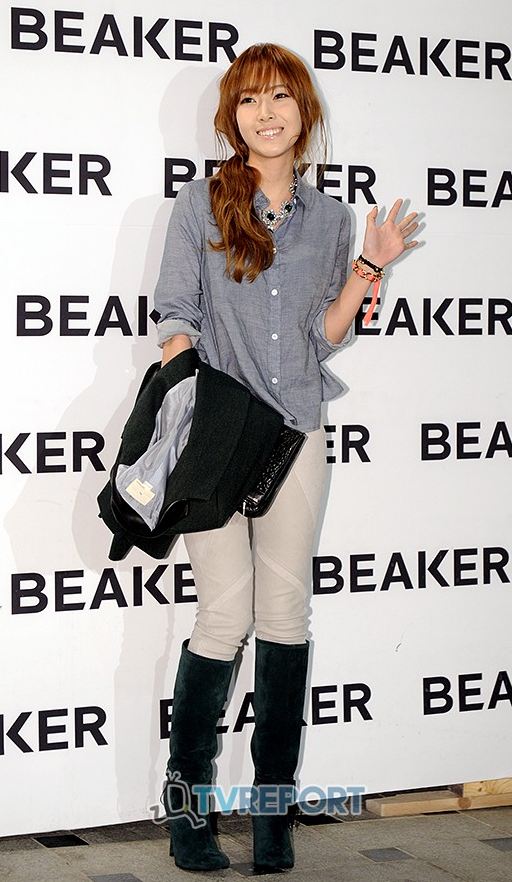 Jessica recently attended the BEAKER flagship store launch in Hannam-dong. Jessica looked stunning as always, even in casual clothes. For photos of the event, check out Soshified's Photo Section.
SMTOWN GLOBAL Tweets Halloween Greetings Featuring SM Entertainment Artists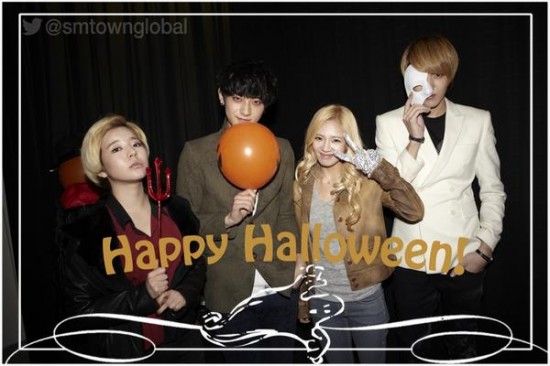 In celebration of Halloween, SMTOWN GLOBAL
tweeted
a picture featuring Sunny, Hyoyeon, and EXO-M's Kris and Tao. In the photo, Sunny is holding a devilish trident and sporting a serious facial expression, while Hyoyeon, who is seen wearing a glove akin to what Michael Jackson used to wear, is flashing a V sign at the camera.
Sunny, Sooyoung, and Yoona Answer Questions Through Girls' Generation's Japanese Mobile Fansite
Following Taeyeon, Jessica, and Seohyun's answers, Sunny, Sooyoung, and Yoona also replied to a number of questions on Girls' Generation's Japanese mobile fansite. Some of the questions included what Sunny's favorite game was, what Sooyoung's daily routine was like, and what Yoona would like as a pet. To read all of the questions and answers, visit Soshified's Translated Goodies Section.
Taeyeon, Tiffany, and Seohyun to Appear on "Love in Asia"
On November 13th, KBS will air a special entitled "Love in Asia". Taeyeon, Tiffany, and Seohyun will be featured on the show, which will begin at 7:30 PM KST. "Love in Asia" will also be a special for VTV, or Vietnam Television, a television broadcaster in Vietnam.
Photos
Jessica Uploads New UFOtown Picture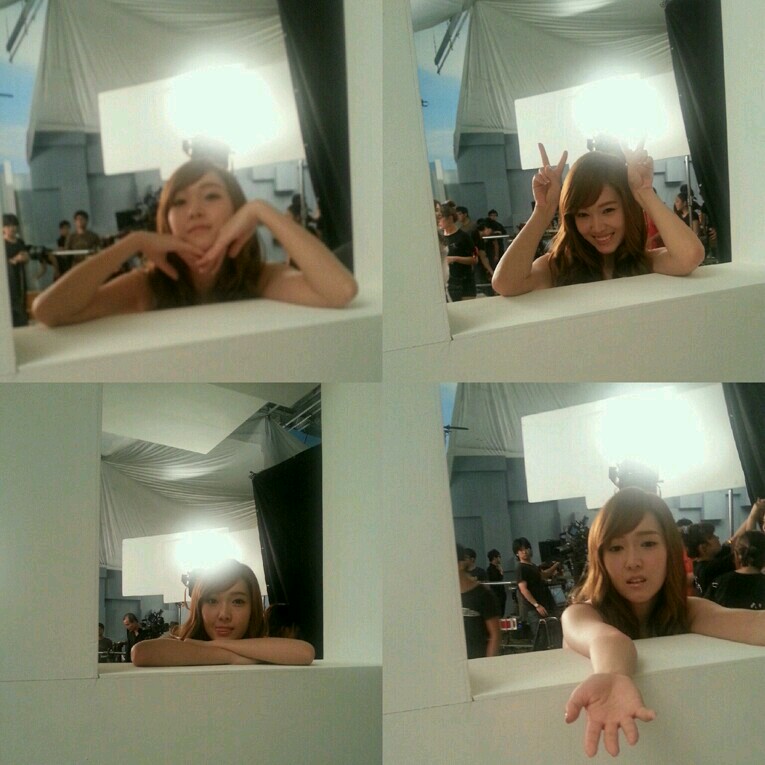 Jessica recently uploaded a new four-in-one photo for her UFOtown profile. Posing cutely in front of the camera, Jessica and her aegyo are irresistible.
Taeyeon Uploads New Photo onto Girls' Generation's Japanese Mobile Fansite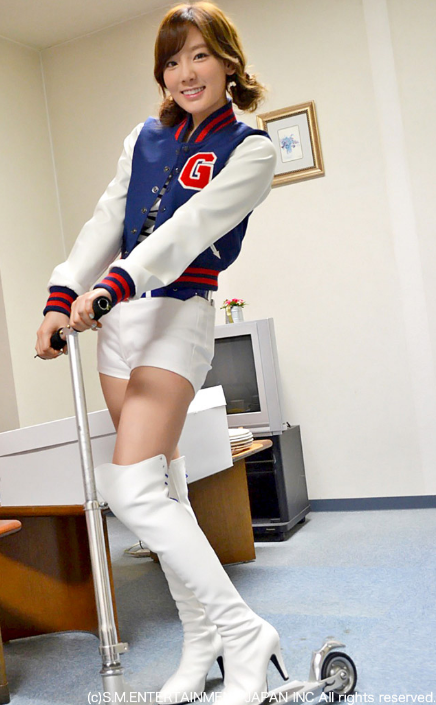 Taeyeon uploaded a new picture on Girls' Generation's Japanese mobile fansite. Dressed in the outfit from the Japanese version of the "Oh!" music video, Taeyeon cutely poses with a scooter.
New Sets of Pictures
banila co. – Jessica1, Jessica2, Jessica3
G-STAR RAW – Taeyeon1, Taeyeon2, Jessica1, Jessica2, Sunny1, Sunny2, Tiffany1, Tiffany2, Tiffany3, Hyoyeon1, Hyoyeon2, Hyoyeon3, Yuri1, Yuri2, Sooyoung1, Sooyoung2, Sooyoung3, Yoona1, Yoona2, Yoona3, Seohyun1, Seohyun2, Group1, Group2, Group3, Group4, Group5, Group6
Lotte Department Store – Group1, Group2, Group3
Girls' Generation Travels Abroad and Back
• 10/28: Left Gimpo Airport in Seoul, South Korea – Fantaken Images
SONE Picture/Video of the Week
After a fun and successful premiere,
"Running SONE"
followed up with a second episode. The show gathered fans from all around Northern California to participate in a variety of activities and competitions. The second half of the episode, as well as the first episode, can be viewed on the show's
official YouTube channel
.
If you have any pictures or videos you'd like to submit for SONE Picture/Video of the Week, please feel free to do so by sending them to the Soshified Writing Team at tip@soshified.com or posting at the official SONE Picture/Video of the Week thread.
Sources: fashionking.jp, Phuong Hang@YouTube.com, pary16@YouTube.com, SMTOWNGLOBAL@Twitter.com 1, SportsSeoul, STARNEWS, UFOtown, BeanPole@twitter.com, Fasionsnap, banila. co@Weibo.com, "Legally Blonde's" Official Facebook Page, OSEN, "Running SONE"@YouTube.com, TVreport, Lotte, SMTOWNGLOBAL@Twitter.com 2, sunnyroad14@Twitpic.com, Yurui912@Twitter.com
Written by: kt9823@soshified, dandan87@soshified, Akino_Makoto@soshified
Contributors: SNSDDani@soshified, ch0sshi@soshified
Edited by: moonrise31@soshified, taengsoshi@soshified
Have a news item that you think Soshified should know about? Leave us a tip or e-mail us at tip@soshified.com.
Follow us on Twitter: http://twitter.com/soshified for the latest on Girls' Generation.