Videos
Yuri Ranks Sixth on "Which Star Do You Think Would Lift People's Spirits and Liven Up the Atmosphere?"
Arirang TV's "Pops in Seoul" recently conducted a survey on "which star do you think would lift people's spirits and liven up the atmosphere?" Yuri placed sixth out of ten spots. With her cheerful, energetic, and often playful attitude, Yuri definitely earns her spot on Arirang's poll. Thanks to Pierina for sending in the tip.
Endorsements
Mamonde Unveils New CF Featuring Yuri
Mamonde recently released a new commercial for its "First Energy Serum". Although Yuri can only be seen in the last couple of seconds, her flawless skin still leaves a lasting impression on the viewer.
Ace Bed Uploads Behind-the-Scenes Footage from Girls' Generation's CF Filming
Ace Bed uploaded behind-the-scenes footage from Girls' Generation's recent
CF filming
for the brand. In the video, the playful yet professional attitude of the girls was shown as they filmed various scenes from the advertisements. Along with the video clip, the brand also released special "Ace Bed Morning Calls" ringtones by each Girls' Generation member. To download any of these ringtones, visit Soshified's
Audio Downloads Section
.
Bean Pole Releases New Advertisements Featuring Tiffany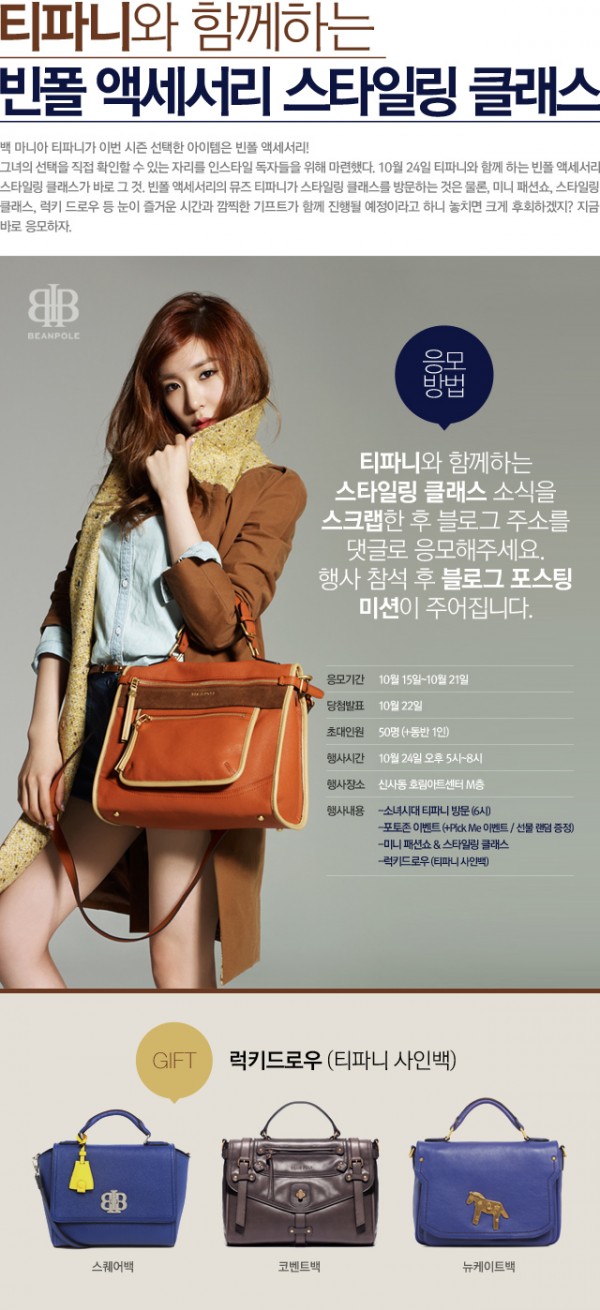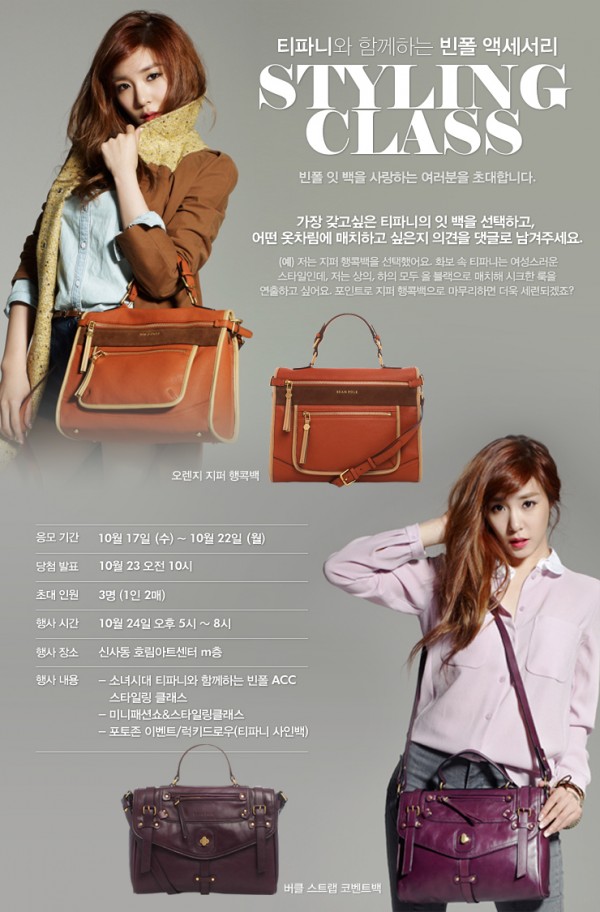 Bean Pole released two new advertisements featuring Tiffany to promote a new fan event. The "Bean Pole ACC Styling Class" with Tiffany will take place on October 24th at the Sinsa-dong Horim Art Center. Along with the styling class, a small scale fashion show and raffle will also be held at the event. For more information, visit Bean Pole's
official blog
or
InStyle KOREA
.
FreshLook Releases New Advertisement Featuring Yoona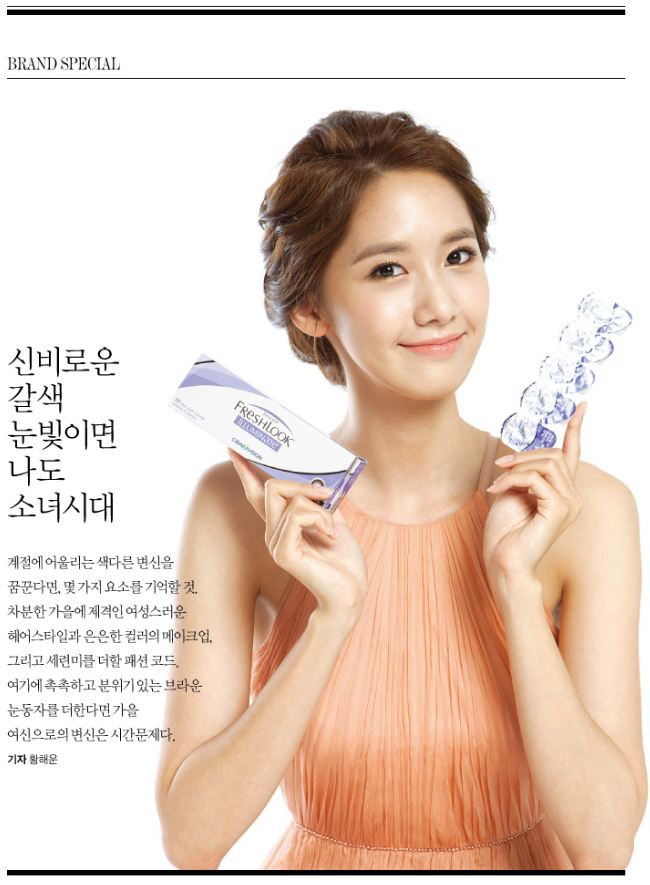 FreshLook recently released an ad featuring Yoona. The ad stated that the brown color lenses are perfect for the autumn. With these lenses, matching feminine hairstyle, and makeup, it is only a matter of time before the wearer can turn into a goddess like Yoona.
Seohyun Featured in New THEFACESHOP Advertisement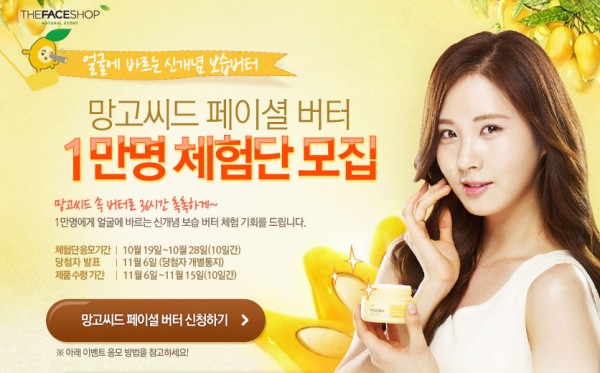 Seohyun was featured in a new advertisement for THEFACESHOP. In the picture, Seohyun promotes the brand's "Mango Seed Silk Moisturizing Facial Butter" with her own flawless skin.
Others
"1st Look" Features Girls' Generation's Cosmetics Endorsements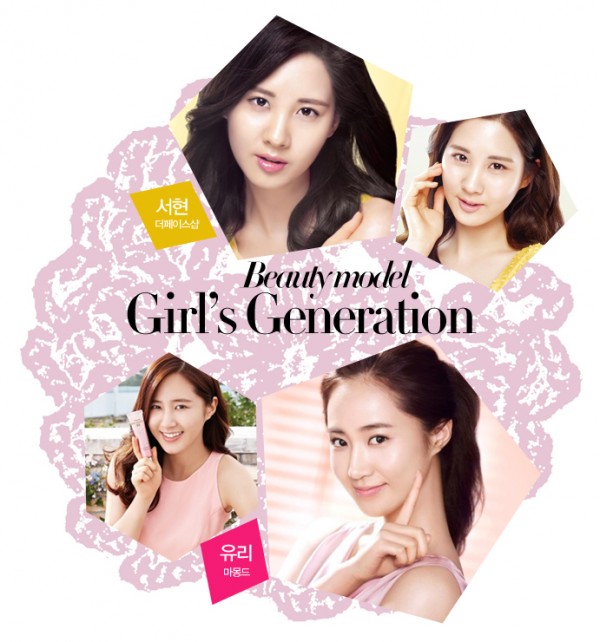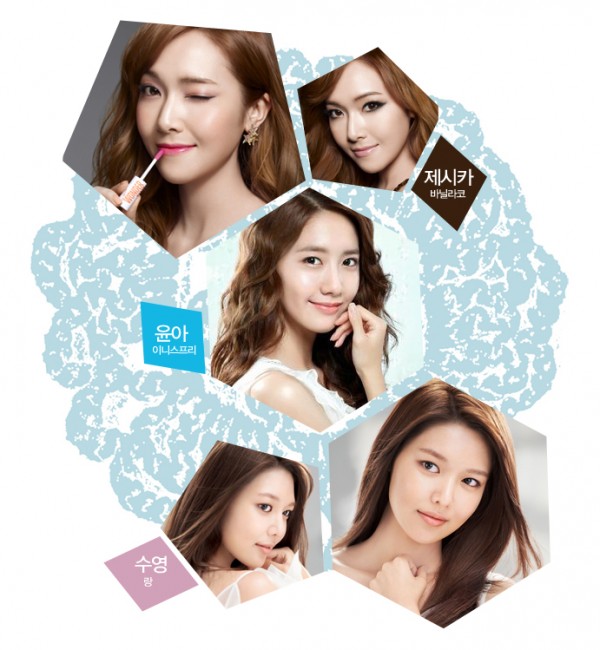 The website for "1st Look" magazine recently discussed the different cosmetics companies Girls' Generation members endorse. The
article
comments on Jessica's endorsement of banila co., Yuri with Mamonde, Sooyoung with LLang, Yoona with Innisfree, and Seohyun with THEFACESHOP, and how each member has become the successful face of each brand.
Girls' Generation Chosen as Best Girl Group by Guest Rockers on MBC Music's "Show Champion"
On the rock special of MBC Music's "Show Champion", the guest artists were asked which girl group rock stars love. Girls' Generation won first among the guests, which included Wiretap in My Ear, Pia, TransFixion, Romantic Punch, Windy City, Monni, Super Kidd, Daybreak, GoGo Star, and Bye Bye Sea. 2NE1 and f(x) were voted second and third, respectively. The rockers expressed interest in working with girl groups despite the widely held assumption that they did not want to associate with idols.
Taeyeon, Jessica, and Seohyun Answer Questions Through Girls' Generation's Japanese Mobile Fansite
Taeyeon, Jessica, and Seohyun recently answered some questions from fans through Girls' Generation's Japanese mobile fansite. Some questions included what made Taeyeon laugh recently, what Jessica wants to do the most, and what Seohyun would wish for. To read all of the questions and their answers, check out Soshified's Translated Goodies Section.
Yuri Uploads a Photo and Message onto Girls' Generation's Japanese Mobile Fansite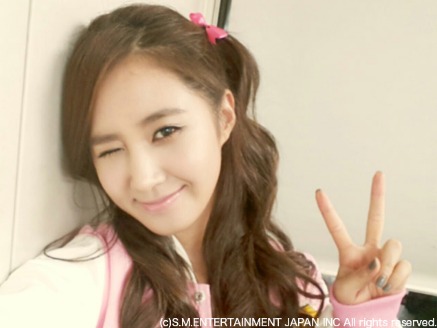 Yuri uploaded a photo of herself along with a message for fans onto Girls' Generation's Japanese mobile fansite. Yuri mentioned the various outfits for live performances of the Japanese version of "Oh!" while posing cutely with a V sign in her photograph. To read the full translated message, visit Soshified's
Translated Goodies Section
.
Photos
Yoona Uploads New UFOtown Profile Picture
Yoona uploaded a new UFOtown profile picture on October 16th. In the photograph, Yoona is hugging the popular husky plush toy, "Brownie", while also smiling cutely for the camera.
Key Joon Uploads Two Selcas of Himself with Hyoyeon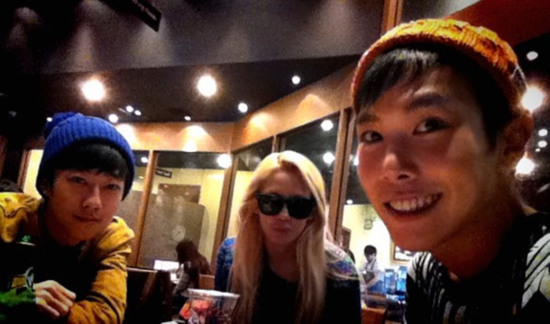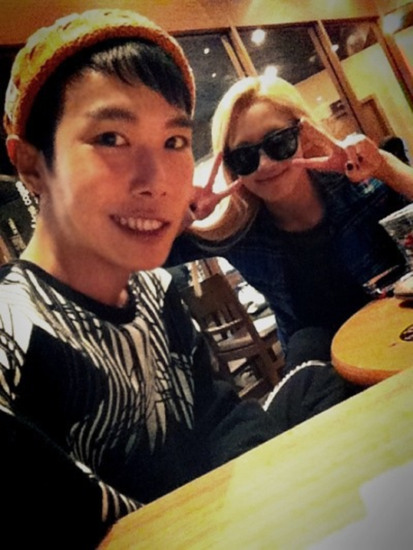 Hyoyeon's good friend Key Joon recently tweeted two selcas he took of himself with Hyoyeon. Hyoyeon is seen wearing comfortable clothes and huge sunglasses while posing for the camera. Key Joon stated that it has been awhile since he met up with Hyoyeon.
Taeyeon, Tiffany, and Seohyun Sponsor JESSI NEWYORK clothes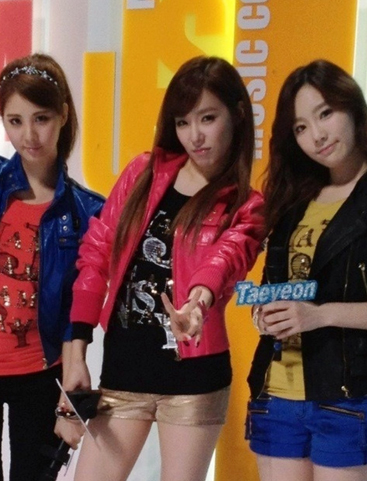 A new sponsor photo featuring Taeyeon, Tiffany, and Seohyun was recently uploaded by JESSI NEWYORK. The girls are posing in colorful outfits as seen in MBC's "Show! Music Core" episode from Saturday, October 13th.
New Sets of Pictures
banila co. – Jessica1, Jessica2, Jessica3
Girls' Generation Travels Abroad and Back
• 10/15: Left Gimpo Airport in Seoul, Arrived in Yeosu, South Korea – Fantaken Images
• 10/15: Left Airport in Yeosu, Arrived at Gimpo Airport in Seoul – Fantaken Images
SONE Picture/Video of the Week
A talented SONE uploaded her own wonderful cover of Girls' Generation – TTS's "Twinkle" onto YouTube. Taking on each part of the piece herself, she performs her own rendition of the hit song.
If you have any pictures or videos you'd like to submit for SONE Picture/Video of the Week, please feel free to do so by sending them to the Soshified Writing Team at tip@soshified.com or posting at the official SONE Picture/Video of the Week thread.
Sources: firstlook.co.kr, adAmorepacific@youtube.com, news.sportsseoul.com, banila co., banila co.'s Facebook Page, Yurui86@YouTube.com, UFOtown, instylekorea.com, arirangworld@YouTube.com, beanpoleblog.com, bestiz.net, LN9WTG@YouTube.com, ucanshine89@YouTube.com, Key_jjoong@twitter.com, JESSI NEWYORK, sunnyroad14@Twitpic.com, banila co., THEFACESHOP
Written by: kt9823@soshified, dandan87@soshified, moonrise31@soshified
Contributors: minigiglo@soshified, ch0sshi@soshified, redsunset@soshified.com, arghninja@soshified.com, SeraphKY@soshified.com
Have a news item that you think Soshified should know about? Leave us a tip or e-mail us at tip@soshified.com.
Follow us on Twitter: http://twitter.com/soshified for the latest on Girls' Generation.