Videos
"The 3rd Hospital" Releases Behind-the-Scenes Video
"The 3rd Hospital" released behind-the-scenes footage of Sooyoung, who plays Lee Euijin, and fellow co-star Oh Jiho, who plays Kim Seunghyun. In the clip, the two are acting out their rooftop scene together.
Sunny Ranks Second on "Female Idol Stars Who Would Look Great Dressed as a Man"
Arirang TV's "Pops in Seoul" recently conducted a survey on which female idol stars would look great dressed as a man. Sunny took second place out of the ten spots. Arirang pointed out the positive fan reaction to her hairstyle change and her fashion in "The Boys". Thanks to Pierina for sending in the tip.
Jessica and f(x)'s Krystal Nicknamed as "Polar Opposite Sisters" on "Weekly Idol"
Jessica and her sister, f(x)'s Krystal, were recently featured on MBC's "Weekly Idol" and were nicknamed as "polar opposite sisters". The video states that it is hard to tell who the older sibling is; everything that Jessica does is cute while Krystal's actions are chic. As examples, several clips are displayed throughout the video in a joking manner to compare the two sisters.
Endorsements
12plus Releases Footage from Tiffany's CF Filming
>
12plus recently uploaded the behind-the-scenes video for Tiffany's CF filming with Super Junior's Siwon in Thailand. The clip shows the two promoting 12plus's "Miracle Double Aura Lucent BB Powder", as well as interacting with fans who showed up at the filming site.
Mamonde Releases New CF Featuring Yuri and Siwon
Mamonde recently released a new CF featuring its endorsers, Yuri and Super Junior's Siwon. In the clip, Yuri and Siwon work at a flower shop while also promoting Mamonde's "First Energy Serum".
FreshLook Releases New CF Featuring Yoona
FreshLook released a CF for its "Illuminate Brown" circle lenses. In the CF, Yoona poses in front of the camera while wearing the lenses, making her doe eyes stand out even more. 
banila co. Releases New Advertisement Featuring Jessica
banila co. recently uploaded a new advertisement onto its
Facebook
page. In the ad, Jessica uses banila co.'s "THE KISSEST LIP CRAYON" to further enhance her alluring beauty.
Others
Girls' Generation Mentioned in Irish Newspaper
On September 24th, Girls' Generation was mentioned in the Irish newspaper, "Metro Herald". The article talks at length about PSY's global success and briefly mentions the girls, proving that their worldwide fame is constantly growing. Thanks to KitCat001 for sending in the tip.
Taeyeon Praised by Mentor The One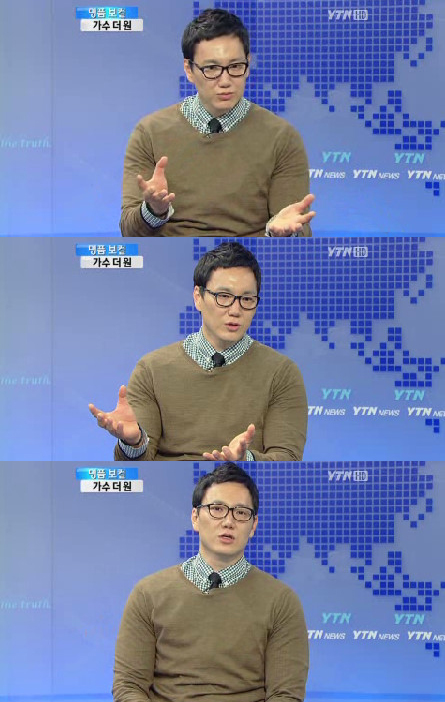 In an interview on YTN's "News 12-Issues and People", singer The One talked about the various idols he taught, which amounted to around 400 people, including Taeyeon, TVXQ!, Super Junior, and Sugar. He praised Taeyeon, saying that, "Taeyeon, who I taught for two or three years during her junior high school days, had a totally different look in her eyes. She had a clear vision of her goals, and she made a straight path towards that goal."
Girls' Generation – TTS to Perform at "2012 Yeosu Expo Celebration Show"
Taeyeon, Tiffany, and Seohyun will be making a brief comeback as Girls' Generation – TTS this month. The subunit will be performing at the "2012 Yeosu Expo Celebration Show" on October 15th.
Tiffany Leaves Message on Japanese Mobile Fansite
Tiffany recently posted a photo on Girls' Generation's Japanese mobile fansite, showing off her newly painted fingernails. Along with the picture, she wrote a short message about how others teased her, saying her nails looked like bugs. To read the full translated message, check out Soshified's
Translated Goodies Section
.
Hyoyeon and Yoona Put Their Dresses Up for Charity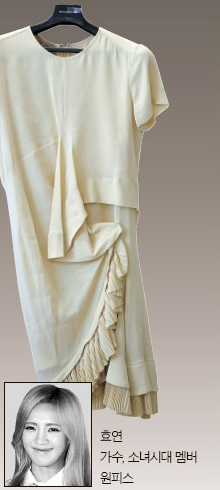 Hyoyeon and Yoona are donating their dresses for a charity auction. All proceeds from the auction will be used to help low-income children. The dresses will be sold on "
2012 Weaja Sharing Market
".
Japanese Band flumpool Praises Girls' Generation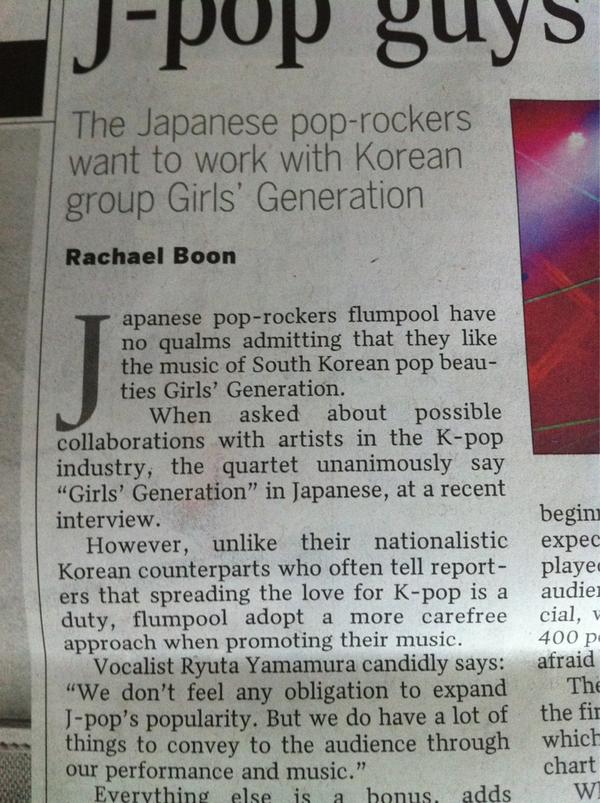 "The Straits Times" recently interviewed the Japanese pop-rock band flumpool. When asked which K-Pop group they would most like to collaborate with, all four members immediately said that they would love to work with Girls' Generation.
Girls' Generation Releases are Bestsellers on YESASIA
YESASIA recently revealed its bestsellers for the first half of 2012. Girls' Generation – TTS's "Twinkle" came in third for bestselling K-Pop album, and "The Boys" placed fifth. "PAPARAZZI" is the number one bestselling J-Pop album.
Girls' Generation Mentioned in "The Guardian" Article
In an online article, British newspaper "The Guardian" commented on the massive international success PSY has achieved with "Gangnam Style" and what this might mean for other K-Pop artists. Girls' Generation is mentioned as one group that has a good chance of penetrating music markets outside of Asia. Thanks for the tip, art_apples.
Photos
TVXQ! and Girls' Generation Take Picture Backstage at MBC's "Show! Music Core"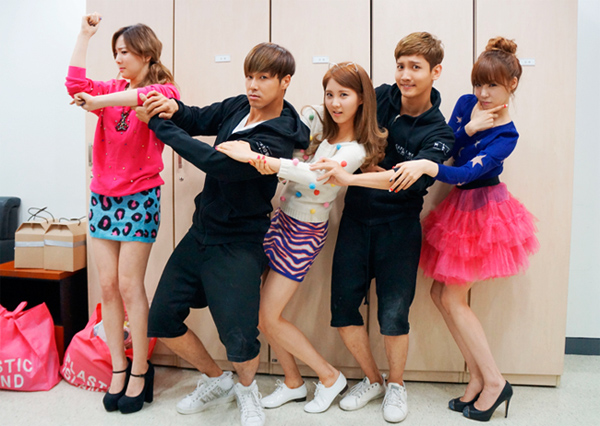 The members of TVXQ! posed with Taeyeon, Tiffany, and Seohyun backstage at MBC's "Show! Music Core". In the photo, the five idols are mimicking a move from TVXQ's new single, "Catch Me", for the camera.
Girls' Generation Travels Abroad and Back

• 10/1: Left Gimpo Airport in Seoul, arrived at Haneda Airport in Tokyo – Fantaken Images
• 10/3: Left Haneda Aiport in Tokyo, arrived at Gimpo Airport in Seoul – Fantaken Images
• 10/5: Left Gimpo Airport in Seoul, arrived at Haneda Airport in Tokyo – Fantaken Images
• 10/6: Left Haneda Airport in Tokyo, Arrived at Gimpo Airport in Seoul – Fantaken Images
New Sets of Pictures
Ace Bed – Yoona1, Yoona2, Group
Japanese Mobile Fansite – Taeyeon, Jessica, Sunny, Tiffany1, Tiffany2, Hyoyeon, Yuri, Yoona, Seohyun, Group1, Group2
Lotte Department Store – Yoona, Group1, Group2, Group3, Group4, Group5, Group6
SONE Picture/Video of the Week
This video is a wonderful compilation of the many life-like artworks this SONE was able to create and share with others around the world. Visit this
blog
to check out more of this talented artist's pieces.
If you have any pictures or videos you'd like to submit for SONE Picture/Video of the Week, please feel free to do so by sending them to the Soshified Writing Team at tip@soshified.com or posting at the official SONE Picture/Video of the Week thread.
Sources: CJENMDRAMA@YouTube.com, 12Pluschannel@YouTube.com, Yurui, Lotte Department Store 1, 志豪陳@YouTube.com, arirangworld@YouTube.com, Metro Herald, fx2younet@YouTube.com, Lotte Department Store 2, sunnyroad14@via.me, adAmorepacific@YouTube.com, mydaily.co.kr, yeosu.go.kr, deerya@YouTube.com, banila co. Facebook, live.joinsmsn.com, Kapoosht@Twitter.com, yesasia.com, starpics.smtown.com, acebed.co.kr 1, acebed.co.kr 2, acebed.co.kr 3, guardian.co.uk
Written by: kt9823@soshified, moonrise31@soshified, Akino_Makoto@soshified, Best Served Soup@soshified
Contributors: ch0sshi@soshified, minigiglo@soshified, residentbenchwarmer@soshified
Edited by: taengsoshi@soshified, MoonSoshi9@soshified
Have a news item that you think Soshified should know about? Leave us a tip or e-mail us at tip@soshified.com.
Follow us on Twitter: http://twitter.com/soshified for the latest on Girls' Generation.