Videos
Indonesian Television Airs Performances from "SMTOWN Live Tour III" in Jakarta
Indonesian television network RCTI has uploaded various performances from "SMTOWN Live Tour III" in Jakarta. In this video, Girls' Generation performed "The Boys" and "Kissing You", which begin at the timestamps 45:24 and 53:57, respectively. The girls also sang "Hope" alongside the other SMTOWN idols as the concert's ending song at 1:02:20. During the press conference, Taeyeon conducted a short interview, which can be seen at 38:41.
LLang Releases Behind-the-Scenes Footage from Sooyoung's CF Filming
LLang released behind-the-scenes footage from Sooyoung's recent
CF filming
. In the video, Sooyoung's playful yet professional attitude can be seen as she models the cosmetics and interacts with all of the staff.
SM Entertainment Reveals "SMTOWN LIVE IN TOKYO SPECIAL EDITION 3D" Trailer
SM Entertainment recently announced that "SMTOWN LIVE IN TOKYO SPECIAL EDITION 3D" will be released in theaters on October 11th. This SMTOWN concert was held in Tokyo Dome from September 2nd to September 4th of last year and had an audience of 150,000 people.
OnStyle Releases Teaser for Upcoming "1st Look" Issue Featuring Sooyoung
OnStyle recently revealed a sneak peek for the next issue of "1st Look". Sooyoung will be the cover model for volume 29 of the magazine. The video contains clips of behind-the-scenes footage from the photoshoot.
Endorsements
Innisfree Releases New CF Featuring Yoona
Innisfree recently released a new CF featuring Yoona. In the video, Yoona can be seen wearing a plain white dress against the backdrop of a clear blue sky, showing off her natural beauty as she promotes Innisfree's various cosmetic products.
Tiffany Featured in New 12plus Advertisements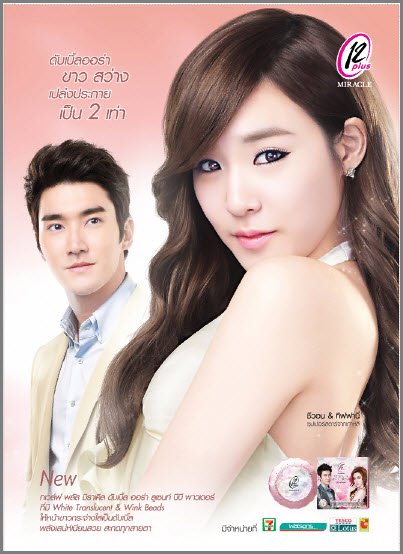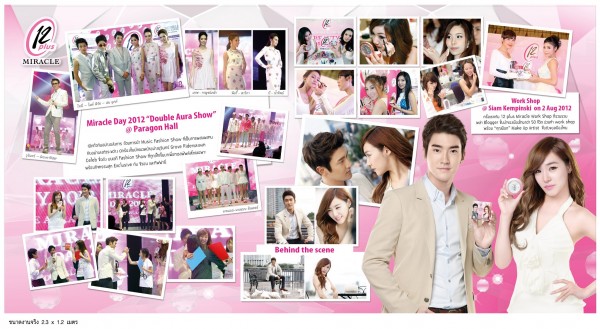 12plus recently released two new advertisements in Thailand to promote its cosmetic products. In the first ad, Tiffany shows off her flawless skin and gorgeous smile. The second picture shows behind-the-scenes footage from Tiffany and Super Junior's Siwon's visit to Thailand, where they filmed their CF and attended other promotional activities.
Girls' Generation Featured in New Lotte Department Store Photos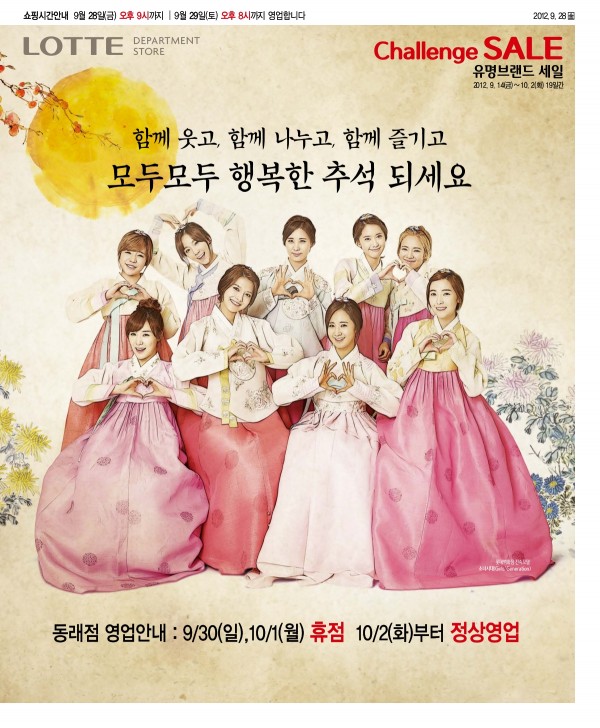 Lotte Department Store recently featured Girls' Generation in two new photos. The first was uploaded as a new Facebook cover photo and shows the girls dressed in colors that complement the fall season. The second advertisement features Girls' Generation dressed in traditional hanboks to celebrate Chuseok.
Seohyun Featured in New THEFACESHOP Advertisement
THEFACESHOP recently released a CF for its "Mango Seed Silk Moisturizing Facial Butter". In the advertisement, Seohyun's cute facial expressions and pretty yellow dress can brighten any viewer's day.
Girls' Generation Baby-G Advertisements Spotted Across Asia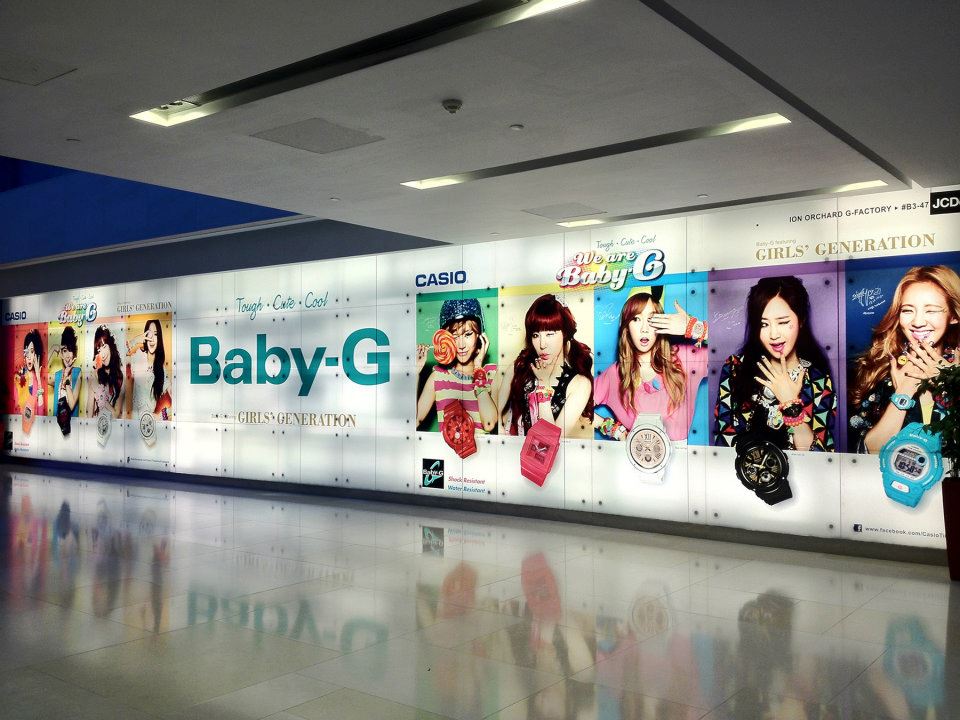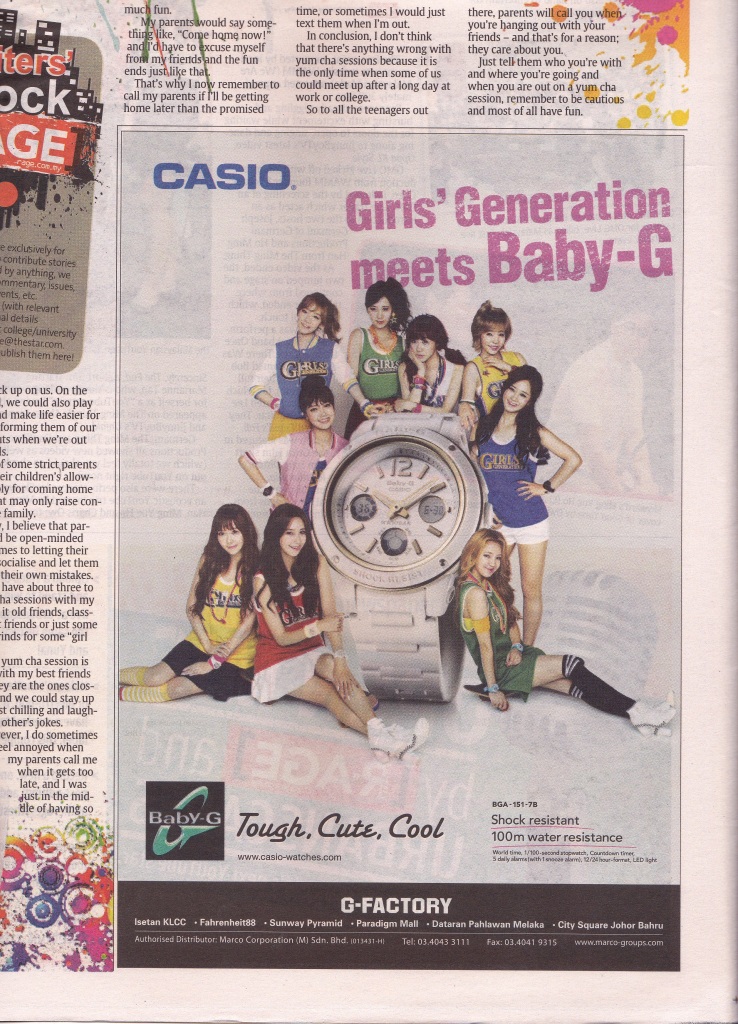 Ads for CASIO's Baby-G watches have been appearing in several countries. They've been spotted in the ION Orchard shopping mall in Singapore (first photo) as well as in 
Siam Square
in Bangkok, Thailand. Newspapers in Malaysia have also been running the advertisements, as seen in the second photo (thanks to YoonJi♥Soshi for the tip).
Others
Everysing Releases New "The Boys" Themed Girls' Generation Goods
Everysing has released several new Girls' Generation products themed after the group's "The Boys" promotions. A variety of goods are available, including mousepads, photocard sets, folders, notebooks, magnets and pillow cushion covers. The new products are currently available for viewing and international purchase through DVDHeaven's Girls' Generation catalog.
Yuri Lends Her Voice for TVXQ's "Like a Soap"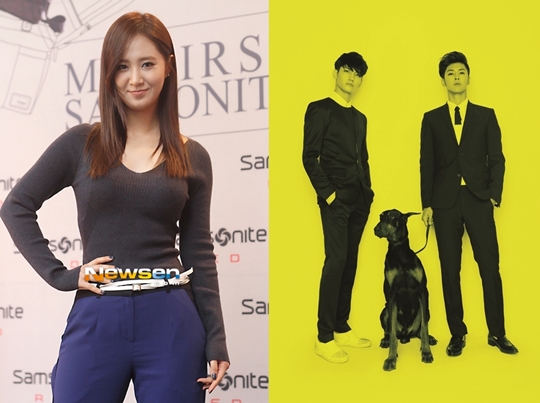 Yuri's voice can be heard in TVXQ's new song "Like a Soap" from their latest album, "Catch Me". At one point in the song, Yuri says, "Annyeong jal ja," which means, "Bye, goodnight."
Taeyeon's "Closer" Places First on MelOn's "Weekly Battle" Chart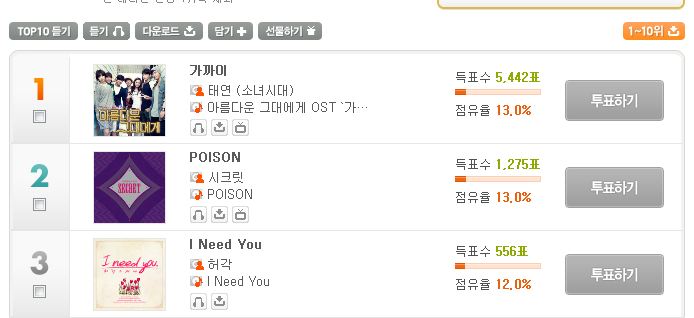 "Closer", the OST song for the drama "To The Beautiful You", claimed the first spot on MelOn's "Weekly Battle" chart. The song received 5,442 votes, beating Secret's "Poison" and Huh Gak and Zia's collaboration, "I Need You".
Girls' Generation's Intel Promotions Mentioned on Reuters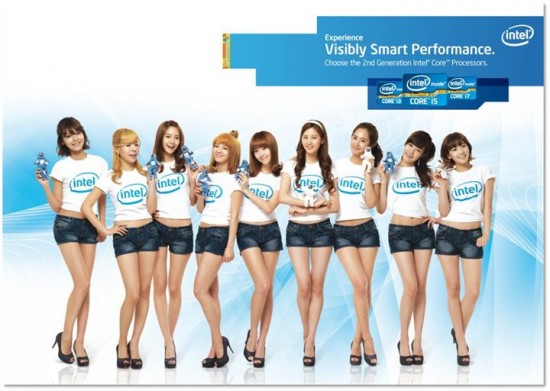 With American chip-maker Intel back in the news over a branding issue, Girls' Generation's promotions for the company have been briefly brought back into light. A Reuters article mentioned that Intel paid the girls for TV ads and a song written for the company. Girls' Generation began their Intel promotions in January 2011 with the release of the promotional single "Visual Dreams".
Taeyeon Voted "Oldest Member of a Group Who Looks Younger Than the Maknae"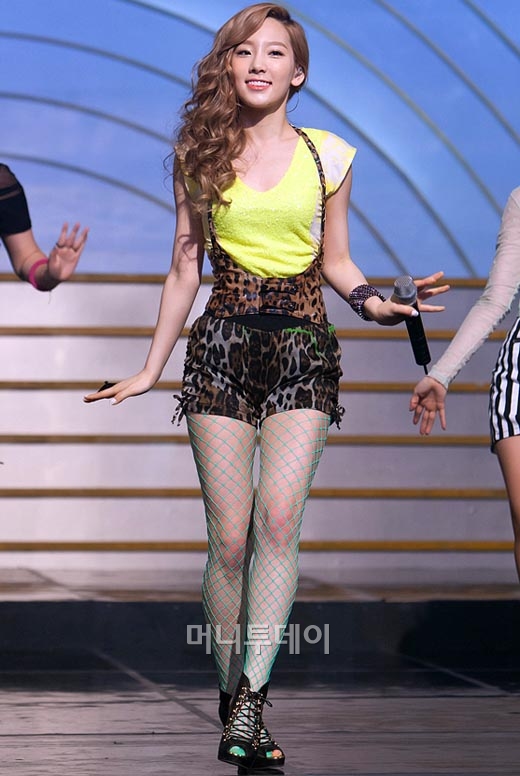 DC Inside recently held a poll asking about the idol who is oldest in a group but looks younger than the youngest member. Taeyeon placed first with 74% of the 3337 votes. She has often heard that she looks younger than Seohyun because of her small size, cute facial expressions, and aegyo.
Jessica and BoA to Attend Launch Event for Hyundai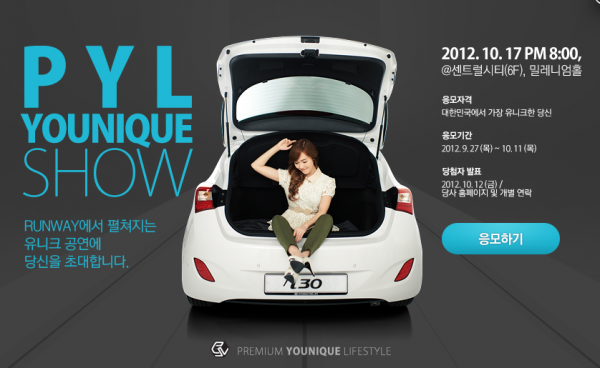 Jessica and BoA will attend a special launch event to promote Hyundai's "Premium Younique Lifestyle" brand of cars on October 17th. It was revealed that Jessica will endorse the i30 model. Hyundai also released additional information in a similar
advertisement
.
Soojin Discusses Her Career and Relationship with Sooyoung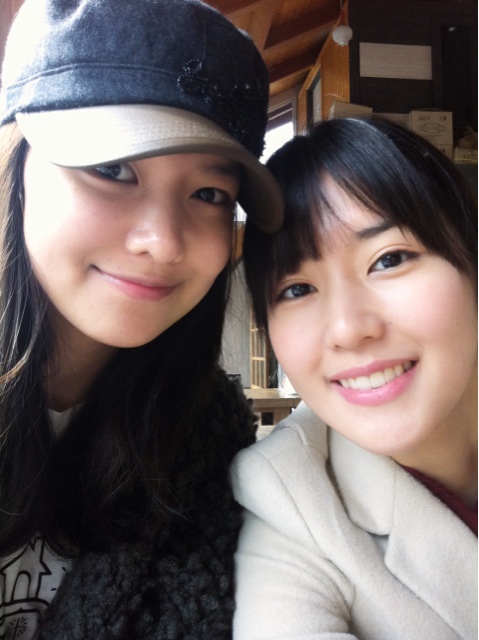 Soojin recently discussed her successful career in musicals and her relationship with Sooyoung, her younger sister. In the interview, Soojin comments on the sometimes unfair criticism of being Sooyoung's sister and said, "While it is true that I owe it to Sooyoung, nonsensical words make me sad," and "While I probably can't remove the label of 'Sooyoung's sister', I hope there will be more chances for people to see my skills as is."
"1st Look" Blog Covers Sooyoung's Fashion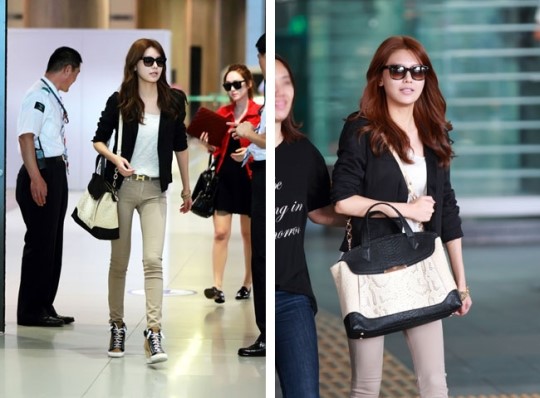 "1st Look" magazine's blog recently published an
article
on Sooyoung's airport style. The post covers everything from her sunglasses and bag to the type of jacket and pants she wears.
Photos
Yuri Poses for a Photo with Writer Lee Geunmi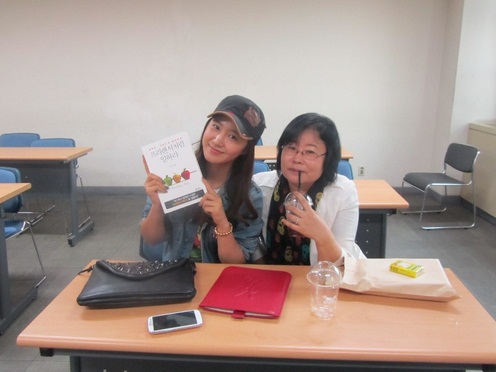 Yuri recently posed for a photo with writer Lee Geunmi. In the photo, Yuri is holding a book while posing cutely next to Lee Geunmi. The picture was taken in a classroom.
banila co. Releases New Photos from Jessica's Photoshoot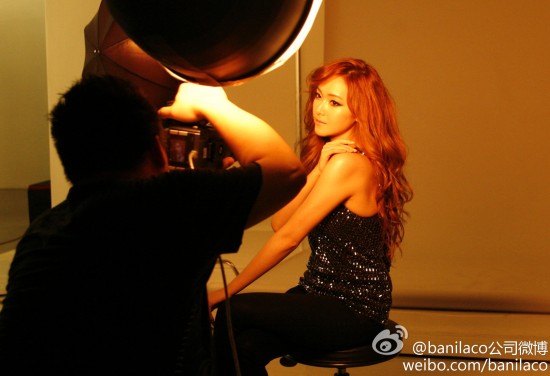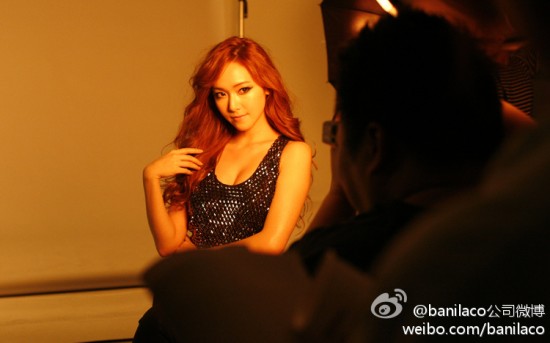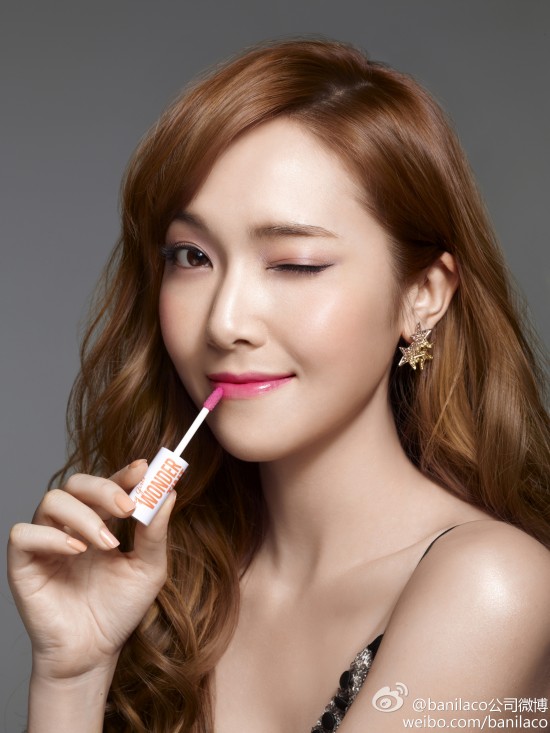 banila co. recently released several new photos taken from Jessica's photoshoot through its Weibo page. In the photos above, Jessica's professionalism is displayed as she poses elegantly for the camera.
Seohyun and TVXQ Pose in a Photoshoot for "CeCi" Magazine's November Issue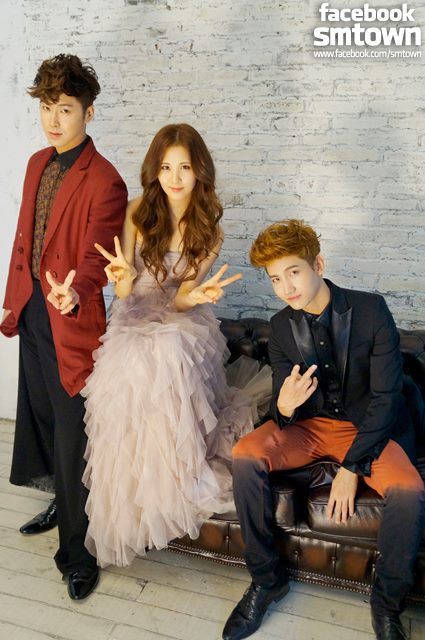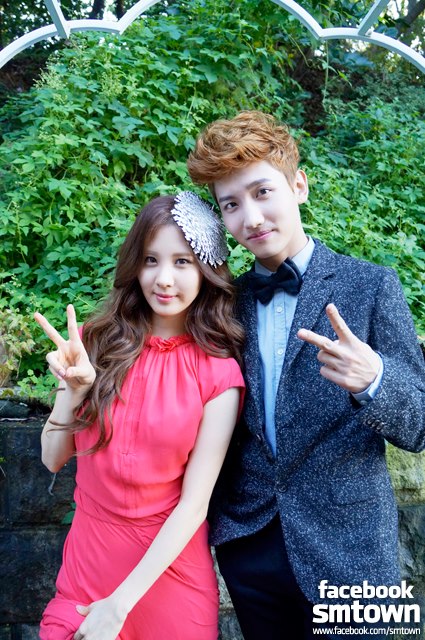 Two pictures of Seohyun with TVXQ's Yunho and Changmin were recently uploaded onto the group's official Facebook page. In the description of the photos, it is revealed that the pictures were taken from a photoshoot that the three were in for "CeCi" magazine's November issue. Both photos were also posted through the messenger app KakaoTalk.
Kim Publae Tweets a Picture of Sunny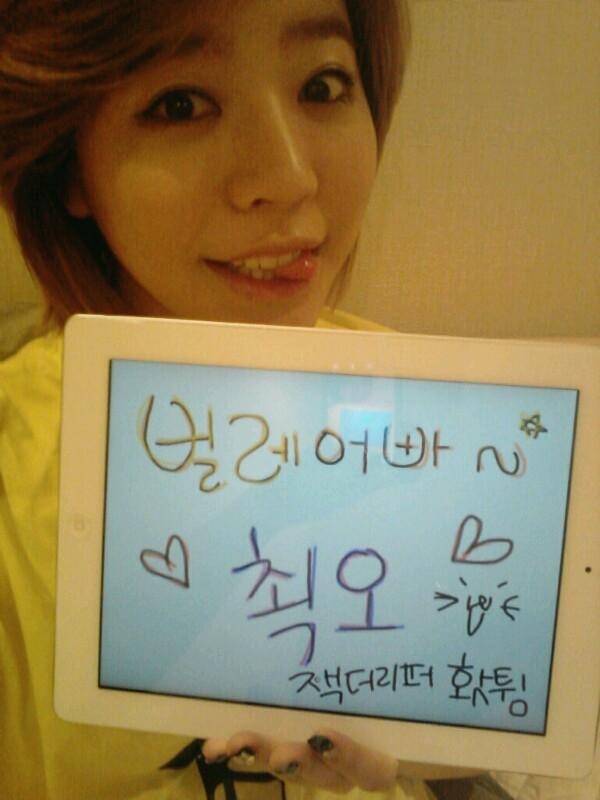 Kim Publae tweeted a picture of Sunny taken during her time in Tokyo. He joked that he had asked her to send him a photo, but in her reply, she had called him a "bug". In the photo, Sunny is holding an iPad for the camera. The screen says, "Bug oppa~ the best. Jack the Ripper, hwaiting." In Korean, "bug" is pronounced as "beolle" and is used by Sunny as a play on Kim Publae's name.
New Sets of Pictures
Innisfree – Yoona1, Yoona2, Yoona3, Yoona4, Yoona5
Japanese Mobile Fansite – Taeyeon, Jessica, Sunny, Tiffany, Hyoyeon, Yuri1, Yuri2, Seohyun, Group1, Group2, Group3, Group4
LG "Cinema 3D TV" – Taeyeon, Yoona1, Yoona2, Yoona3, Yoona4, Seohyun1, Seohyun2, Seohyun3, Seohyun4, Group1, Group2, Group3, Group4, Group5
LLang – Sooyoung1, Sooyoung2, Sooyoung3
"The 3rd Hospital" – Sooyoung1, Sooyoung2
THEFACESHOP – Seohyun1, Seohyun2, Seohyun3, Seohyun4, Seohyun5
SONE Picture/Video of the Week
"Gangnam Style" has gained worldwide attention and SONEs have taken notice. This video matches clips from many of Girls' Generation's music videos and live performances to the lyrics of PSY's catchy song. Watch as all nine members seem to dance and sing along to this popular tune.
If you have any pictures or videos you'd like to submit for SONE Picture/Video of the Week, please feel free to do so by sending them to the Soshified Writing Team at tip@soshified.com or posting at the official SONE Picture/Video of the Week thread.
Sources: MelOn, rootlee.com, Daum, 12plus Facebook, Lotte Department Store Facebook, thefaceshop_com@Twitter.com, Baby-G Korea Facebook, Newsen, Weibo, portos724@Twitter.com, NATE, StyleM, DVDHeaven, Official TVXQ Facebook, Tmall, ecoinnisfree11@YouTube.com, Bestiz, DC Gallery, Sung MinSoo@YouTube.com, LG, Hyundai, asiae.co.kr, LLang, Innisfree, Newsen via Daum, ethefaceshop@YouTube.com, SMTOWN@YouTube.com, ecoinnisfree@Twitter.com, MCYulTiForever@YouTube.com, firstlook.co.kr, Sosiz, majimajiman@YouTube.com, SoneSabre@YouTube.com, Sooyoung_YC@photobucket.com, 1.bp.blogspot.com, Mamonde.co.kr, CJnDrama@Twitter.com1, CJnDrama@Twitter.com2
Written by: moonrise31@soshified, Best Served Soup@soshified, Akino_Makoto@soshified, kt9823@soshified
Contributors: minigiglo@soshified, ch0sshi@soshified, dongie@soshified
Edited by: taengsoshi@soshified, residentbenchwarmer@soshified
Have a news item that you think Soshified should know about? Leave us a tip or e-mail us at tip@soshified.com.
Follow us on Twitter: http://twitter.com/soshified for the latest on Girls' Generation.