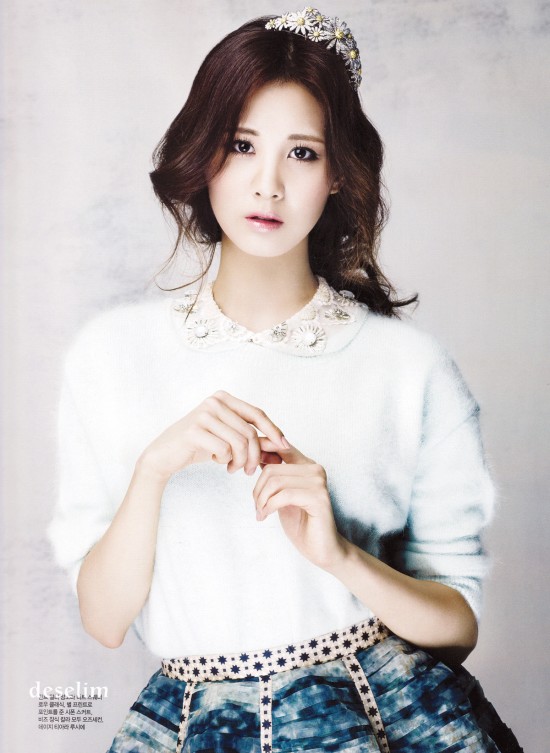 Seohyun and her labelmates Yunho and Changmin of TVXQ! are featured together in the November issue of "CeCi" magazine. Along with a breathtaking photoshoot, Seohyun took part in her own interview to discuss Girls' Generation's comeback, daily life, and her maturation.
CeCi: I heard you'll be making a comeback in Korea soon.
Seohyun: After going to Indonesia next week for 'SMTOWN Live World Tour III' in Jakarta, we are planning on going between Japanese 'Oh!' promotions and preparing for a Korean album. This album is really different from our usual ones. It's like challenging a person's limits. I'm looking forward to what the fans will think, and because it's still a secret amongst us (Translator's note: Seohyun is referring to the members of Girls' Generation.), I just feel nervous.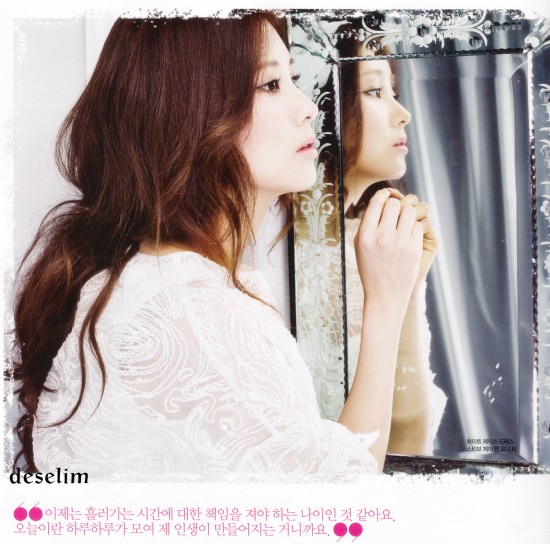 CeCi
: I was curious about what busy Girls' Generation does when they're not active in Korea? Whew, you're busy as usual.
Seohyun: Recently, rather than official Girls' Generation activities, there were a lot more individual ones. There were rarely any days where there was an entire day of no schedules because we have recording or dance practices here and there. Instead, if I have enough free time for about a quarter of the day, I exercise for two to three hours to stay in shape.
CeCi: Do you exercise to stay in shape, rather than trying to watch your figure?
Seohyun: It's said that, as you get older, the body of a person who does and doesn't exercise is very different. So you have to start now. Also, when you sweat, you get in a better mood, and it's a way for your body to react reliably, so you feel good about it.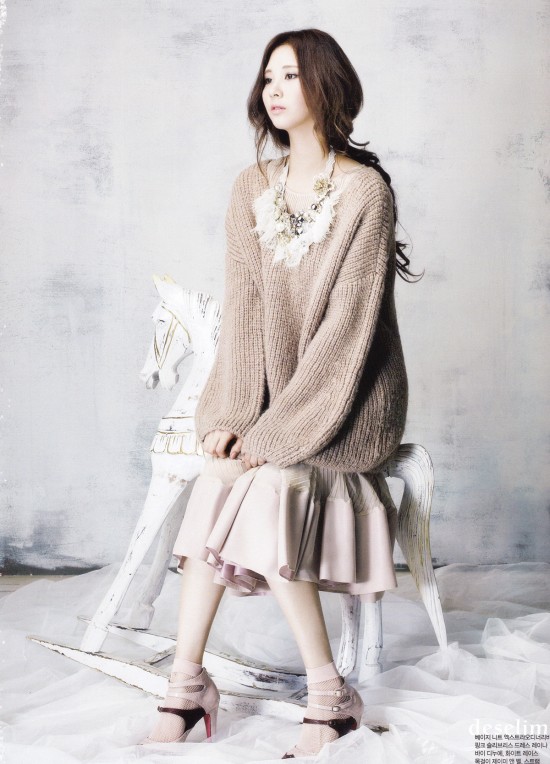 CeCi
: While watching MBC's 'We Got Married', I thought that you were the type who looks forward and into the future. But time is something that shorts out the more you conserve it.
Seohyun: Rather than there not being enough time, more often I think, 'It's really gone by quickly', more often. It's already been five years since we've debuted. I'm currently an MC on MBC's 'Show! Music Core', and all of a sudden, there have been more junior singers who come to greet us in the waiting room. That is so unfamiliar. When I heard that they were born in 1996, it made me think, 'Were people being born then too?' But, when I looked into it, my seniors who asked me for my age told me this. When you calculate it, the year I debuted was when I was 17. (laugh) It's times like this that makes me jump in front of time.
CeCi: Let's try filling in the blank. The time passing like this is: '[I] honestly [feel] a little scared, a bit sad, don't feel anything, a bit excited, or whatever you want to write in'.
Seohyun: Number four. As time goes on, I think a lot more fun opportunities are opening up. I don't have any regrets either. Because even if I were to have made a wrong decision, I have gained or learned something from it.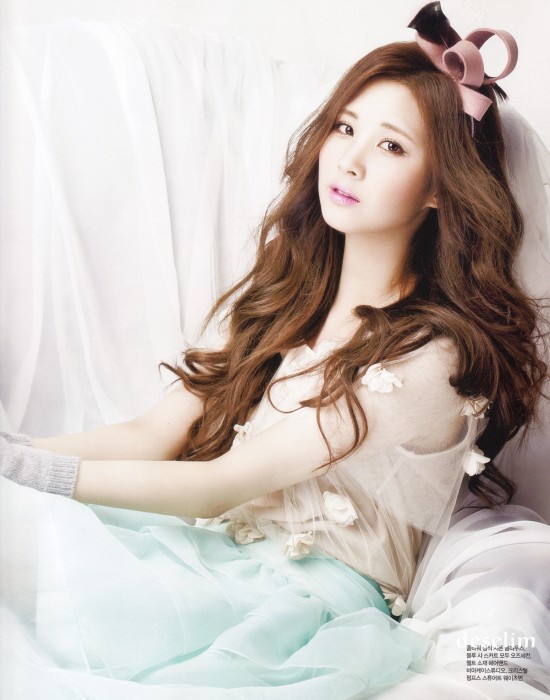 CeCi
: In a 2009 'CeCi' magazine interview, Girls' Generation's Yoona also said she was surprised at all the juniors she's gained. Even though the time's passed, that unfamiliarity seems like it hasn't changed. To you then, what's something that doesn't change, unlike the passing time?
Seohyun: When comparing to when I first debuted, my values and personality, which I thought would never change, have changed a lot. My friends and members have told me that I have become brighter and more enthusiastic. My sense of challenging things has gotten stronger too. It's not 'I need to live following the right path', but that I need to realize if this is the right path and that I want to experience more different things. Of course, it's nothing wild. (laugh) And so the thing that doesn't change is that path, and the things that do are the experiences. Starting social life after being treated cutely as the youngest must have made me react by making me feel sure about things I should and shouldn't do. Like a test with only O/X answers. I now believe that I must greet life with a more open heart for a truly great life.
CeCi: Was there something that brought this enlightenment?
Seohyun: When I debuted, while my job was a singer, I was still a student. The feeling of having to be devoted as a student was large. When I turned twenty, I started to feel the weight of having to do things on my own. CeCi: For instance? Seohyun: Time utilization. As a student, during math you learn math and follow your schedule repetitively, but now it's something that depends on my usage. If I sleep, it's time for sleep, and if I don't think about it, it just disappears. Instead, if I read a book, I have what I read left. CeCi: You've gained a sense of responsibility for time. Seohyun: Yes. At first, I used up my strength severely just trying to handle my schedule, so I couldn't use my time well, aside from schedules. So, in turn, I would just flow along with how things were going, and I did not exist within that. Later on, I thought, 'What have I done aside from Girls' Generation's activities? Is my body going to fall into the hands [of this work]?' And so I set detailed life goals, and felt that I should try to expand indirect experiences and knowledge through books. Because each and every one of these days will come together to make my life.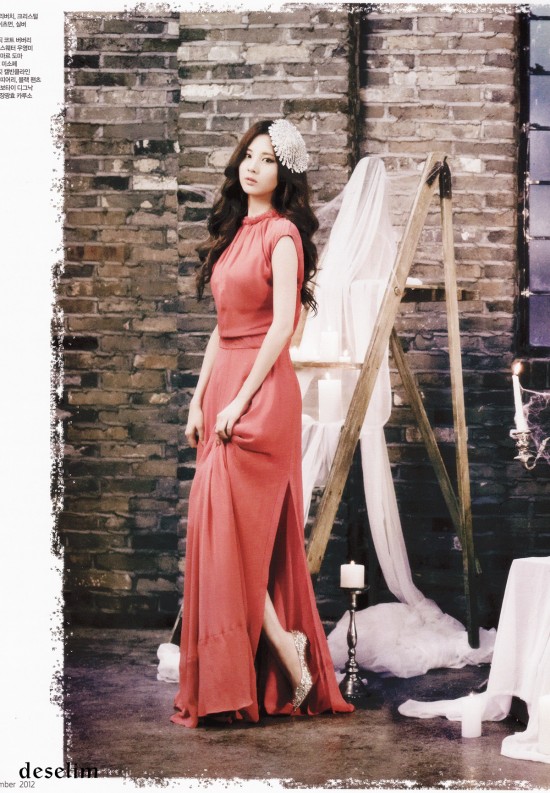 CeCi
: Was there any big happening that made you think, 'I finally took on the challenge because my personality changed!'?
Seohyun: Though I'm a celebrity, I was embarrassed of showing my usual self to many people, but have broken away from that a lot. I've learned that going to Lotte World or Kyungbook Palace with my friends is really fun. It's to the point where I ask foreign fans to take pictures for us. I also enjoy going to exhibitions and museums. It's something to be thankful for when people recognize me, and when they don't, even that is funny. I'm going to wear school uniforms with my middle school friends to visit my school.
CeCi: Your life has become colorful. Is there anything you want to change? Should we try looking for those traits from your other members?
Seohyun: First of all, Hyoyeon unnie is optimistic about everything and creates good atmospheres. Sooyoung unnie and Tiffany unnie's social skills are good, so they have a wide number of acquaintances. They are able to make people feel comfortable. Taeyeon unnie's natural singing skills. Also, I think it's a really great thing that she's a person that can be of support to others. Yoona unnie appears coy, but is natural and her unexpected side shines. Something that the unnies jokingly say is, 'If someone as pretty as you also had a prim personality, it would have been no fun.' People say that Jessica unnie looks cold, but she's the type that acts indifferent upfront and takes care of you unknowingly from behind. Sunny unnie always passes on a bright energy. And she's also mature. There's a large age difference in between her and her older sisters, and although she's the youngest, it's surprising how deep her thoughts are. It's to the point where we tease her, saying she's born in '79, not '89. I'm jealous of all of these traits of my unnies.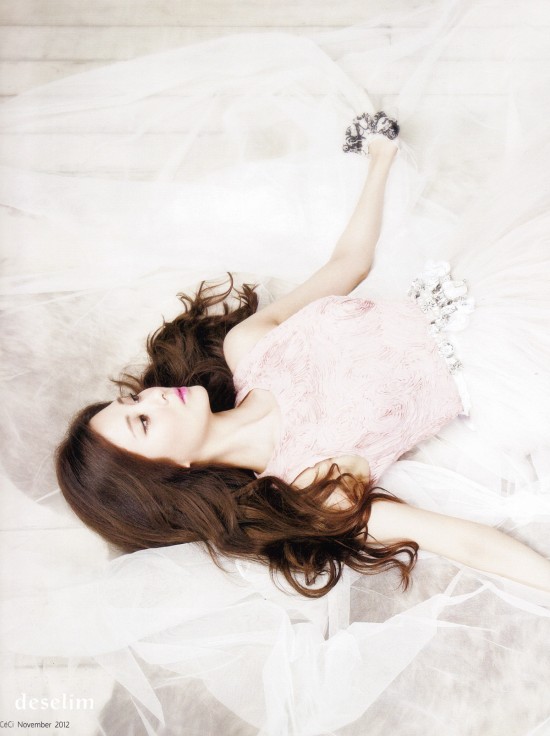 CeCi
: Today's theme was 'An Interview with the Vampire'. To them, time is forever. If you look at it one way, that can be a scary thing. I'll give you three tickets to stop time. It's a very expensive thing that you can use whenever you want.
Seohyun: I want to stop for a moment at the time of my debut. I want to feel what I did the very first time again, not just from what my mind remembers. So I can reflect on myself and give myself advice. I want to save the remaining two for my future.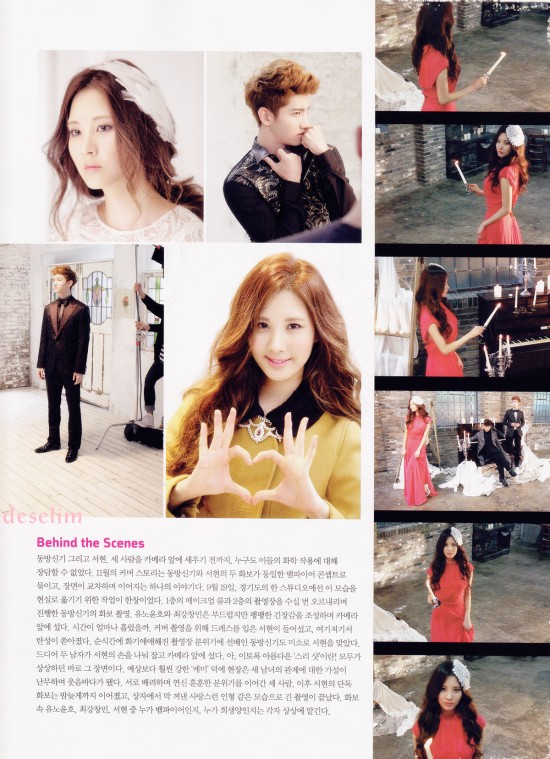 CeCi
: Lastly, time for TVXQ! and Seohyun's interview! They said they're curious as to what ideal type would make your heart flutter. They also gave me a tip that, because you're probably not going to answer in detail, to ask things in a calm, orderly fashion to dig deep.
(Translator's note: Seohyun's questions to TVXQ! were 'When do you really feel or realize you've been a singer for 10 years?' and, 'Curious as a fan! What do you do on days when you don't have schedules?')
Seohyun: Haha, then I'll give a long answer. First, I would like for them to be very considerate, optimistic, and enthusiastic. A person who's got manners and is humorous, and one who makes the other person comfortable. Even if it's not great right now, it's important for them to have firm beliefs and to work hard toward their dream. Physically, there isn't much I look for other than them being taller than me. Oh! Kind, clear eyes. I felt that it's true when people say eyes are the windows to a person's heart. I think you are able to see the time the person's lived based off their general impression. So I would like if they always had a smiling face. I don't think there would be a better match if it's a person I can learn from whenever we talk.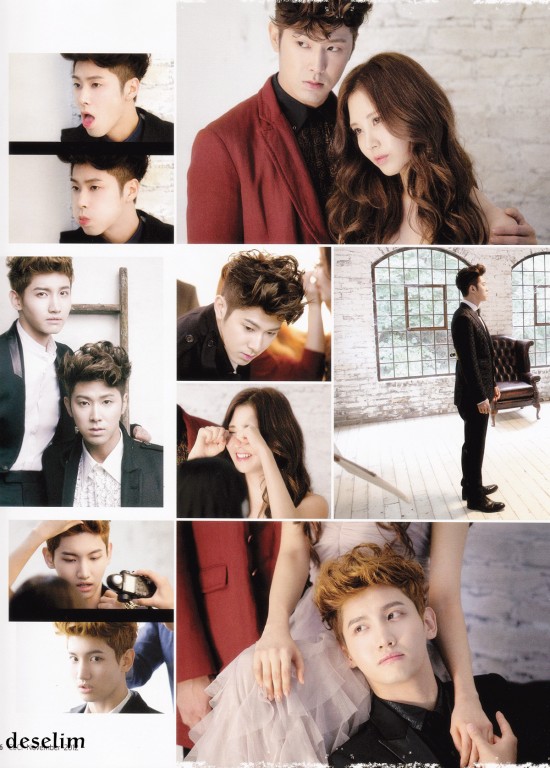 CeCi
: Let's look for three of your own charms that can appeal to this loyal man.
Seohyun: My first pledge is a positive energy! I'm confident that it will be fun if we're together. Secondly, I will take care of myself well! My ironclad rule is, 'Manage and take care of [yourself] until you die.' I won't ever be disheveled, so I will be able to make their hearts beat and flutter forever. Lastly, my future isn't unsteady! I'm not the type to lean on a man, so I will be okay financially. I won't be tiresome either. I promise. (laugh)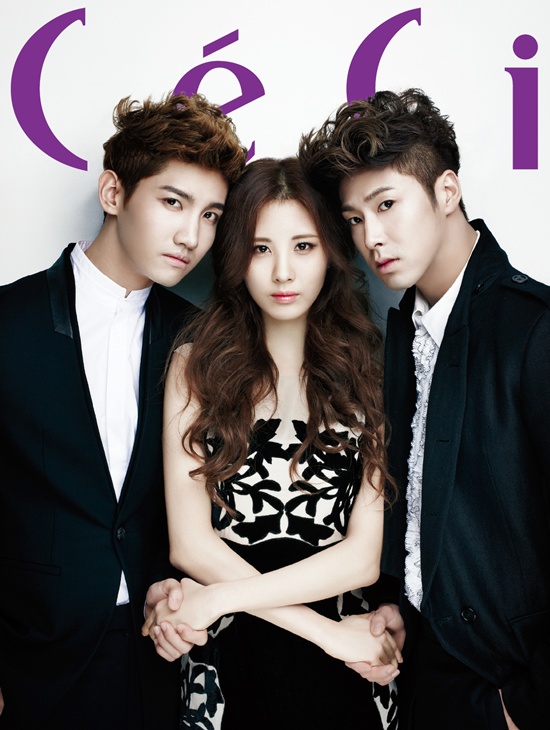 Sources: "CeCi" Magazine,
DC Gallery
,
usnthem
Translated by: ch0sshi@soshified
Edited by: kt9823@soshified, bhost909@soshified
Have a news item that you think Soshified should know about? Leave us a tip or e-mail us at tip@soshified.com.
Follow us on Twitter: http://twitter.com/soshified for the latest on Girls' Generation.