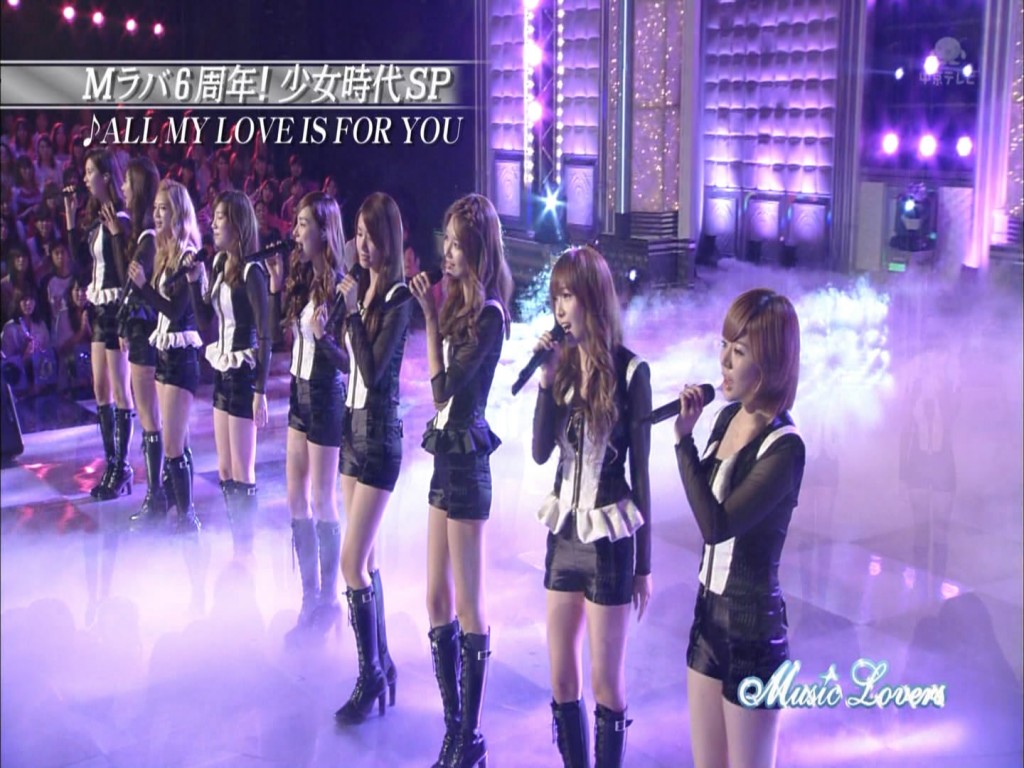 On October 8th, Girls' Generation appeared on Nippon TV's "Music Lovers" for an interview and performances of "Oh!", "MR. TAXI", and "All My Love Is For You" as part of promotions for their latest single in Japan.
The show began with the members first appearing in blue and white cheerleader outfits for "Oh!", the title track of their fifth single. This fun and energetic performance was accompanied by cheers and fanchants from the audience.
Girls' Generation then changed into new black and white outfits and sat down for a brief interview in which the members were asked to say one thing about another member. Taeyeon complimented Jessica's free spirit, Sooyoung brought up Yoona's beauty, Jessica described Tiffany's voice, and Yoona spoke of Sunny's cuteness after Sunny gave an example of her infamous aegyo, which caused MC Imada Koji, a fan of Girls' Generation, to fall on the floor in happiness.
Afterwards, the members sang "MR. TAXI" from their third Japanese single and gave a beautiful live performance of "All My Love Is For You", the second track from their "Oh!" single.
Girls' Generation's performances of "Oh!", "MR. TAXI", and "All My Love Is For You" can be found in Soshified's Video Downloads Section. Check out the performances and interview below.
Sources: AMZTT12@YouTube.com 1, AMZTT12@YouTube.com 2, AMZTT12@YouTube.com 3, AMZTT12@YouTube.com 4, AMZTT12@YouTube.com 5
Written by: bhost909@soshified
Contributor: doe@soshified
Have a news item that you think Soshified should know about? Leave us a tip or e-mail us at tip@soshified.com.
Follow us on Twitter: http://twitter.com/soshified for the latest on Girls' Generation.