We have an exciting announcement for all our members! Soshified will officially be attending KCON '12! We will be hosting a community booth that you should all visit at the conference. If you have any ideas on what activities we should host at our booth, please let us know. Please visit us as we will have goodies, photo opportunities, and much, much more! Leave a comment on this post if you plan on attending! Look forward to announcement soon of what we will be selling at the event! Also, we're proud to announce that our founder, Soy, will be a panelist for the event!
We're also going to be giving away 2 tickets to KCON '12 to a comment on this post, just leave a comment with an idea for our booth, a link to your Twitter account, and the phrase "I WANT TO WIN TICKETS TO KCON '12"!
For an extra chance to win, tweet @soshified with "Can't wait to support @soshified at @KCONUSA!!!"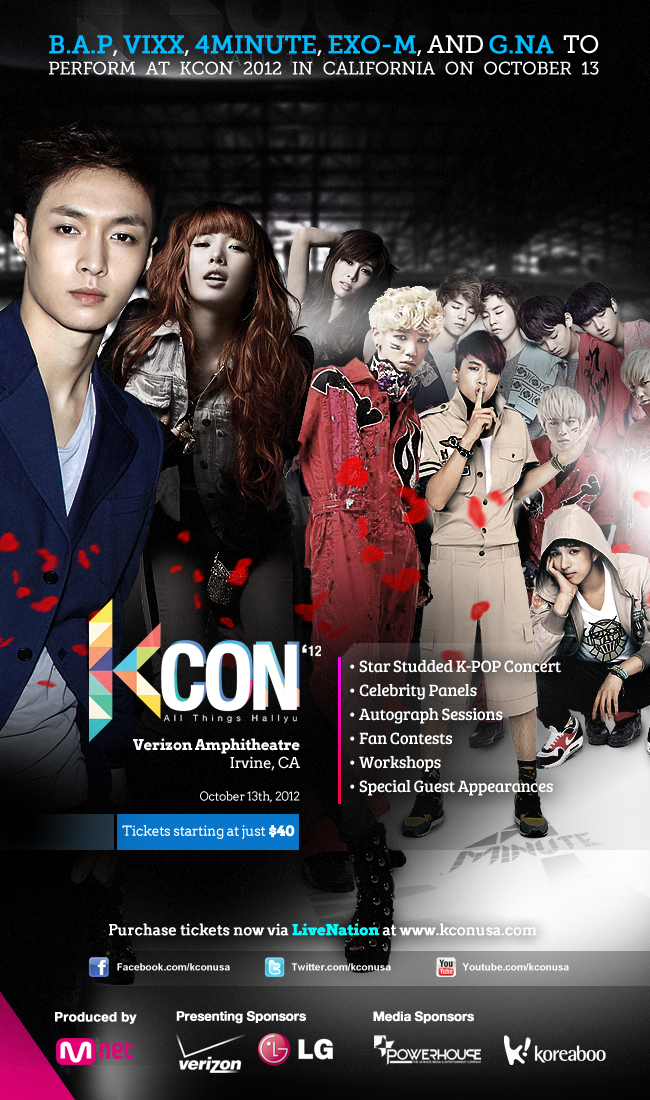 About KCON: KCON is the first-ever large scale convention dedicated to the hottest entertainment coming out of Korea including K-pop, K-drama and Korean movies. The event will be produced by Mnet. KCON will be a full-day event ranging from autograph signing sessions and celebrity panels to contests and fan workshops aimed at everyone from the super fan of K-pop and K-drama to those ready to be initiated into the global Korean Wave. Capping off a day of total Korean entertainment immersion will be a star-studded K-pop concert. KCON hopes to establish an annual flagship event that will improve the American fan experience by providing an affordable way for them to connect with each other as well as artists and professionals in the K-pop industry.
CHECK OUT THE OFFICIAL VIDEO FOR KCON FT. ALL THE ARTISTS & MORE: http://www.youtube.com/watch?&v=RkPGWHlZ1Ys
You can purchase tickets now through LiveNation at www.kconusa.com by clicking on the "Purchase Tickets" button.
Invite all your friends and experience the biggest K-POP event to hit North America together!
Website: http://www.kconusa.com/
Facebook: http://www.facebook.com/kconusa
Twitter: http://www.twitter.com/kconusa
YouTube: http://www.youtube.com/kconusa
RSVP for our Facebook Event: http://www.facebook.com/events/399491966779988/