Hello everyone, I'm finally back. First off, I must apologize to the readers for not being able to write this column earlier. Secondly, this month's column is going to be extra long to help make up for the absence. So, without further ado, let's get started.
Since August was Tiffany's birthday month, the first half of this column will be focused on her sub-forum.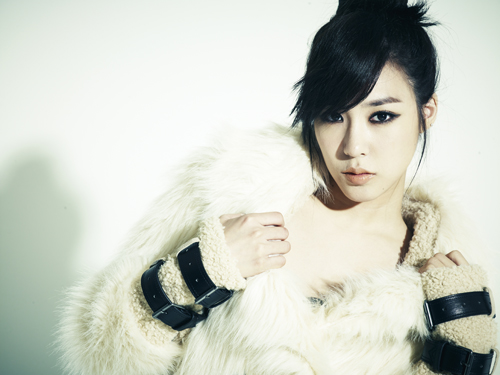 A stunning picture of Tiffany just because I can.
One particular thing to take note of in Tiffany's sub-forum is that she actually visited one of the threads in there. Last year on August 19, 2011, Tiffany visited Soshified and somehow ended up in the "Fashionsta Fany" thread. Yes Tiffany, Soshified thinks you're a fashion star. Judging from the pictures in the thread, Tiffany really does hold a lot of things in her hands. No wonder amipiai drew a comic about it for Soshitoons.
"Fashionsta Fany" holding onto a ton of things even though she has a bag.
If you're new to the fandom or even if you've been around for a while, be sure to check out this thread here. It contains a compilation of Tiffany's pictures and several gifs. A small warning to the readers though. Make sure to have enough space on your computer before downloading. I'm sure over two thousand pictures and over a thousand gifs would constitute a large amount of space for anyone.
Ever wonder if the girls have talents aside from singing and dancing? Of course they do! And here are a couple threads that show off Tiffany's talents. The first thread shows off her skills with the flute. The second thread is dedicated to her drawings that can occasionally make an appearance on variety shows that she is participating in, such as "Hello Baby".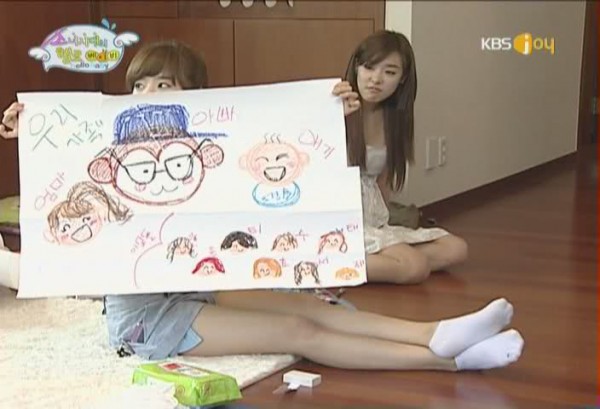 Tiffany's drawing from "Hello Baby"
Another neat thread on Tiffany's sub-forum is a SONE's personal project on the members of Girls' Generation. The author, dreadtech, takes his own personal in-depth look as to why nine different girls were able to mesh so well and turn their group into something magical. The name of this editorial is "Pieces of Nine".
Last up for Tiffany's portion of the column is a thread that'll make you fall in love with her even more. Inside this thread is a series of sketches depicting a true story that happened during a cold winter day. It's a story about a Good Samaritan, a girl that went the extra mile to help someone. I'll let the sketches tell the rest of the story.
Next up for the month of September is the sub-forum for Hyoyeon, who just celebrated her birthday this past weekend. Of course, when we're talking about Hyoyeon, you have to expect some of the wackier stuff to pop up, and that's exactly what happened while looking around in her forum.
All forms of wackiness are approved by Hyoyeon.
To start things off in Hyoyeon's sub-forum, we're going to have her show us her amazing swimming skills. So, head off to her thread over here, and learn how to swim like a boss.
After everyone has finished learning how to swim, visit the next thread to learn how to do everything in hip-hop or gangsta style, because that's how Hyoyeon rolls. Of course, if you want to check out more of her amazing dances, then check out the thread dedicated to her appearances on "Dancing with the Stars". But this is Hyoyeon we're talking about, so we have to include a few dorky dances too.
Hyoyeon is also very skilled at coming up with witty comments.
Once you're ready to take a break from learning, drag yourself over to the Hyoyeon's shoulder thread. Who wouldn't want to rest for a while on her shoulders? But since you got way too comfortable and fell asleep, she's probably going to have to wake you up, and she'll do something like this .
If you're waking up, then it's time to get ready. Just make sure you don't dress like a fashion terrorist while you're around Hyoyeon; she'll probably do that on her own, judging from her airport pictures thread.
Fashionably cute Hyoyeon.
Now that you're on the way out with Hyoyeon, then you're probably driving, and she is sitting shotgun, as she likes to call it. Be careful while she is talking to you though, as she often mispronounces words, so the conversation might get a bit confusing. If you find yourself standing around and waiting, Hyoyeon is probably standing in her usual pose, something like what you can find in this thread of pictures.
Just a word of caution, don't let Hyoyeon get drunk or she might be liable to start beating you up. We even have proof of it from Seohyun. Check out Hyoyeon's drunken ways thread if you aren't sure what I'm talking about. Don't say I didn't warn you.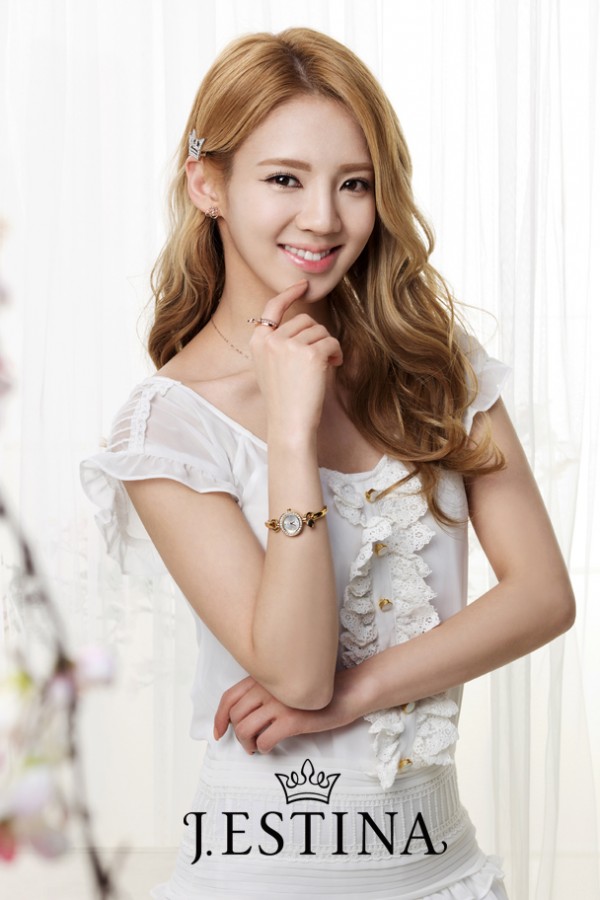 Who could be scared of this beautiful girl? Looks can be deceiving.
That wraps up this extra long version of Fantastic Forum Features. I hope you all enjoyed seeing more of Tiffany and the wackiness that is Hyoyeon. See you all again soon.
Source: Taeyonism@youtube.com
Written by: SeraphKY@soshified
Edited by: letaengbutt@soshified, MoonSoshi9@soshified
Have a news item that you think Soshified should know about? Leave us a tip or e-mail us at tip@soshified.com.
Follow us on Twitter: http://twitter.com/soshified for the latest on Girls' Generation.