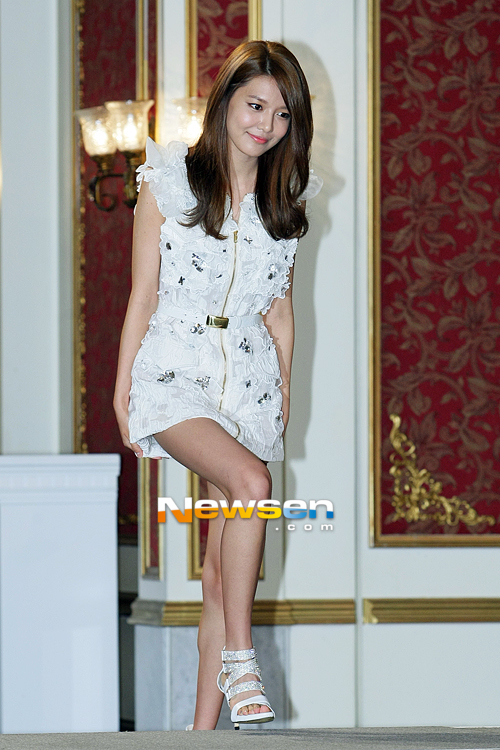 On August 29th, Sooyoung attended the press conference for tvN's new drama, "The 3rd Hospital", alongside her co-stars, Oh Jiho, Kim Seungwoo, Choi Yoonso, and Kim Minjung. The press conference was conducted in the Seoul Imperial Palace Hotel. Sooyoung appeared at the event in an elegant white dress that highlighted her slender long legs. To view more pictures from the event, check out Soshified's 
Photos Section
.
During the press conference, Sooyoung's co-star Oh Jiho revealed that there were meant to be two kiss scenes between him and Sooyoung. "There were meant to be two kiss scenes, but it's a pity that they weren't shot," he said. When asked why not, he responded by saying, "I don't really know why either. Maybe it was canceled because there could be a big incident from the fans' concerns, but nevertheless it's a shame." Hearing that statement, the room was brought to laughter.
When asked about his role in the drama, in which he can't accept Sooyoung's love, he replied, "It's not a role where the character accepts her love, so in reality I felt sad about it." Jiho then expressed his regret, saying, "He should have accepted it."
On the same day, a video featuring Sooyoung and Oh Jiho was released, revealing "The 3rd Hospital Sharing Project". In the video, Sooyoung and Jiho explain that the project is a campaign meant to support people who are suffering from cancer. The total amount from fundraising obtained will be passed on to the people who can't receive treatment due to living in difficult environments, as well as to people who are still struggling but haven't lost hope. The video ends with them requesting for the viewers to join the project and to support it.
Additionally, Girls' Generation recorded a message for Sooyoung, showing their strong support for their fellow member. In the video, the girls mention that Sooyoung has taken on the role of Lee Euijin in "The 3rd Hospital" and express their great anticipation for her acting. They end their message by cheering Sooyoung on, shouting, "Sooyoung fighting! Lee Euijin fighting! 'The 3rd Hospital' fighting!"
"The 3rd Hospital" will be broadcast through Korean network tvN on September 5th.
Source: hangthienbao@YouTube.com1, hangthienbao@YouTube.com2, Daum1, Daum2
Written by: Best Served Soup@soshified
Edited by: MoonSoshi9@soshified, bhost909@soshified
Contributors: jyhwang@soshified, SNSDDani@soshified
Have a news item that you think Soshified should know about? E-mail us at tip@soshified.com.
Follow us on Twitter: http://twitter.com/soshified for the latest on Girls' Generation.