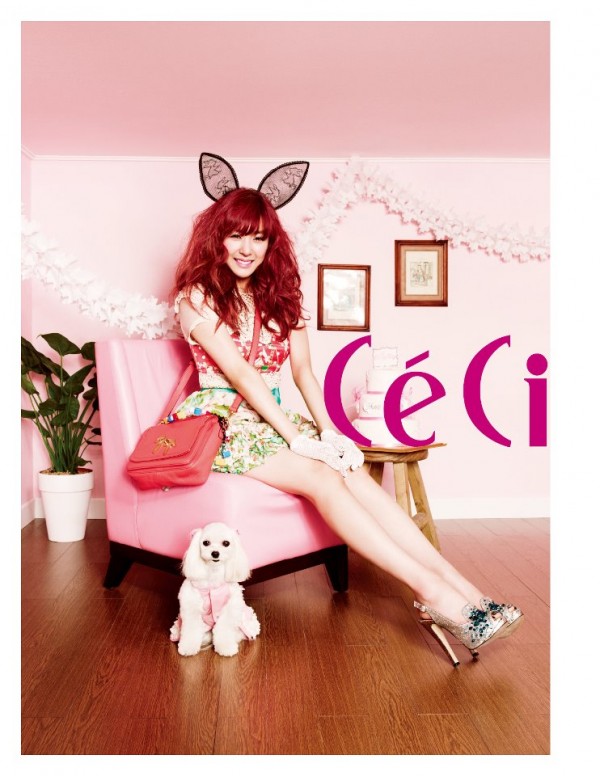 For the latest issue of CeCi, Tiffany participated in her own feature and photoshoot in conjunction with her August birthday. Utilizing her favorite color pink as the main theme of the pictorial, Tiffany wore a number of different props for the magazine. The pictures revealed different sides and emotions of Tiffany, yet throughout the photoshoot her cheerful personality and trademark eye smile helped maintain a fun atmosphere for the staff on set. Tiffany wore outfits including sporty floral print shorts, a pink tubetop one-piece, and an elegant lace one-piece, showing off her outstanding fashion sense and the looks of a sporty, yet lovely girl.
The props from the photoshoot will be auctioned starting July 23rd to August 6th, through both CeCi's Facebook page and their website. The various props from Tiffany's photoshoot for the August issue of CeCi will be auctioned off to aid the adoption and protection of abandoned dogs. Some of the items include a pearl ring and necklace with Tiffany's initials engraved on them, and a belt worn during Girls' Generation – TTS's "Twinkle" promotions. All proceeds will benefit the Korean Animal Welfare Association in CeCi and Tiffany's name. Check out the rest of the magazine scans in Soshified's Photos section.
Source: cecikorea@Twitter.com, CeCi Korea's Facebook Page, Star Today
Written by: kt9823@soshified
Contributor: ch0sshi@soshified, SNSDDani@soshified
Edited by: michaelroni@soshified
Have a news item that you think Soshified should know about? Leave us a tip or e-mail us at tip@soshified.com.
Follow us on Twitter: http://twitter.com/soshified for the latest on Girls' Generation.