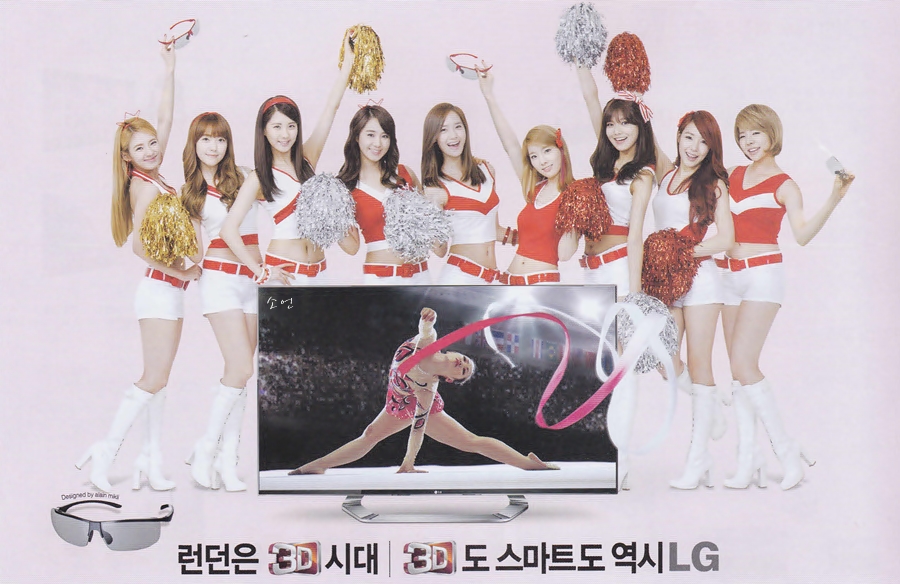 LG recently released two new promotional photos for its "Cinema 3D TV". The first picture shows all nine members of Girls' Generation in pink and white cheerleading outfits, standing behind one of the TVs that LG is promoting. In the second advertisement, the girls are seen in mid-jump as Yoona stands in the foreground, posing as if she is shouting to the viewer to buy this new product.
In addition to photos, LG also released a few new CFs for its "Cinema 3D TV", all centered around the upcoming London Olympics. The first CF includes footage of a sparring match, and the girls don 3D glasses so the fighters seem to pop out of the screen. The second video features Yuri as she nervously watches an Olympic archer fire an arrow directly at her face. Yoona, meanwhile, enjoys a graceful performance of rhythmic gymnastics as the gymnast's ribbon twirls outside the boundaries of the television screen.
The second picture advertisement can be found in Soshified's Photos Section. Also, you can check out the three CFs below:
Sources:
LG
,
soneHD@YouTube.com
,
rinarin1000@YouTube.com 1
,
rinarin1000@YouTube.com 2
Written By: moonrise31@soshified
Edited By: bhost909@soshified, michaelroni@soshified
Have a news item that you think Soshified should know about? Leave us a tip or e-mail us at tip@soshified.com.
Follow us on Twitter: http://twitter.com/soshified for the latest on Girls' Generation.