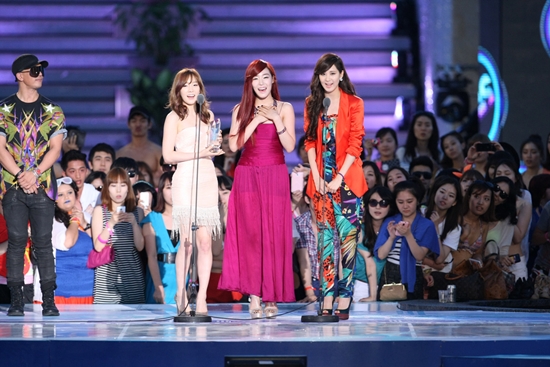 On June 28th, Girls' Generation – TTS won the "Trendy Music" category at the Mnet 20's Choice Awards. Other artists who were nominated for the "Trendy Music" award included FTISLAND, Big Bang, SISTAR, and Miss A. Girls' Generation – TTS was also first place in the category with votes from fans, winning 27.2% of the poll.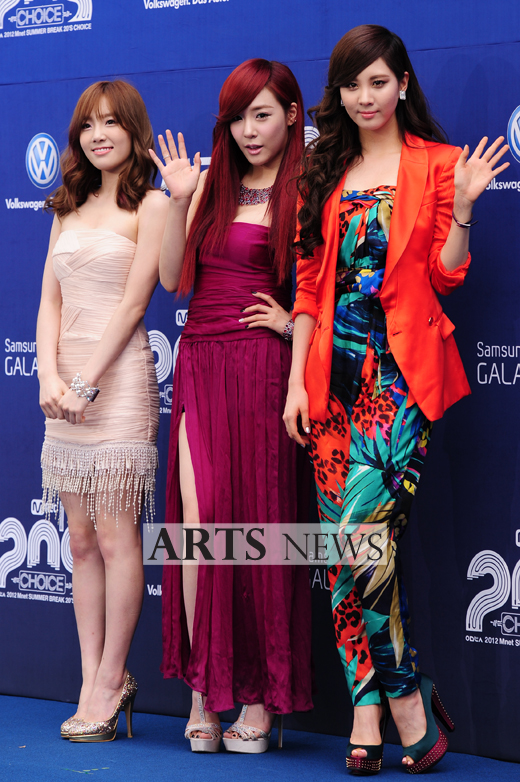 The award show began with a blue carpet event in which Taeyeon, Tiffany, and Seohyun stunned photographers, reporters, and those watching the show worldwide through YouTube with their elegant fashion. Taeyeon and Tiffany were dressed in beautiful dresses while Seohyun wore a colorful jumpsuit. More information on Tiffany and Seohyun's outfits can be found in Soshified
Styling
, and additional photos from the blue carpet event can be found in Soshified's
Photos Section
.
Taeyeon, Tiffany, and Seohyun were also shown in a "party" event specially recorded for the award show. They could be seen playing with the camera and balloons, jumping on a bed, eating food, and looking through clothes. The three members also gave Girls' Generation's signature phrase, "Right now, it's Girls' Generation!"
After a special dance introduction of "OMG", Girls' Generation – TTS performed "Twinkle" while dressed in black and white outfits, delivering another fun and exciting performance of their first title track. Tiffany also took the chance to wish Seohyun a happy birthday during the song.
Finally, Taeyeon, Tiffany, and Seohyun later went on-stage to receive the award for "Trendy Music" and gave their acceptance speech.
Download the blue carpet event, party event, "Twinkle", and the "Trendy Music" award acceptance speech from Soshified's Video Downloads Section or check them out below.
Sources:
Newsen
,
Arts News
,
Mnet
,
bugfany@YouTube.com
Written by: bhost909@soshified
Edited by: MoonSoshi9@soshified
Have a news item that you think Soshified should know about? Leave us a tip or e-mail us at tip@soshified.com.
Follow us on Twitter: http://twitter.com/soshified for the latest on Girls' Generation.