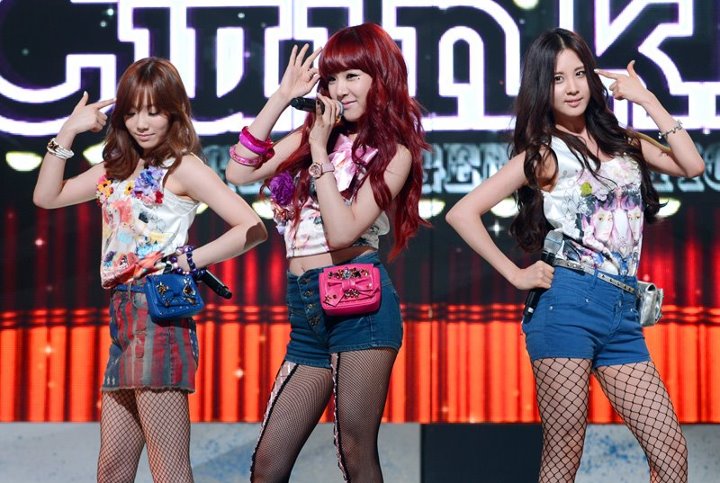 Last night, Girls' Generation – TTS returned to KBS's "Music Bank" with "Twinkle" for the music show's half-year wrap-up special. Dressed in colorful outfits with shirts that showed their concept photos for "Twinkle", Taeyeon, Tiffany, and Seohyun gave an exciting performance of their first song as a Girls' Generation subunit. Despite having concluded promotions for "Twinkle", the performance was as polished and powerful as ever, and the audience responded with loud fanchants to show their excitement.
"Twinkle" was one of the most successful songs in the first half of 2012, winning "Music Bank"'s K-Chart three weeks in a row and twelve times overall across all music shows.
Right after Girls' Generation – TTS's performance, f(x), Girls' Generation's fellow idol group from SM Entertainment, was announced as the winner for this week's K-Chart. Taeyeon, Tiffany, and Seohyun could be seen celebrating with the members of f(x) after they were announced as the winners and congratulated their juniors for the hard-earned victory. During the encore stage, f(x)'s Amber also pulled Seohyun to the front of stage and said, "It was Seohyun unnie's birthday! Wish her a happy birthday!"
Download Girls' Generation – TTS's performance of "Twinkle" and cut from "Music Bank" from Soshified's Video Downloads Section or check it out below.
Sources:
lokyan74@YouTube.com
,
KBSWorldTV@Ow.ly
Written by: bhost909@soshified
Edited by: michaelroni@soshified
Contributor: ch0sshi@soshified
Have a news item that you think Soshified should know about? Leave us a tip or e-mail us at tip@soshified.com.
Follow us on Twitter: http://twitter.com/soshified for the latest on Girls' Generation.