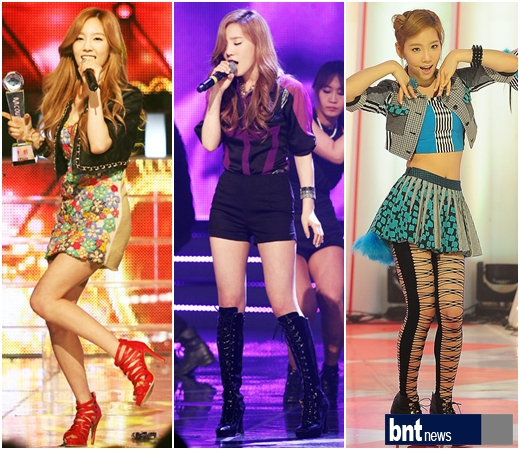 Taeyeon, who has been active in the sub-unit, garnered attention after revealing the secret behind her body.
During a recent recording of SBS E!TV's "TV Cultwo Show-Talking About With Stars", the MCs asked her how she maintains her figure. She surprised everyone by replying, "I eat ramyun late at night and don't sleep afterward."
This was not the only secret behind Taeyeon's slim body. It hasn't been revealed until now, but her black strap stockings give her the illusion of "chopstick legs".
She also showed off tall stilettos that made her legs look slimmer and longer. The flashy patterns and colors on her clothes also gave her a taller and skinnier appearance.
Taeyeon, Tiffany, and Seohyun were then asked about their rumored 900 calorie diet, which had become a popular online discussion topic. The girls answered coolly, "How could you survive off of a 900 calorie diet?"
Source: BNT News
Translated by: ch0sshi@soshified
Edited by: moonrise31@soshified, SeraphKY@soshified, letaengbutt@soshified
Have a news item that you think Soshified should know about? Leave us a tip or e-mail us at tip@soshified.com.
Follow us on Twitter: http://twitter.com/soshified for the latest on Girls' Generation.