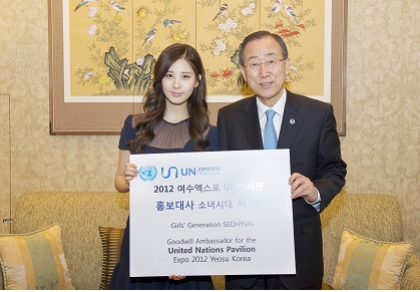 Girls' Generation member Seohyun has been appointed as the Goodwill Ambassador for the UN 2012 Yeosu Expo to be held on May 12th.
In late March of this year at a Seoul hotel, Seohyun attended an appointment ceremony where she was named Goodwill Ambassador by UN Secretary General Ban Ki-moon.
At the ceremony, Ban Ki-moon said that he hoped Seohyun's popularity and activeness as ambassador would help raise awareness about the marine environment amongst students and youth in particular.
When asked about her appointment, Seohyun stated, "I'm happy that I was able to be named Goodwill Ambassador by Secretary General Ban Ki-moon, who I have always looked up to. I will put forth my efforts as ambassador to spread knowledge of the marine environment."
The UN Secretary General stated, "In order to spread the importance of the marine environment to many people, we chose Girls' Generation's Seohyun, who is popular globally. Seohyun also identified with the UN's purpose of informing the world about the importance of the marine environment and accepted without hesitating."
Seohyun has expressed her admiration for Ban Ki-moon in the past. In an episode of "Strong Heart" in September of 2011, Seohyun said that during her debut days, she came across his book, "Study Like a Fool and Dream Like a Genius", and he has been her role model ever since. Seohyun also met the Secretary General before, before during an inauguration event for "Help Children in Africa", and gave him gifts including a personal letter, a Girls' Generation album, and vitamins, receiving his signature on a copy of his book in return.
Source: Asia Today
Translated by: ch0sshi@soshified
Edited by: bethlyhem.@soshified, MoonSoshi9@soshified
Contributor: bhost909@soshified
Have a news item that you think Soshified should know about? Leave us a tip or e-mail us at tip@soshified.com.
Follow us on Twitter: http://twitter.com/soshified for the latest on Girls' Generation.