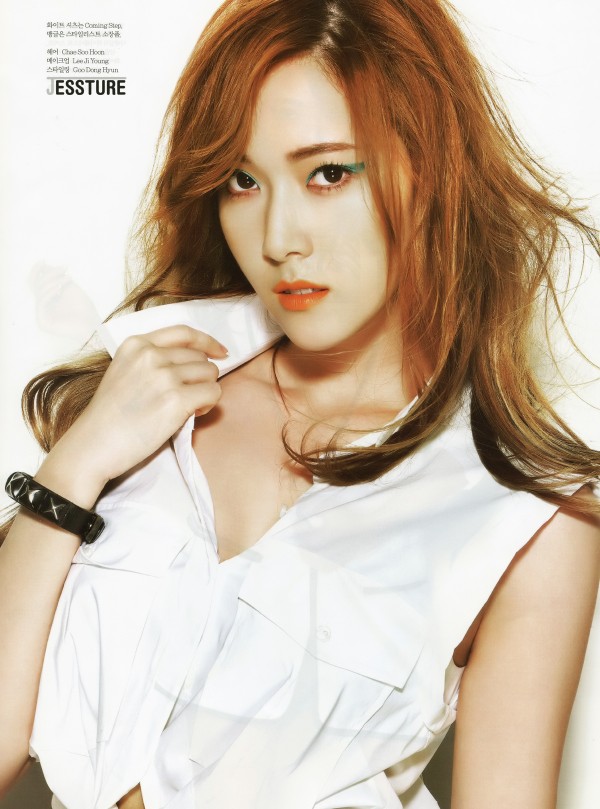 Jessica is featured in the June issue of "Elle Korea" Magazine. In her interview, she talks about her fashion style, her image, her experiences, and Girls' Generation's future plans.
I want to know what you did the past week.
This past week was a time for me to recharge. No, I actually didn't even get to rest that well. I went on several variety shows, and did various CFs and photo shoots. I've been working on Girls' Generation's upcoming Japanese album. I also went to Taiwan for a fashion event. Speaking of it now, it seems like I've become busy again. Still, this week was a time for me to rest. When I have free time, I don't go out a lot. I am most comfortable staying at home, and I enjoy being at home the most. I just watch old movies and bum around. Although it seems like I'm dawdling, there were actually a lot of things that I learned during that time.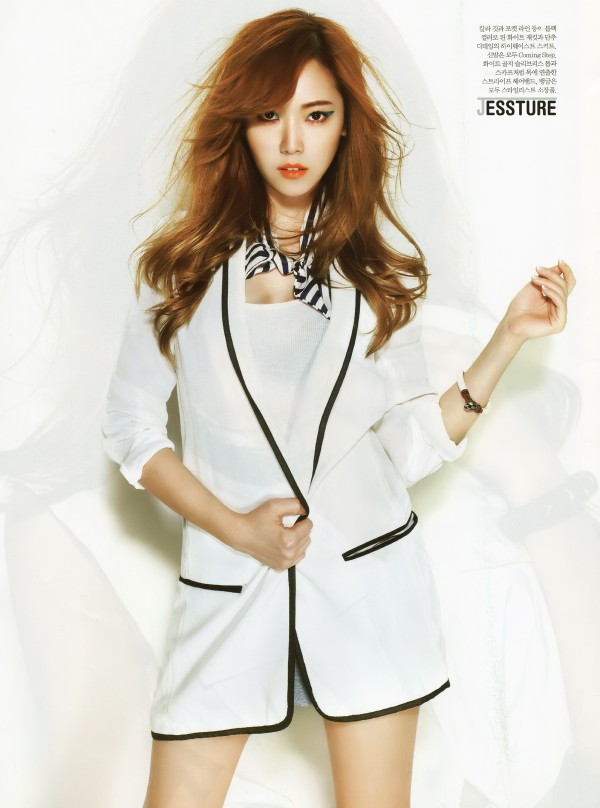 I watched you make your musical debut in 'Legally Blonde' as Elle Woods. I was a bit surprised when I saw how perfectly you played the role. You also made an attempt in acting through the drama 'Wild Romance'. Is there an area of work, other than singing, that you're interested in?
Singers of this generation are entertainers too. You can't just sing. I think of this as a chance, and I want to bring out my hidden potential. While I should give other areas a try, acting is appealing to me. Acting is a work that follows your heart. You have to create emotions that suit the character, and those feelings have to change with the flow of the story. I got to experience more than I originally expected. I want to learn acting and experience it some more.
You said that you want to play the role of a player that isn't hated. Do you have a good idea for that character?
I don't think it's a job that I can do alone. It might be possible with the help of a writer or director. How would it be like, cheating in a cheerful, cute, and loveable manner? Haha, I don't even know if it makes sense but I can imagine it as a successful character.
Guys talk about Jessica's cold charm. They say they like it because they think you're the scary type.
In one word, "Euing?" I'm not a scary girl, but it isn't bad hearing that. I hear that I have a cold image and that I seem arrogant, so it must be because of the way I look. Of course, I believe that is only one image amongst all the other images that I have. I am usually shy around strangers. My image is more comfortable with people that I'm close with. The nicknames that my friends call me are the total opposite. They call me "heodang" and "jinguk" (someone who doesn't lie).
So that's the twist in Jessica's beauty.
I don't know about anything else, but I'm the type who tries to go on for a long time when dating someone. The fact that someone is 'my person' is important to me. Park Minyoung unnie, who I can tell anything to, is a person that I have been friends with since before my debut. Rather than knowing a lot of people, I find that knowing more about a person is more important.
You're maturing from a girl to a woman, but I heard you haven't been on a blind date.
That's right. I don't know what people do when they meet on a blind date, but I think I'd prefer an ordinary date. Eating ddukbokki on the street, and going to an amusement park. I ride scary rides well! But what if the person I'm meeting is afraid of them? Darn, the date could be ruined then.
A new transformation was shown through your new album, "The Boys". I think the past five years was a time when you grew from a girl to a woman.
It's going to be five years since we've debuted already. Time really flies. I always did think a lot but I think nowadays I'm doing it a lot more. I'm trying to become a little more cautious. I think I've become more understanding of people around me compared to before. I try to understand others people's tendencies and relationships. I've been able to laugh off a lot of things between myself and others, but it's still difficult trying to look at things from their perspectives.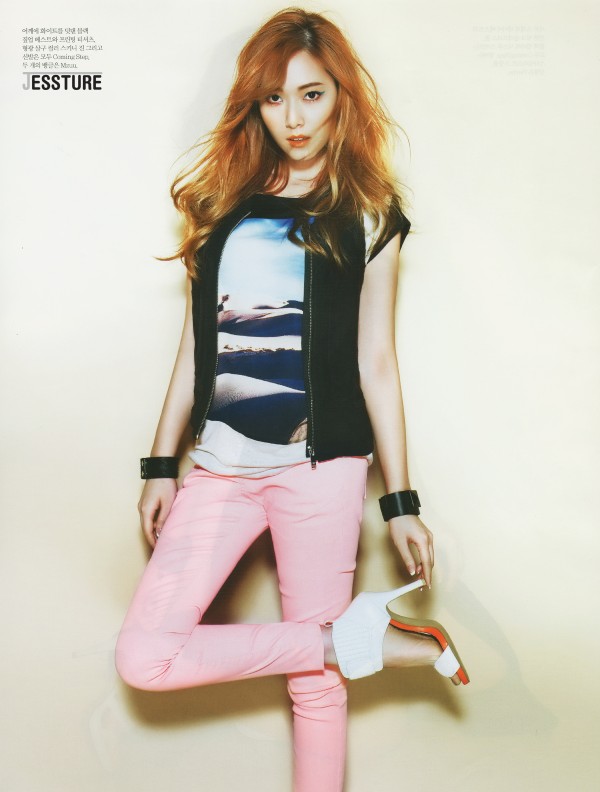 You're the game ender in plain-clothes fashion. Is there a secret behind your styling?
I think people have liked my style because I wear things that other people can copy, rather than dressing up. I personally don't like styles that stand out. If you open my closet at home, my clothes are mostly plain. There are a lot of simple clothing like oxfords, jeans, t-shirts, and cardigans. Since they're all similar styles, it's easy to mix and match, as well as layer them. You can take one piece and make numerous outfits. No matter how flashy the design of an outfit is, as long as it's uncomfortable, I won't think of it as good clothing. It will be uncomfortable not only for the person wearing it, but for others seeing it as well.
Then can you suggest a fashion that would be fitting for a summer vacation spot?
I want to go to Santorini, Greece. I think it's a place that really suits summer. Have you seen the movie "Mamma Mia"? There's a scene where Amanda Seyfreid, who plays Meryl Streep's daughter, wears a white one piece with her blonde hair swaying. While the trend has passed already, I want to go around there wearing a white eyelet dress that I personally like. I think the babydoll style, taken from Dolce & Gabbana's collection, would also suit that scenery.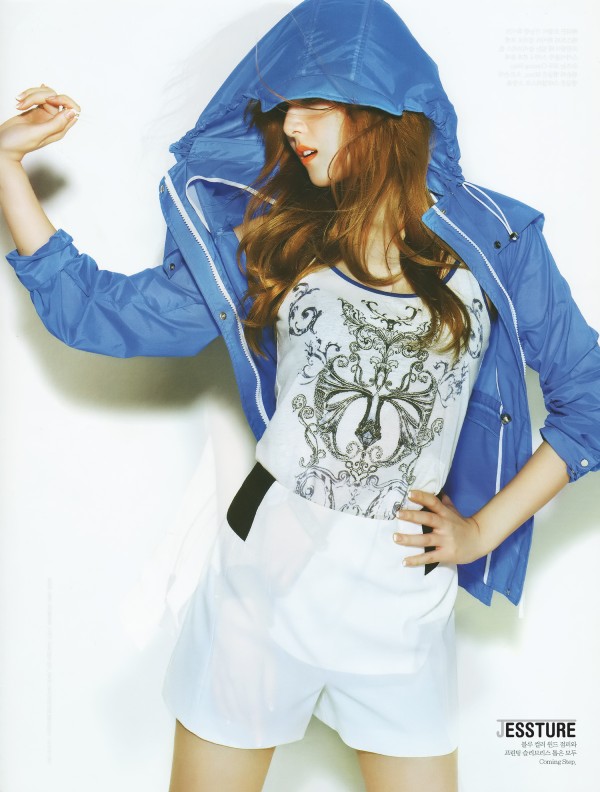 Is there a special vacation you remember?
New York. I visited there around this time last year. I met some friends in New York, had brunch with them, and went shopping while having chocolate-covered strawberries. I thought to myself, "This is what a vacation is for me". I think I'm a natural-born "city girl", seeing as I enjoy simple things like these over luxurious vacation spots in Southeast Asia.
Is there a side of Jessica "only Jessica knows" that you're sad about people not noticing?
I don't want to tell you. I have to be the only one who knows for it to be a secret.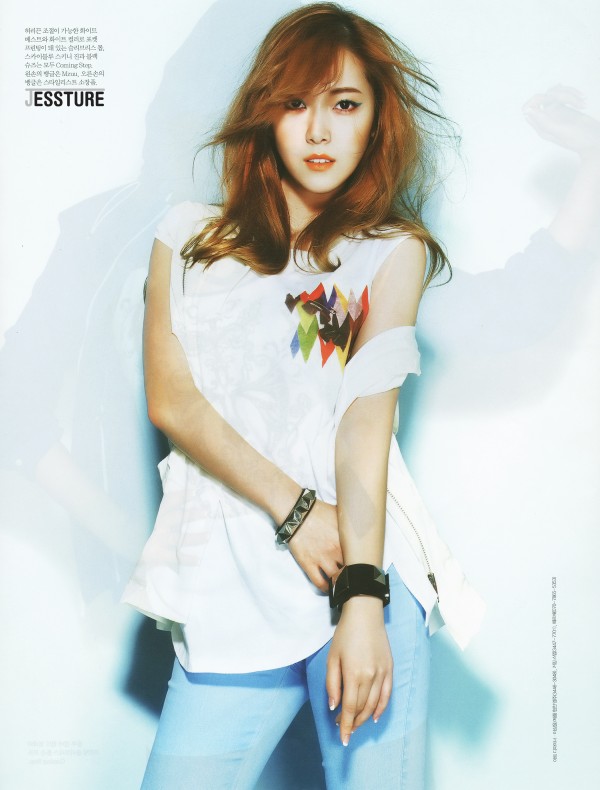 The biggest worry for girls in the summer is dieting. Is there any advice you can give?
A personal trainer comes to my house. I don't exercise consistently every day, only when I want for as long as I want. Because this is someone whom I've worked with for a long time, the trainer knows my condition the best, and teaches me exercises that I should be able to do well. There isn't any other treatment I receive. When I don't have to go on television, I eat whatever I want. I don't think diets should be done under stress.
What are your future schedules?
Starting in June, I think there will be more Girls' Generation schedules as opposed to individual ones. Our Japanese album will be released sometime in the second half of the year. We're working hard on it. Other than that, I think we will be able to make various appearances in other countries.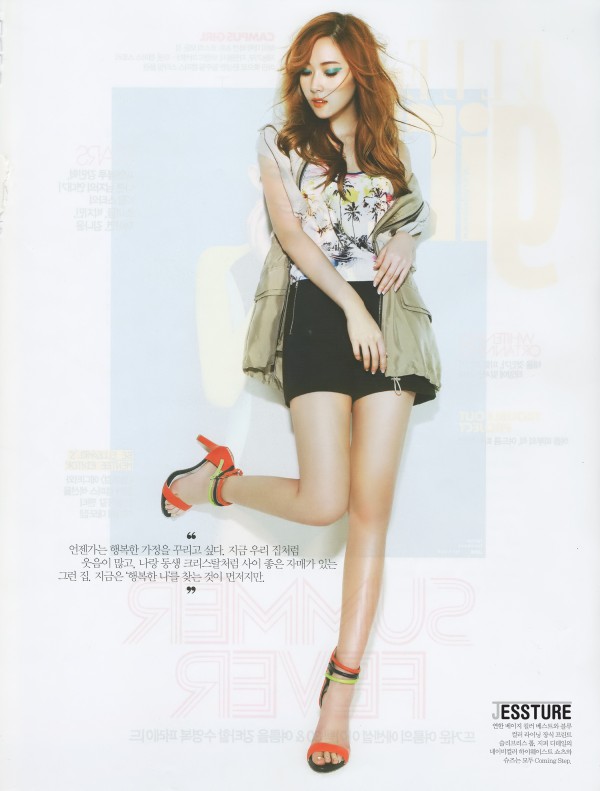 What is the picture of the future that you dream of?
I want to have a happy family sometime, with lots of laughter like my family now, and with sisters that have a good relationship with each other like myself and Krystal. But finding a "happy me" comes first for now. I'm the type that gains happiness from little things. For example, I'm the type that feels like she's got the whole world in her grasp just by eating something good. Having a greater happiness after finding smaller ones; that's my goal in life.
What would you do if you were given a day when you could do anything?
A day is too short. Can't you give me more time? I would just stay at home. You said I can use supernatural powers too, right? Then because time is short, I think teleportation would be good. I want to go to New York again, meet the same friends, and spend a fun day with them like I did before. While it is unfortunate, I would have to come back home before the day ends. Before my powers disappear.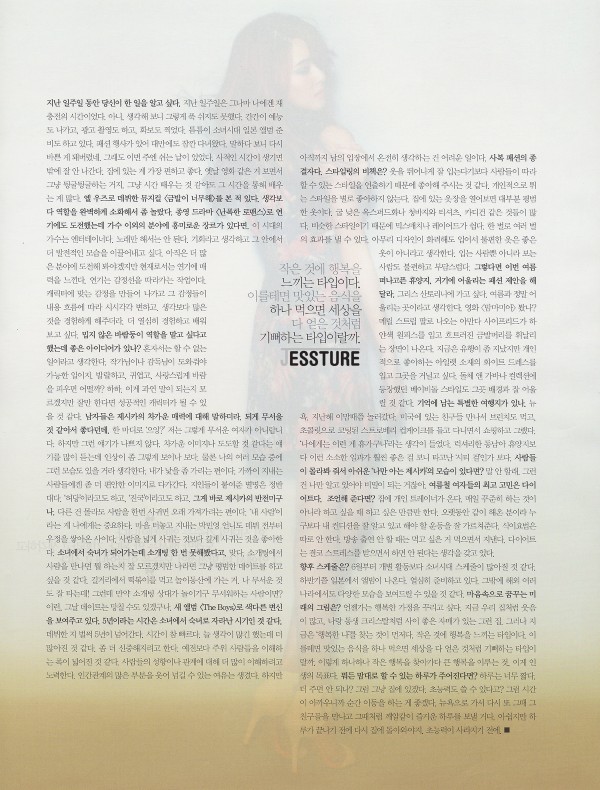 Source: soshibrows@twitter.com, Elle Korea
Translated by: ch0sshi@soshified
Edited by: Best Served Soup@soshified, letaengbutt@soshified
Have a news item that you think Soshified should know about? Leave us a tip or e-mail us at tip@soshified.com.
Follow us on Twitter: http://twitter.com/soshified for the latest on Girls' Generation.