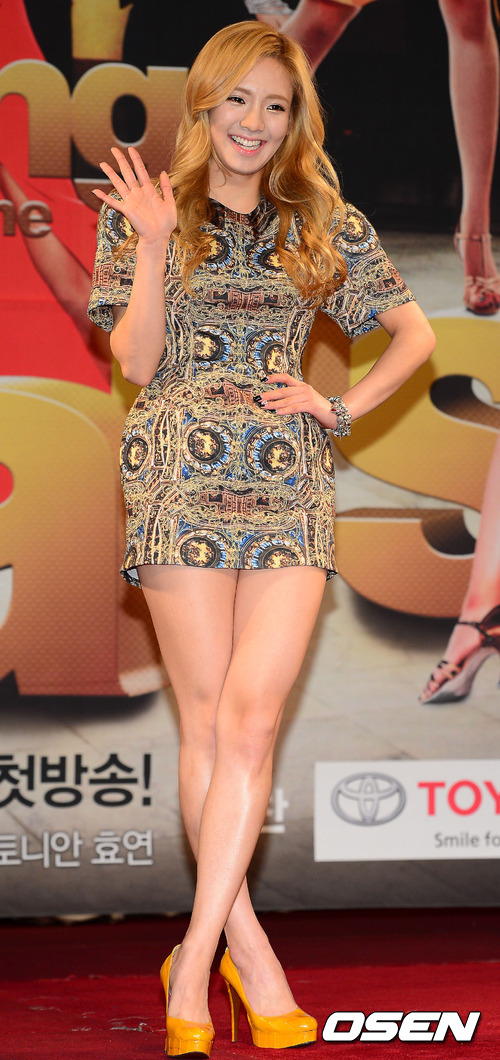 As Girls' Generation's Hyoyeon continues to improve each and every week on "Dancing with the Stars II", viewers and the staff of the show have taken notice of her hard-working attitude and determined mindset. After only placing sixth with their very first performance on the reality dancing competition, Hyoyeon and her partner, Kim Hyungsuk, have since worked their way to the top and even won
first place
on the show's third episode.
Hyoyeon has now become known as a "practice bug" for her constant practice in preparation for her performances. The reason why Hyoyeon's challenge on "Dancing With the Stars II" is so moving is because the way she takes on the program is like no other. Of course, the other contestants' effort at attempting sports-dancing on "Dancing With the Stars" always garners attention, but because she is an idol, Hyoyeon is watched with colder eyes and is more strictly judged.
Nonetheless, Hyoyeon has risen to the challenge and thrived, displaying both her dancing talents and charms while impressing the show's staff with her work ethic. In an interview with Osen, the producer of "Dancing with the Stars II" revealed, "Hyoyeon is a person who changed my perception of idols. She's working hard despite her ridiculous schedule. It made me think, 'They are Girls' Generation because they work so hard.' (Translator's note: the producer is saying that Hyoyeon lives up to Girls' Generation's reputation for always working hard.) Not only is she good at dancing, but she really is respectful to her seniors and livens up the atmosphere on the set."
"Dancing with the Stars II" has provided Hyoyeon with the opportunity to show off her charms and hidden talents. With her hard work and a little luck, she will hopefully continue to impress for months to come.
Source: Osen
Written by: bhost909@soshified
Contributor: ch0sshi@soshified
Edited by: MoonSoshi9@soshified
Have a news item that you think Soshified should know about? Leave us a tip or e-mail us at tip@soshified.com.
Follow us on Twitter: http://twitter.com/soshified for the latest on Girls' Generation.