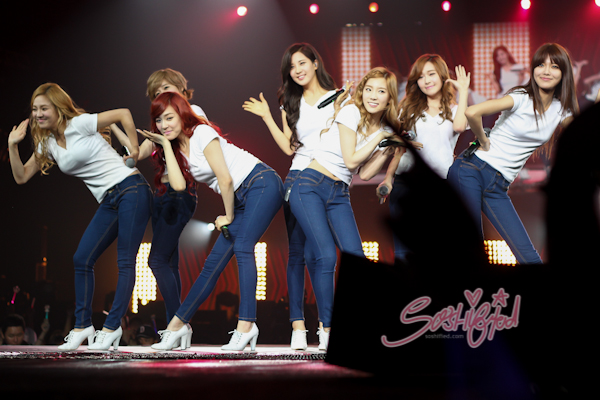 Girls' Generation performing "Gee".
This past May 20th, 2012, Girls' Generation joined their fellow SM Entertainment artists at the Honda Center in Anaheim, California for "SMTOWN Live World Tour III". The concert itself was branded as part of MBC's "Korean Music Wave LA" series, which led to the following day's "Korean Music Wave in Google". For Anaheim's "SMTOWN Live World Tour III" Taeyeon, Tiffany, and Leeteuk from Super Junior served as MCs, while Taeyeon and Tiffany emceed "Korean Music Wave in Google". "SMTOWN Live World Tour III" featured Girls' Generation alongside Super Junior, SHINee, f(x), BoA, TVXQ, EXO-K, and EXO-M. Unfortunately, both Yuri and Yoona were unable to attend both concerts because of filming responsibilities for their respective dramas.
Before the concert, the girls arrived in California in two separate groups. Jessica, Sunny, and Sooyoung arrived first on Friday, May 18th, followed by Taeyeon, Tiffany, Hyoyeon, and Seohyun on Saturday, May 19th. Large groups of fans greeted the girls at Los Angeles International Airport on both days. Soshified members who were at the airport proudly held up a Soshified banner to display their support for the girls. The Soshified banner also made an appearance on concert day when Soshified staff members and volunteers handed out the foam heart, t-shirt, and lightstick bundles.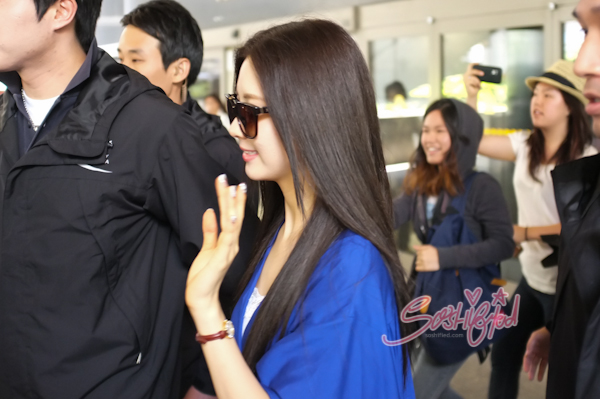 Seohyun arriving at Los Angeles International Airport.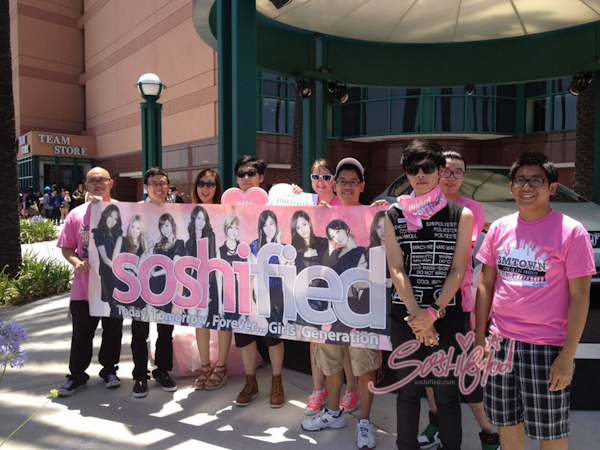 Soshified banner outside of the Honda Center.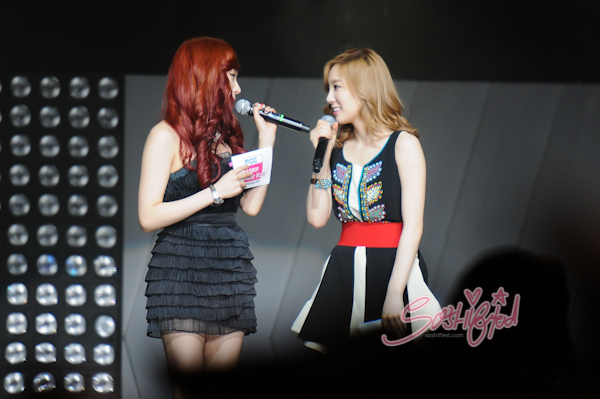 MCs Taeyeon and Tiffany.
Soshified also had the privilege of attending the pre-concert press conference. Jessica and Sooyoung represented Girls' Generation at the press conference, and when asked about the support they've received during their American promotions, Sooyoung answered in English that they were very happy to perform in America. Also, Jessica was asked about any plans for a Girls' Generation solo concert tour in America and about her recent appearance on ESPN. Jessica said the girls were focused on the SMTOWN concert and they weren't thinking about any sort of solo tour just yet, that she had fun throwing out the first pitch at a baseball game, and that she hoped her fans were not disappointed. The press conference video can be seen below.
On concert day, Taeyeon started Girls' Generation's set off with a bang, as she took center stage alone to sing "Devil's Cry". Afterwards, she was joined by her fellow members to perform "Run Devil Run". Once "Run Devil Run" was finished, the girls stopped to do a brief introduction and greet the crowd. Before the concert began, Soshified members walked through every floor section and handed out printed flyers which read "Happy Birthday 써니 and 윤아" to celebrate Sunny and Yoona's birthdays, which are both in May. Everyone in attendance, SONEs and fans of the other SM groups alike, was very eager and happy to help, and once Girls' Generation began their introduction, the birthday flyers were held up for girls to see. The flyers worked perfectly, as Sunny flashed a huge smile and thanked the crowd for the birthday message. Tiffany also brought up the fact that Yuri and Yoona were unable to attend, and said that the other members felt nervous because they weren't performing with all nine members. She then asked the audience to cheer even louder in order to make up for Yuri and Yoona's absence. After the girls completed their introduction, they performed the concert remix version of "Genie", which featured Tiffany's fierce rap break. The girls then ended their first appearance on stage with a performance of "Kissing You", during which they all split up and walked around all the different areas of the stage in order to greet all of the fans.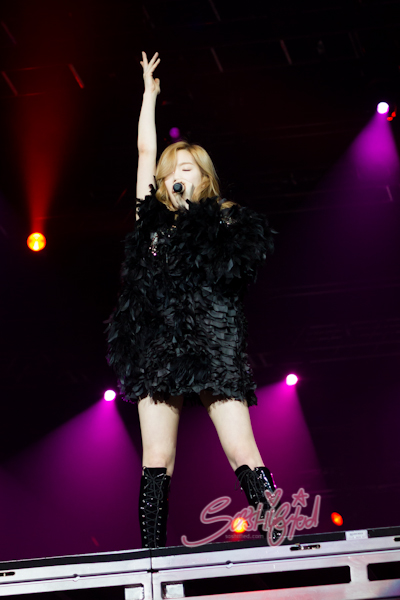 Taeyeon performing "Devil's Cry".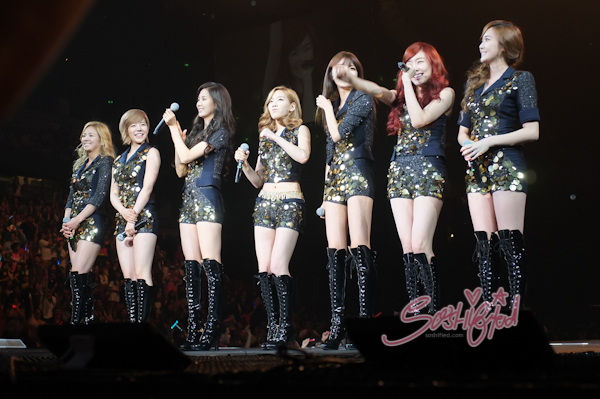 Girls' Generation doing their introduction.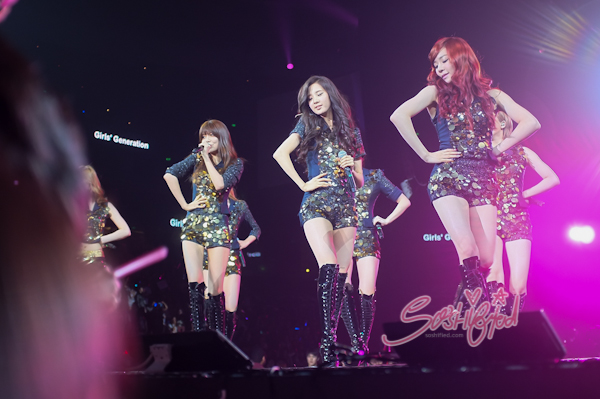 Girls' Generation performing "Genie".
Later, Jessica continued the tradition from previous SMTOWN concerts as she performed a duet with her sister Krystal of f(x). In previous SMTOWN concerts, the Jung sisters performed "Tik Tok" by Ke$ha, but for this newest concert series they covered another hit pop song with Katy Perry's "California Gurls". The next Girls' Generation performance was one that the crowd had been highly anticipating, as Taeyeon, Tiffany, and Seohyun took the stage to sing "Twinkle". After several songs by Super Junior, TVXQ, and BoA, Girls' Generation returned to the stage to energize the crowd with "Himnae!" and "Gee". The girls performed both of those songs in the now familiar white T-shirt and jeans ensemble. The last time that the girls had the spotlight to themselves was for their performance of "The Boys". They returned at the end to join their fellow SM artists in order to say goodbye to all the fans in attendance.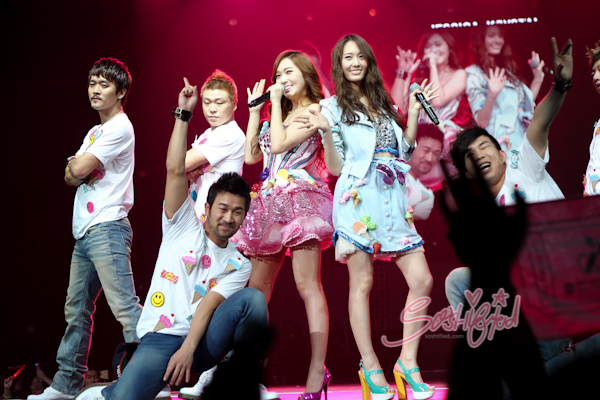 Jessica and f(x)'s Krystal singing Katy Perry's "California Gurls".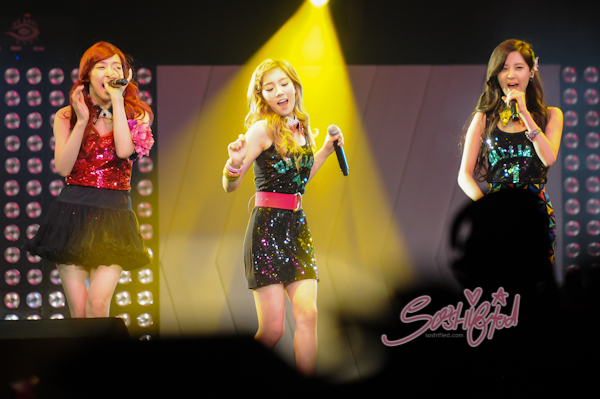 Taeyeon, Tiffany, and Seohyun performing "Twinkle".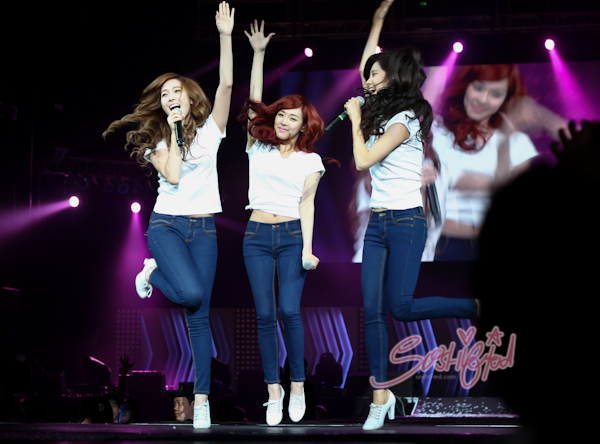 Jessica, Tiffany, and Seohyun having a playful moment during "Himnae!"
While SONEs were disappointed that Yuri and Yoona were unable to attend, there was still a strong feeling of excitement and pride. The girls continued to exhibit their strong presence in the United States, as the "GG" fanchants for "The Boys" roared throughout the Honda Center and again the following day at the Shoreline Ampitheatre. Fans were proud of Taeyeon and Tiffany for their roles as MCs for Anaheim's "SMTOWN Live World Tour III" and "Korean Music Wave in Google", as well as all of the girls for their strong performances. Ultimately, it was a wild and memorable weekend in California filled with emotions for Girls' Generation and their fans.
Written by: michaelroni@soshified
Contributors: bhost909@soshified, SNSDave@soshified, MoonSoshi9@soshified
Images by: michaelroni@soshified, MoonSoshi9@soshified, KuruCy@soshified, RageX@soshified
Video source: SoshifiedPD@YouTube.com
Have a news item that you think Soshified should know about? Leave us a tip or e-mail us at tip@soshified.com.
Follow us on Twitter: http://twitter.com/soshified for the latest on Girls' Generation.