Hello everyone, and welcome to the May edition of Fantastic Forum Features. Did everyone celebrate Sunny's birthday? Don't rest yet though, because we still have to celebrate Yoona's birthday at the end of the month. Let's get started, shall we?
First up let's talk about our energy pill, Sunny. She's a wonderful person that can do just about anything. I'm sure many of you have read about all that in residentbenchwarmer's birthday dedication. If you haven't, then go check it out right now.
Not to get sappy on everyone, but Sunny got me into this fandom, and the reason I came to like her so much is because of one thread. Inside this thread was a lot of talk about Sunny's phobia, which is a fear of sudden loud noises. It also shows how she kept performing through the loud fireworks that were going off in front of her, even though she was visibly scared of them. You can find the thread here, and I'm sure you'll come to like Sunny even more after reading it.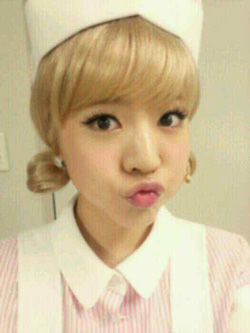 A cute selca of Sunny in her "Brenda" outfit for the musical "Catch Me If You Can".
Also, did everyone know that Sunny is a ninja? There's proof. If you'll head over to this thread here, you'll be treated to a couple gifs of Sunny being a smooth criminal, minus the criminal part, unless it can be considered criminal to be so amazing, which I think it should be. On top of being amazing, there is also the cute factor, which you can see in her "tongue-in-cheek" thread, or the thread that has accumulated many of her selcas.
Also celebrating her birthday this month is Yoona, which will be on the 30th. This is aother person guilty of being cute, and the proof can be found in this thread of selcas, and a more recent one from the "Translated Goodies Section". If those two weren't enough, then I guarantee the next one will make you all melt, so check out the "Pikachu Pajama" thread here.
As for interesting threads in Yoona's sub-forum, check out this compilation thread of translated UFO replies. They're a pretty fun read. Now, if you're up for a short challenge, then head over to the "Yoona Quiz" thread, and see how many questions you can answer. Unfortunately, I only got 5 correct. See how many you get and let me know.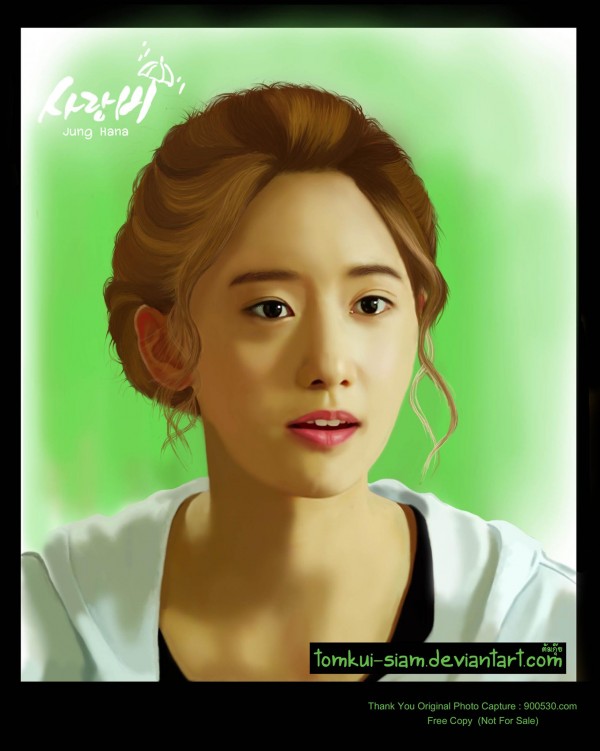 A sample of the art you can find in the "Artwork" sub-forum. Credits to Tomkui_Siam@soshified
Next up is a section for the artists of Soshified. In the "Perfect for You" fan area, you can find a sub-forum titled "Artwork". It's a place for people to learn new styles and show off their skills. But, even if you aren't a talented artist (like me), you might be able to find that perfect icon that you were looking for, or even a new background for your computer. So be sure to check it out when time permits. Also, there is a thread designed for little competitions called "battle threads", where members can face-off against each other in a friendly head-to-head competition. There are already a few competitions going on, and members can vote on which participant's work they liked better. Also, don't forget to leave comments in the threads. I'm sure they'd like some feedback.
In the same area as the "Artwork" sub-forum, you'll see the "Other Talents" sub-forum, a place where you'll find an amazing variety of threads with SONEs showing off their skills and trying to help others improve. For those who can play the guitar, head over to the "SNSD Guitar Tabs" thread, and check out the selection of tabs available. If you're only learning how to play the guitar, you don't have to worry about not being able to try it out, because inside the thread there's a quick tutorial on how to read guitar tabs. If you were looking for music outside of guitar tabs, then check out the "Soshi Sheet Music" thread, and see if you might find what you're looking for there. Don't forget to check out the rest of the threads too, as SONEs around the world express their love for SoShi by covering their songs through singing and dancing.
That's it for this month. Have fun at SMTown, and stay safe. See you all again soon.
Banner by: amipi@soshified
Source: Tomkui_Siam@soshified
Written by: SeraphKY@soshified
Edited by: residentbenchwarmer@soshified
Have a news item that you think Soshified should know about? Leave us a tip or e-mail us at tip@soshified.com.
Follow us on Twitter: http://twitter.com/soshified for the latest on Girls' Generation.