Videos
"The Boys" Featured on "Australia's Got Talent"
A contestant spun his way into the next round of "Australia's Got Talent" with a display of yoyo tricks, choreographed to a remixed version of the Girls' Generation hit, "The Boys". Though a judge voted against him, another dubbed his performance as "creative", and he remained in the competition.
SM Entertainment Artists Interviewed for "Dear My Family" Recording
SM Entertainment has released a video featuring the artists who recorded the "I AM" OST song, "Dear My Family". The artists introduced the song as one from the SMTown album that everyone in the SMTown family sings.
Behind-the-Scenes Footage of Kiss Scene in Love Rain Released
The producers of "Love Rain" have released behind-the-scenes footage of Yoona's recent kiss scene with Jang Geunsuk. Though the scene was beautifully filmed in front of a fountain with lights, fans are hoping that the scene took only a few tries to successfully film.
Sooyoung Attends "Tommy Ton for Club Monaco" Launch Party
Club Monaco uploaded a video onto their YouTube channel on April 24th featuring their launch party for the "Tommy Ton for Club Monaco" backpack in South Korea. Sooyoung was one of the many guests that had attended the launch party and showed a couple of cute gestures for the camera during her time there.
Endorsements
Chinese Version of Mamonde CF Featuring Yuri Released
An advertisement featuring Girls' Generation's Yuri for Mamonde BB (Blemish Balm) targeting the Chinese market has been released. The advertisement features a narrator extolling the virtues of the product with close-up shots of Yuri and ends with Yuri saying in Chinese "The cosmetic product that lets your skin breathe."
Ace Bed Opens Website for "Have a Good Jam" Campaign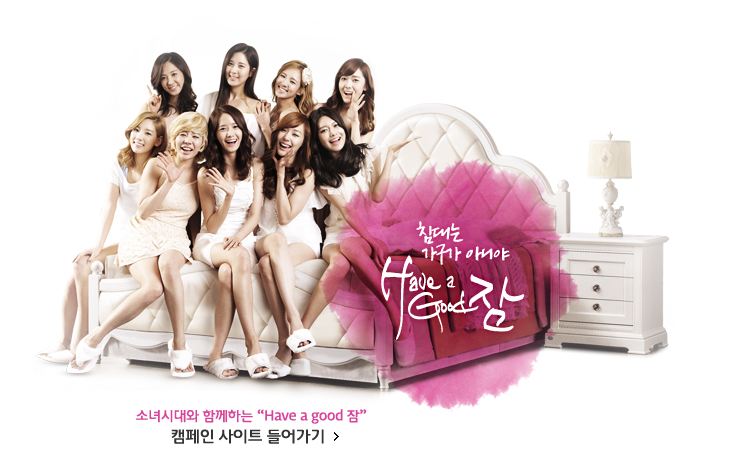 Ace Bed has opened a new website for Girls' Generation's "Have a good jam" campaign. (Editor's note: "jam" means "sleep" in Korean). The website features images of Girls' Generation with speech bubbles containing phrases advertising "Ace Bed"'s line of a Mattress Online.
Others
Yuri Featured in May Edition of "WOMAN CHOSUN"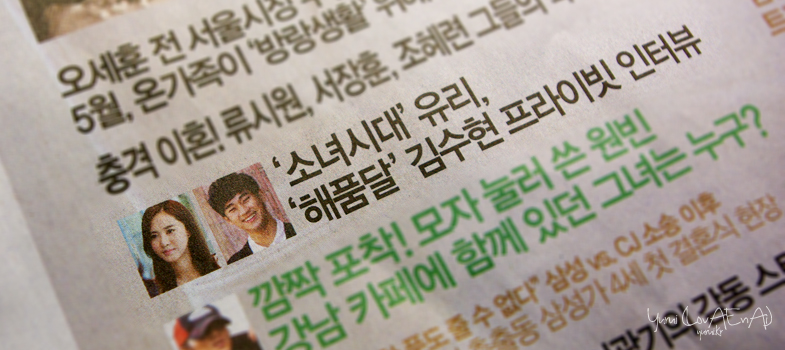 An interview with Yuri has been featured in the May issue of "WOMAN CHOSUN". The feature also includes several photos of Yuri filming on the set of "Fashion King". You can check out snapshots of "WOMAN CHOSUN" here.
Jessica's Doll-Like Beauty Recognized Overseas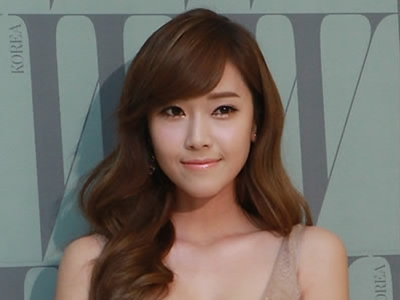 A famous international website, Oddee.com, has included Jessica in their list of "10 Unbelievable Girls Who Look Like Dolls". Oddee.com said, "Girls' Generation's Jessica has impressed us once again with her doll-like beauty. Her shoulder-length hair and perfect profile made her receive praises for being beautiful as a doll." Jessica's recent photoshoot in @star1 Magazine, where she impressed with her cute and elegant looks, showed that she was truly a doll-like beauty. The other girls chosen on the list included Dakota Rose, Venus Angelic of London, and Lily Cole, a British actress and supermodel.
Tiffany and Seohyun to Appear on MBC's "Talk Concert"
Tiffany and Seohyun will make a guest appearance on the May 3rd broadcast of MBC's "Talk Concert". Other idols from SM Entertainment will also be featured in the show, including TVXQ's Yunho and Changmin and Super Junior's Leeteuk and Eunhyuk. You can check out a preview for the show here.
Girls' Generation – TTS Reported on in Japanese Newspaper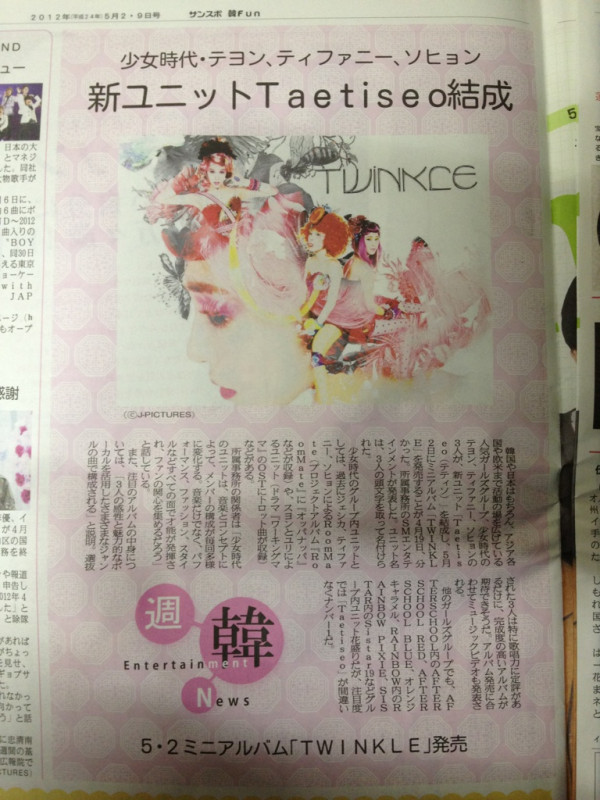 Girls' Generation – TTS has been reported on in a Japanese newspaper. Fans all over the world showed their excitement for the release of the "Twinkle" mini-album, which reached
high positions on charts
around the world. In particular, "Twinkle" reached first place on the Japan iTunes chart.
Taeyeon Featured on the Front Page of "Life" Section in "The Straits Times"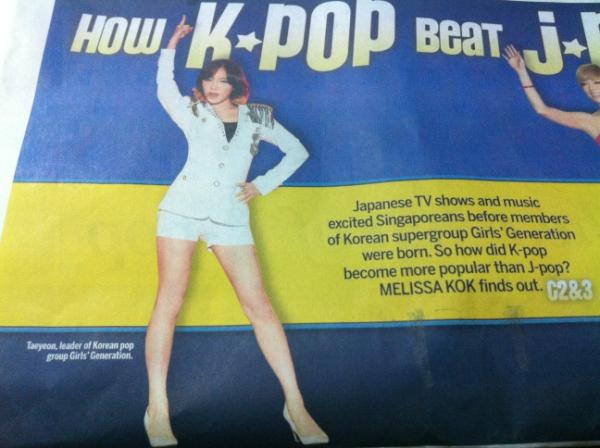 Taeyeon has been featured on the front page of the "Life" section in Singaporean newspaper "The Straits Times" in a feature called "How K-Pop Beat J-Pop". Girls' Generation was mentioned several times in the article, which also used a photo of a performance of "The Boys".
JCE Releases "VIVA Update" for "Freestyle Football" Featuring Sooyoung as a Special Character

JCE has recently released a "VIVA Update" for the game "Freestyle Football", along with other updates such as "Season Mission System" and an increase in number of items and trophies. Also mentioned were Sooyoung's character strengths within the game.
SM Entertainment Launches New Official Website for Girls' Generation – TTS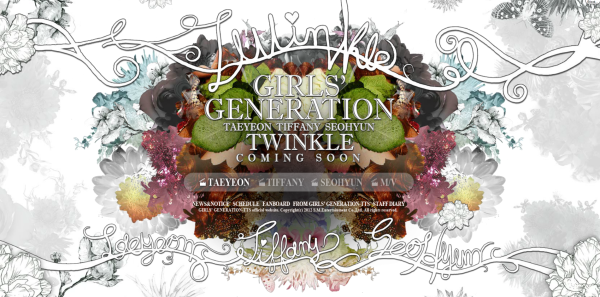 SM Entertainment has recently set up a new official website for the subunit group Girls' Generation – TTS. The website links to the "Twinkle" teasers of Taeyeon, Tiffany and Seohyun and comes equipped with sections for the group's news, schedules, fanboard, and personal messages. You can visit the website here.
Girls' Generation – TTS to Make Appearance on Super Junior's "Kiss the Radio" and Boom's "Young Street Radio"

As part of their promotions for their latest mini-album, "Twinkle", Girls' Generation – TTS will be making a guest appearance on SBS's Power FM's "Boom's Young Street Radio", as well as on KBS's "Super Junior's Kiss the Radio", hosted by their labelmates Sungmin and Ryeowook from Super Junior. They will appear on "Boom's Young Street Radio" on Friday, May 4th, at 8:00 PM KST and on "Super Junior's Kiss the Radio" the same day at 10:00 PM KST.

 IGN Editor Promotes Girls' Generation – TTS
IGN editor Ryan Clements caught the attention of Girls' Generation fans on Sunday by inserting a news flash on IGN.com and calling the attention of site visitors to the new Girls' Generation subunit album. IGN is one of the largest gaming websites in the world. He then later jokingly said in a
tweet
, "Let's see how long until the bosses notice…"
Taeyeon's "Missing You Like Crazy" wins MelOn's Chart Battle
Taeyeon's OST for "The King2Hearts" recently won song of the week on the prominent Korean music site MelOn. "Missing You Like Crazy" was up against the likes of popular songs such as "Volume Up" by 4minute and "Alone" by SISTAR, but won with 18.86% of the overall votes submitted over a five-day period.
Hyoyeon Attends "Dancing with the Stars Season 2" Press Conference
On April 30th, Hyoyeon attended a press conference for "Dancing with the Stars Season 2", appearing with the rest of the show's cast. She looked stunning in a short dress that showed off her toned and slim legs. You can check out more photos from the press conference in Soshified's Photos Section.
 Photos
Taeyeon and Tiffany Promote "Twinkle" on Facebook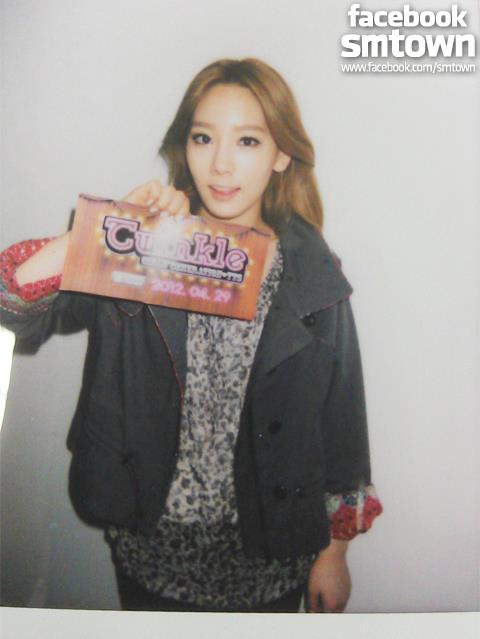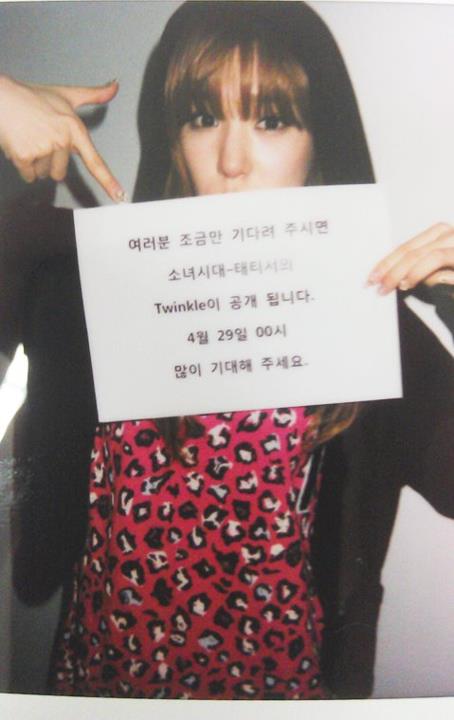 A picture was uploaded to MelOn's official Facebook page showing Tiffany holding up a piece of paper which promotes her subunit's upcoming song "Twinkle". The paper reads, "If you wait a little bit longer, Girls' Generation – TTS's 'Twinkle' will be released. Please look forward to April 29th at 0:00 KST." A photo of Taeyeon holding a paper saying "Twinkle" was also released on SMTown's Facebook page.
Krystal Posts a Photo on Her me2day of Herself with Jessica
Krystal of f(x), Jessica's sister, recently posted a photo on her me2day account of herself and Jessica. The two looked adorable in their matching clothing. Check out Krystal's translated message in Soshified's Translated Goodies Section.
New Sets of Pictures
@star1 Magazine – Jessica1, Jessica2
Fashion King by SMTown Facebook – Yuri1, Yuri2, Yuri3, Yuri4
I AM – Jessica, Sooyoung, Group1, Group2, Group3, Group4, Group5, Group6, Group7, Group8, Group9, Group10, Group11, Group12, Group13
Lotte Department Store – Group1, Group2
Look – Taeyeon, Jessica, Sunny, Tiffany, Hyoyeon, Yuri, Sooyoung, Yoona, Seohyun
Love Rain – Yoona1, Yoona2, Yoona3, Yoona4, Yoona5, Yoona6, Yoona7, Yoona8, Yoona9, Yoona10, Yoona11, Yoona12, Yoona13, Yoona14, Yoona15, Yoona16, Yoona17, Yoona18, Yoona19, Yoona20, Yoona21, Yoona22, Yoona23, Yoona24, Yoona25
Love Rain by KBS Facebook – Yoona1, Yoona2, Yoona3, Yoona4, Yoona5, Yoona6, Yoona7, Yoona8
Yakult Filming – Jessica1, Jessica2, Sunny1, Sunny2, Yoona, Seohyun, Group1, Group2, Group3, Group4
Yakult Flyer- Taeyeon, Jessica, Sunny, Tiffany, Hyoyeon, Yuri, Sooyoung, Yoona, Seohyun

SONE Picture/Video of the Week
The members of Girls' Generation are known as much for their sense of humor as for their singing and their looks. This video combines some of the funniest Girls' Generation moments into one video that is sure to make your sides hurt and your day a little brighter.
If you have any pictures or videos you'd like to submit for SONE Picture/Video of the Week, please feel free to do so by sending them to the Soshified Writing Team at tip@soshified.com or posting at the official SONE Picture/Video of the Week thread
Sources: Girls' Generation Facebook, Yurui, Yurui, Yurui912@twitter.com, KBS1, KBS2, KBS3, KBS Facebook, Oddee.com, J1MZO@youtube.com, berbba@twitter.com, dcinside, Love Rain Board, themrqstar@twitter.com1, themrqstar@twitter.com2, themrqstar@twitter.com3, themrqstar4@twitter.com, minjoo@twitter.com, LoveRainTV@youtube.com, danielhenney@twitter.com, etoday, Girls' Generation – TTS Website, MelOn Facebook, clubmonaco@youtube.com, Yakultsweety@twitter.com, whimtwit@twitter.com, SBS, SBS2, ItsAllAboutYul5@youtube.com, KBS, PwamCider@twitter.com, Krystal's me2day, IAM201205@youtube.com, Have a Good Jam Campaign, MelOn, SMTown Facebook, tuckkiez@youtube.com
Written by: bhost909@soshified, Litney@soshified, nicholys@soshified, LetsGo@soshified, Best Served Soup@soshified, bethlyhem.@soshified
Contributors: jyhwang@soshified, minigiglo@soshified
Edited by: MoonSoshi9@soshified
Have a news item that you think Soshified should know about? Leave us a tip or e-mail us at tip@soshified.com. Follow us on Twitter: http://twitter.com/soshified for the latest on Girls' Generation.