Videos
"Fashion King" Releases a Behind-the-Scenes Clip of Yuri in New York
The producers of "Fashion King" have released a behind-the-scenes clip featuring Yuri and Lee Jehoon filming a scene at a New York cafe. This scene took place in the third episode of "Fashion King", which can be downloaded
here
.
"Love Rain" Releases a Second Behind-the-Scenes Clip of an Advertisement Recording
KBS has released a short video showing the filming of an advertisement for "Love Rain". Yoona and co-star Jang Geunsuk can be seen laughing and enjoying themselves as they pose for the advertisement. Do you recognize the background music for the video?
Endorsements
Eider Airs a New CF Featuring Yoona and Releases a Video from Behind the Scenes

Eider has aired a new CF featuring Yoona and popular actor Lee Minho. As usual, the CF is very dramatic, and shows both Yoona and Lee Minho standing on top of a mountain while wearing wind-proof items from Eider's popular outerwear brand. Eider has also released a clip from behind the scenes of the commercial filming.
SBS Reveals Footage of a Media Session for "Fashion King"
"Fashion King" has revealed footage from an open media session. Yuri, Yoo Ah-in, Shin Sekyung, and Lee Jehoon can be seen posing for pictures, working with the director, reading the script, and enjoying themselves as the reporters take photo after photo.
Others
Girls' Generation Offered Shares in SM Entertainment
SM Entertainment is currently offering company stock to each of its stars, including Girls' Generation, at a 10% discount, bringing the price to 44,550 won for one share. The members of Girls' Generation are being offered 680 shares each. To become stockholders, they must purchase the shares before April 3rd. Through this method, SM Entertainment artists are being given an opportunity to be more involved in the business of the company.
J'Kyun Releases a Song Called "Fantastic Soonkyu"
Hiphop singer J'Kyun released a song called "Fantastic Soonkyu" through his official Facebook page. He changed the lyrics of Big Bang's "Fantastic Baby", and uses witty words such as "the Venus of Girls' Generation" to describe Sunny.
Fans Donate Rice in Honor of Sunny's Musical Debut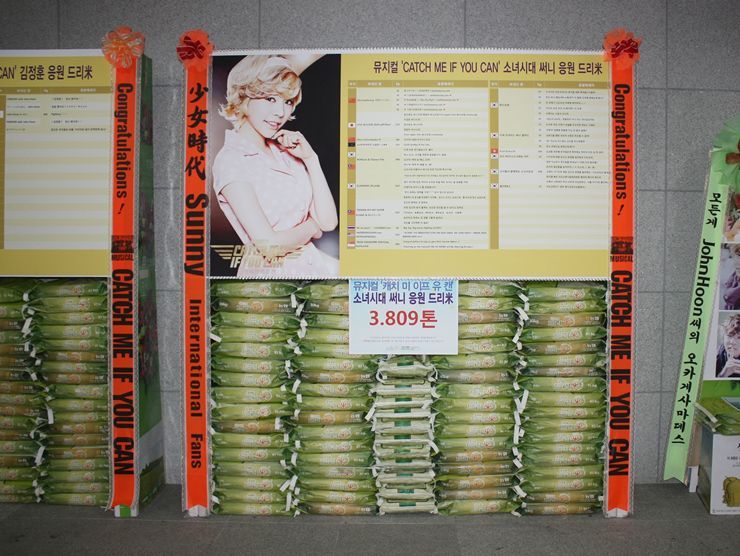 To commemorate Sunny's recent musical debut on March 30th, fans worked together to donate a total of 3,809 kilograms of rice. Fans from Korea, China, Japan, Taiwan, Hong Kong, Thailand, the United States, Singapore, Australia, and New Zealand all collaborated to donate enough rice to require special orders of rice bags and wreaths to fit in the venue. You can check out more photos of the rice donations here.
 Girls' Generation Sends Sunny to Celebrate Her Starring in "Catch Me If You Can"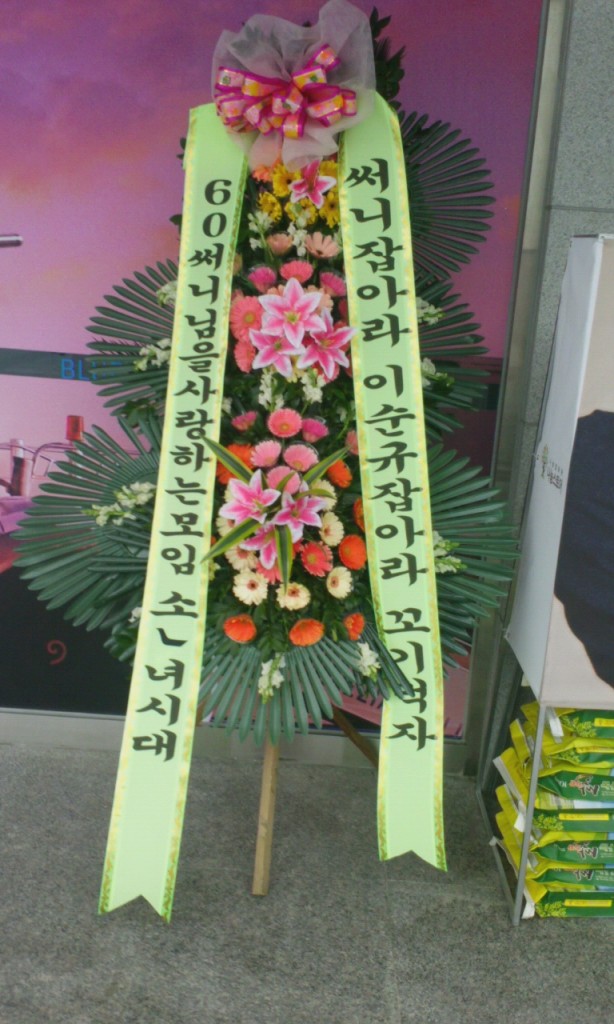 The other members of Girls' Generation sent Sunny a congratulatory wreath for her first performance in "Catch Me If You Can", a musical which takes place in the 1960's. The wreath reads, "Get ahold of Sunny! Get a hold of Lee Soonkyu! Let's go eat some meat! The gathering of people who love '60's Sunny' – Grand-daughter Generation".
Taeyeon, Tiffany and Seohyun Give a Cake to Shinhwa on Music Core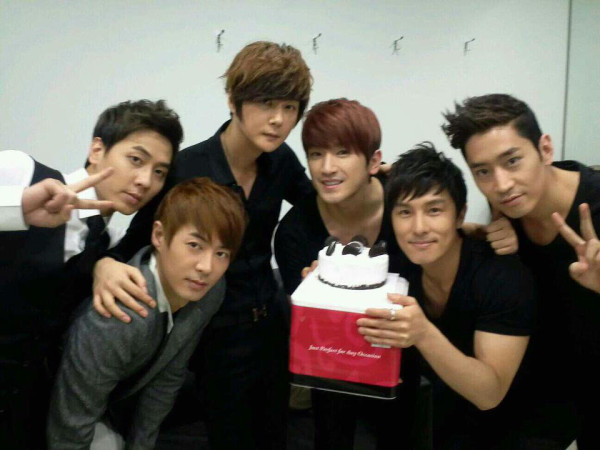 Taeyeon, Tiffany and Seohyun, who are MCs on MBC's "Show! Music Core", gave a cake to Shinhwa to congratulate them on their first broadcast on "Music Core" after a long hiatus. Shinhwa recently made their comeback after a four-year hiatus as its members served their mandatory military services. How thoughtful of the girls to give a cake to their sunbaes.
Photos
Photos of Yoona Uploaded on Girls' Generation's Official Website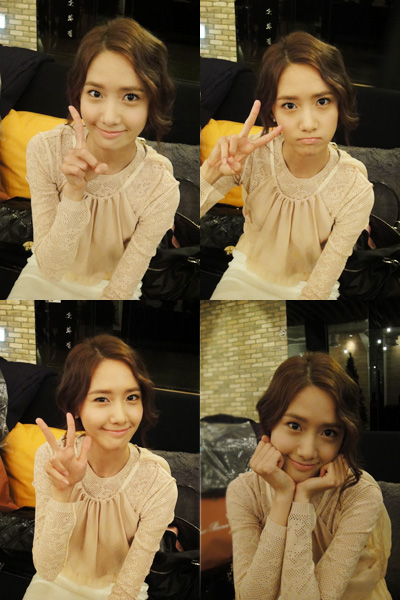 A set of photos of Yoona at a public showing of the premiere of the drama "Love Rain" has been uploaded onto Girls' Generation's official website. In all four photos, Yoona can be seen making lovely and cute expressions. In addition to the photos, a message from Yoona was included, which can be found in Soshified's Translated Goodies section. Similarly, another photo of Yoona at the premiere of "Love Rain" has been uploaded onto SMTown's Facebook page. You can check out the photo here. "Love Rain" airs every Monday and Tuesday at 9:55PM KST.
Jessica Leaves a Short Message on Girls' Generation's Official Website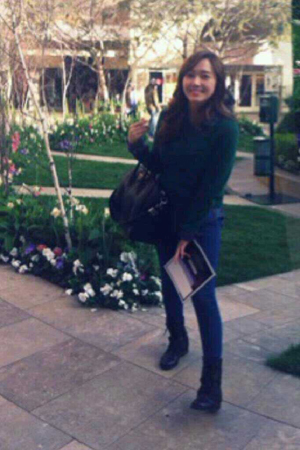 Jessica uploaded a cute picture of herself taking a walk in San Francisco onto the official Girls' Generation website. She also left a short but dorky message saying, "I~ am alive kekeke." The rest of message can be found in the Translated Goodies section of Soshified
here
. Jessica also posted another photo on Girls' Generation's official Facebook
page
.
Cyndi Wang Shares a Photo of Herself with Girls' Generation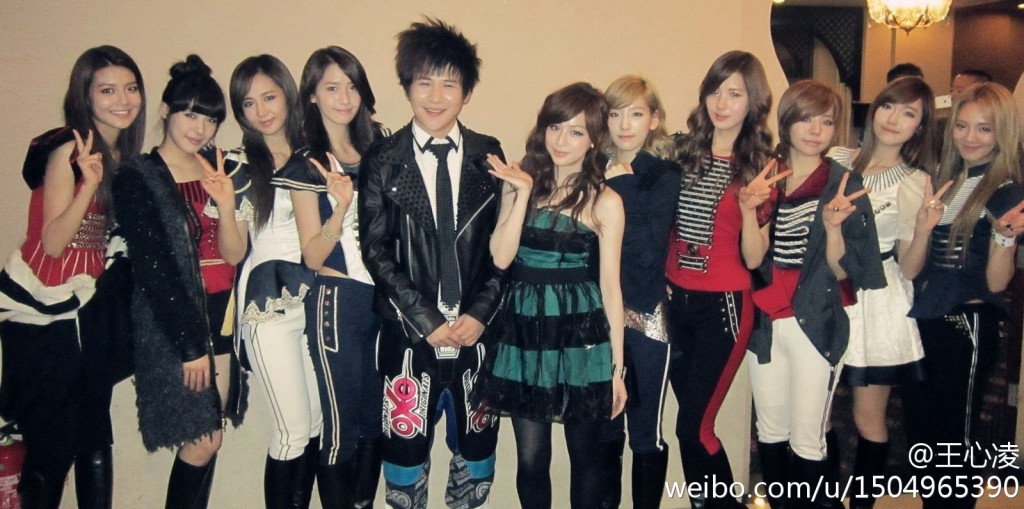 Cyndi Wang, a popular Taiwanese singer and actress, uploaded a commemorative photo of herself with Girls' Generation at the "Korea-China Music Festival" in November of 2011. Girls' Generation's performances from the music festival can be found here.
Seohyun's Airport Fashion Garners Attention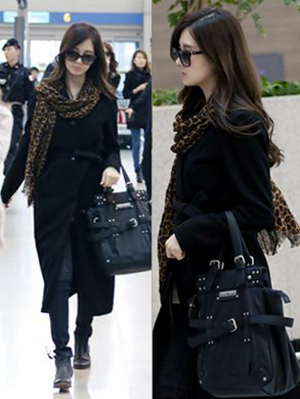 Seohyun's recent all-black airport fashion has garnered lots of attention. Her outfit was made up of a long black coat and a black bag, both of which emphasized her leopard-print scarf.
Sooyoung and Seohyun Attend DKNY Runway Event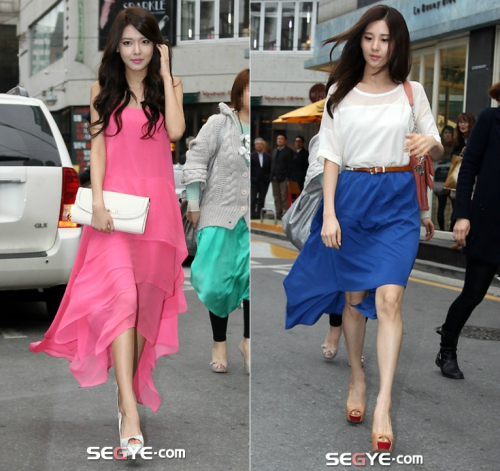 On March 27th, Sooyoung and Seohyun were spotted at an impromptu runway event for American fashion brand DKNY. The girls showed off their long legs and feminine charms and wore bright-colored outfits, but kept their ensembles simple. Press photos from the event can be seen here.
 Goobne Chicken Releases a Wallpaper for April Featuring Girls' Generation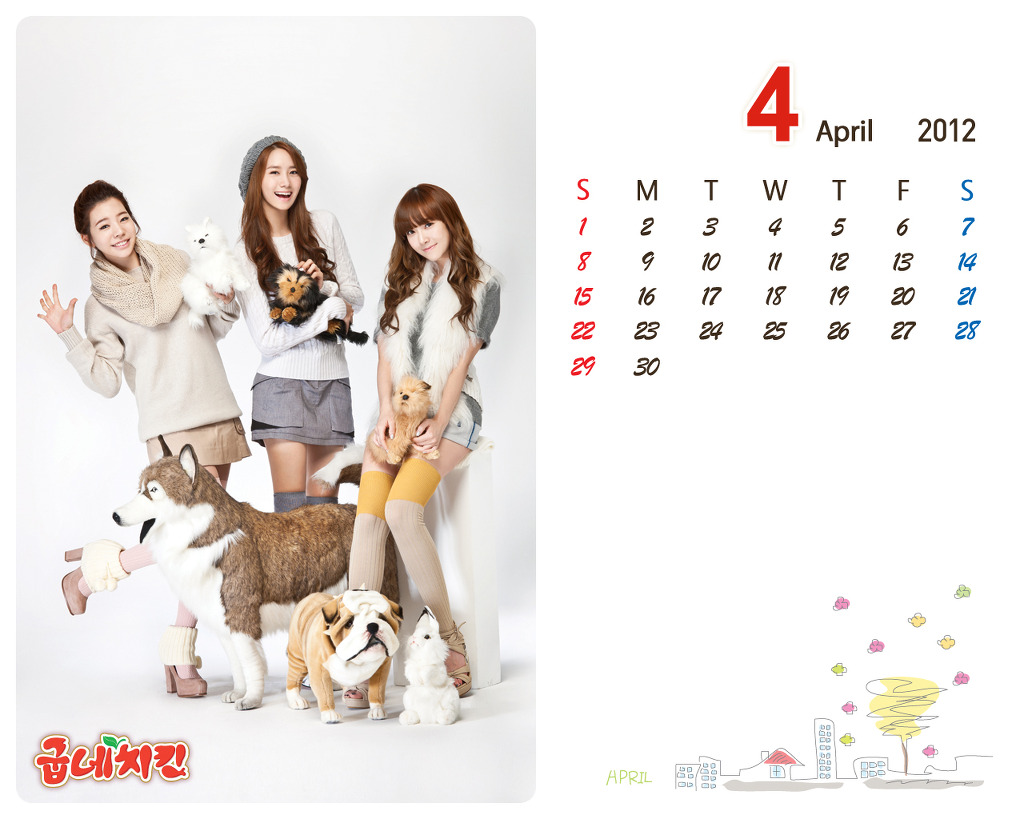 Goobne Chicken has released a new wallpaper for the month of April. This month's wallpaper features Jessica, Sunny and Yoona posing with several cute stuffed animals. Be sure to switch from your March wallpaper calendar to this new April edition.
Sooyoung Attends Opening of "Theory"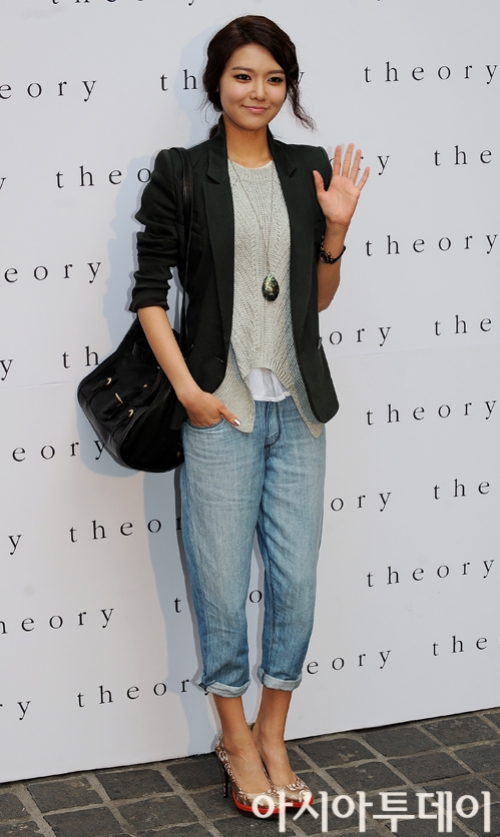 On March 29th, Sooyoung attended the opening of a new store for "Theory", a clothing retailer. She looked chic and cool with her black coat and jeans. News photos from "Theory"'s opening can be found here.
Tiffany Attends Event for Emporio Armani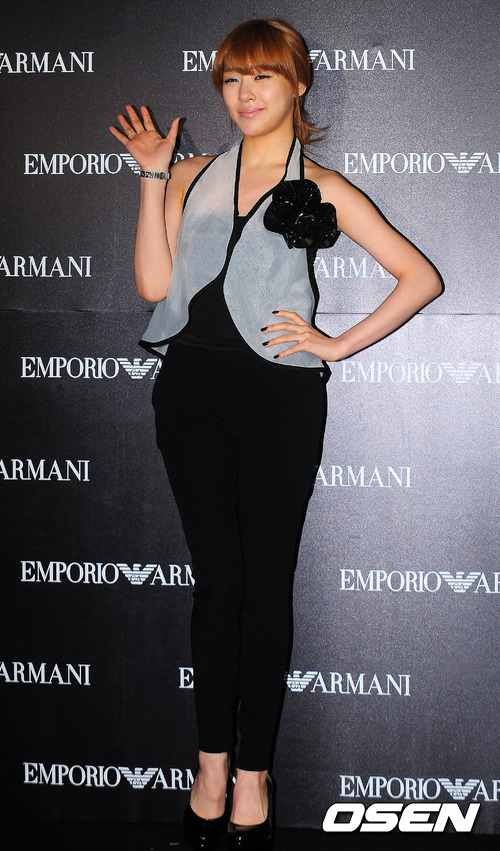 On March 30th, Tiffany attended an event for Emporio Armani in Seoul. You can check out her outfit on Soshified Styling, and view more media photos of Tiffany here.
Hyoyeon and Sooyoung Attend EXO's Showcase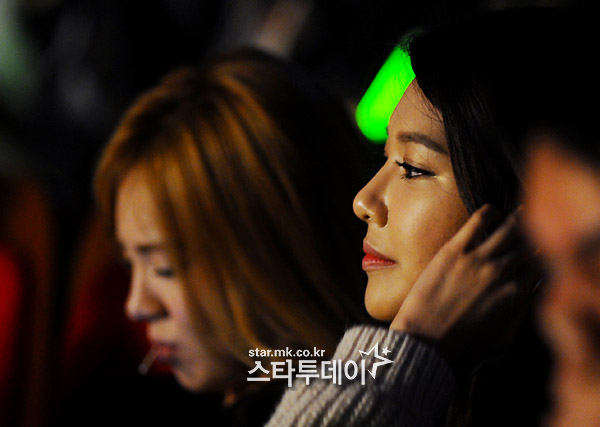 On March 31st, Hyoyeon and Sooyoung attended a showcase for EXO, the newest boy group from SM Entertainment. Media photos of Hyoyeon and Sooyoung can be found in Soshified's Photo Section.
New Sets of Pictures
Coming Step – Jessica1, Jessica2, Jessica3, Jessica4, Jessica5, Jessica6
Fashion King – Yuri1, Yuri2, Yuri3, Yuri4
SONE Picture/Video of the Week
A piano cover of "Missing You Like Crazy", Taeyeon's recent OST for the drama "The King 2 Hearts", was uploaded onto YouTube. The translations for the OST can be found in
Soshified's Lyrics Section
. Isn't the cover just beautiful?
If you have any pictures or videos you'd like to submit for SONE Picture/Video of the Week, please feel free to do so by sending them to the Soshified Writing Team at tip@soshified.com or posting at the official SONE Picture/Video of the Week thread
Sources: starin.edaily.co.kr, newsen, SMTown Facebook, Girls' Generation Official Website, SteelersAngels1@youtube.com, LoveRainTV@twitter.com, Girls' Generation's Facebook, Cyndi Wang's Weibo, imaeil, 1004KBS@youtube.com, Segye, Dreame, cakeryu@twitter.com, 2ytmsyjsh@youtube.com, SBSNOW1@youtube.com, Sosiz, bettylco@youtube.com, Sun_radiant@twitter.com, JeongLeeUk@youtube.com, Shinhwa_Updates@twitter.com, SBS, J'Kyun's Facebook
Written by: bethlyhem.@soshified, taengsoshi@soshified, LetsGo@soshified, SeraphKY@soshified, Litney@soshified, bhost909@soshified
Contributors: minigiglo@soshified, oniontaker@soshified, taengbear@soshified, residentbenchwarmer@soshified
Have a news item that you think Soshified should know about? Leave us a tip or e-mail us at tip@soshified.com.
Follow us on Twitter: http://twitter.com/soshified for the latest on Girls' Generation.