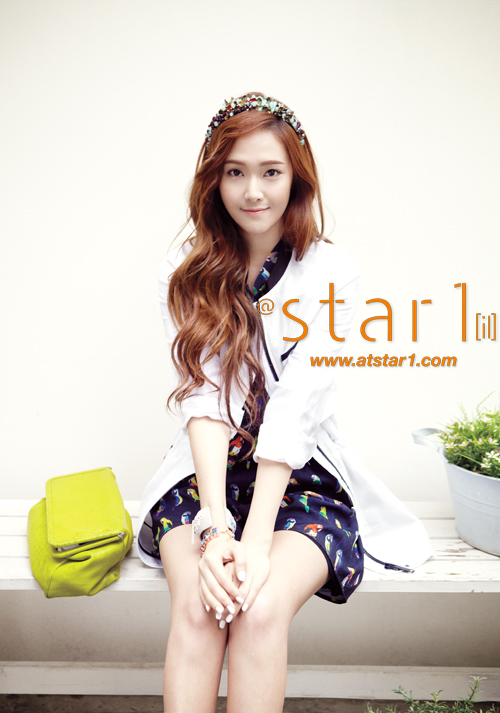 Recently, Jessica did an interview with celebrity lifestyle magazine @star1 in which she talked about her experiences with photo shoots, working on her drama "Wild Romance", and her real self.
Q: How did you feel about doing a photo shoot alone on a rainy street?
A: I did a few photo shoots in the rain before, so it wasn't that hard. However, I was a bit lonely because I rarely do photo shoots alone and I had no other members to play with.
Q: Do you usually like the rain?
A: I didn't like the rain when I was young…but recently I started to really like it. Sometimes, I enjoy the feeling of listening to rain-themed songs on rainy days.
Q: How are you doing after the drama "Wild Romance"?
A: I'm currently resting. I'm enjoying the rare moments of sweet relaxation since I'm not part of a musical or a regular member of a variety show. I meet up with my friends and acquaintances. I've also visited my family members in San Francisco.
Q: You made an attempt at a serious drama with "Wild Romance". How was it?
A: It was very interesting. I would do it again if I got another chance. The drama itself wasn't hard, but I had so many difficulties trying to organize all my schedules because I had a lot of international performances. Adding on to that, I didn't have enough time to prepare myself because the decision was made on such short notice. For that reason, I felt like I didn't show everything I could do. It was hard but enjoyable work. I found it very interesting to create an emotional plot and carry it through. It was difficult in some aspects considering the fact that the character had a lot of inconsistency regarding her emotions, but I enjoyed the challenge. I want to do a bubbly or a melodramatic character next time.
Q: I assume that you were a bit burdened by the Korean language, which is still slightly difficult. How did you handle the script?
A: Daily conversations are not hard at all. It's the difficult words in the script such as…hmm…old sayings or anything related to legal matters that were hard to understand. However, I was happy to be able to learn more Korean while filming the drama.
Q: From Jessica's point of view, singing and acting: what are the differences?
A: Many celebrities talk about their sense of ecstasy on stage, but I think I'm a bit different. Personally, I like listening to my own voice inside headphones. The sound of my voice streaming out from the radio gives me an odd feeling. I think that feeling is what stimulates me and gives me a sense of joy.
Q: Many members of Girls' Generation are now doing solo promotions and individual activities.
A: I'm cheering them on. I feel proud. I.. have actually had a dilemma since my trainee years. I had always thought about what to choose and focus on between singing, acting and dancing. I even had a "slump" period because of this. "Dancing" is defined by Hyoyeon, "Singing" is defined by Taeyeon, and "Acting" is defined by Yoona… I had a hard time thinking about how I should characterize myself. But now, I'm different. I try to think positively about everything. I still want to experience a lot of things in many ways. Wouldn't that eventually lead to a unique image of Jessica?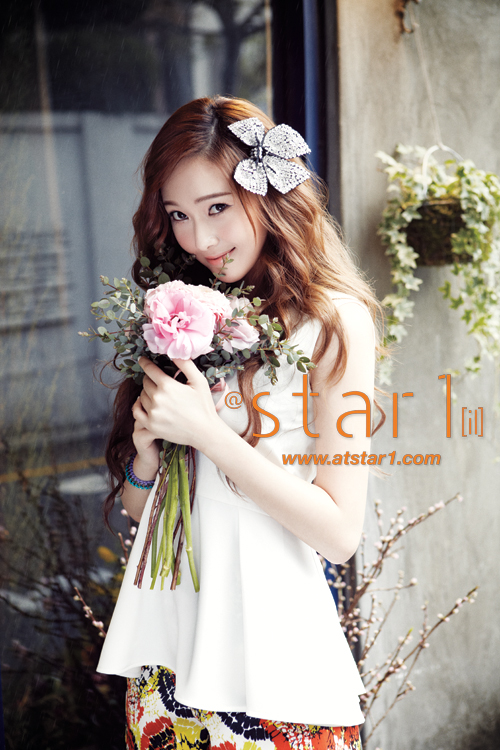 Q: There's the Jessica image we all know, but I wonder what the "real" Jessica would be like.
A:
I don't get out of bed when I'm at home. I read, use the computer, listen to music, I even eat on the bed. I take care of everything on my bed. (Jessica is also known to be the sleepyhead in Girls' Generation.) I don't really like going outside. I like to wear comfortable clothes if I do go outside though.
Q: The name "Jessica" gives off a very stylish vibe.
A: Honestly, I don't really like to decorate myself. I like comfortable fashion. The majority of the fashion items I look for on the internet are very basic. Knits, leggings, huge bags… These are the items I usually buy. I especially like shoes and bags, but my shoe size is 225 so it's really hard to find a pair that matches. (Translator's Note: In Korea, shoe sizes are measured in millimeters.)
Q: You look really thin. Do you have a dieting secret of your own?
A: I gained a lot of weight after the drama ended because I went around everywhere eating. During the filming period of the drama, I was around 40-41 kg. When I actually do go on a diet, I use a training technique that does not form muscles. Of course I also control what I eat, but I don't follow it too often.
Q: You have been given the nickname "Ice Princess" since the debut days. Does this fancy and cold image burden you?
A: I personally like the nickname "Ice Princess". But my actual personality is so different from my image that people who are close call me "Clumsy Jessica". I don't dislike the cold image though. I think it's my unique advantage compared to others.
Q: It has already been five years since you debuted when you were in your teens. A lot of time has passed since then. What are some of the things that have changed?
A: It's true that I held onto first place awards. I always had a greedy thought that I should most definitely focus on getting the award. Now, I think my field of vision has widened. The most important thing I think about is whether or not I, or Girls' Generation, made a satisfying stage rather than hanging onto awards. Honestly I don't really cling to awards anymore. I have also found the nerve to laugh off any negative articles. I think this is a peace of mind that time has taught me.
Source: dcinside, @star1 magazine
Translated by: minigiglo@soshified
Edited by: nicholys@soshified, NeonCyro@soshified, spiceshoe@soshified, MoonSoshi9@soshified, residentbenchwarmer@soshified