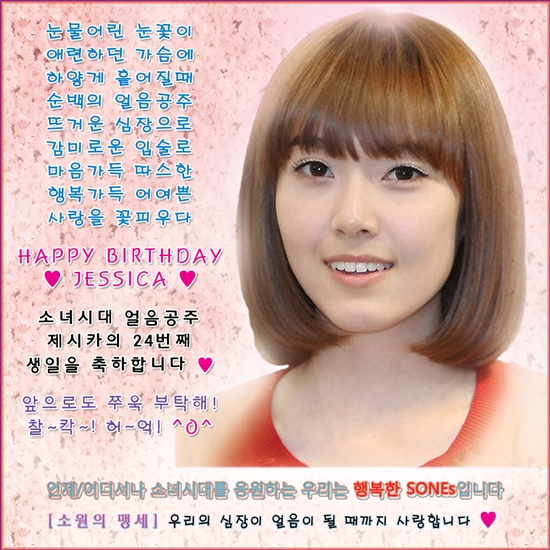 In celebration of her 23rd birthday,
(Editor's note: Jessica is 23 according to her Western age and 24 according to her Korean age)
fans of Girls' Generation gave Jessica a very special gift by placing an advertisement in a newspaper.
Jessica has the nickname "Ice Princess" because of her usually cold facial expression. However, she is known to receive lots of love from her fans because of her lively and gentle personality, while also having fun and laughing with her fans. Jessica is currently taking a short break from activities after completing her first acting attempt in the KBS 2TV drama, "Wild Romance".
The newspaper advertisement contained both a poem and a short message, which read:
When the teary snowflakes were spreading
In our hearts full of compassion
A snow-white ice princess
With her passionate heart,
With her sweet lips,
Let the flowers of love blossom
Filling our hearts full of happiness.
Happy Birthday ♥Jessica♥
We celebrate Girls' Generation's Ice Princess' 24th birthday ♥
Please take care of us in the future too!
We are happy SONEs cheering her on whenever and wherever.
[SONE Oath] We will love you until our hearts become blocks of ice.
Fans of Girls' Generation on Twitter also took time to celebrate Jessica's birthday, as "#IcePrincessDay" and #HappyJungJessicaDay" both trended in first place on Twitter's worldwide trending list. "Happy Birthday Jessica Jung" also trended in second place.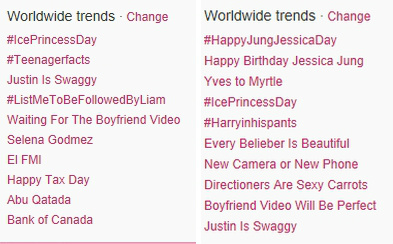 Source: Newsen
Translated by: minigiglo@soshified
Edited by: bhost909@soshified, michaelroni@soshified
Have a news item that you think Soshified should know about? Leave us a tip or e-mail us at tip@soshified.com.
Follow us on Twitter: http://twitter.com/soshified for the latest on Girls' Generation.