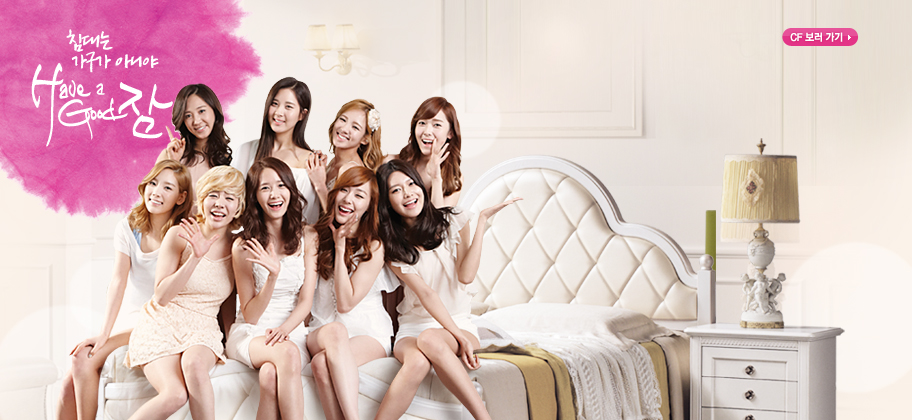 Ace Bed updated their official website on April 16th with a post on Girls' Generation's thoughts about filming Ace Bed's CFs, which were
recently released
.
"'The bed is not a piece of furniture~ Have a good sleep~'
We sang this song over and over again the whole time we were filming, so it's still stuck in our heads. I think we had a fun and comfortable CF film shoot thanks to the fun CM (commercial music) song and how nicely Lee Sun Gyun sunbaenim treated us.
It felt like a pajama party, because it was a bed CF. The concept itself was about being natural, so the only thing I really remember from the film shoot was playing around and chatting away with the members. Before we knew it, the film shoot was over.
I lied down on the bed to shoot a sleeping scene, and I actually dozed off. This is what 'the ability to let them sleep deeply even if they take a quick nap' means.
Since our lifestyle changes so often due to all the schedules we have to cover, we always thought, 'I'm tired. I should sleep.' Now we realize that it's not just 'I should sleep,' but that 'I should sleep deeply.'
And so, we all changed our beds to Ace Beds. What happens if we get prettier after sleeping on Ace Beds?
Have a healthy deep sleep on Ace Beds.
A bed is not a piece of furniture, but a science."
Source: acebed.co.kr
Translated by: minigiglo@soshified
Edited by: taengsoshi@soshified, bhost909@soshified
Have a news item that you think Soshified should know about? Leave us a tip or e-mail us at tip@soshified.com.
Follow us on Twitter: http://twitter.com/soshified for the latest on Girls' Generation.