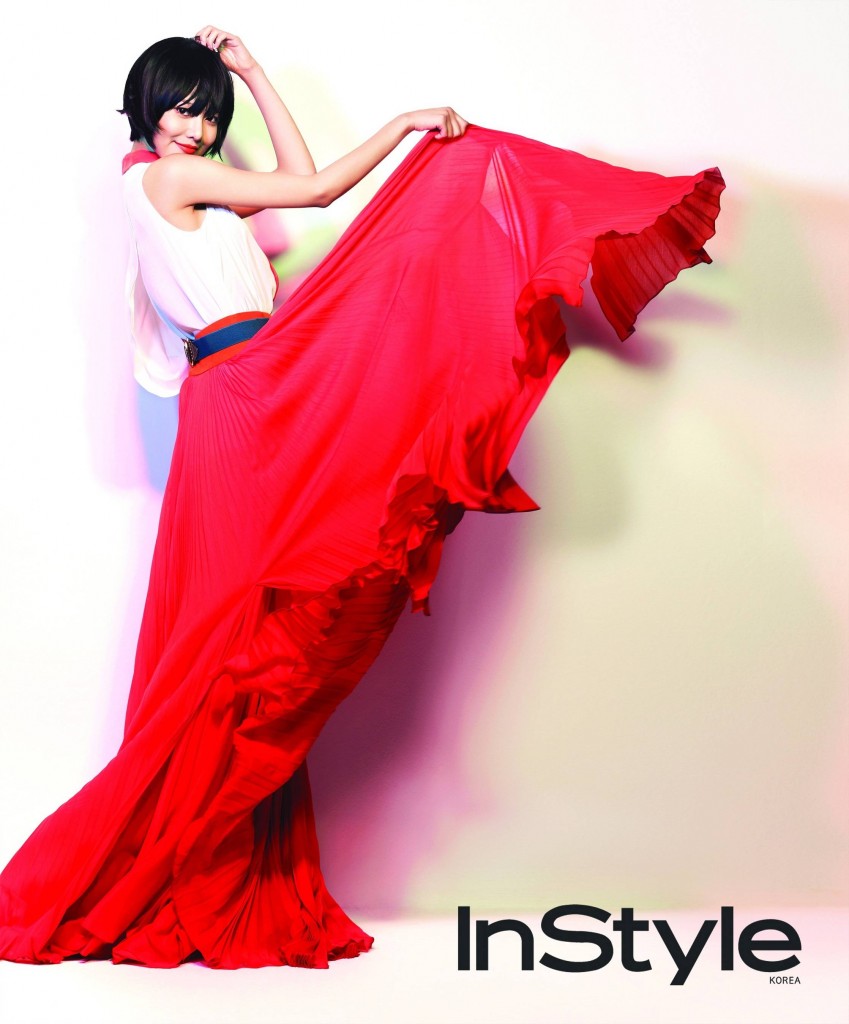 Sooyoung is featured in the April issue of "InStyle" magazine. During the shoot, she talked about her thoughts on Girls' Generation's worldwide success, her fashion, and even her new-found love of cooking.
"Honestly, the color I like the most is black." Showing expert poses while wearing visibly showy colors of red, green, and blue, Sooyoung's words were unexpected. "But today, there are a lot of colors other than black that I want to start liking," she said, "especially the color of my lips (laughs)", pointing at her lips. She then started puckering her lips while looking in the mirror, as if the dark crimson color looked awkward on her. "Because my skin color is on the dark side, I don't wear items with bold colors. If I don't match it well, it can look dowdy. But now that I've tried them on, there are a lot of colors that suit me, so I feel good."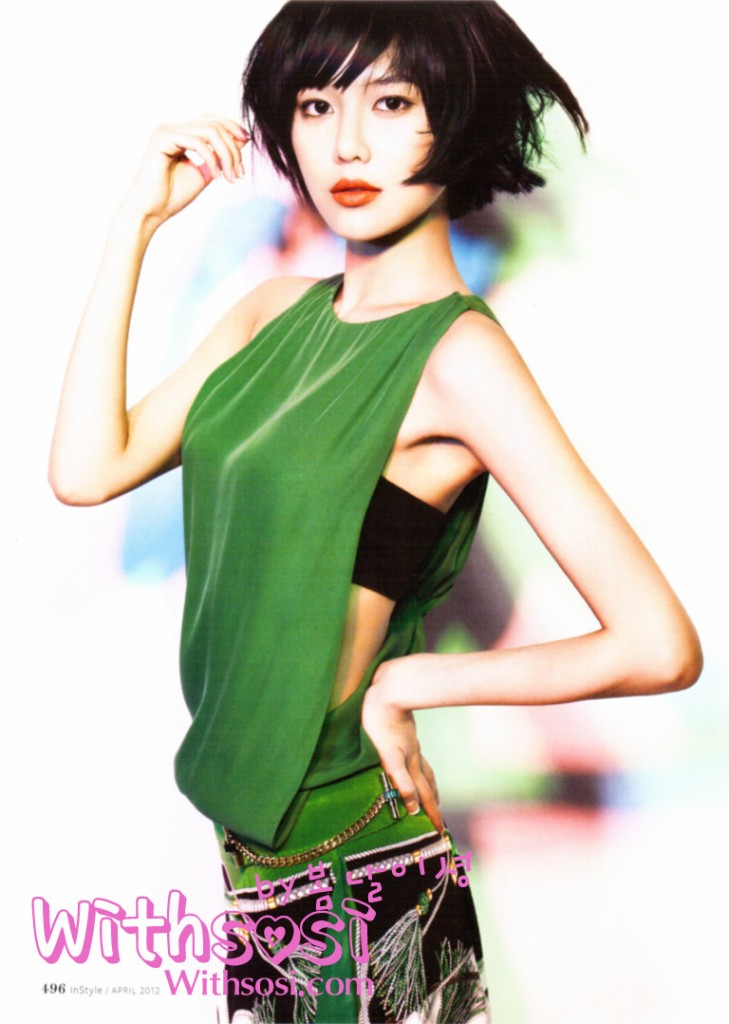 Girls' Generation has become a pop icon after surpassing Korea and Asia and going on the American talk show, the "Late Show with David Letterman", this past February. Like the lyrics to their song, "The Boys", the world focused on them, and Sooyoung was always amongst them. "When we got word of appearing on a show that I usually watched on YouTube, I was speechless (she said she went 'kkyak' and yelled inside at the time). I didn't imagine we would be entering the US market just five years after our debut. I was just as nervous as during my debut." However, as much as she has experienced and earned thus far at the young age of 23, that much more burden and responsibility have been following her around. Rather than getting to the greatest position, having to maintain their spot now is even more difficult, and it is something that Sooyoung and Girls' Generation members know better than anyone else. "As time goes by, we've been able to realize that 'being together, not alone' gives us a lot of strength, as well as the fact that we're able to be in the position we are today because we're 'Girls' Generation'."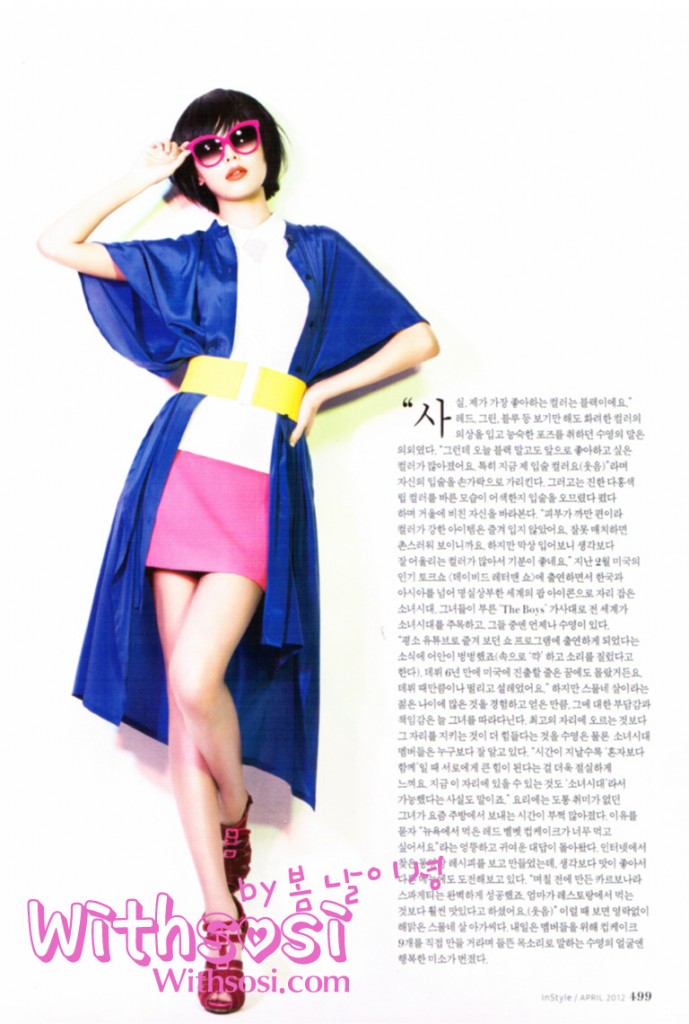 Sooyoung, who has never had any interest in cooking, has been spending a lot more time in the kitchen lately. When asked what the reason was, she gave a random cute reply, "Because I really want to eat red velvet cupcakes that I had in New York." She made it following a recipe she found in a video online, and they turned out better than expected, so she's been attempting other things, too. "A few days ago, the spaghetti carbonara I made was a huge success. My mom said it tasted better than what they sell at restaurants (laughs)." When you look at her in this light, she is nothing more than a 23-year old young lady. Sooyoung had a happy smile on her face while she said, in an excited tone, that she would be making nine cupcakes for each of her members.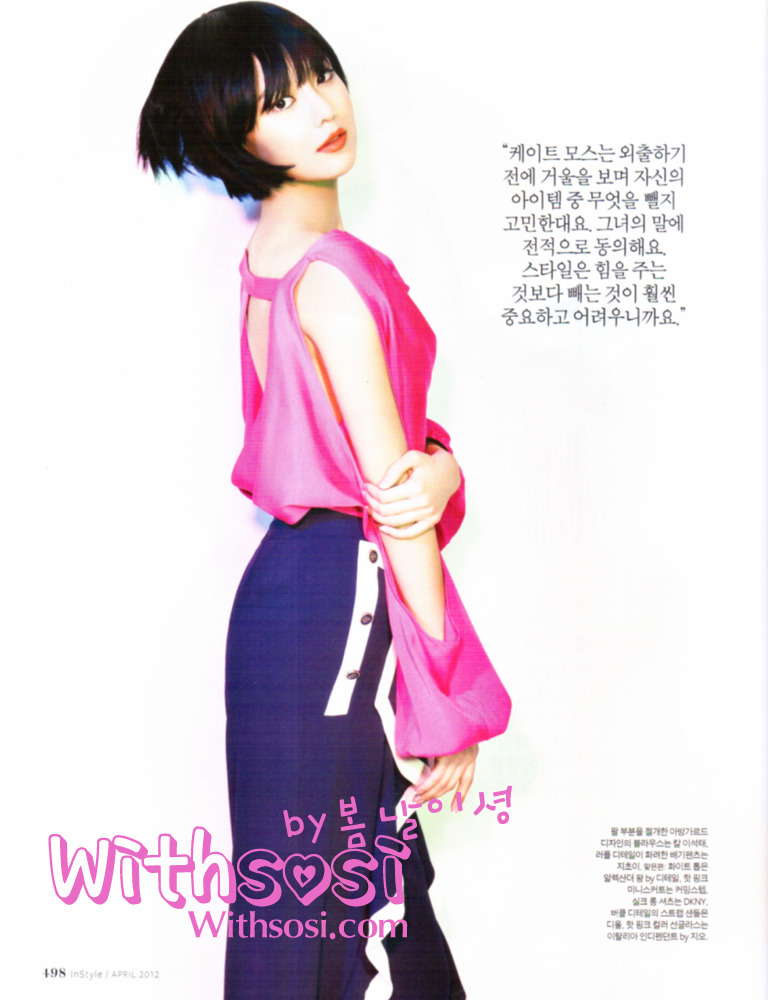 "Kate Moss said before she leaves to go out, she looks in the mirror to see what items she should take off. I completely agree with her. Taking away, rather than adding onto your style, is a lot more important and difficult."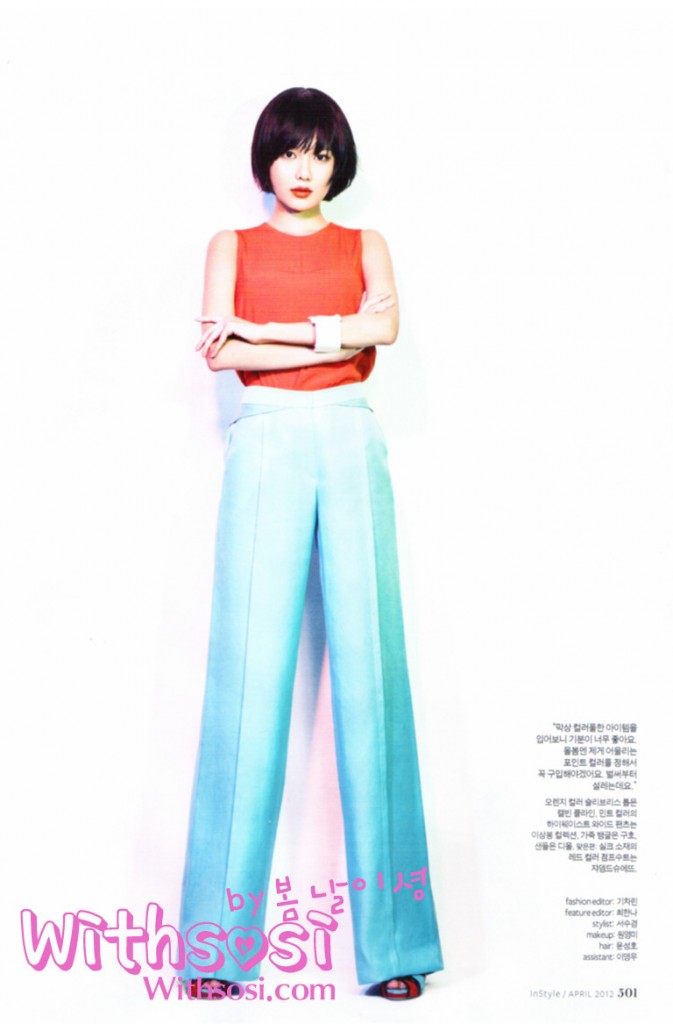 "Now that I've tried on a colorful item, I feel really good. I will have to choose a color that suits me this Spring. I'm getting excited already.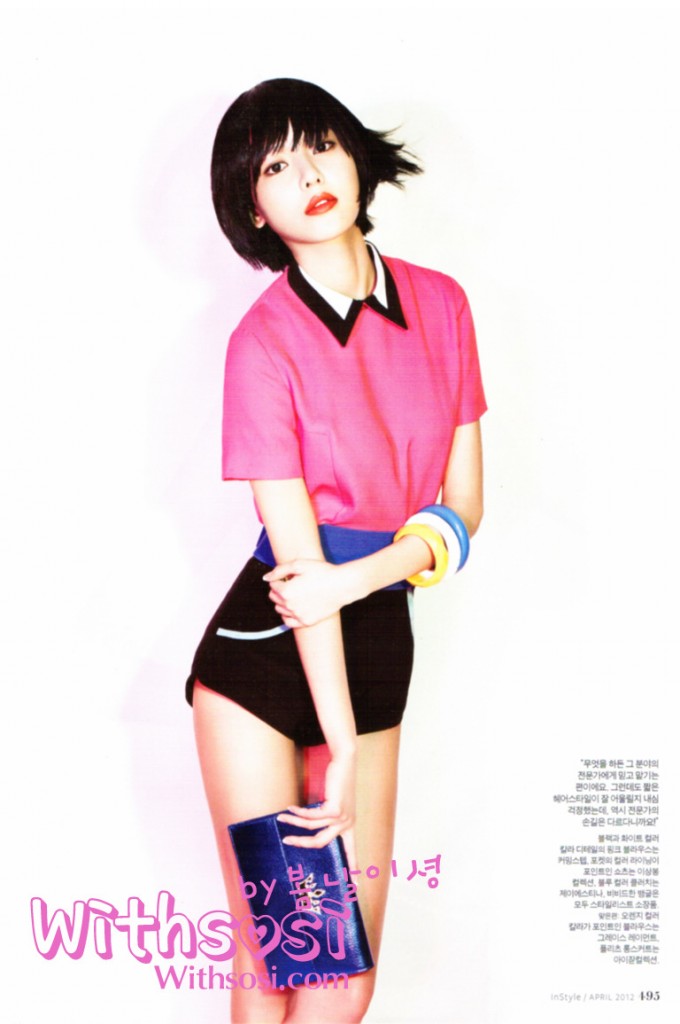 "Whatever I do, I'm the type that trusts and leaves things up to the person who has an expertise in that area. I was a bit worried if short hair would suit me, but, as expected, an expert's touch is different!"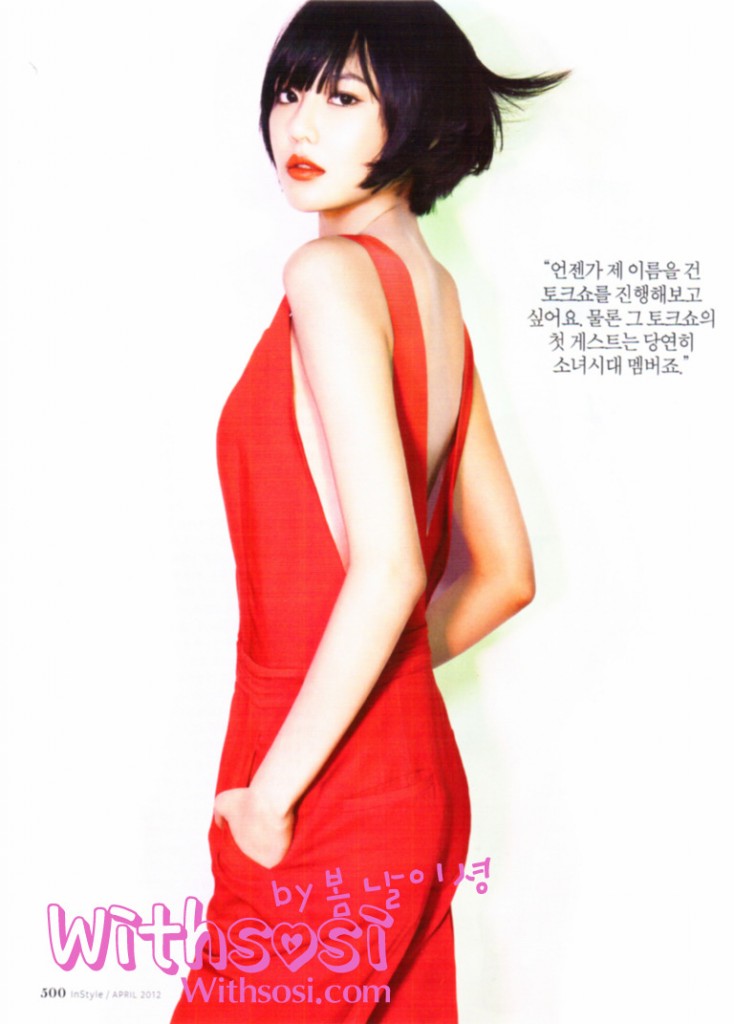 "I want to have a talk show that carries my name. Of course, the first guests of that talk show would be Girls' Generation members."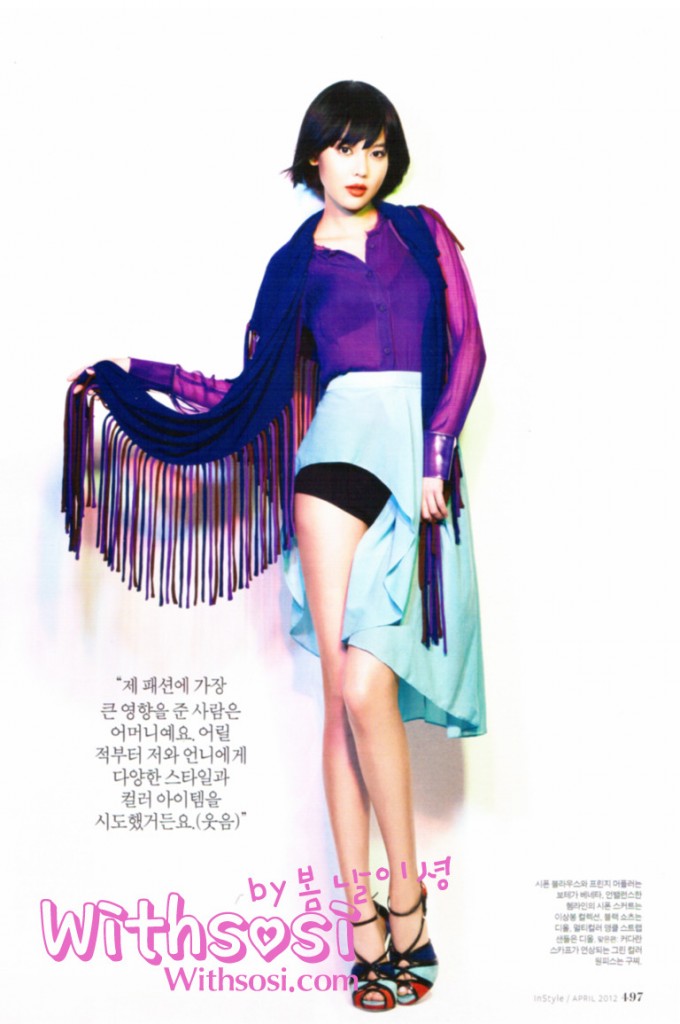 "The person who influenced my fashion the most is my mom. She attempted various styles and color items on my sister and myself when we were little (laughs)."
Source: Withsosi, InStyle Magazine
Translated by: ch0sshi@soshified.com
Edited by: MoonSoshi9@soshified.com, bhost909@soshified
Have a news item that you think Soshified should know about? Leave us a tip or e-mail us at tip@soshified.com.
Follow us on Twitter: http://twitter.com/soshified for the latest on Girls' Generation.