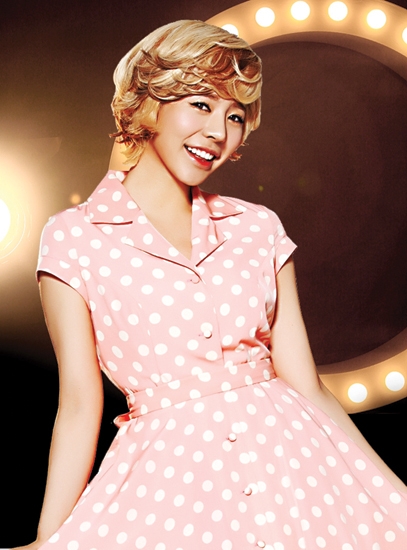 The era has passed where singers only sing. Just as singers show off their talents in various variety shows, they are also showing off their outstanding acting skills in dramas and even taking home rookie awards. Girls' Generation's Yoona won a rookie acting award for the drama "You Are My Destiny" in 2008, and she has transformed into an actress yet again for her most recent drama "Love Rain". Yuri is showing her acting in the drama "Fashion King". Taeyeon, Jessica and Tiffany have transformed into musical actresses in the productions such as, "Midnight Sun", "Legally Blonde" and "Fame".
This time, Sunny, Girls' Generation's cutie, is stepping up by appearing in the musical "Catch Me if You Can". This musical is a reinterpretation of the Steven Spielberg-directed movie starring Leonardo DiCaprio and Tom Hanks. Last year, this musical was nominated for four Tony Awards and also received an award for Best Leading Actor.
The main character Frank, who has a talent for deceiving others, disguises himself as a pilot and forges company checks to steal 1.4 million dollars. Carl Hanratty, FBI agent of 21 years, has caught onto Frank and chases after him. Sunny plays the role of Brenda, the naive girl who loves Frank.
Wang Yongbum is in charge of the adaptation and direction of the musical, and the musical is set to be in production from March 28th to June 10th at the Blue Square Samsung Card Hall. We have heard the determination of Sunny, who is about to debut as a musical actress.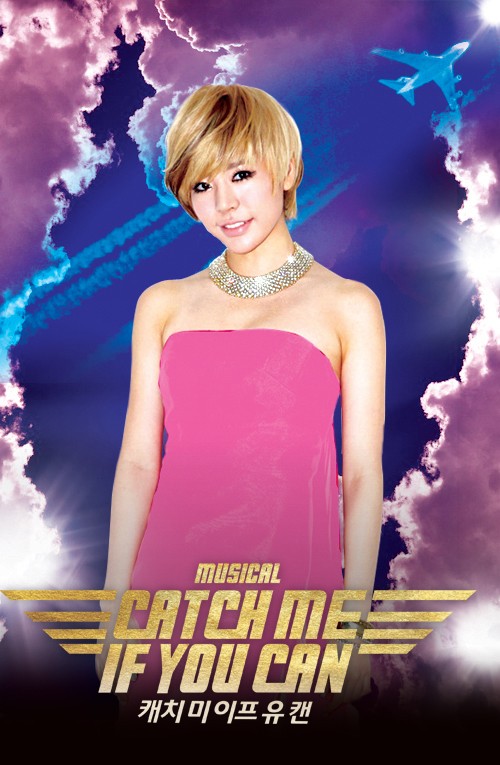 -How did you come to be a part of this cast?
I wanted to take on a challenge in a new area, and there was a casting for a character that suited me well, so I took the courage to try it out.
-What do you feel about your debut?
I worried a lot, but I've also learned a lot from practicing together with the fellow actors and staff crew. They gave me a great deal of encouragement. Now, my nervousness from anticipation is greater than my fear.
-Please introduce the character you will be playing in the musical. Are you playing a role that has many similarities to yourself?
Brenda is a very loveable and cute character, and she is the only character in the play that gives love genuinely and also receives love. She tries hard to express those charming characteristics that she has. Her bright personality and her inability to hide her feelings are very similar to me.
-How did you like the original movie, "Catch Me if You Can"?
It was very impressive. I enjoyed it so much as I was watching it, and I was curious of how it would turn out as a musical. But it was so much more fun than I expected, and the story is so good that I am very happy and honored to be a part of this work.
-What was most difficult for you as you were practicing?
It was a little difficult going to both my own personal schedules and practice. I filmed a CF yesterday, I have musical practice today, I'm going to Jeju Island to MC, and the day after that, there's a shooting for a variety show… But even still, every day is new and lively, so I'm having fun.
-What's the biggest difference between being on stage as a singer and being on stage as a musical actress?
Of course, a singer is acting on stage too, but with a musical, the whole production is acted out and you have to sing and express yourself accordingly as well, so that was new for me. I think I'm still lacking in those areas so I'm currently working hard at it.
-Your fellow members Taeyeon, Jessica and Tiffany have all debuted as musical actresses before you. Have you seen any of the productions they were a part of?
Yes, I saw all of them. I remember them all having a really hard time fitting in the musical with the group activities. But I also remember thinking that they were so admirable, being able to perform so amazingly. I have a lot more time to practice, compared to the time that the other members had, so I'm going to try hard to do well.
-Your sunbaes in theater are Taeyeon, Jessica and Tiffany. Did they give any words of advice for you?
All of them gave me tons of encouragement rather than words of advice. They told me not to worry and do well, because if I work hard, it'll be undoubtedly fun and enjoyable.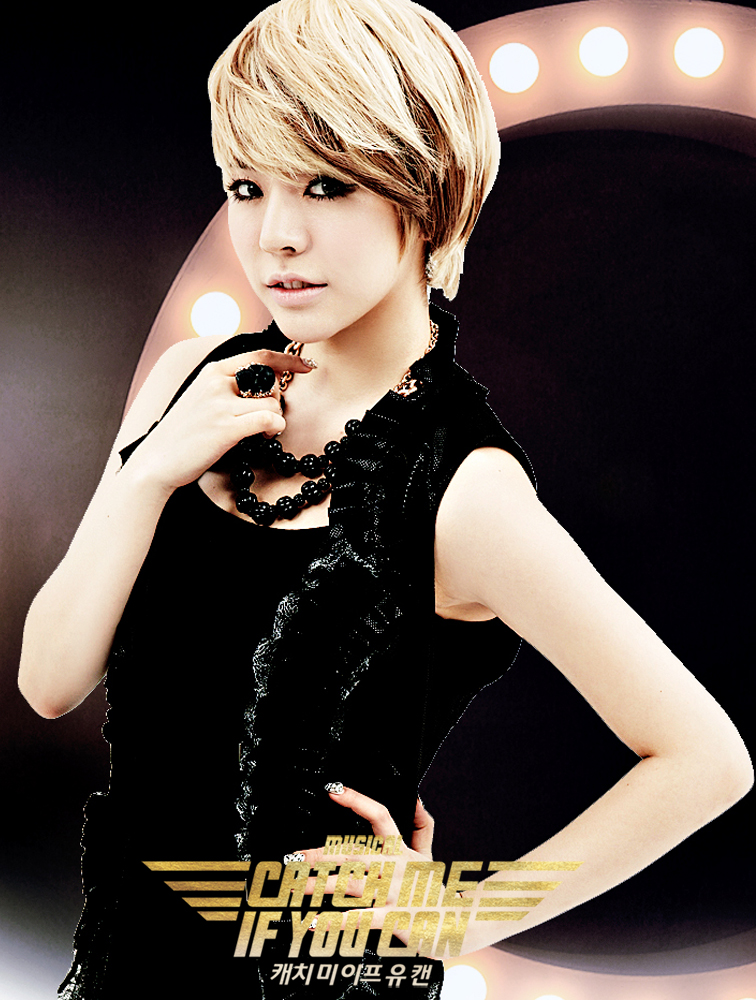 -Is there any musical or play you've seen with much interest?
While in New York for a schedule, I made some time to watch the "Lion King' musical". The thought, "It's really great" constantly popped up my head. It was as if there weren't any people on stage, and the actual animals in "Lion King" were acting on stage. It was cool!
-Will Girls' Generation members come to watch your show?
Yes!! Because my members know me the best aside from myself… I hope they come and watch and tell me things I lack in. And, because the theater itself is really fun and is a style that my colleagues will like, I hope they come and have fun watching and enjoying it.
-Were there any difficulties you encountered juggling Girls' Generation activities and musical practice?
I want to practice some more, but schedules are important too… It feels like I've been chasing after five or six rabbits at the same time, so I've been feeling worried. I don't want to lack in anything. I wish there were 36 hours in a day.
-Do you have any stress relieving methods?
Chat a lot! When I meet with my members, we talk a lot. After we do, a lot of my stress is relieved (laughs).
– Kyuhyun, Key, and Dana are members of the same management company as you, and they are all appearing in this musical. How is it working with them?
I'm usually really shy. I was worried that I'd be too nervous making my first attempt at a new genre of musicals with people I'm seeing for the first time, but it was a relief that there are members from the same company. They take care of me well, so it's really nice.
-Uhm Kijoon, Kyuhyun, Kim Junghoon, Key and Park Gwanghyun will all be playing the role of Frank. Which person is the most charming?
All five of them have different charms… They're all really charming!!! It's to the point where it's a waste that I only know of their charms. I think it'd be okay for people watching the show to compare the charms of every different Frank.
-You're playing the same role as your company senior, Dana. Is there any charm or appeal that Brenda carries while being played by you and when played by her?
Dana unnie has more experience in musicals, so she's a lot better. And Choi Woori unnie is like Brenda herself. Although different, they both seem much like Brenda, and are cute and lovable. Because it's my first time in a musical, I think I will be a frivolous, naive Brenda, and that people won't know what I do next. I learned a lot watching the unnies, and so I'm both thankful and sorry (laughs).
-What do you want the audience to feel from "Catch Me If You Can"?
That you have to treasure what you have, and not the things you don't have? That a light truth is more beautiful than a great lie or any form of exaggeration. Because what's felt from watching the same show will be different for everyone. It is a show that leaves something deep in your heart, whatever it is, they will feel something.
-Do you have any plans of taking part in a musical again in the future?
Honestly, I was afraid of musicals until recently, but I think I'm gaining a little more confidence after meeting nice staff and stars for the project. Now, if given the chance, I want to attempt more diverse roles. Any role. Of course, if there is something similar between the character and myself, it would make things less difficult.
-Is there anything you want to say to fans, such as future plans or resolutions?
Because a musical is a new area I'm attempting at, I'm both nervous and excited. Still, because of a lot of support and encouragement from fans, I think I'm slowly gaining confidence. I will prepare harder and show a really good appearance, so I hope a lot of you come and enjoy it together. Please look forward to "Catch Me If You Can" and me playing the role of Brenda.
Sources: cnbnews
Translated by: ch0sshi@soshified, taengbear@soshified
Edited by: LetsGo@soshified, bhost909@soshified, MoonSoshi9@soshified
Have a news item that you think Soshified should know about? Leave us a tip or e-mail us at tip@soshified.com.
Follow us on Twitter: http://twitter.com/soshified for the latest on Girls' Generation.