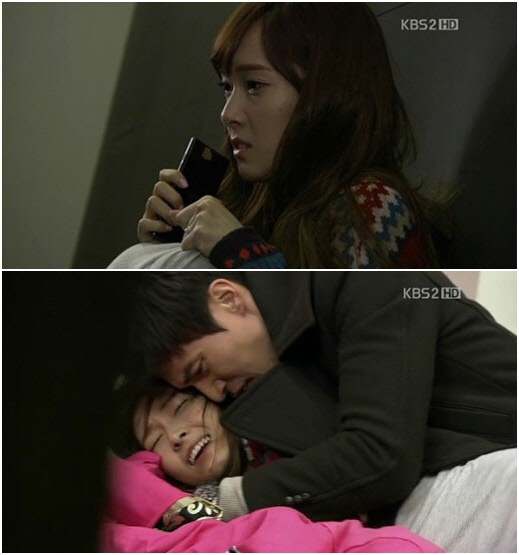 Girls' Generation's Jessica is making headlines with her acting skills in the weekly drama "Wild Romance".
Jessica plays the role of Kang Jonghee, the unforgettable ex-girlfriend of Park Moo Yeol, who is played by Lee Dongwook.
On the tenth episode of the drama, Jonghee was revealed to have a serious case of bipolar disorder, which caused her to leave Park Moo Yeol in the past. While they were able to rekindle their relationship, disaster struck as Moo Yeol's stalker began attacking Jonghee. Upon witnessing a terrible event, Jonghee began to have a seizure. Despite Moo Yeol's efforts to calm Jonghee down, her condition continued to deteriorate from simple shivers to not being able to breathe. She even attempted to physically harm herself, which greatly upset Moo Yeol.
In earlier episodes, Jessica's acting had become a hot topic among viewers for her romantic kiss scene with Lee Dongwook. However, the latest episode allowed Jessica to show off her impressive acting skills by portraying a darker side to her character. Many viewers were enthralled with Jessica's acting, saying that, "Jessica's acting proves she worked hard," and, "I felt bad for Jonghee who is suffering from bipolar disorder."
Source: Sports Chosun
Written by: SeraphKY@soshified
Edited by: bhost909@soshified, LetsGo@soshified
Contributor: minigiglo@soshified
Have a news item that you think Soshified should know about? Leave us a tip or e-mail us at tip@soshified.com.
Follow us on Twitter: http://twitter.com/soshified for the latest on Girls' Generation.