Videos
Jessica's Interview on "Star Date"
Jessica was interviewed on "Star Date" about a variety of topics, ranging from "Wild Romance" to Girls' Generation's promotions in the United States. After they discussed Jessica's drawing abilities, which she displayed on an episode of SBS "Star King" where she drew a
portrait of Sunny
, Jessica drew a portrait of the interviewer. What do you think? Has Jessica's artistry improved?
Girls' Generation on Italian Radio
Girls' Generation appeared on "Radio 105 Network", a radio television program in Italy. The program gave a quick introduction of the girls and played a short clip of "The Boys" music video.
Official Teasers for "Fashion King"
SBS has released two teasers for "Fashion King", in which Yuri plays the character Anna. Photos of Yuri filming for the drama in New York can be seen in Soshified's Photos Section. "Fashion King" is expected to begin airing on March 12th.
Taeyeon's Message for White Day via J.ESTINA
Girls' Generation's Taeyeon left a message for the celebration of "White Day", a day where men give candy to the women who gave them chocolate on Valentine's Day. She says, "Hello, we're Girls' Generation! I'm Girls' Generation's Taeyeon with J.ESTINA. The upcoming warm Spring season and White Day are the reasons that we look forward to March. White Day is to show your hearts to people you love. Give a J.ESTINA gift to your girlfriend."
Others
Jessica Featured on the Cover of "Dazed & Confused Korea"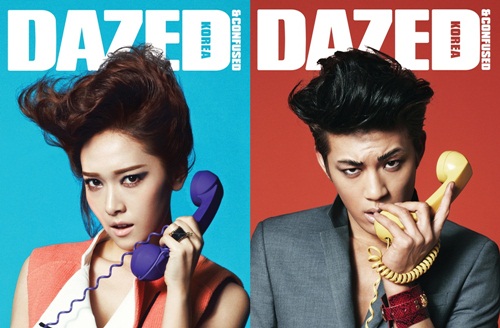 Jessica will be featured on one of the covers of the March 2012 Korean issue of "Dazed & Confused ". The other cover will feature singer Se7en. Both Jessica and Se7en each will have eight photos featured in the magazine. Jessica's pictures were taken in New York, and the magazine will be available at newsstands on March 21st. A behind-the-scenes video from the photoshoot can be seen
here
.
Photo of Christopher Bailey with Girls' Generation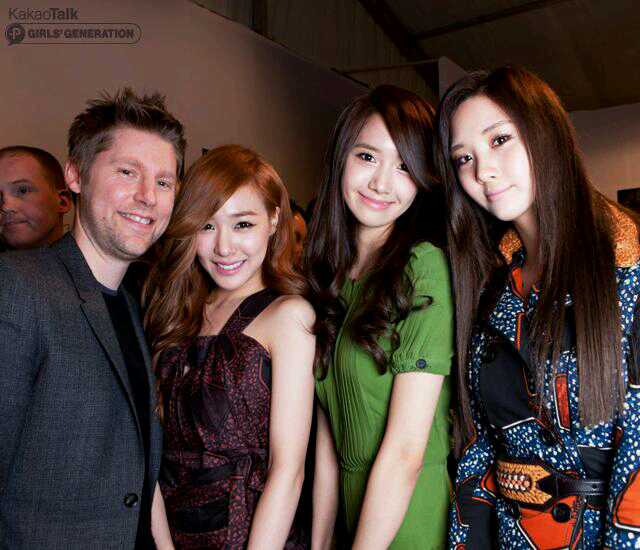 A photo of Christopher Bailey with Girls' Generation's Tiffany, Yoona and Seohyun was uploaded onto KakaoTalk. The girls were personally invited by Christopher Bailey to the "2012 F/W Burberry Prorsum Fashion Show". You can read more about the girls attending the fashion show here. Christopher Bailey also sent a thank you note to the girls, who gave him a copy of their album to show their appreciation for inviting them to the show.
Burberry Korea's Official Twitter Tweets Pictures of Girls' Generation at "2012 F/W Burberry Prorsum Fashion Show"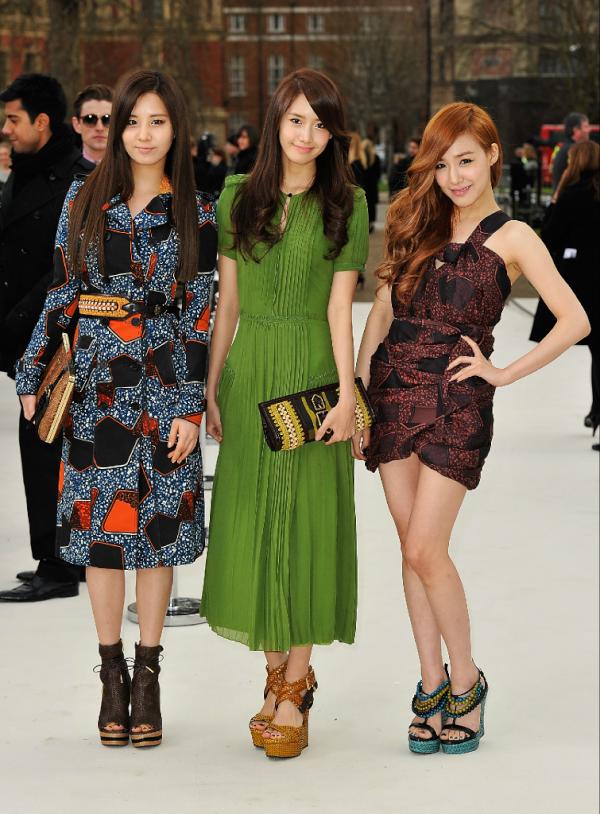 Burberry's official Twitter account tweeted pictures of Girls' Generation at the "2012 F/W Burberry Prorsum Fashion Show". You can check out the rest of the photos of Girls' Generation from the fashion show in the Soshified's Photo Section.
Girls' Generation on "The Straits Times"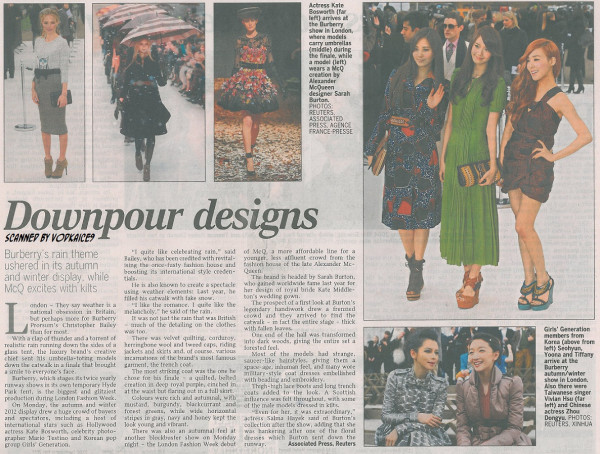 Tiffany, Yoona and Seohyun were featured on "The Straits Times", a newspaper based in Singapore. The article covered the "2012 F/W Burberry Prorsum Fashion Show" in London, where they appeared as representatives of Korea on February 20th.
Musical Company for "Catch Me If You Can" Releases Photo of Cast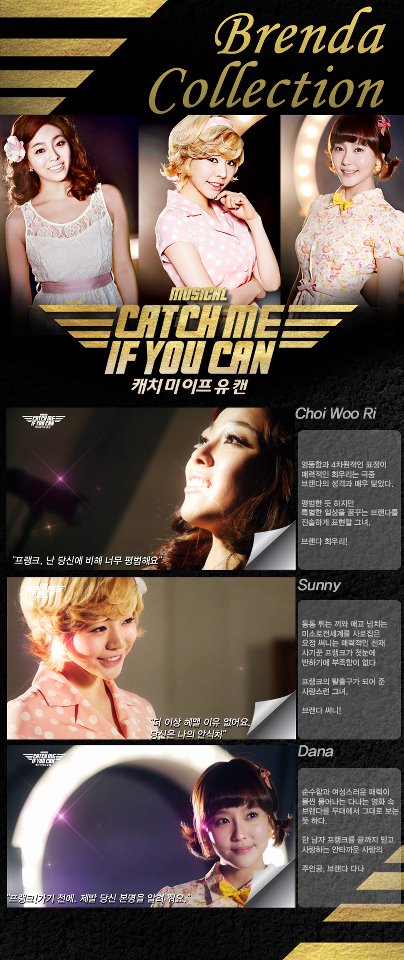 "Mmusical", the musical company for "Catch Me If You Can", posted a photo on their Facebook page which reveals more details about the roles of the characters. Sunny's quote says, "I have no more reason to wander around. You are my resting place." The text reads, "The fairy, Sunny, has captured the whole world with her smile full of aegyo and her talents. She is perfect for the genius Frank to fall in love with at first sight. The woman who has become Frank's escape route. Brenda Sunny!"
Joo Younghoon Tweets a Photo with Taeyeon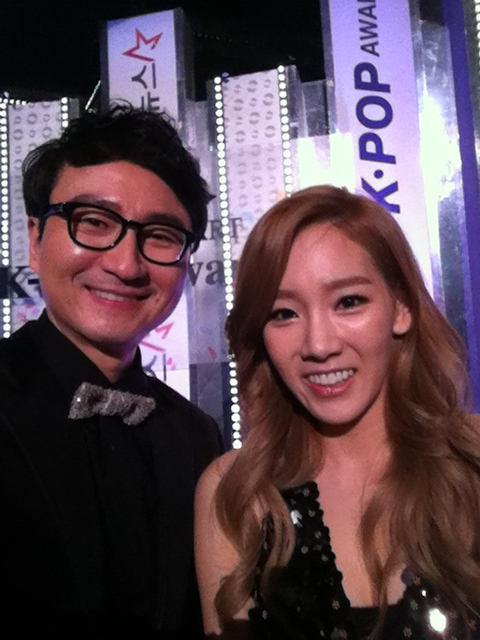 Joo Younghoon, Taeyeon's co-MC at the "1st GAON Chart Kpop Awards", tweeted a photo of himself with Taeyeon at the event. The two smiled brightly for the camera. You can download the entire MC cut from the awards show in Soshified's Video Downloads.
Girls' Generation's "The Boys" Ranks 82nd on French Top 100 Chart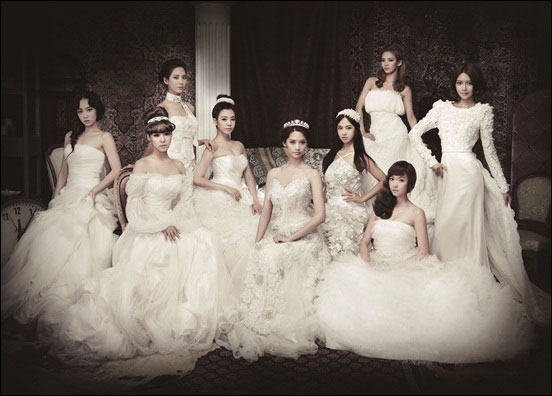 After appearances on "
Le Grand Journal
" and "
La Boîte à Questions
" to promote their album "The Boys", Girls' Generation ranked at 82 in the French Top 100 chart. Congratulations to the girls on their successful promotions.
Jessica Voted Third in a Poll for Idols with "Best Street Fashion"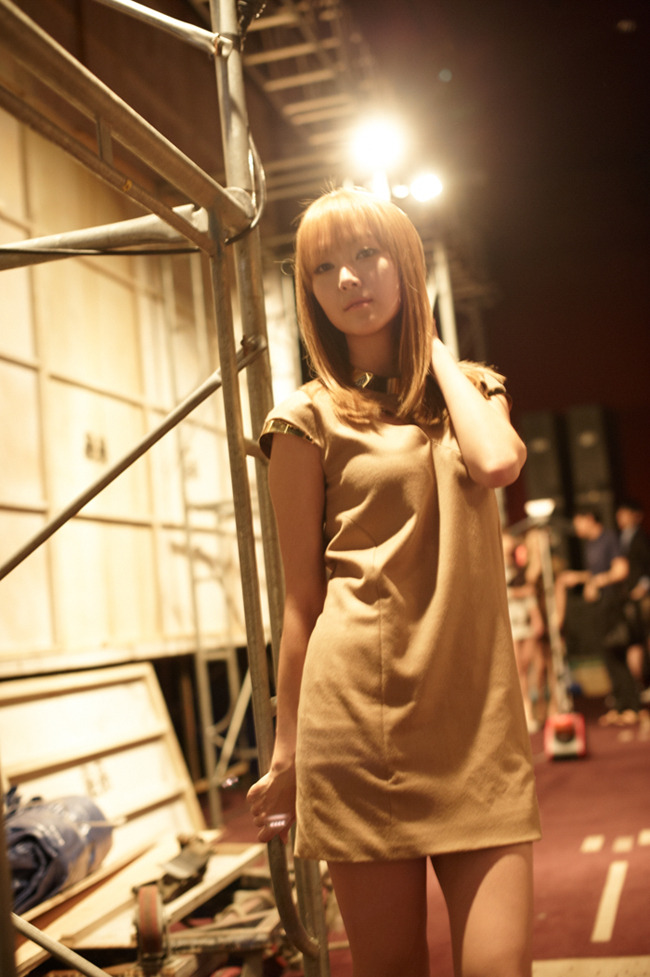 In a survey run from February 14th to February 21st by online community "DC Inside", Jessica won third place with 3,684 (16.9%) votes for the idol with the best street fashion. Voters cited her ability to always make an attempt with her airport fashion, wearing t-shirts, cardigans, or a one-piece look to emphasize her femininity, and completing the "Jessica-style" with a matching handbag.
Girls' Generation Official Website Posts Staff Diary about MC Taeyeon and MC Seohyun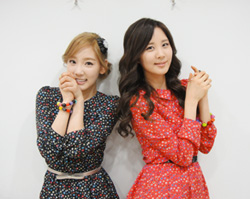 Girls' Generation's official website posted a staff diary about Taeyeon and Seohyun, who are working together with Tiffany as MCs on MBC's "Show! Music Core". The message on the diary says, "New MC's Taeyeon and Seohyun gave their greeting! How was it? At first it was slightly~ tense, but these two girls finished nicely~! Please continue to watch~!! From this week onwards, Taeyeon, Tiffany and Seohyun will be together. Don't forget~". The staff diary also included several photos of Taeyeon and Seohyun, which you can check out in Soshified's Photo Section.
Yuri's Message on Japanese Mobile Site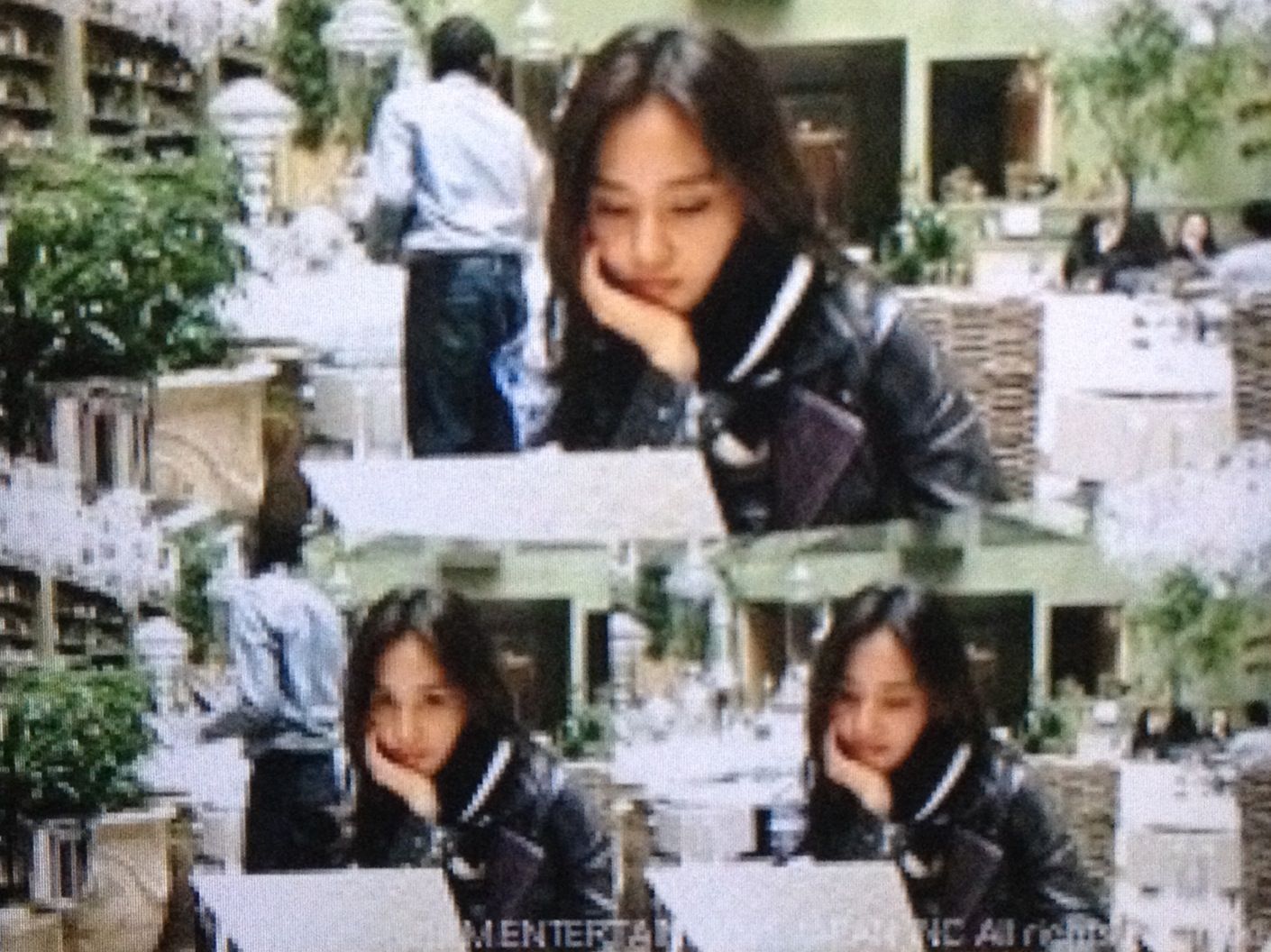 Yuri left a message on a Japanese mobile fansite and uploaded photos she took during her recent filming of "Fashion King" in New York. You can check out the entire translated message in Soshified's Translated Goodies section.
Twitter for "Kimchee Holborn" Reveals a Photo with Seohyun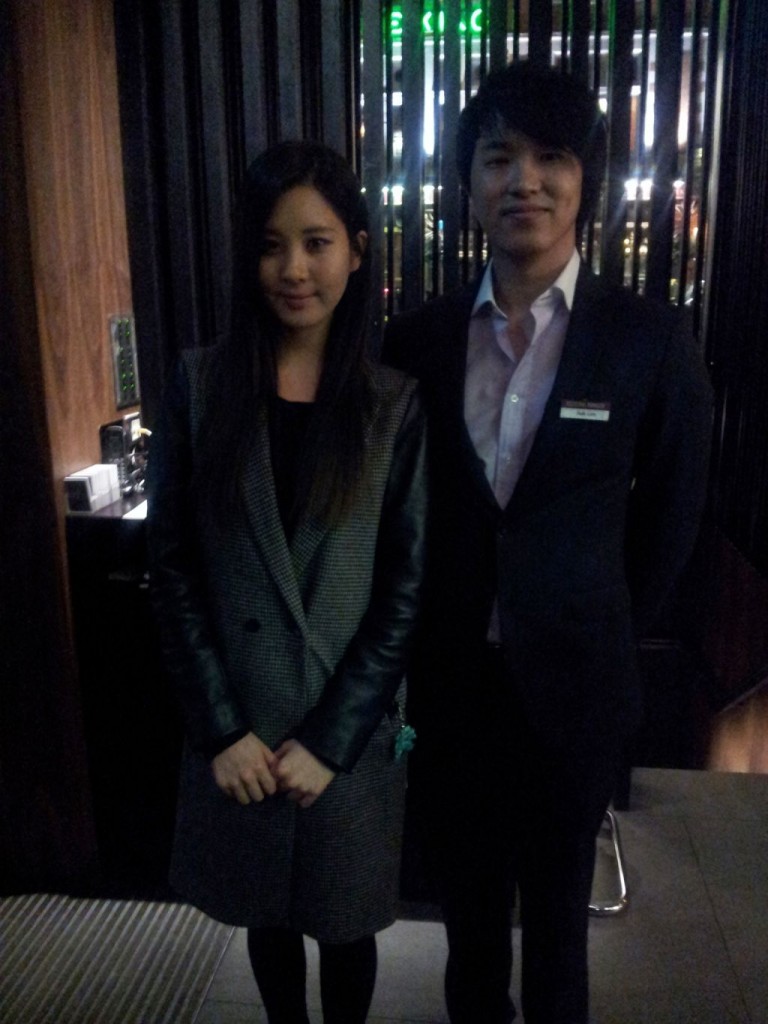 The Twitter account for the restaurant "Kimchee Holborn" in London recently posted a photo of Seohyun posing with a member of the restaurant staff. It seemed that even after traveling over eight thousand kilometers, Seohyun still wanted Korean food.
Shim Jaewon Tweets a Photo of Girls' Generation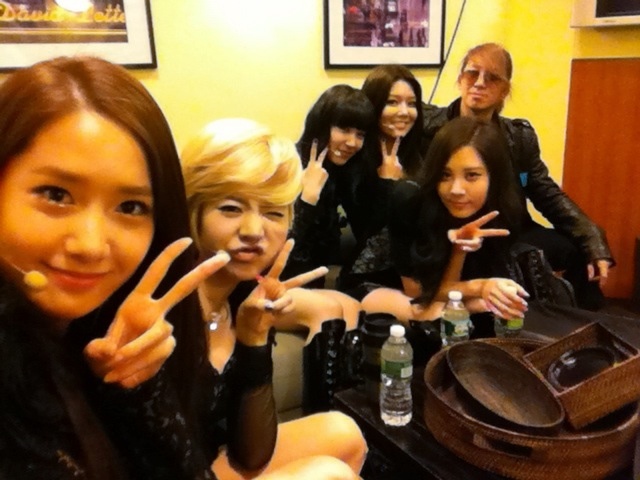 Shim Jaewon, a choreographer for SM Entertainment, tweeted a photo of Girls' Generation from the waiting room of "Late Show with David Letterman". His tweet reads, "In the small cramped 'Late Show' waiting room! With the girls! It's been a while and I still can't believe it's the 'Late Show'!"
Tiffany Attends Opening Ceremony of "8ight Seconds"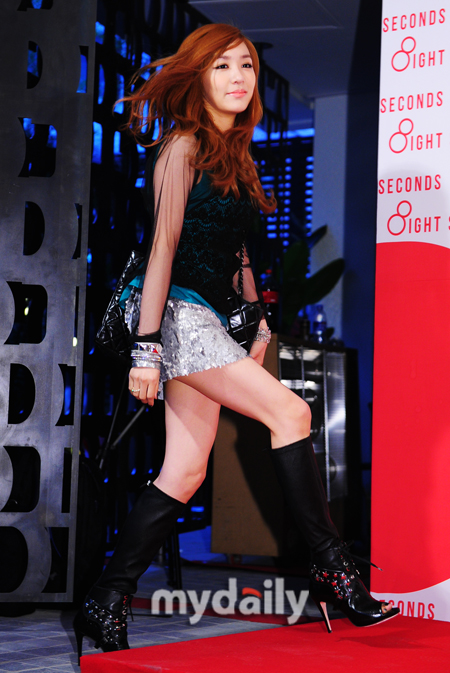 On February 23rd, Tiffany attended a store opening ceremony for the fashion brand "8ight Seconds". She looked stunning with her newly dyed hair and stylish outfit. You can check out more photos of Tiffany at the event in
Soshified's Photos Section
.
Yuri Plays Ping Pong During Filming Breaks in New York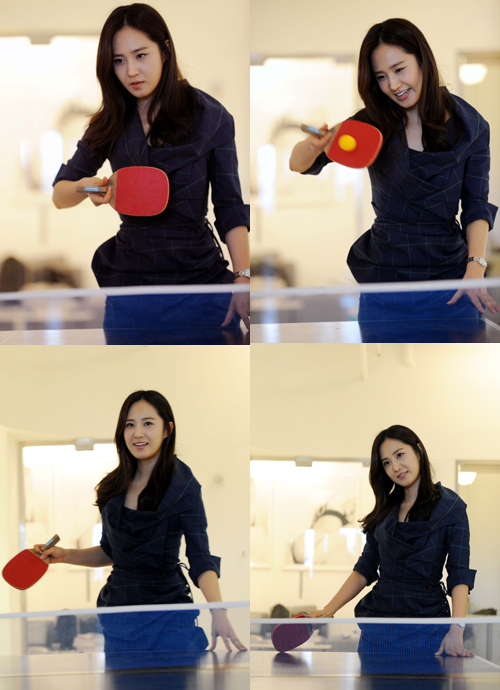 During the filming of "Fashion King" in Manhattan's "Jack Studios", Yuri made use of her free time during a busy filming schedule by playing ping pong. Perhaps Yuri is practicing for a rematch after her mentee, Jisoo, lost to Taeyeon and Seohyun's mentee, Hwehoon, in a ping-pong tournament on "Girls' Generation and Dangerous Boys".
Yoona Updates With New UFO Picure
On February 26th, Yoona dropped a surprise on SONEs by uploading this incredibly cute photo of herself as her display picture on UFO. Yoona's ever lovable, kid-like personality is highlighted in this photo by her cute pose and the bubble gum she is blowing. Doesn't she look adorable?
"The Boys" Ranks 64th on Spanish Music Charts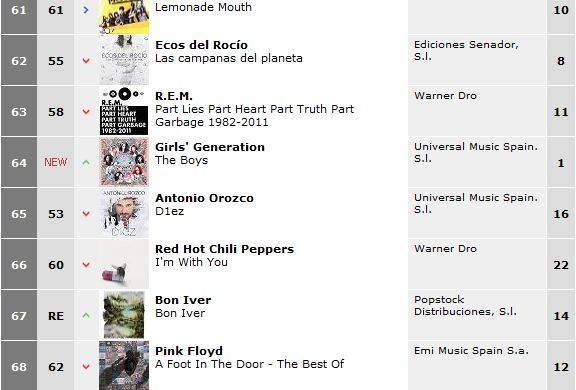 The international version of Girls' Generation's "The Boys" entered Spanish music charts at number 64 on the week's top 100 albums. It seems that people are continuing to board the Soshi Express from all over the world.
New Sets of Pictures
W Korea – Yoona1, Yoona2, Yoona3, Yoona4, Yoona5, Yoona6, Yoona7
Dazed & Confused – Jessica1, Jessica2, Jessica3, Jessica4, Jessica5, Jessica6, Jessica7, Jessica8
SONE Picture/Video of the Week
Fans who attended the "1st GAON Kpop Chart Awards" on February 22nd participated in a unique award ceremony with Taeyeon and Yoona. During their acceptance speech for GAON's Album of the Year Award at roughly 12:50 into the video, Taeyeon's co-host, Joo Younghoon, suggested that Yoona and SONEs in the audience recite Girls' Generation's motto together. After Yoona began with "right now", the audience yelled back "Girls' Generation!"
If you have any pictures or videos you'd like to submit for SONE Picture/Video of the Week, please feel free to do so by sending them to the Soshified Writing Team at tip@soshified.com or posting at the official SONE Picture/Video of the Week thread
Sources: Imaeil.com, KakaoTalk, burberry_korea@twitter.com, gnalc8@youtube.com, SONEITALIA@youtube.com, vodkaice9@twitter.com, SBSNOW1@youtube.com, Mmusical@Facebook.com, French Top 100 via Xevious117@twitter.com, Osen, Girls' Generation, KimcheeHolborn@twitter.com, climix_joo@twitter.com, Famous_Jae@twitter.com, SBS, theblingmagazine@youtube.com, SMTown FB, OfficialGGSource@youtube.com, Mr9Forever2@youtube.com, Vogue Girl, spanishcharts.com, SoneSoshi9@youtube.com
Written by: taengsoshi@soshified, residentbenchwarmer@soshified, LetsGo@soshified, bhost909@soshified, SeraphKY@soshified, letaengbutt@soshified
Contributors: minigiglo@soshified, ch0sshi@soshified, Kkabbekky@soshified, MoonSoshi9@soshified
Have a news item that you think Soshified should know about? Leave us a tip or e-mail us at tip@soshified.com.
Follow us on Twitter: http://twitter.com/soshified for the latest on Girls' Generation.